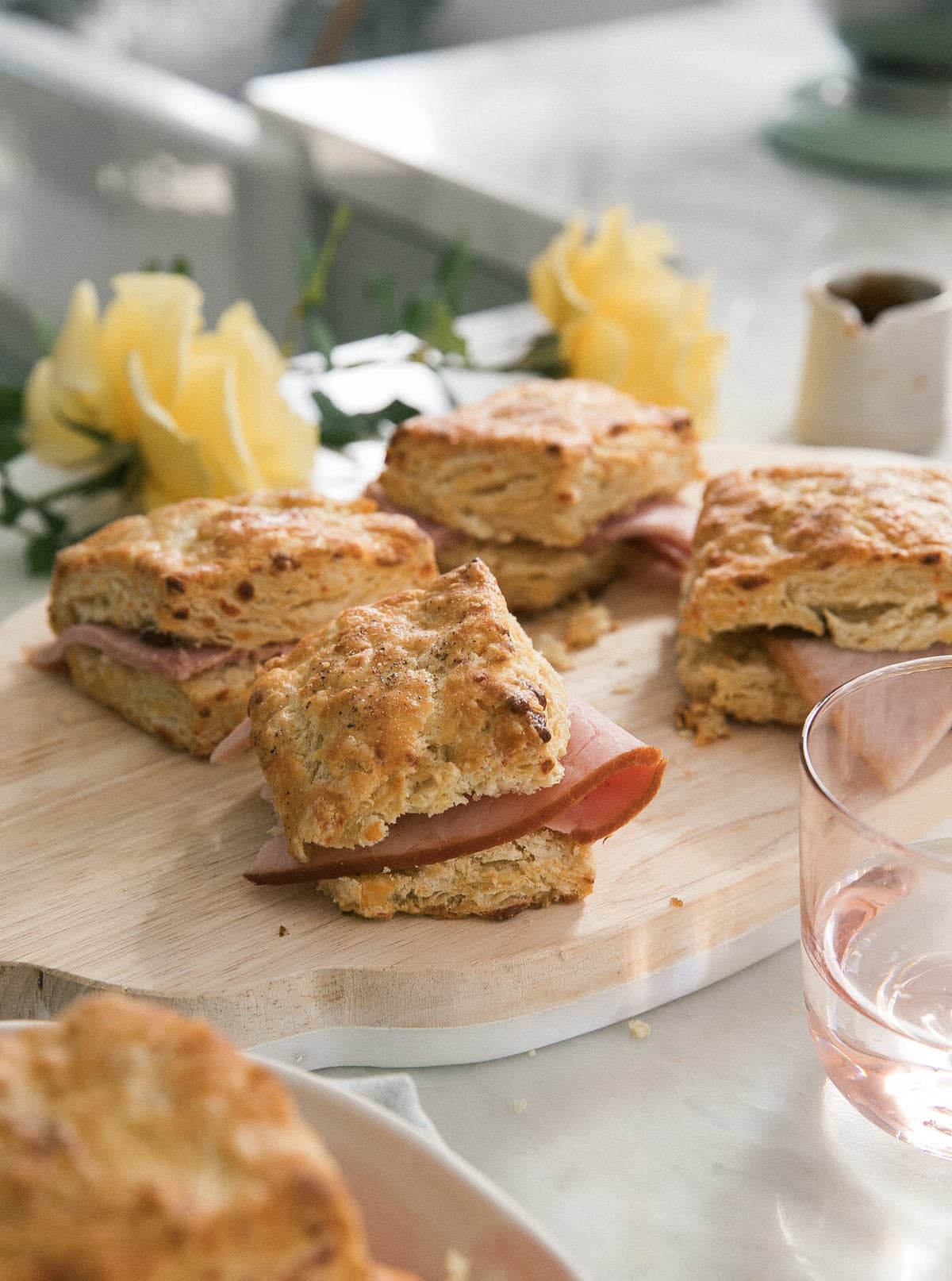 Easter is coming at us fast! Is it just me or does this year feel extra early? My brain is used to Easter happening well into the month of April.
I'm excited to head to Mexico City (!!!) this weekend and I'm even more excited that I'll be home just in time for the festivities. These biscuits (and ham) are on my top priority lists to make/eat this Easter. I hope they find their way to your table too!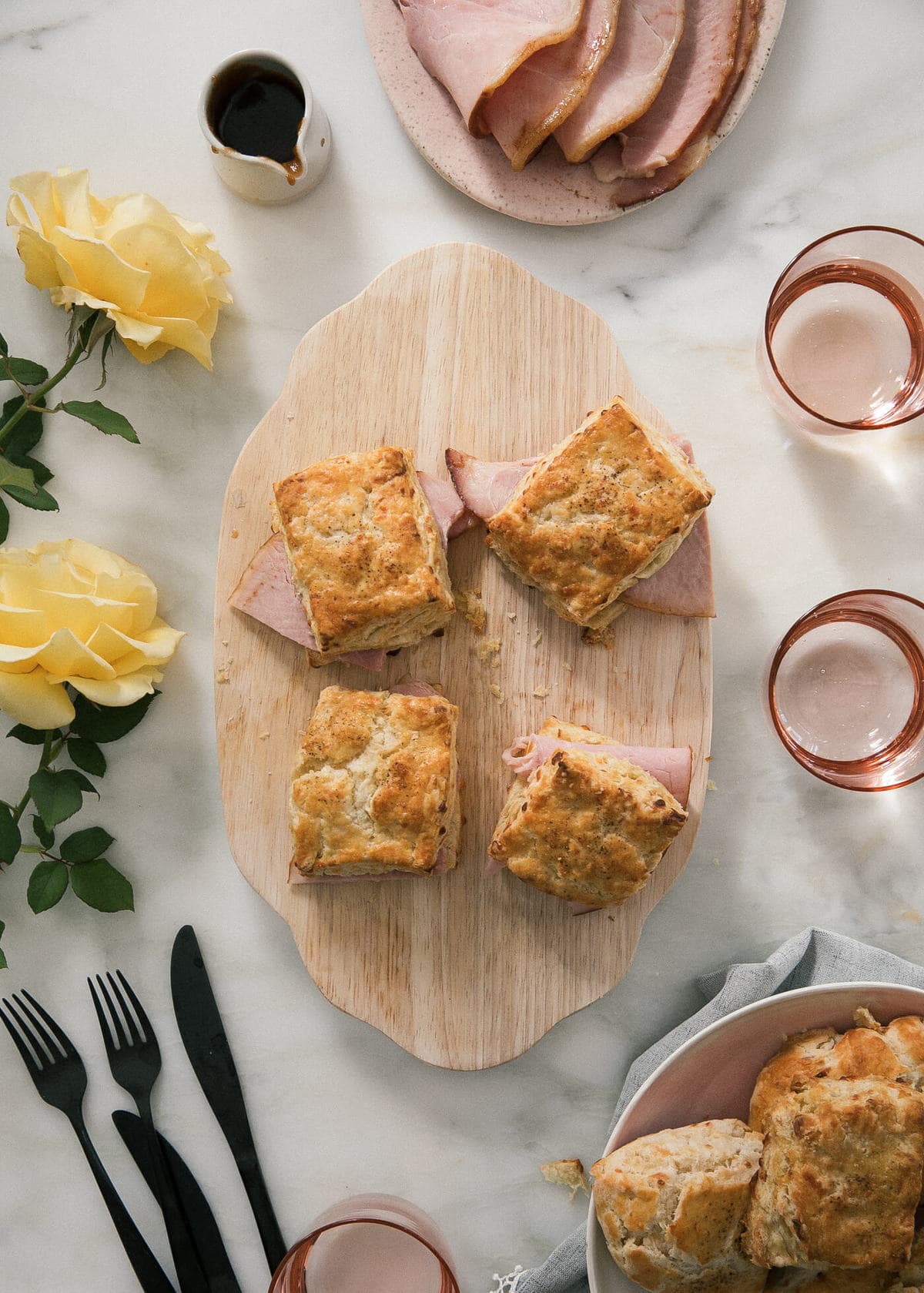 I headed to ALDI to pick up the spiral sliced ham (seriously so affordable), eggs, smoked gouda and a bunch of other things that are essential for your Easter experience.
I'm going to be very honest and tell you I've never made a ham before. It couldn't have been easier. You just stick in the oven for a few hours, add some glaze in the last 30 minutes of baking, which I doctored up to have some spices like ginger and cinnamon, and that's really it. The ham itself was super hands off!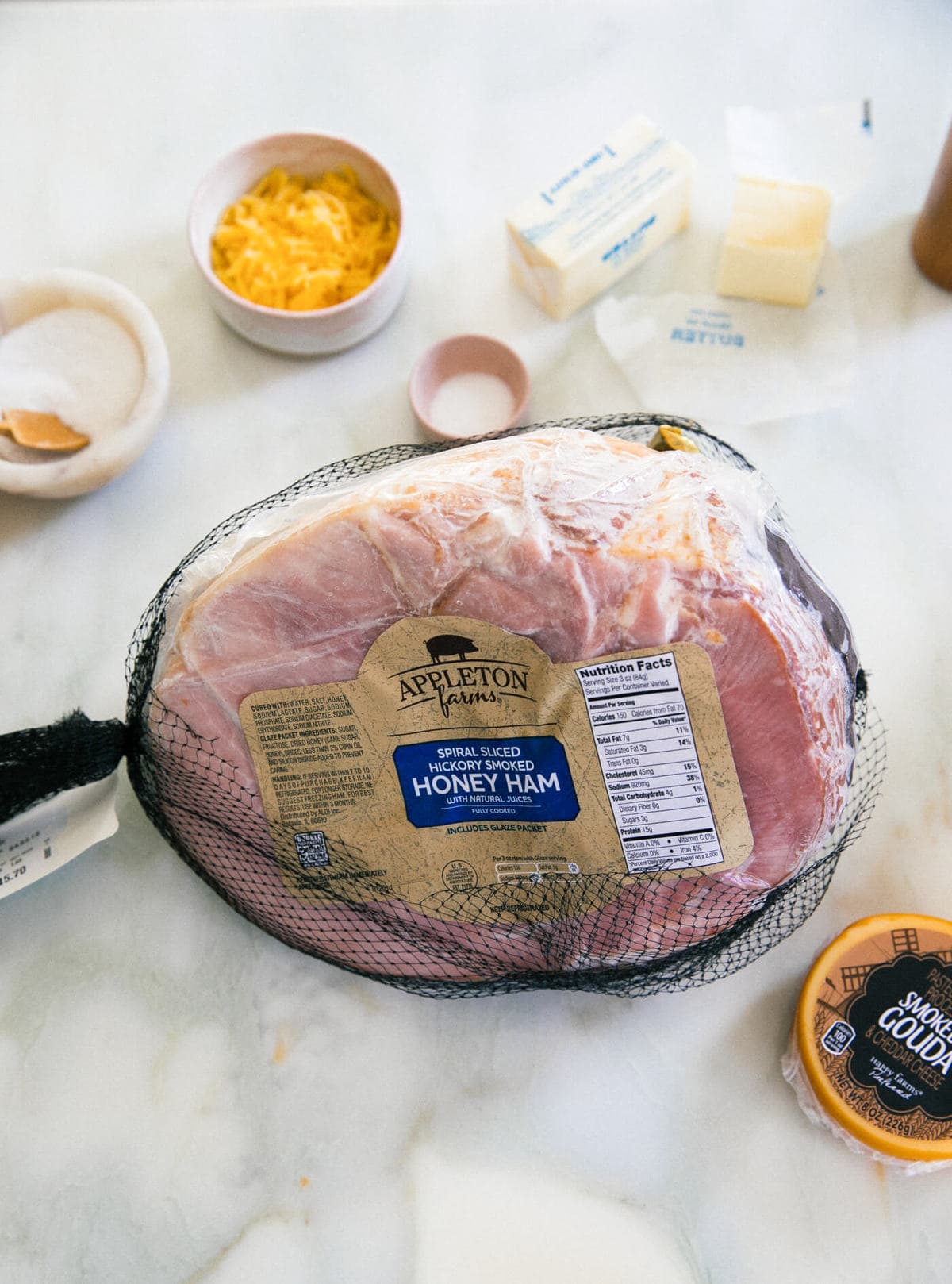 Now let's talk about these biscuits. The few times my parents made a ham for Easter/Christmas, there were always lots leftover. My vote is to make these biscuits, stick them in the freezer and have them ready to go. The smoked gouda in these biscuits IS so good. And of course, if you like, you can add some grated cheddar.
ALDI sells KerryGold Irish cheddar that I almost put in these but decided to go the smoked gouda route. But really any path you choose will be a-ok. The biscuits are built by adding a smear of mustard to one side of the biscuit, a piece of cold or warm ham, a bit of glaze and that's it. It's a glorious breakfast.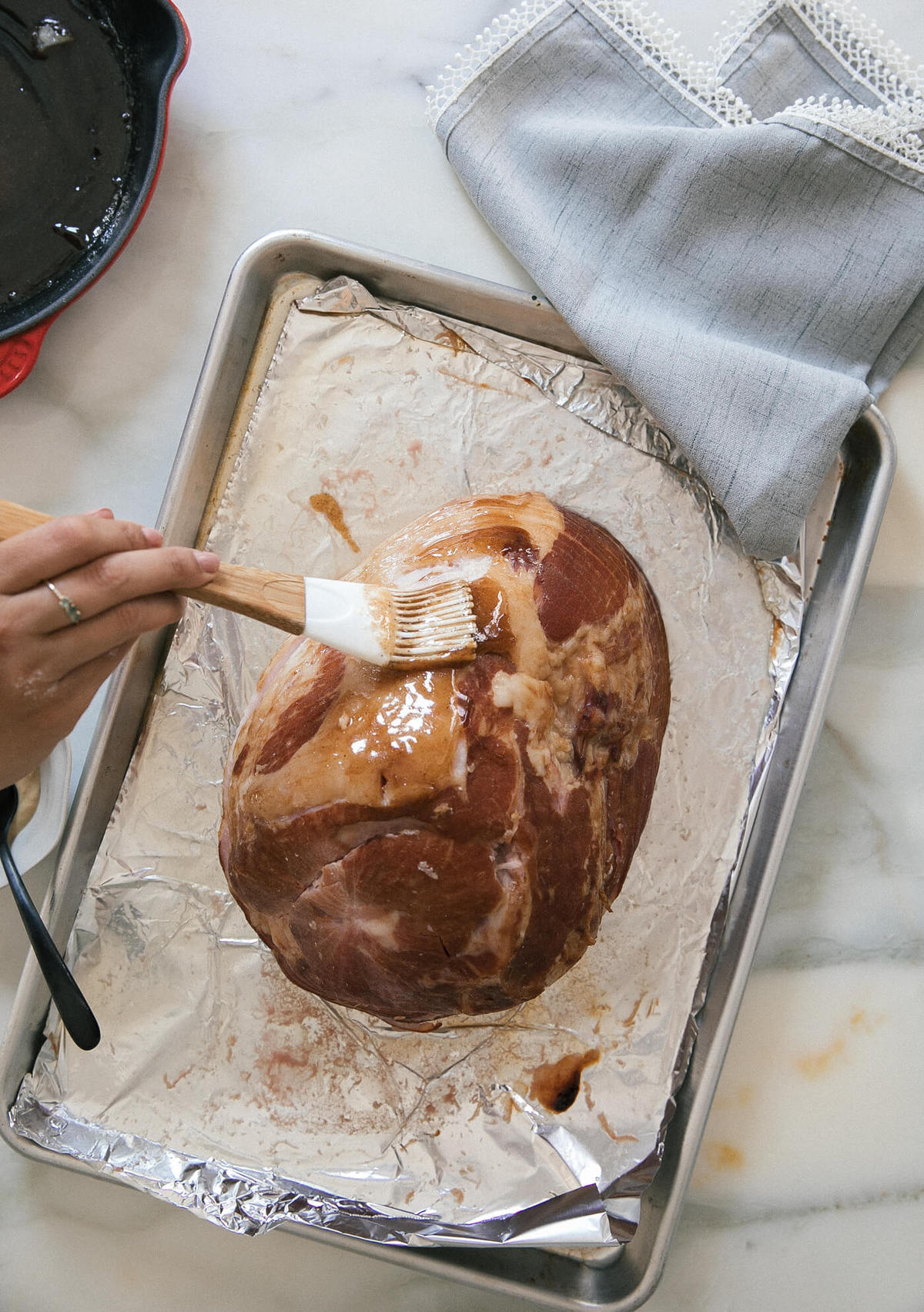 And of course, you can always serve the biscuit on the side for dinner, too. Almost like dinner rolls! Happy-almost-Easter!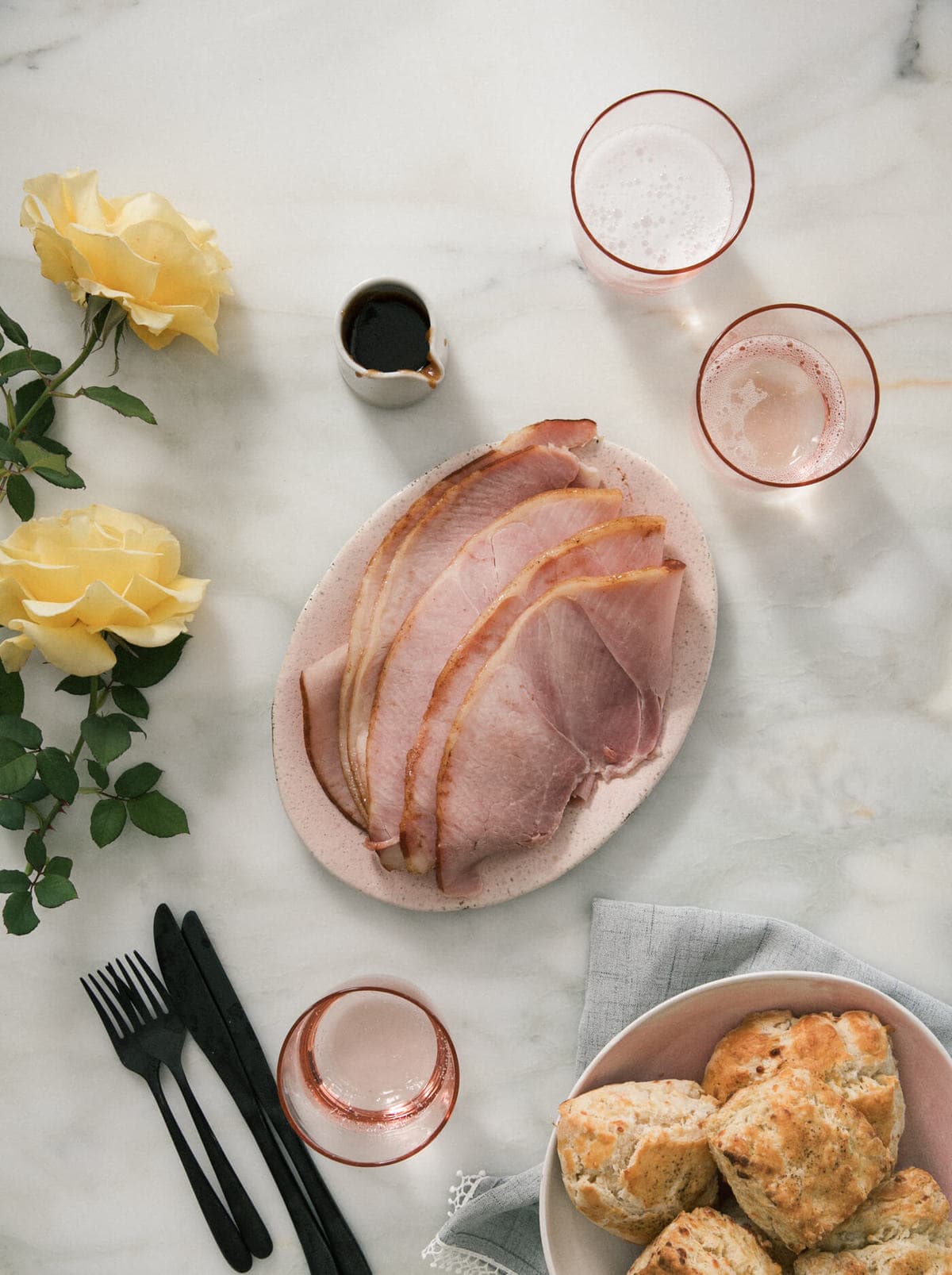 Ingredients
Dry:

2 cups Baker's Corner All Purpose Flour
1 tablespoon Baker's Corner Baking Powder
1/2 teaspoon Baker's Corner Baking Soda
1 teaspoon salt 
1 1/2 sticks (6 ounces) Countryside Creamery Unsalted Butter, cold
1 cup Specially Selected Smoked Gouda, grated

Wet:

1/2 cup Friendly Farms Whole Milk
1 large SimplyNature Organic Cage Free Brown Egg

Egg Wash:

1 large egg
1 tablespoon milk (or 1 tablespoon water)
Directions
Preheat oven to 400F. Line a baking sheet with parchment paper and set aside.
In a large bowl, mix together the dry ingredients: all-purpose flour, baking powder, baking soda and salt. Using a box grater, grate the butter into the flour mixture. Transfer the bowl to the freezer while you gather the wet ingredients, about 5-7 minutes. 
Measure out the milk and add the egg; whisk until combined. In a small bowl, make the egg wash, whisking together the egg and milk. 
Grab the bowl out of the freezer, and gently break up the butter and combine with the flour, using your hands, until it resembles small peas. Add in the gouda cheese and toss to combine thoroughly. Add the buttermilk mixture all at once to the flour mixture. Mix until barely combined; and lightly knead the dough until it forms into one solid mass.
Sprinkle your kitchen counter with flour and dump the dough onto it. Press the dough into a 3/4-inch thickness. Form it into a rectangle and cut biscuits. You should end up with about 6 biscuits. Transfer them to the baking sheet. Brush the tops with egg wash and sprinkle with black pepper. Bake until fluffy and lightly golden brown, about 12 to 14 minutes. 
To assemble the biscuit sandwiches, slice the biscuit in half. Smear one side with a bit of mustard, top with a slice of ham, add some glaze and add the other half of the biscuit. Repeat until you've built all of the biscuit sandwiches. 
https://www.acozykitchen.com/smoked-gouda-black-pepper-biscuits/
Ingredients
1/2 cup Specially Selected Raw Honey
3 tablespoons Baker's Corner Brown Sugar
1 tablespoon Fusia Reduced Sodium Soy Sauce
1 tablespoon Burman's Yellow Mustard
1 teaspoon Stonemill Ground Ginger
Pinch of Stonemill Ground Cinnamon
Pinch of salt 
1 Appleton Farms Spiral Sliced Half Ham
Directions
In a small skillet, set over medium, add the honey, brown sugar, soy sauce, mustard, ginger, cinnamon and salt. Stirring regularly, cook until the brown sugar has dissolved. 
Brush on ham about 30 minutes before it's done baking. Serve any extra glaze on the side.
https://www.acozykitchen.com/smoked-gouda-black-pepper-biscuits/
(This post is sponsored by ALDI. Thank you for supporting the sponsors that keep A Cozy Kitchen cozy.)