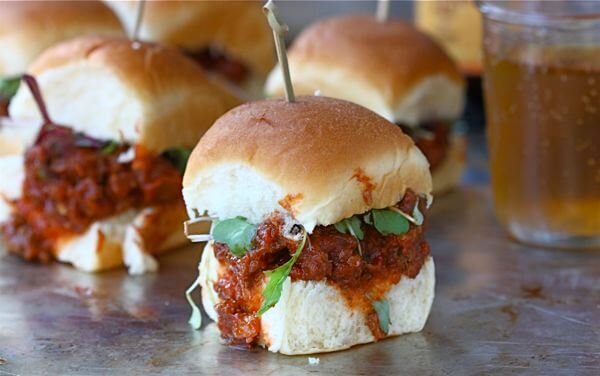 Let's be real. Sloppy Joes from the cafeteria were just plain scary. Yes. Yes they were.
And that scene in Billy Madison didn't help erase that from my memory. You know...the one...the boys are sitting around the lunch table, talking about Miss Vaughn and the lunch lady comes around screaming, "MORE SLOPPY JOES," in that I-smoked-too-many-cigarettes-and-now-I-have-a-tank voice...I love that movie so much--it's a masterpiece, I swear.
Despite meaty, sloppy sandwiches still scarin' me a little, they have a place deep down in my 3rd grade awkward heart.
I figured it was time to bring 'em back, cute-ify them, give 'em an upgrade...they're just too good not to have a moment.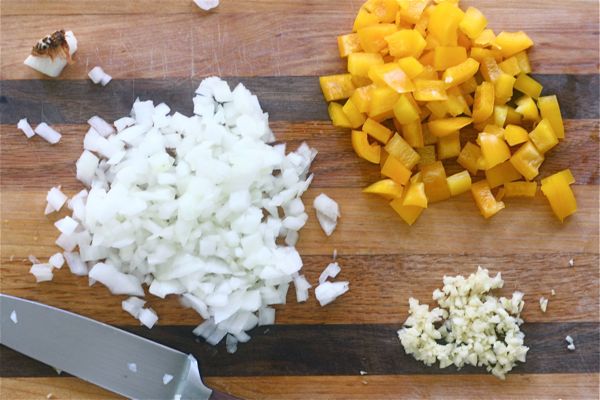 Project Cute-ify Sloppy Joes
Step 1: I picked meat that wasn't scary. Pretty easy, right!? I decided on ground sirloin that was 90% lean. Since I was cooking it on the stovetop, I knew I'd end up having to drain the fat anyway, so I went with something lean. Let's skip steps! Also, if you wanted to go even leaner, I bet these would be delicious with ground turkey.
Step 2: I properly seasoned that shiz. Yeah, I'm not talking just a little S&P; I'm talking onions, yellow pepper, lots of garlic, cayenne and a little brown sugar. P.S. I dig spicy. The ½ teaspoon below just gives you a small kick. If you want a major one, I'd double it. LIVE ON THE SLOPPY JOE EDGE!
Step 3: I made them small a.k.a sliders. Everything is cuter in its smaller form. Everything.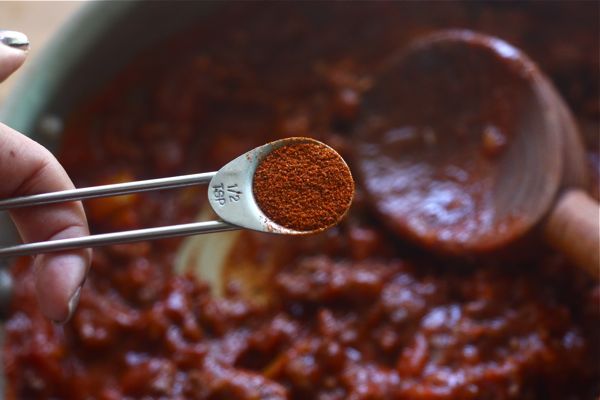 Step 4: I picked some good, soft bread. Sweet Hawaiian Rolls, to be specific. And since the softness was important, I didn't really toast the buns--just warmed them in the oven for like, 5 minutes.
Step 5: I added greenery. I debated on this one. I was going to add coleslaw. I even did a little quick pickle and radish situation that I decided against. Because in the end I wanted them to have a soft, melt-into-each-other type texture. So I added a small amount of microgreens. SUCH a good idea. Just a hint of freshness.
Step 6: I served these sloppy joes with beer. We're not in the cafeteria anymore. We're full-fledged grown-ups now! Let's celebrate and get tipsy on beer all while eating a a sloppy joe. Paying taxes/having other small humans/having a mortgage has never been SO fun!
P.S. Besides the taxes, I do none of those.
P.P.S. Isn't Worcestershire the most annoying English word like, ever?!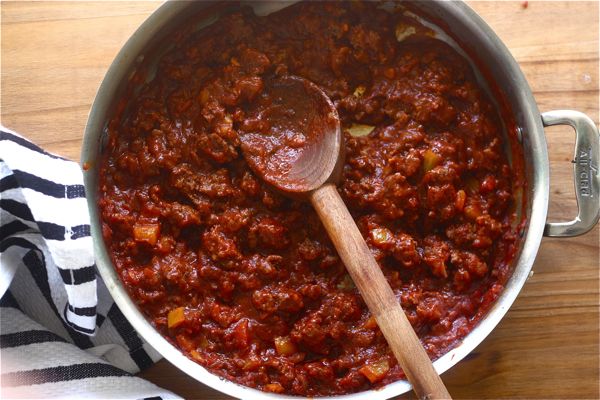 Slider Sloppy Joes
Adapted from Martha Stewart
1 tablespoon olive oil
½ medium yellow onion, diced
½ yellow bell pepper, diced
Coarse salt and ground pepper
2 cloves garlic, minced
1 pound ground beef
1 can (15 ounce can) tomato puree
¼ cup ketchup
1 tablespoon Worcestershire sauce
½ teaspoon cayenne (¼ teaspoon if you're adverse to heat)
¼ tablespoon brown sugar
1 large handful of microgreens
12 slider buns, split and warmed
In a large skillet, heat oil over medium-high heat. Add onion, bell pepper; season with salt and pepper. Cook, stirring frequently, until vegetables are softened, 5 to 7 minutes.
Add ground beef to skillet. Cook, breaking up meat with a wooden spoon, until it is no longer pink, 6 to 8 minutes. Add garlic and cook, 1 to 2 minutes, until fragrant.
Stir in tomato sauce, ketchup, Worcestershire sauce, and brown sugar into beef mixture in skillet. And add cayenne (if desired). Simmer until slightly thickened, stirring occasionally, 5 to 6 minutes.
Season the mixture with more salt and pepper, as desired. Spoon onto buns, add microgreens, and serve immediately.
Yields about 12 sliders