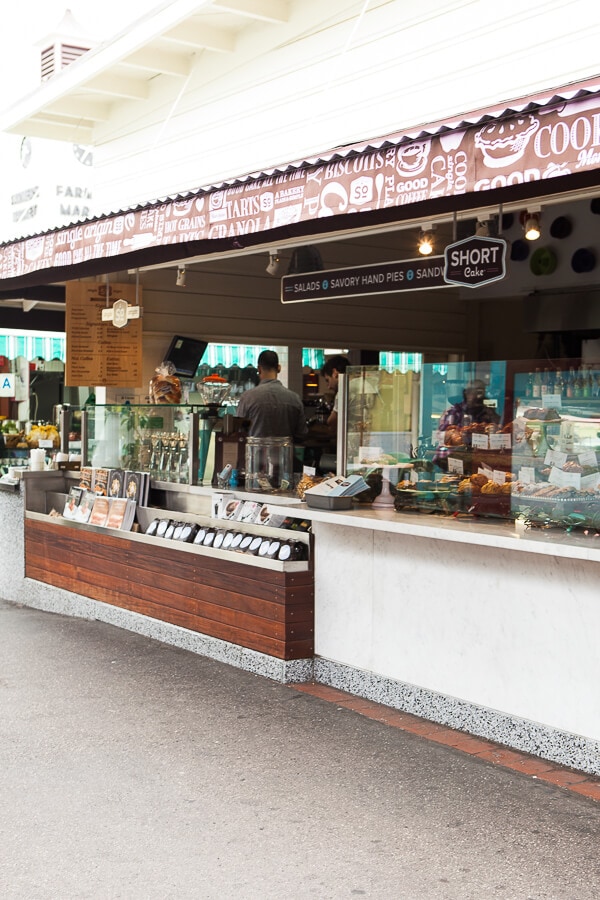 Today I'm excited. Today is the first post (of many, I hope) of the restaurant series I'm doing in collaboration with photographer, Jennifer Chong. For the long time I've wanted to incorporate my favorite restaurants into this blog, but I wasn't sure how … Would you all care about a restaurant in LA if you live in Detroit? Eh, probably not. Also, I'm not a food critic, nor do I want to be. I like recipes. So, I figured this would be a fun way to share. This series is going to be a two-parter, a two-fer! The first post will be of me visiting the restaurant/bakery, being shown by the chef/pastry chef/baker/mixologist how to create one of our favorite dishes. The second post will be a recipe for said dish, adapted for the home, by me! All photography will be by Jennifer Chong.
We're launching this series with my favorite bakery in Los Angeles, Short Cake! This bakery is near and dear to my heart, and I do have a bit of a personal connection to it.
Short Cake was founded by my boyfriend's late mama, Amy Pressman. She was a longtime pastry chef and co-founder of The Baker's Dozen with Marion Cunningham. She was set to open the bakery, alongside her other project, a burger joint called Short Order, in late 2011. Unfortunately, right before both of their openings, she passed away. Her baking protege, Hourie Sahakian, opened the bakery in her absence, and has continued at Short Cake as head baker.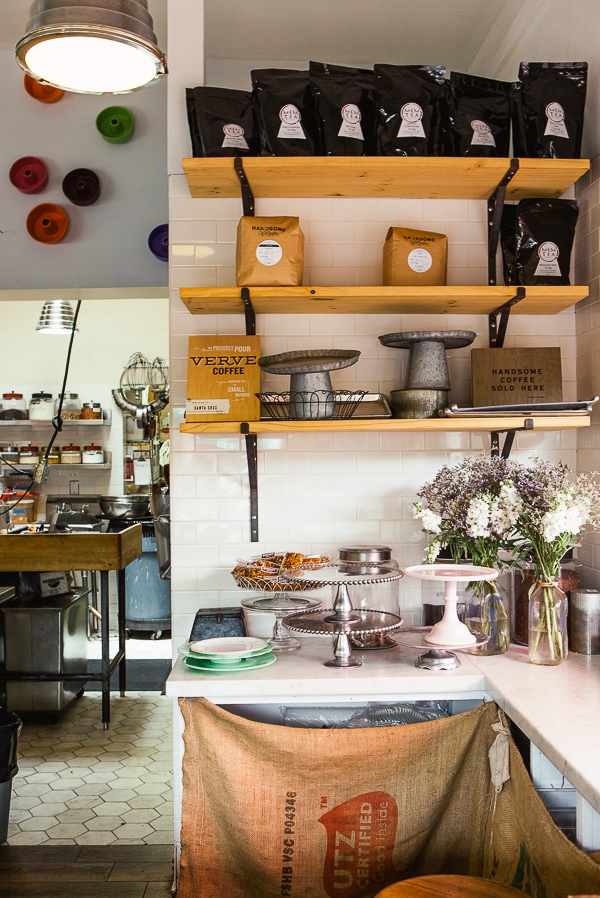 I never had the opportunity to meet Josh's mama. I wish I had.
What's remarkable about food, cooking, writing recipes, and the like, is that you can, in a way, create a legacy, a way for people to get to know you after you're gone. As I've eaten my way through the menu at Short Cake, I've gotten to know Chef Amy a little.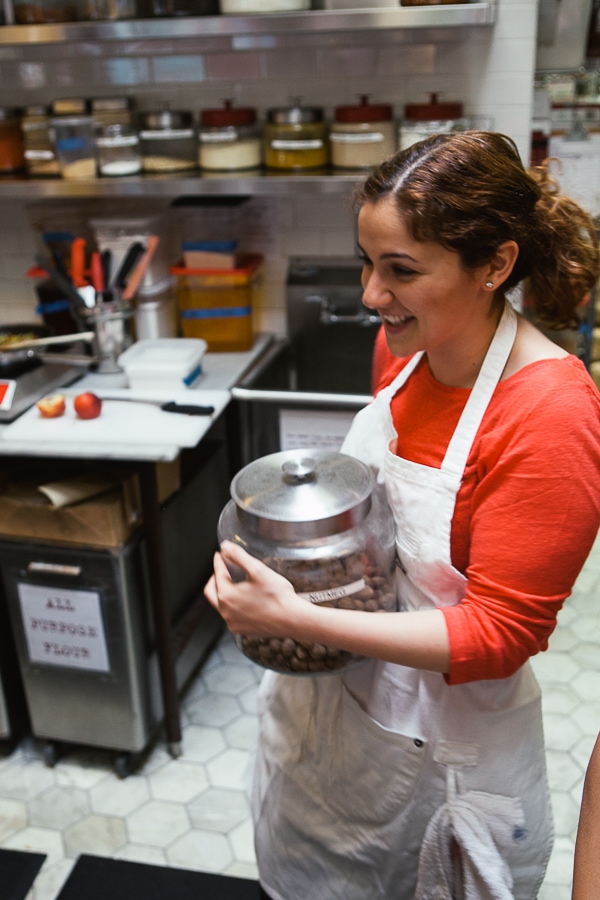 I know she loved butter. And like, really amazing and delicious butter. (Short Cake is the only bakery in LA to use the high-quality dairy from Straus of Northern California). I know she loved incredible chocolate. (They use Tcho.) Just like her coffee and espresso-obssessed son, I know she adored coffee. (They serve Handsome and Verve.) I know she didn't like her pastries too sweet and loved savory elements in them like cardamom, pine nuts and rosemary. And I know – like me – she was a lover of cute things like vintage cake stands, 50s retro hand mixers and old bundt pans.
Hourie and Josh are like brother and sister; they bicker, they debate, but mostly they love each other a whole lot. Over the past year and half I've had the pleasure of getting to know Hourie; and let me tell you, she's a gem. No one works harder, no one tries more, no one cares more than her. You can taste that love in the food she makes.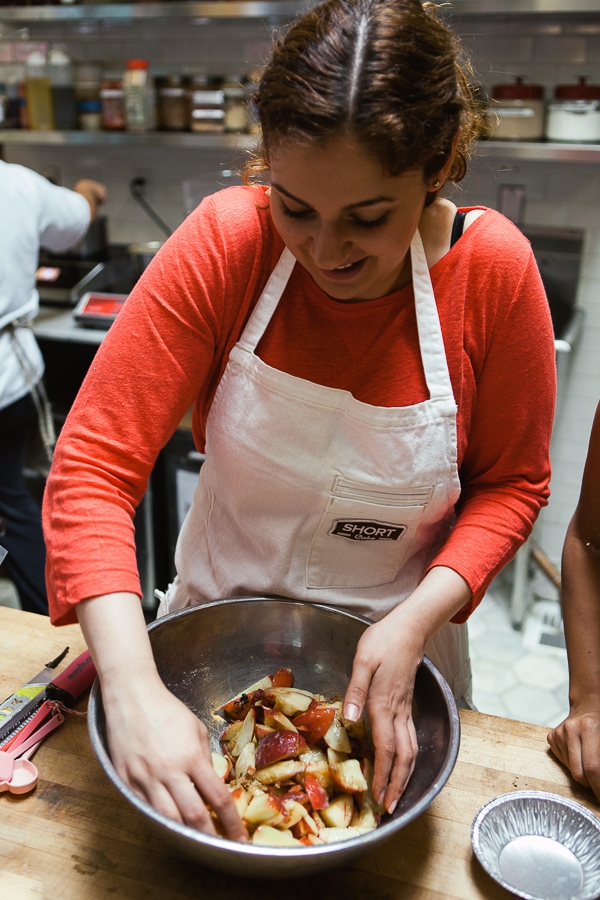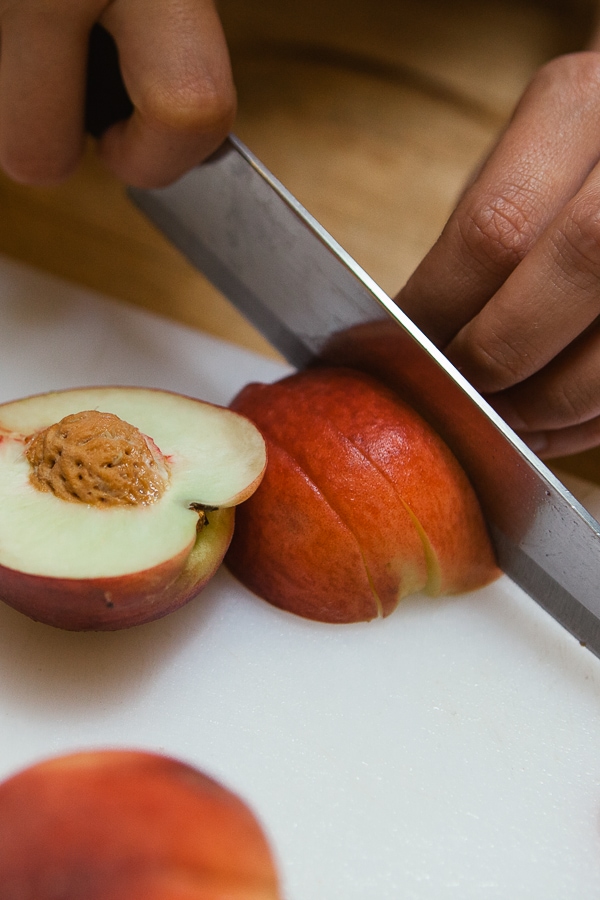 I love everything on their menu, but my absolute favorite is their twice-baked hazelnut croissant–it's like an almond croissant on crack! (These are the articulate analogies I would use if I were a food critic.)
Initially I wanted to make that, but I know many of you are sweating. It is July, after all. And if you've ever made puff pastry, you know it's not for the sweaty-faint-at-heart.
Hourie's vote was for something fresh, in season, light and relatively easy. She settled on this White Peach Crisp with a Brown Butter Walnut Crumble. And I'm glad she did.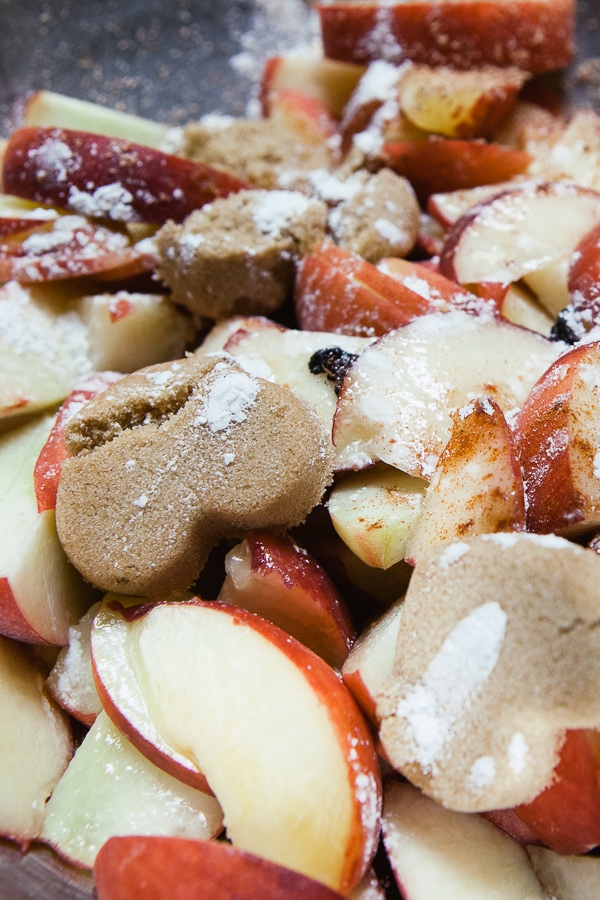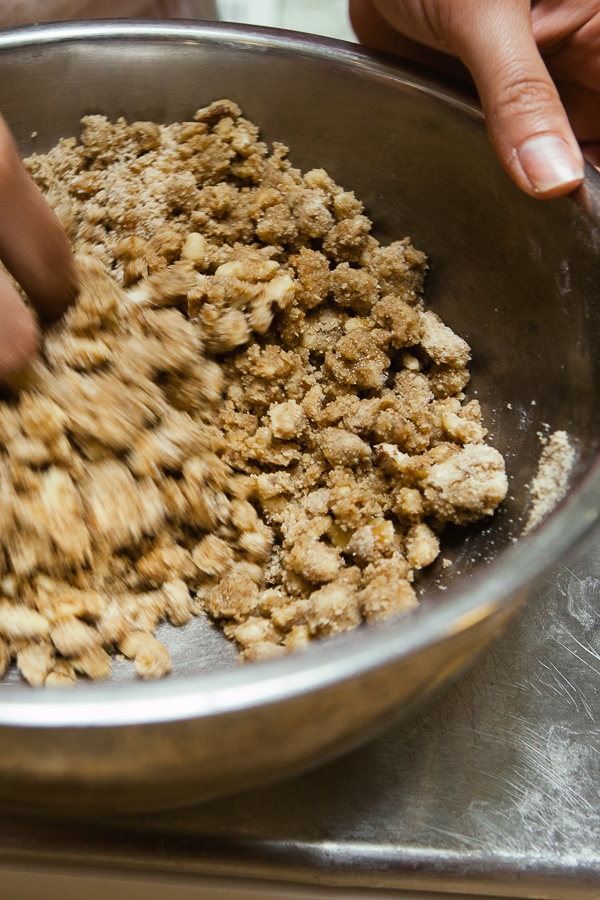 Her and I had an hour long, very weird conversation a few weeks ago about how awesome fall spices are when paired with summer fruit. I've been lacing every single thing with cardamom, nutmeg and cinnamon lately. This crisp will induce conflicting feelings. The initial flavor of browned butter and walnuts will bring visions of scarves and autumn leaves, but then when you reach the sweet fruit, you'll be reminded that summer dresses and sunglasses are pretty cool, for now at least.
Also, fun fact: she burns her brown butter. Like buuuuurns. I'll talk more about that tomorrow when we delve into recreating the recipe, but for now let's just enjoy the fact that white peaches are mixed with brown sugar, spices, vanilla and topped with a gigantic scoop of ice cream.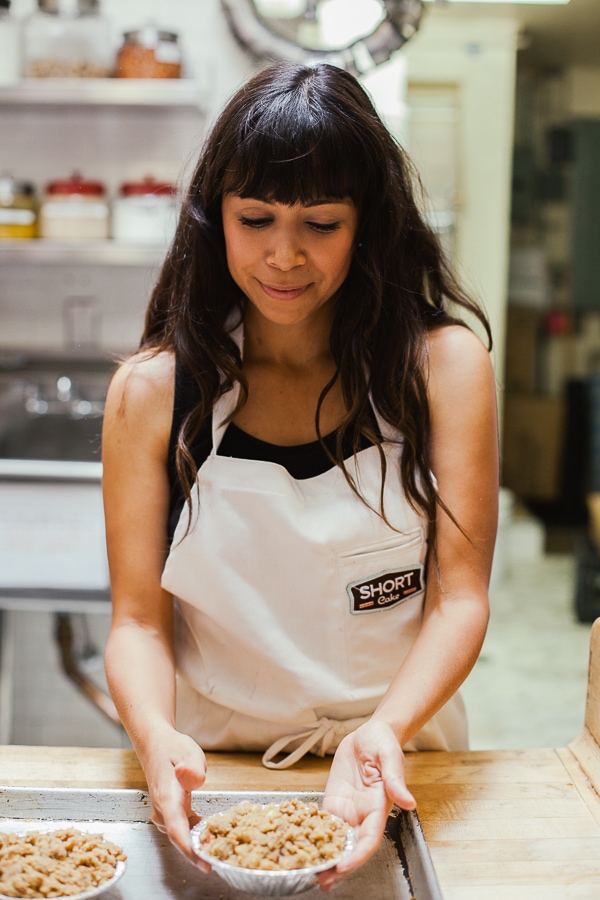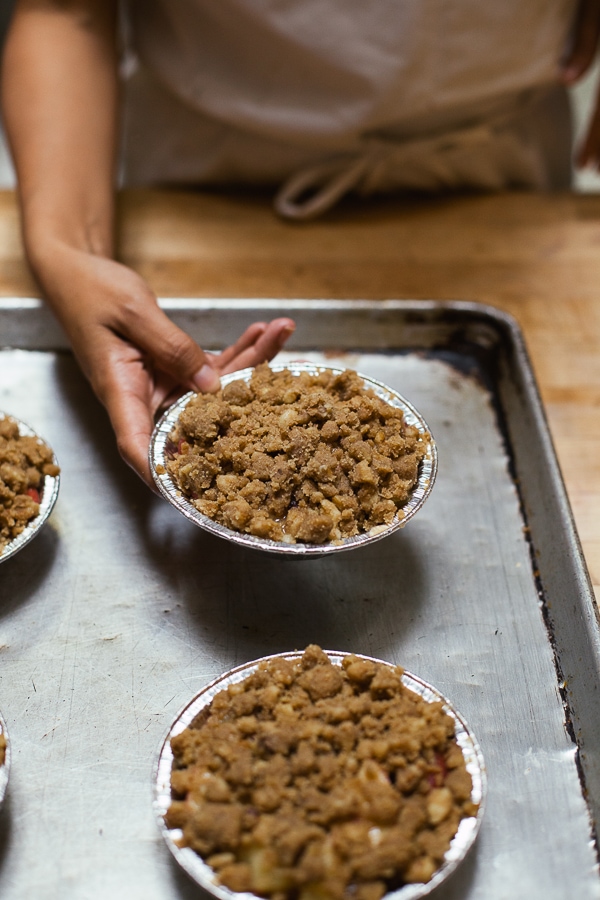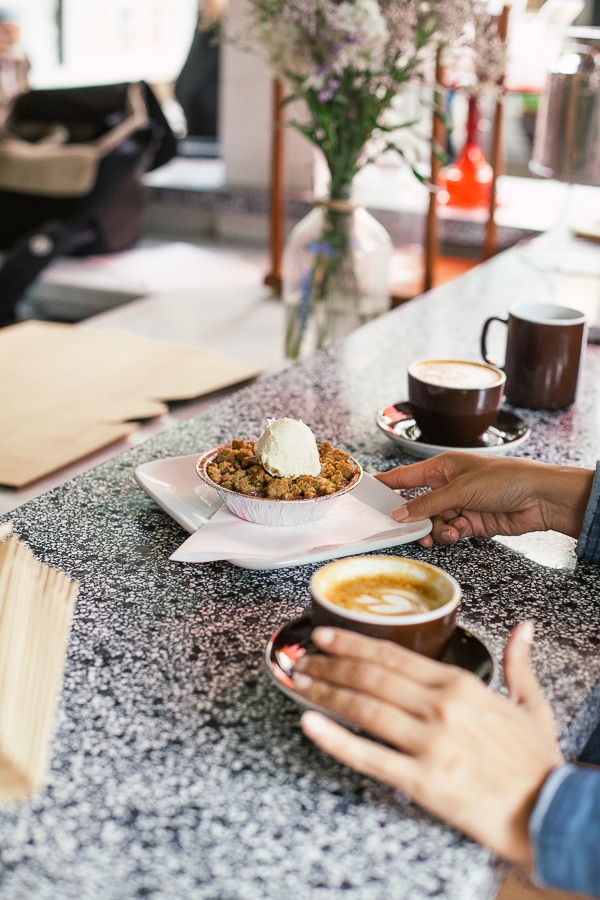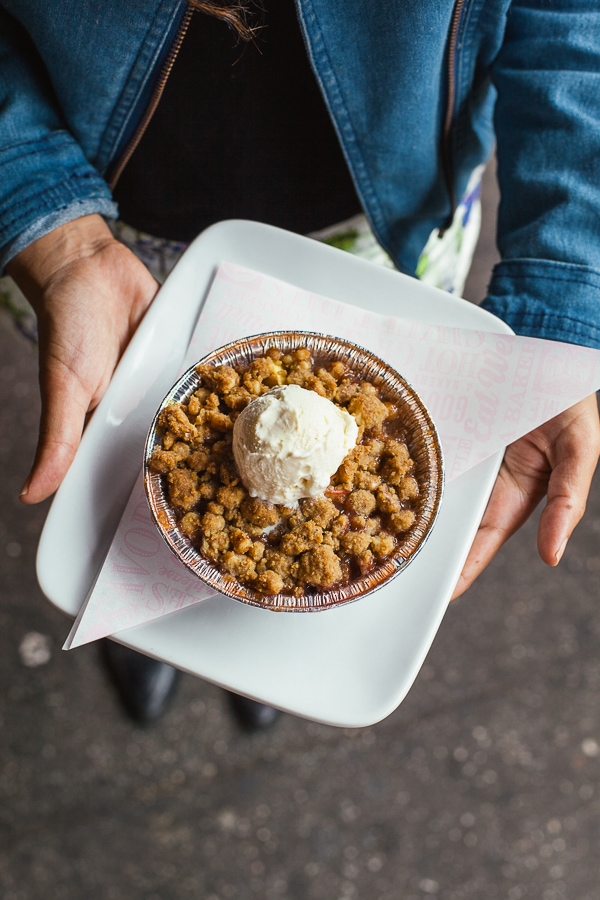 If you find yourself in Los Angeles, visit Short Cake. Say hi to Hourie. And say hi to Josh (he's the bearded person who will love to talk your ear off about their coffee program).
Short Cake
Farmer's Market
6333 West 3rd Street Stall #316
Los Angeles, CA 90036
Oh and follow them on Instagram – their food photos are awesome.