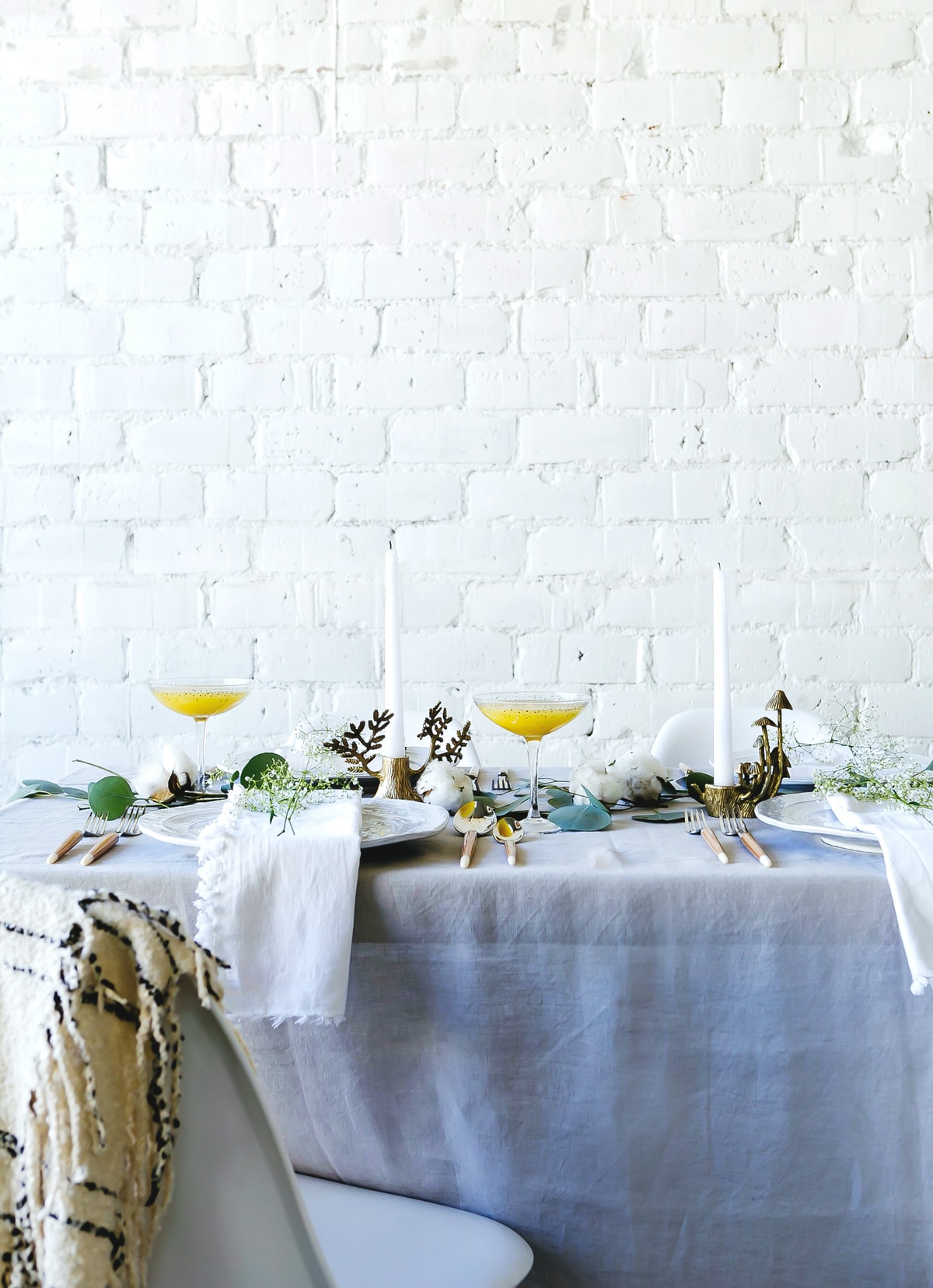 When I think of cozy places on this earth, I think of Scandinavia. It has to be the coziest of cozy places. A recent trip to Copenhagen reinforced this opinion. It was the summer, but still, the light was diffused and soft; the textures were fluffy with lots of white. The food was savory and delicious and the ebelskivers?! They were my favorite.
I teamed up with Anthropologie to bring you this Scandinavian-inspired brunch. This was SO much fun to put together. The menu was super simple and easy to make.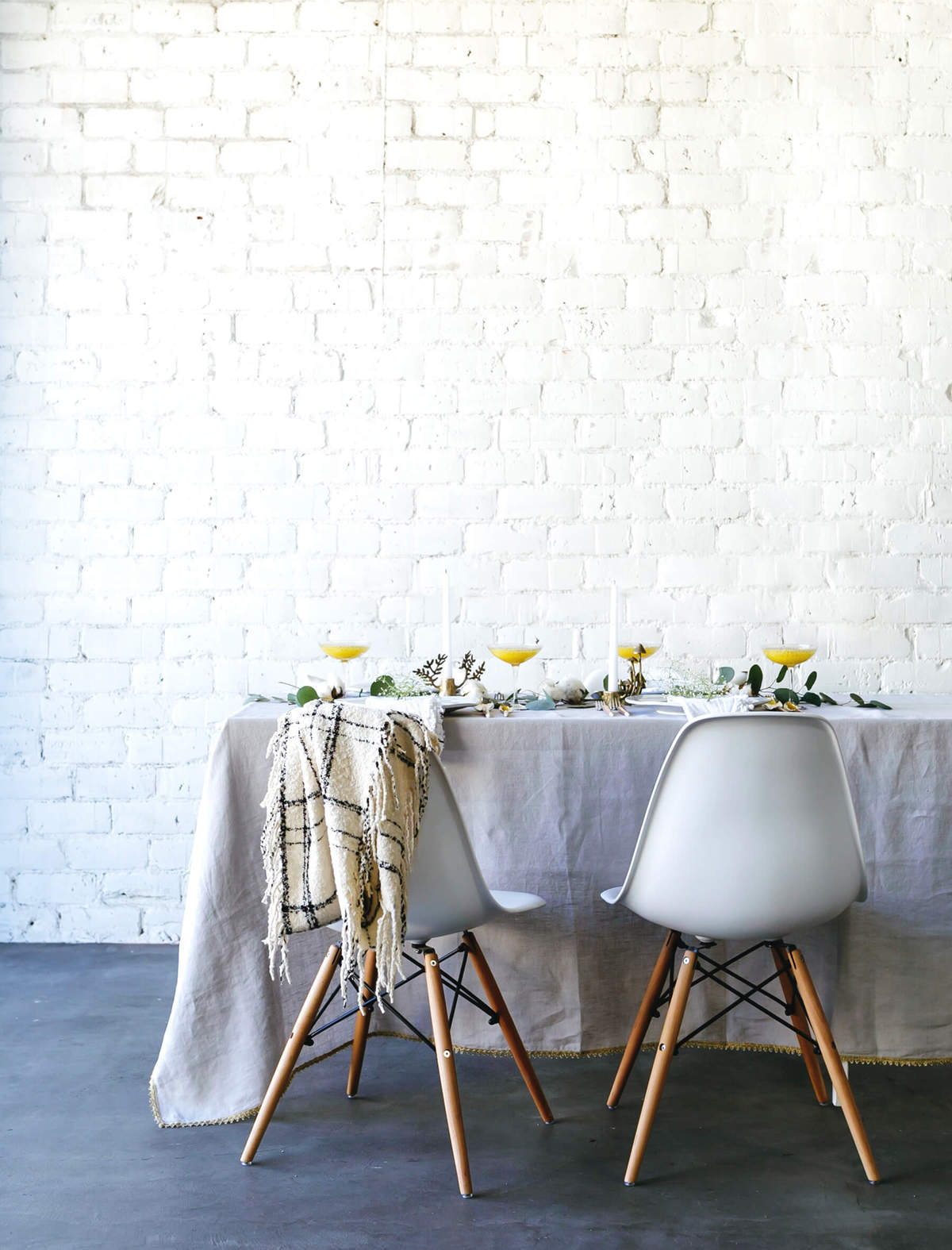 What I love the most about a lot of these piece from Anthro is that all of them can move from season to season. It wouldn't be strange to use these linens or plates in the summer or candlesticks in the spring.
Each plate had a linen and a piece of baby's breath. This could even be done for Thanksgiving, which is OMG next week.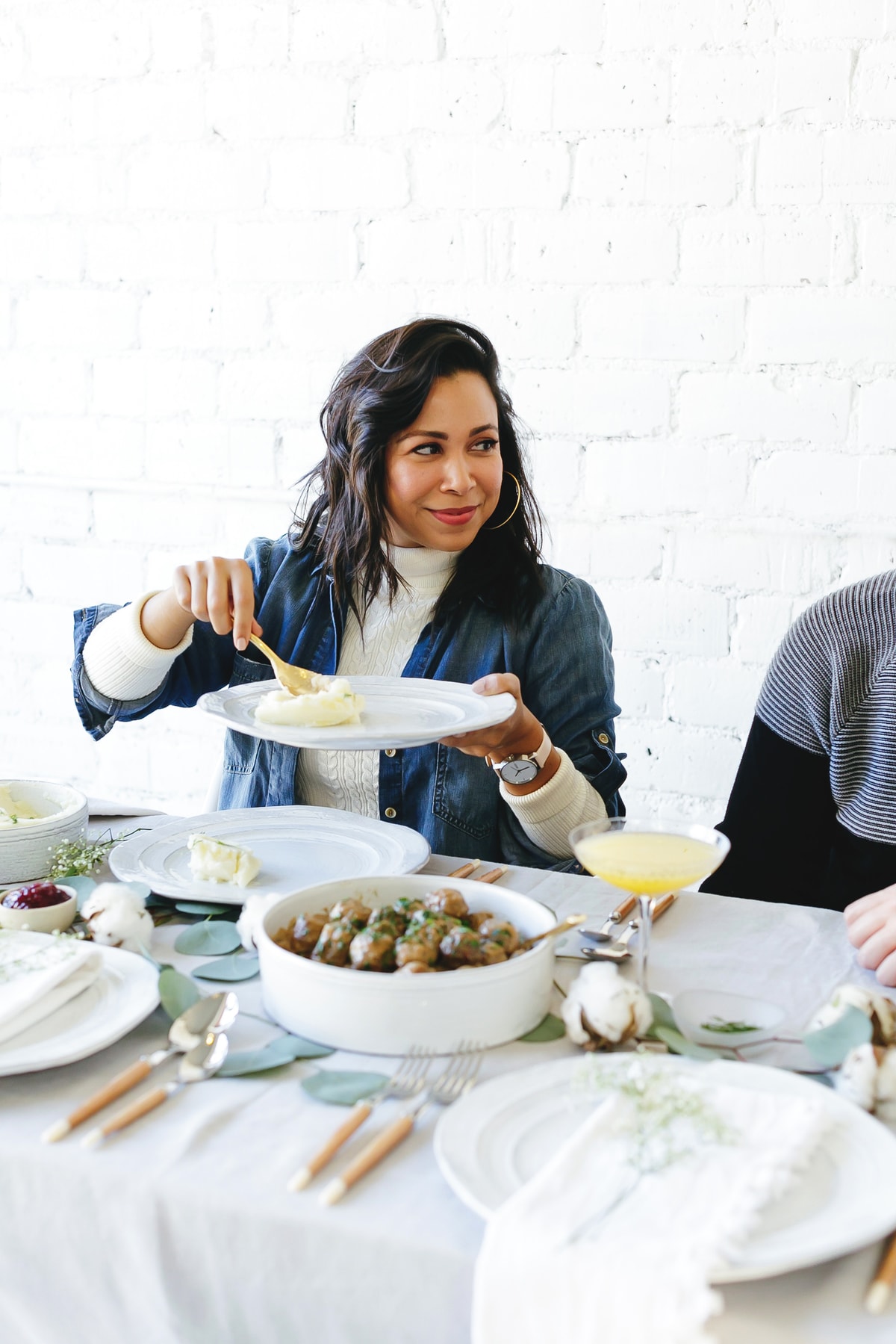 The flowers on the table were really simple and inexpensive. I went around my neighborhood and clipped some eucalyptus and arranged it on the table with branches of cotton. I found the cotton at the Los Angeles flower market, which still makes me happy whenever I go.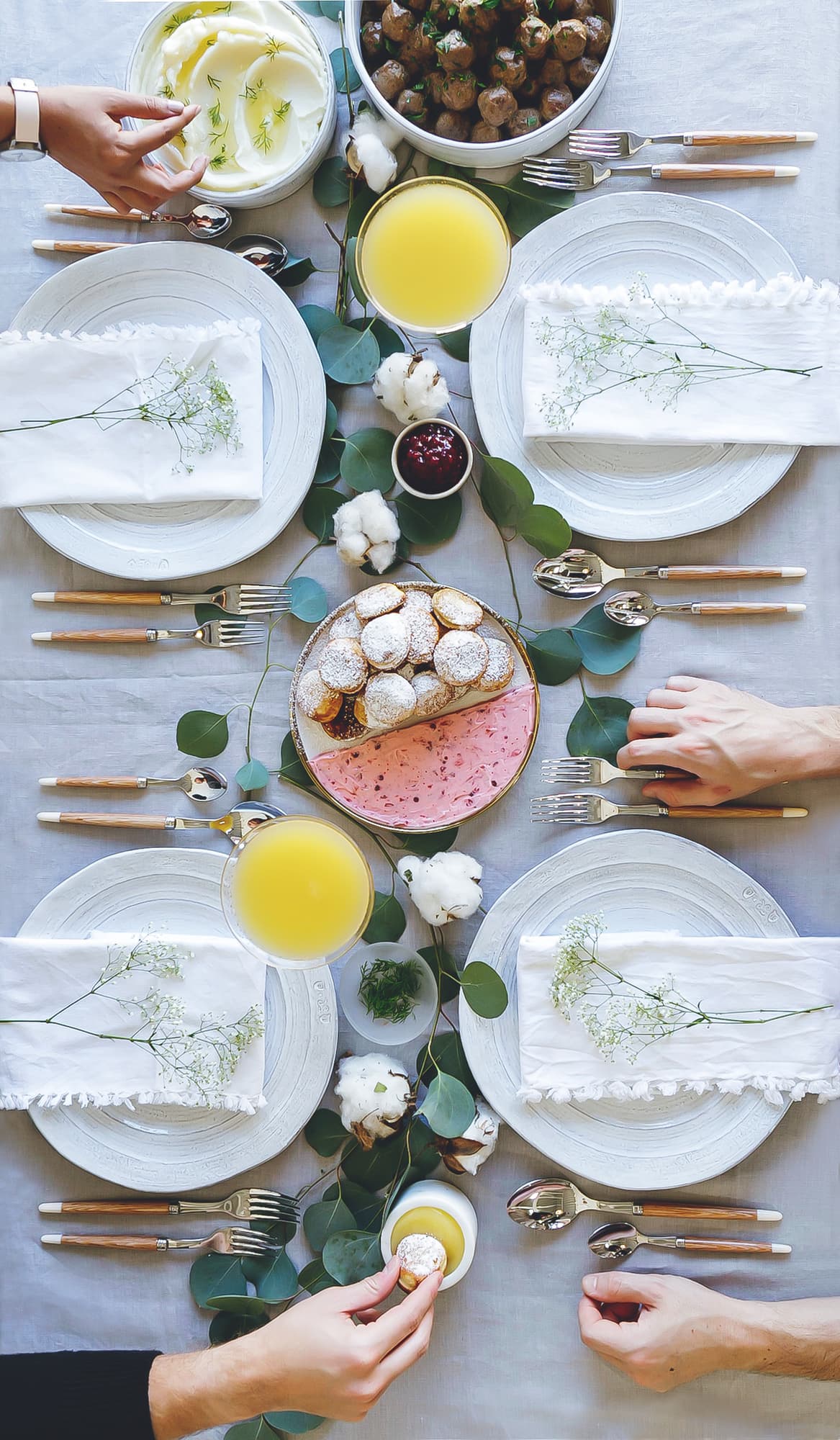 I wanted there to be lots of white but since I can't be trusted with ALL white, we added lots of gray and off white.
The Swedish meatballs were my absolute favorite, especially when dipped into the lingonberry jam and served with these very creamy mashed potatoes.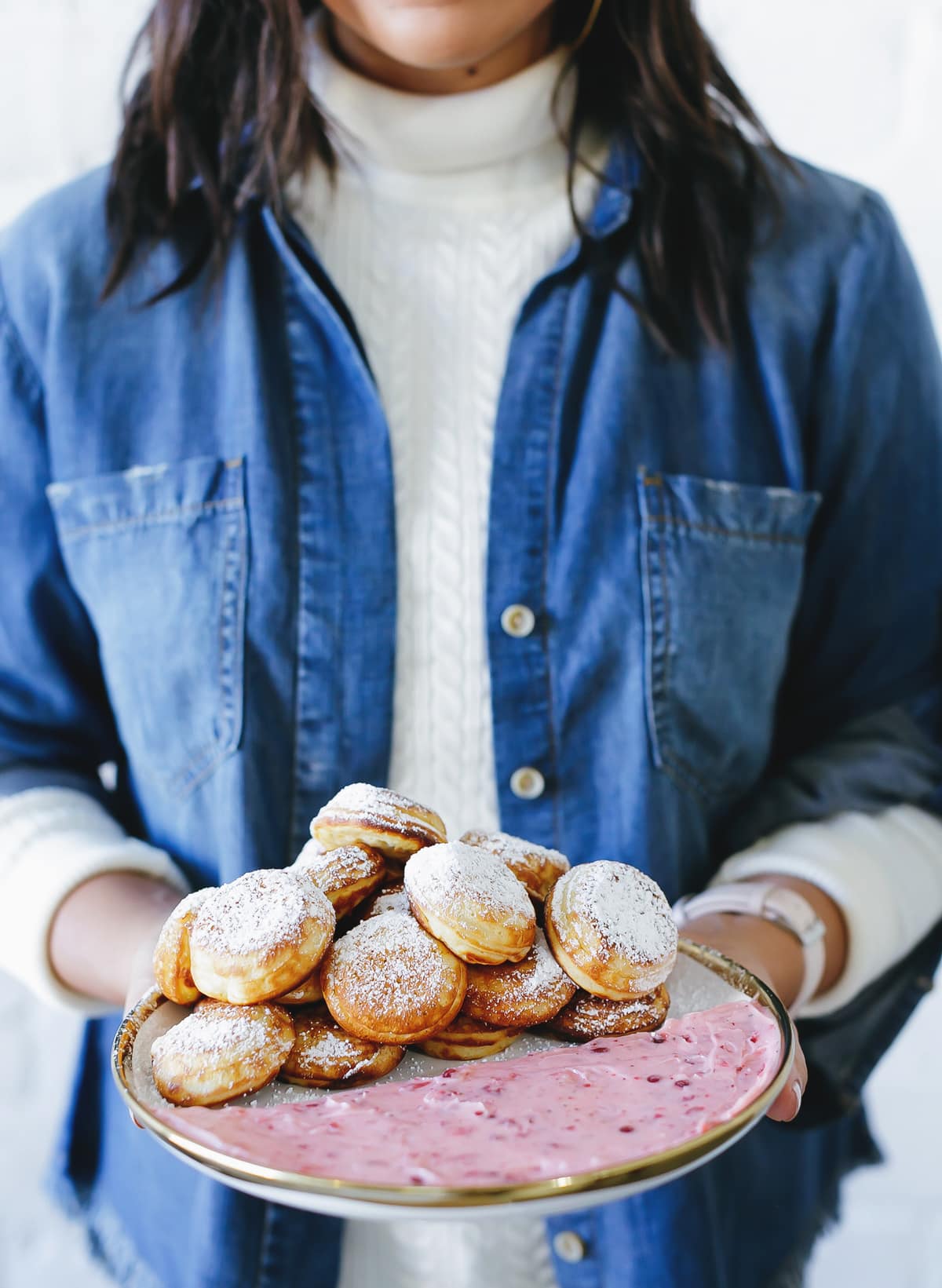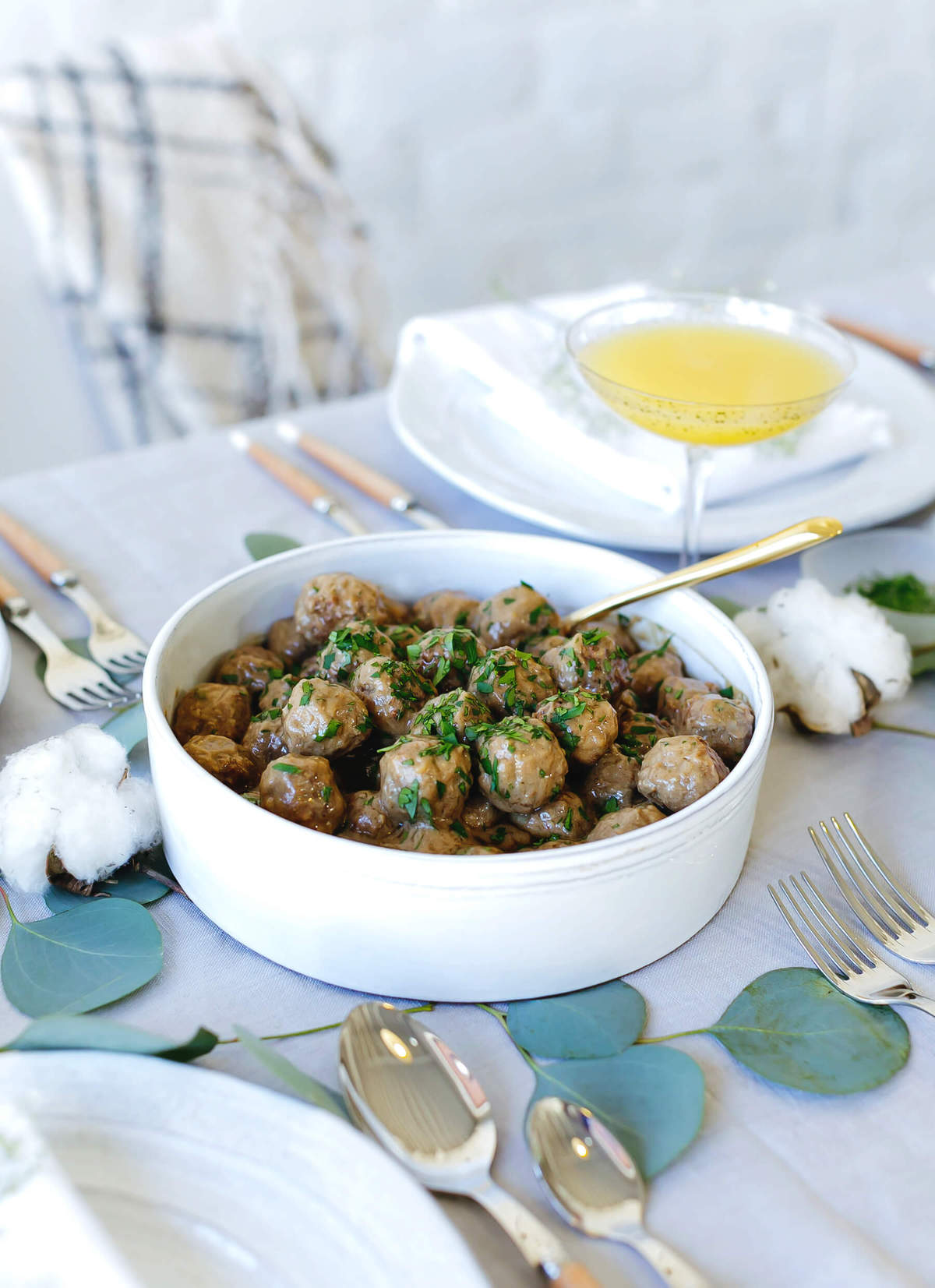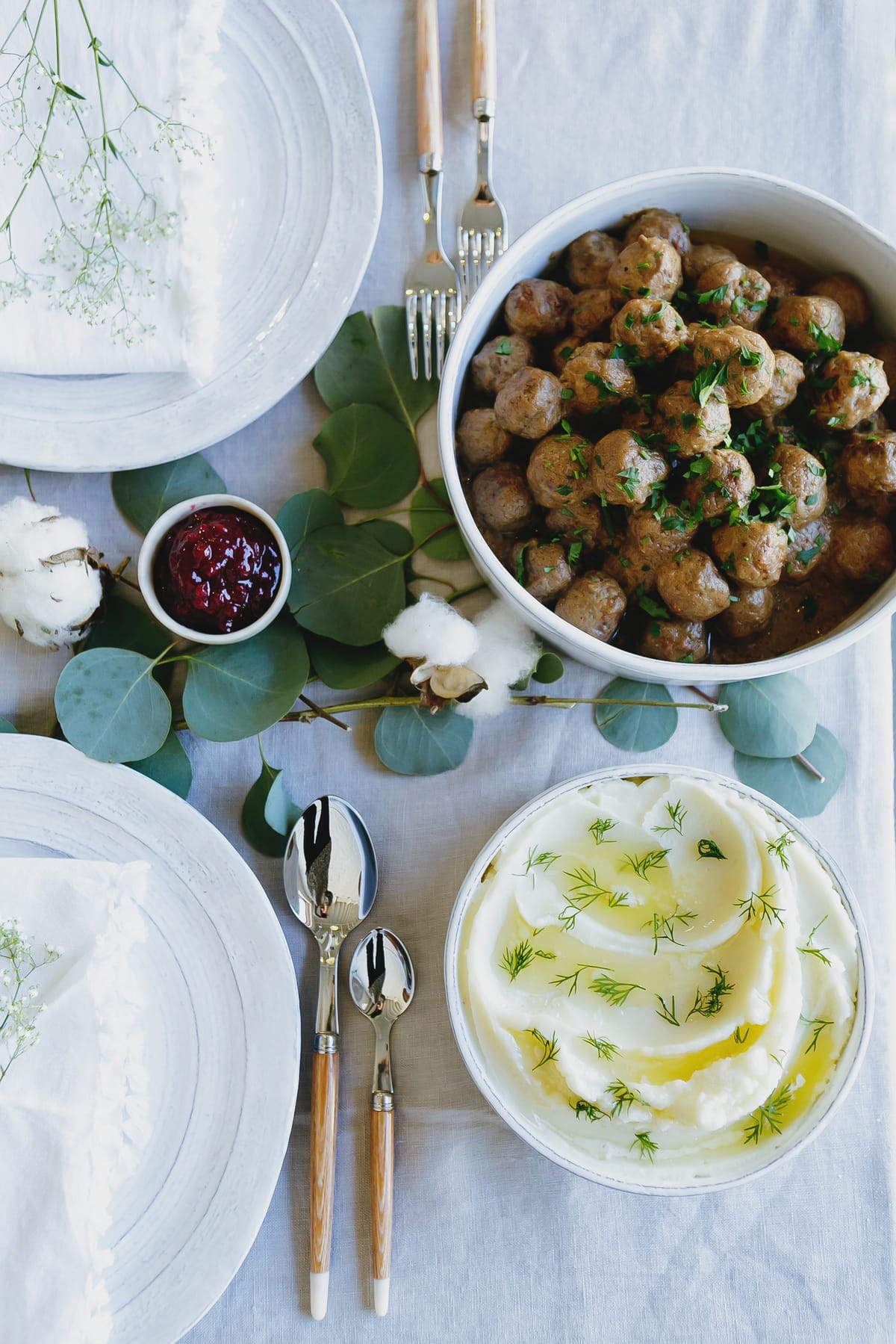 The ebelskivers were served with lingonberry butter which was basically just the jam mixed into the butter until smooth.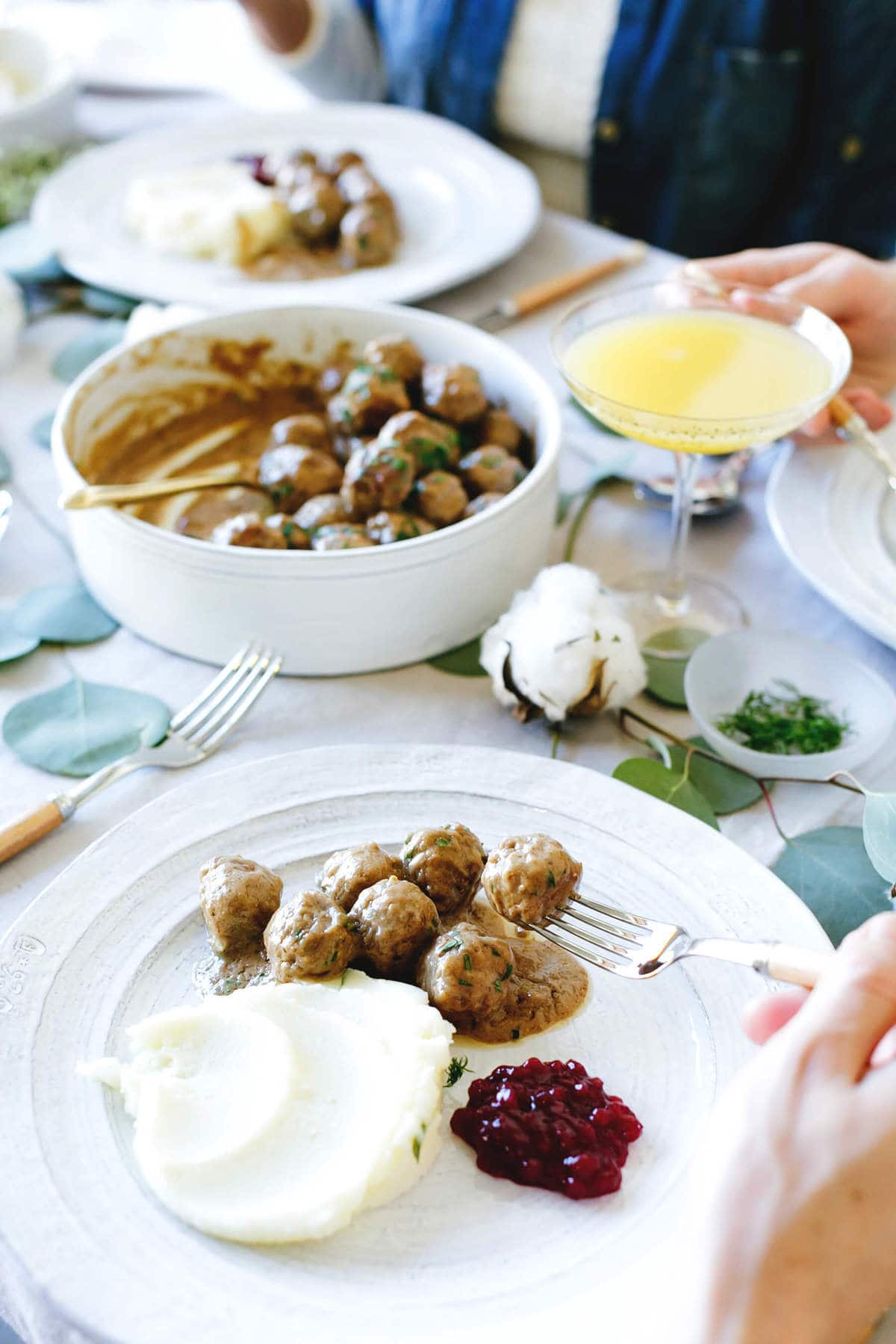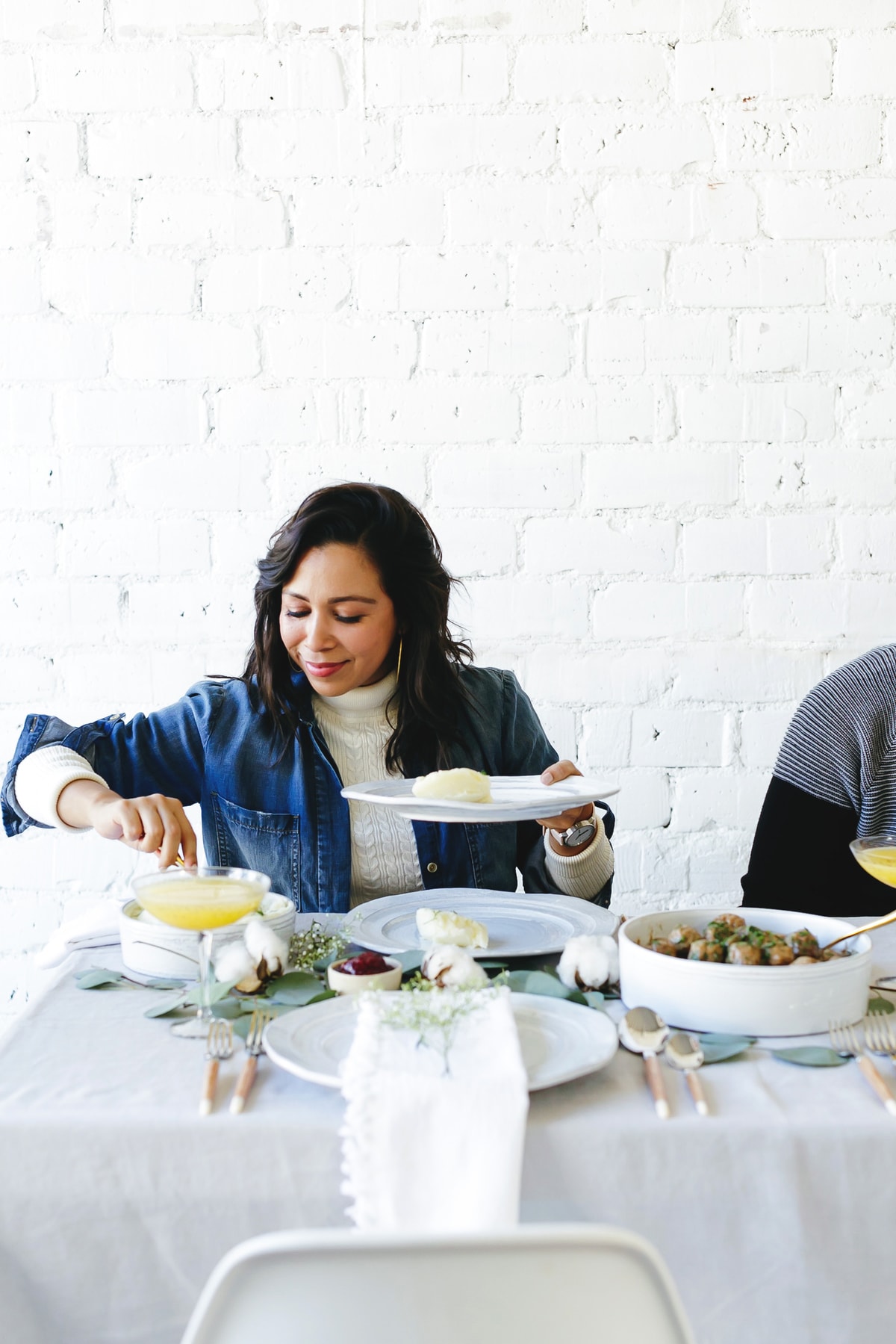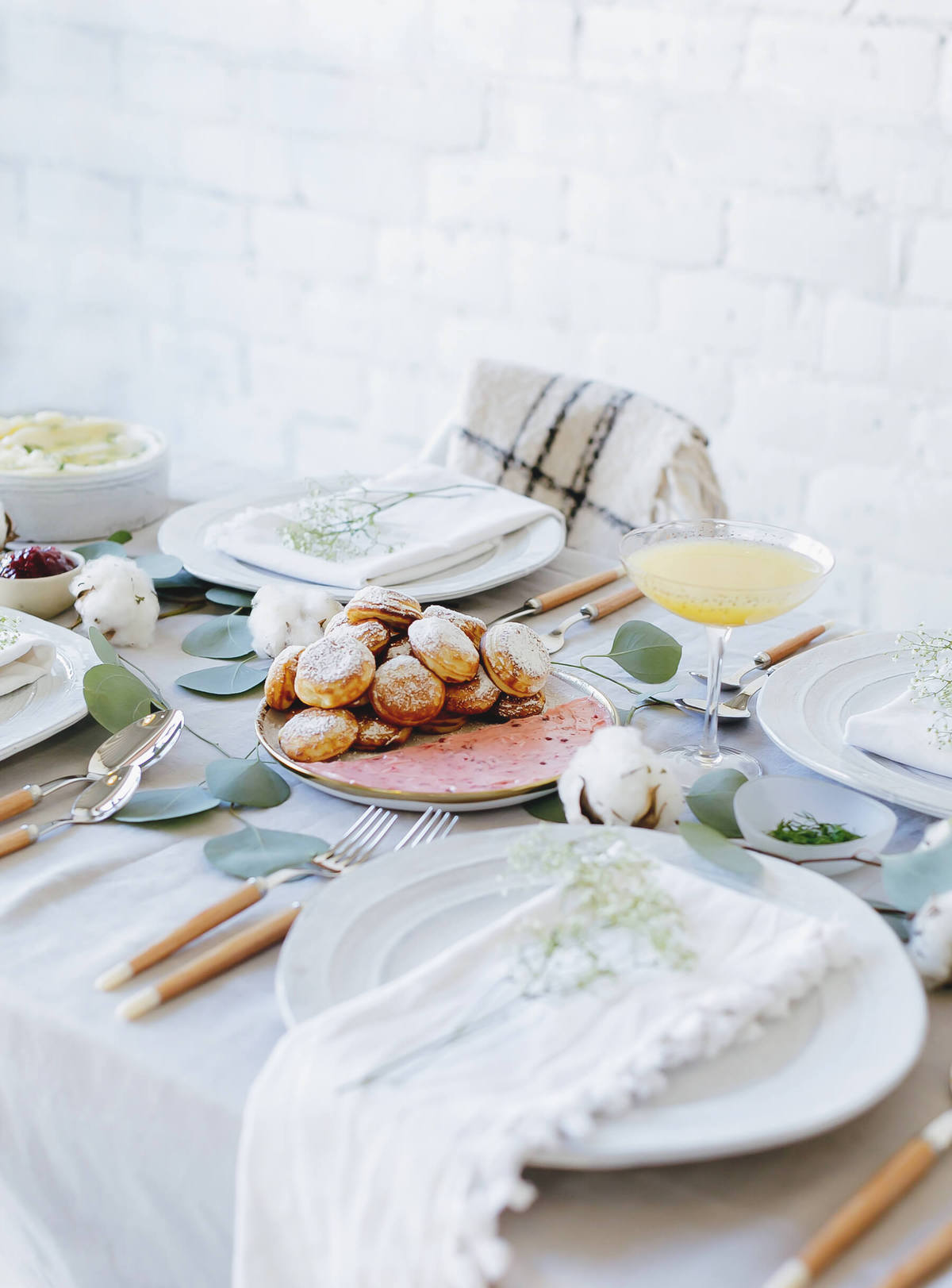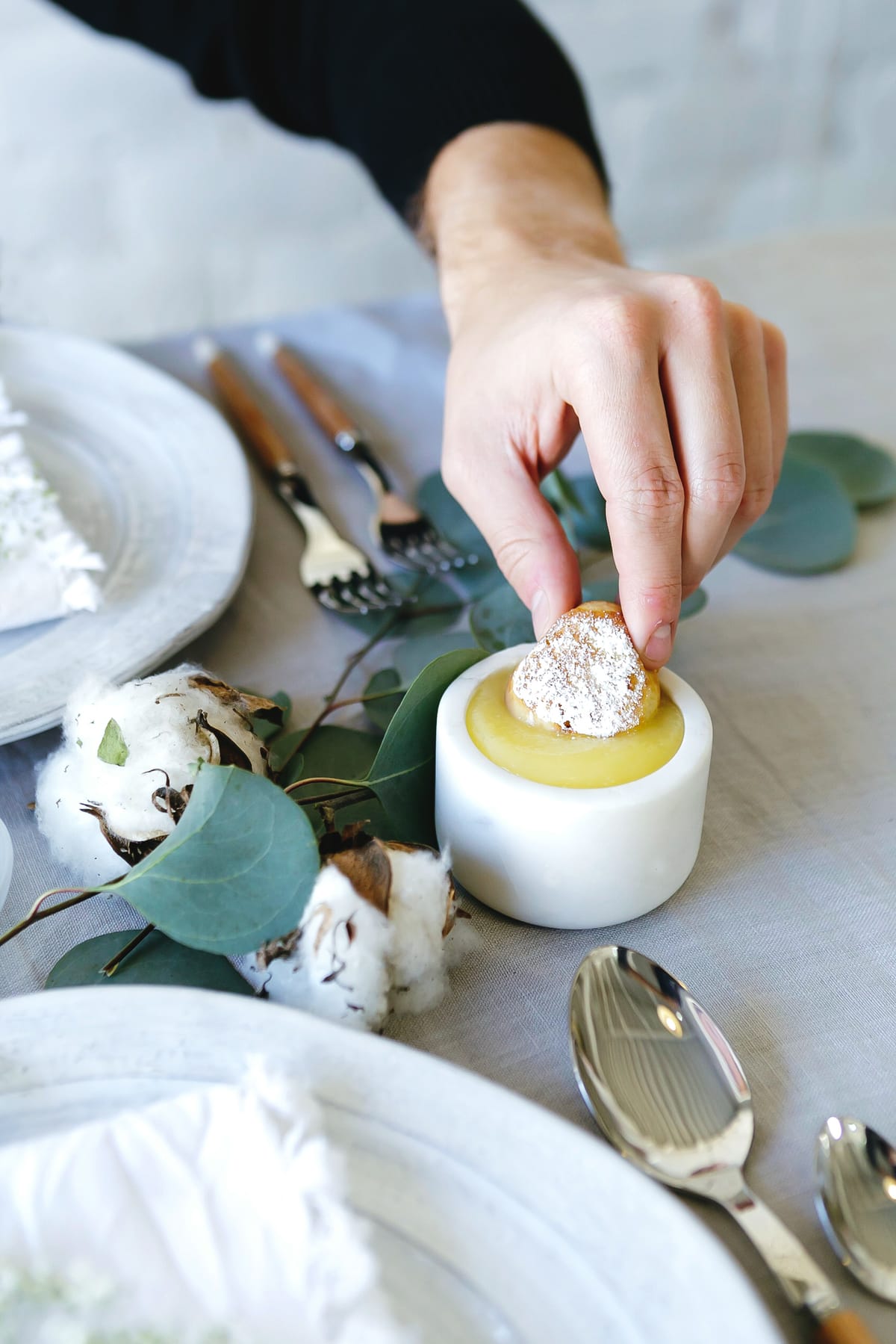 A big thank you to Monica Wang for taking all of the pretty photos and to Billy for being the best smiler! (Seriously look at this smile!) Him and Josh are my favorite people to eat carbs with.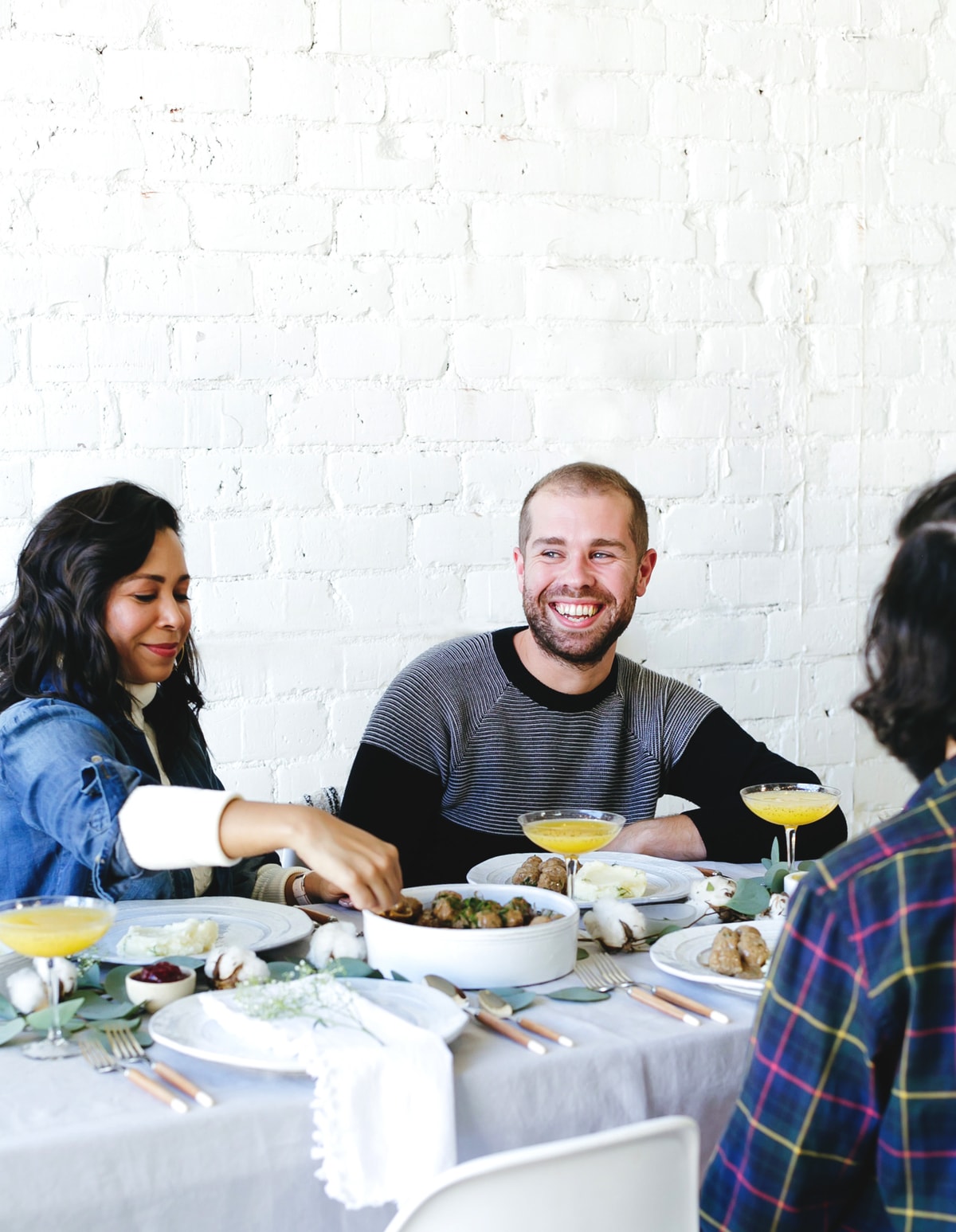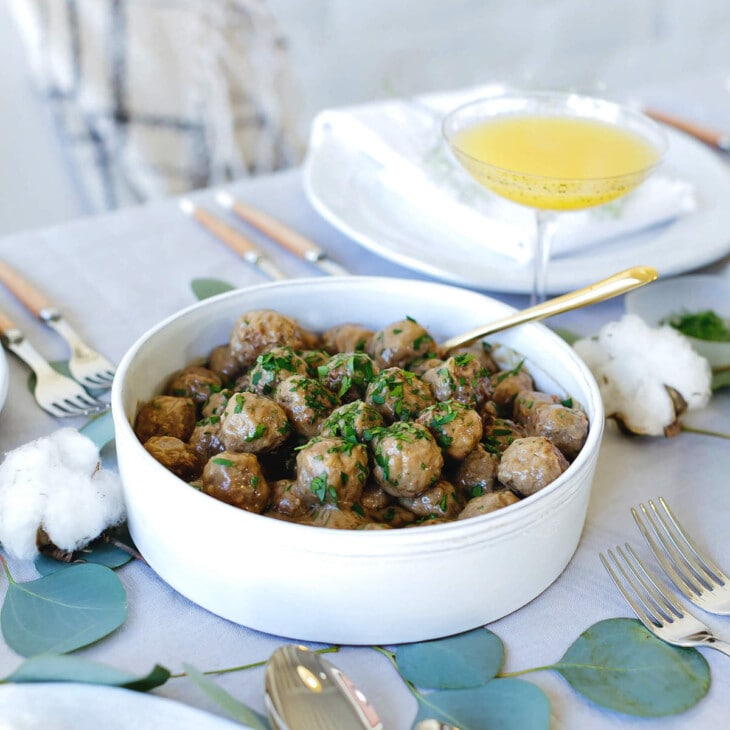 Print Recipe
Swedish Meatballs
Ingredients
1/4

cup

panko bread crumbs 

2

tablespoons

milk

2

large eggs

1

pound

ground pork

1

pounds

ground beef

2

teaspoons

kosher salt

2

teaspoons

black pepper

1/4

teaspoon

freshly ground nutmeg

1/4

teaspoon

ground cardamom

Pinch

of allspice 

2

tablespoons

canola oil 

6

tablespoons

butter

1/3

cup

flour

2

cups

beef stock

1/3

cup

sour cream
Instructions
In a large bowl, add the panko bread crumbs and milk; stir them together and allow to sit for 5 minutes. Next, crack in the eggs and whisk until combined. Then add the pork, beef, salt, black pepper, nutmeg, cardamom and allspice. Mix the meatballs until just combined, being sure not to over-mix. Using a tablespoon or a small ice cream scoop, form the meatballs and set aside, you should end up with about 30 meatballs. 

To a medium skillet, set over medium heat, add the oil. When the oil is hot, add the meatballs, searing them on both sides, for about 2 to 2 minutes. You'll definitely need to do this in batches. Remove the meatballs and set aside. 

Add the butter and when melted add the flour. Stir the two together, cooking the roux until the  flour mixture is smooth. Pour in the beef stock and bring to a simmer until thickened, about 5 minutes. Mix in the sour cream until smooth. Add the meatballs to the pan and cook for about 10 minutes. Serve alongside creamy mashed potatoes. These can be made the day before, kept in a fridge-safe container and then reheated (you may need to add a splash of water to get the gravy to the right consistency!).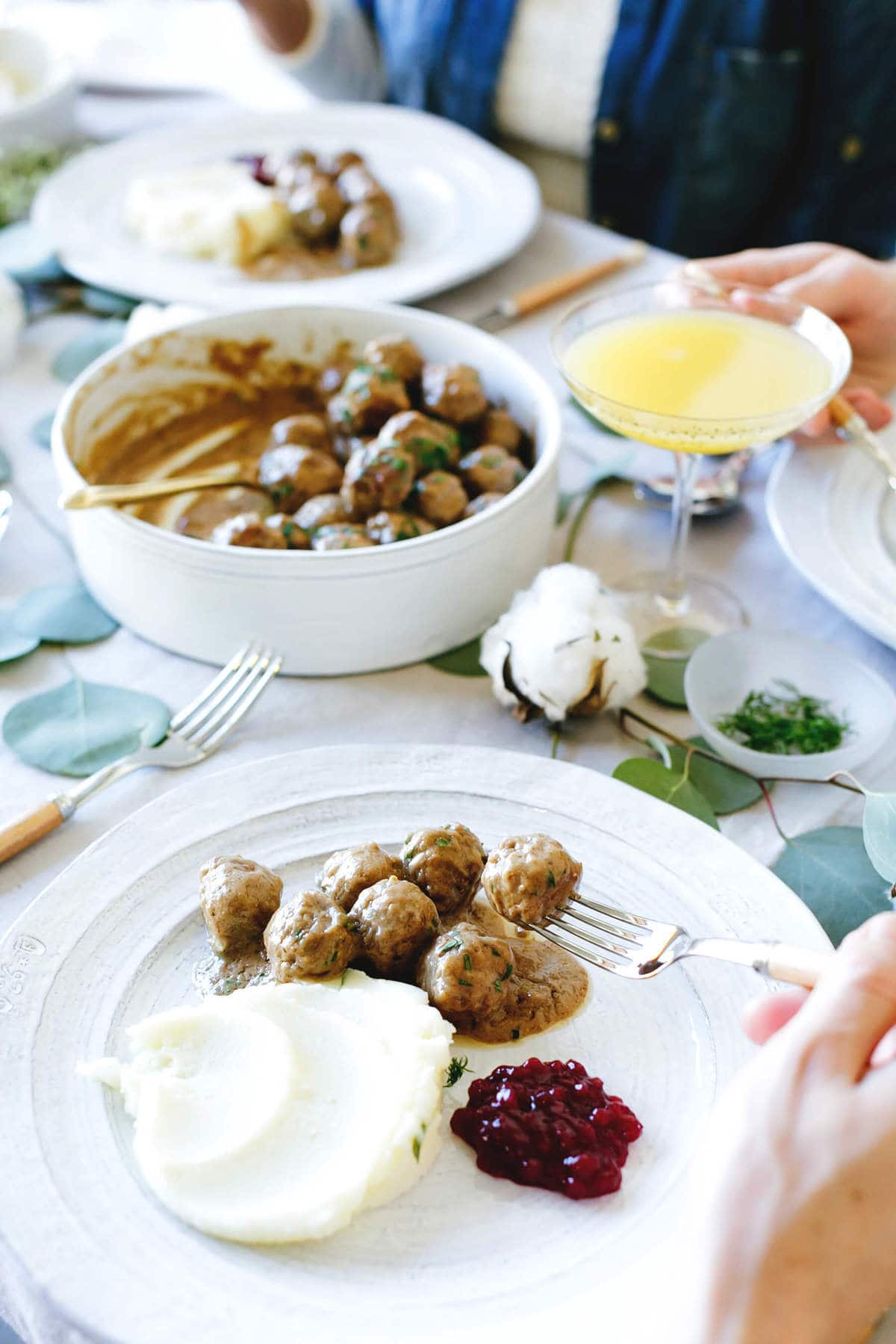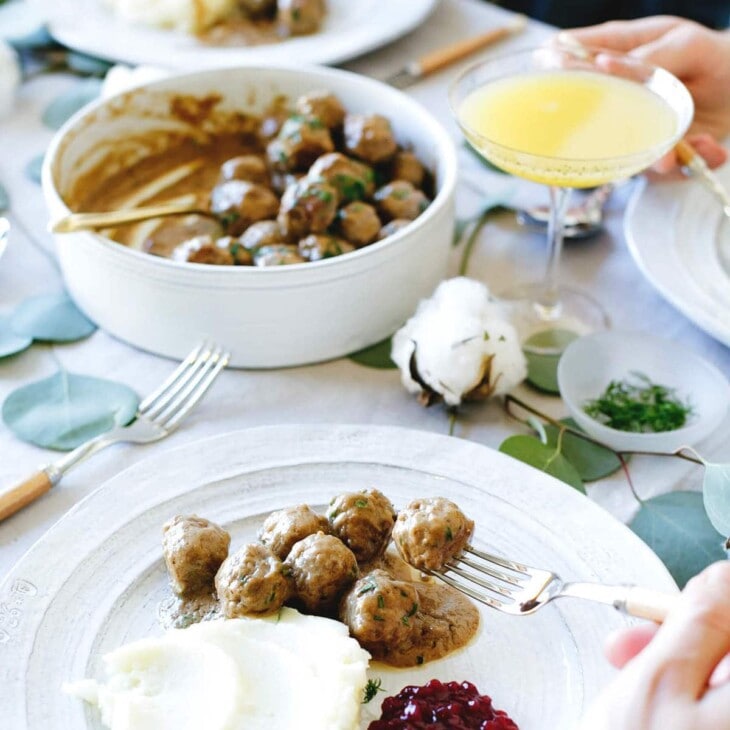 Print Recipe
Dill Creme Fraiche Mashed Potatoes
Ingredients
3 to 4

large russett potatoes

peeled and diced
1/2 cup creme fraiche
A bunch of black pepper
Salt to taste
1/2 cup unsalted melted butter
1 small bunch of dill, leaves cut into small pieces
Instructions
Bring a medium pot of salted water to a boil. Drop the cubed potatoes into the water and cook for about 15 to 20 minutes, until the potatoes are very tender. Drain in a colander and set aside. Add the potatoes to a ricer and push through, into a a pot (you can use the same one you boiled the potatoes in).

If you don't have a ricer, you can use a potato smasher. Repeat with the remaining cubes of potato. Mix in the creme fraiche, black pepper and salt. This can be made the day ahead and reheated by adding a splash or two of milk. Transfer to a serving dish, make pretty swoops in the top and then pour melted butter atop the potatoes and garnish with dill. 
All photos by Monica Wang
Products used:
Atelier Flatware (I've had my eye on these for SO long and they did not disappoint in real life.)
Glenna Dinnerware
Star Cluster Glassware
Fringed Cotton Napkin Set
Candleholders
Metallic Edge Tablecloth
Fringed Cozy Scarf
(This post is sponsored by Anthropologie. Thanks for supporting the sponsors that keep A Cozy Kitchen cozy.)