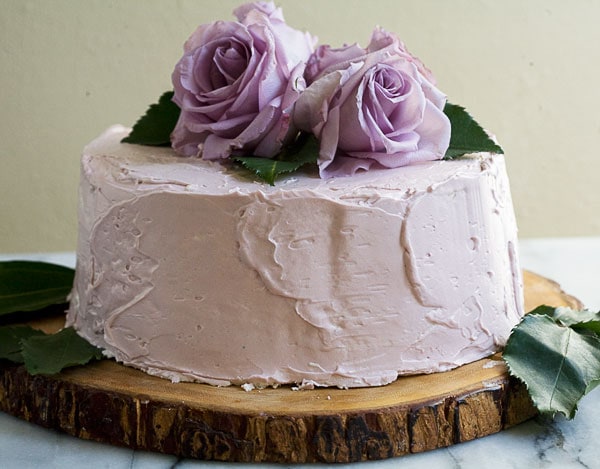 This post is all about overcoming adversity, cake decorating adversity. I came thisclose to having a cake worthy of a spot on Cake Wrecks. It all started when Martha's people were super nice enough to send me an advance copy of their issue of Cakes & Cupcakes. There was a technique in the magazine that caught my eye; it was technique using acetate strips to create a pretty striped pattern. The pictures in the magazine showed glittery pink stripes and bright yellow stripes. I had dreams of creating a cake inspired by my favorite French shirt, the breton. White frosting and navy blue stripes. How spring and easy!
It didn't go so well, guys. Not at all. So this is a story, not about making a pretty cake, but rather about saving a cake from decoration disaster. It's a story about how I panicked, looked at the wilting roses on my bedside table and improvised the shiz out of the next move. Ready?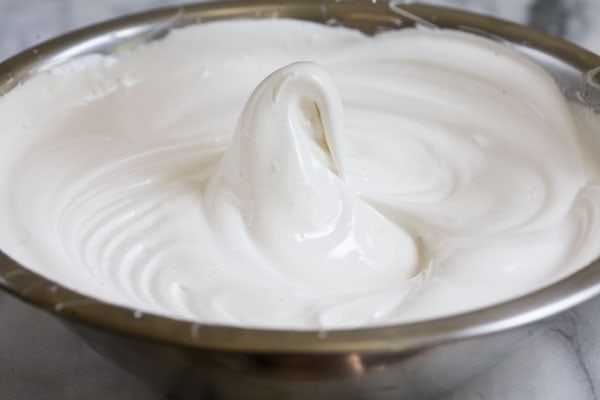 When I first started I have to say I was feeling pretty confident. My cake layers were flat, I had a bunch of coffee in me, I was feeling good!
And look at that pretty meringue! Things were going my way.
I put the crumb coat on. Stuck the cake in the fridge and tended to other things like email and
After the crumb coat, I cut my acetate into 1/2-inch strips. See, the idea was to lay them on the cake and then sprinkle the glitter atop. If it worked according to plan, you'd remove the strips and have perfect stripes.
Okay sooo, turns out I can't cut a straight line, so there's strike one. Secondly, the damn acetate stuck to the frosting and messed everything up. There was cursing.
And to top it all off, the glitter wasn't navy. It's like this carribean blue. Ugh. I swear the picture on the packaging made me think it would be navy if there was a lot of it. Lies.
Also, it was 85 degrees yesterday in Los Angeles. WHY!!!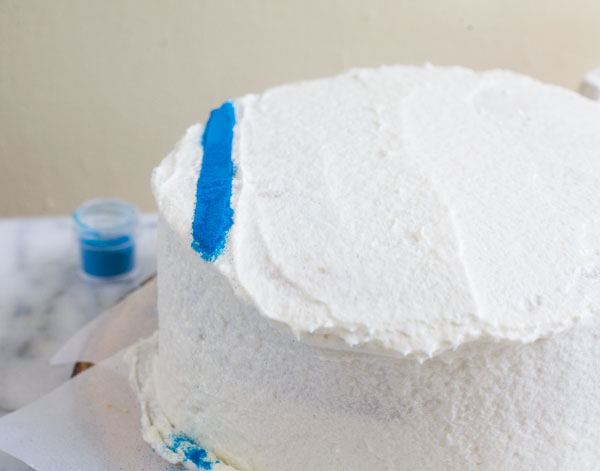 I kinda freaked. I mean, I did freak freak, because failures happen all the time to me. They're a bummer, a waste of ingredients, a waste of money, but sort of part of the deal.
But I knew the cake tasted good and the frosting was delicious so it just felt like a big waste to just give up and not try and save it some how, some way.
That's when…I noticed these pretty things.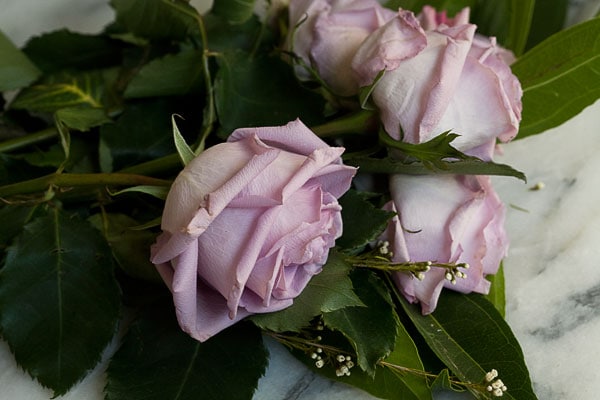 I'm not really a roses girl, but when they're crazy colors like this baby lavender situation, I change my tune.
So, I scraped off most of the icing, dug into my pantry, found my food gels and added one drop of red and two drops of blue. I somehow remembered that red and blue make purple. And ta-daaa! Matching frosting.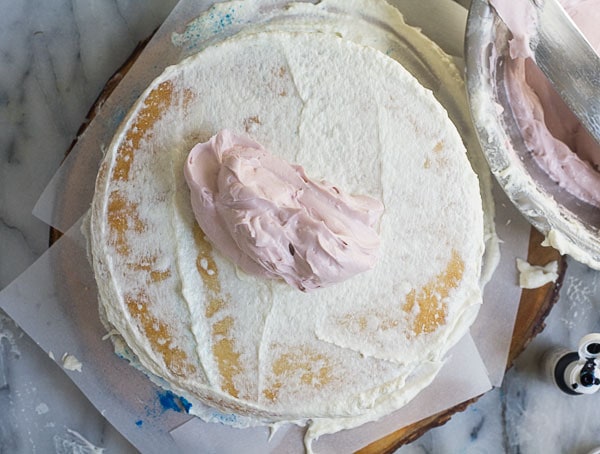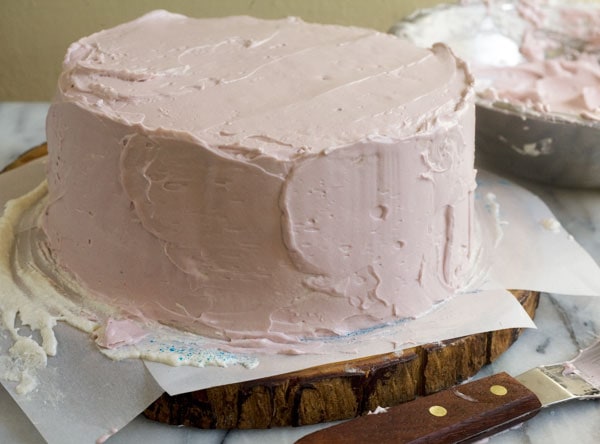 I clipped the roses, stuck them into the center of the cake and that's it.
I still think a breton-inspired cake would be pretty neato, but I think this was sort of an ok save.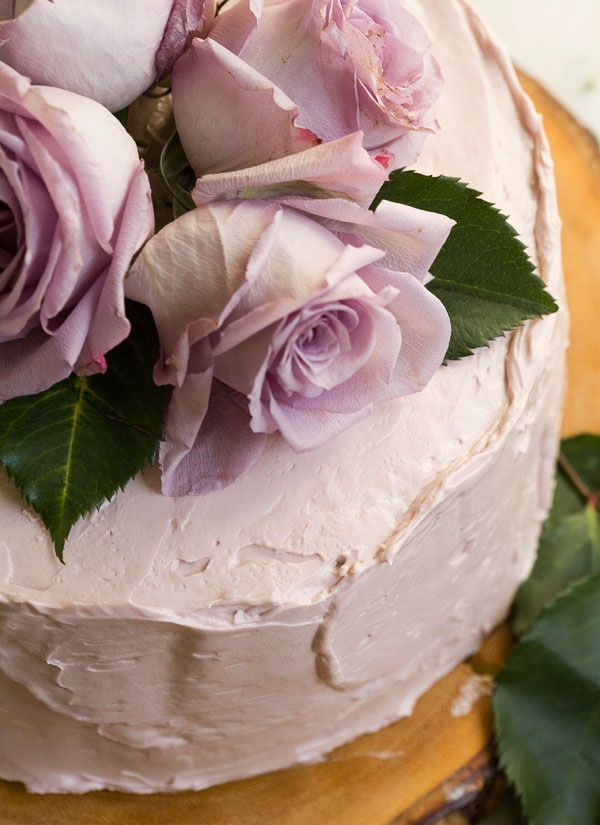 White Cake
1/2 cup plus 2 tablespoons (1 3/4 sticks) unsalted butter, room temperature, plus more for pans
3 1/2 cups sifted cake flour (not self-rising), plus more for pans
1 tablespoon plus 1 1/2 teaspoons baking powder
1/2 teaspoon salt
2 teaspoons pure vanilla extract
1 1/4 teaspoons whole milk
1 1/2 cups sugar
5 large egg whites, room temperature
1. Preheat oven to 350 degrees F. Butter cake pans, line with parchment. Butter parchment; dust with flour, tapping out excess.
2. Whisk together flour, baking powder and salt in a bowl. Stir vanilla into milk. With an electric mixer on medium speed, beat butter until very smooth, about 2 minutes. With machine running, gradually add sugar; beat until pale and fluffy, 3 to 5 minutes.
3. With mixer on low speed, add flour mixture in 3 batches, alternating with 2 batches of milk mixture and beginning and ending with flour. Beat until just combined (do not over mix).
4. In a clean mixing bowl, beat egg whites on medium speed until stiff peaks form, about 3 minutes. Gently fold egg whites into batter in 3 additions.
5. Divide batter among prepared pans, smoothing tops with an offset aptula. Bake until tops spring back when pressed and a cake tester comes out clean, about 25 minutes for 8-inch round layers.
Basic Swiss Meringue Buttercream
3/4 cup sugar
3 large egg whites
2 sticks unsalted butter, room temperature
1/2 teaspoon pure vanilla extract
1 drop red food gel
2 drops blue food gel
1. Place whites and sugar in a heatproof mixer bowl set over a pan of simmering water. Whisk until sugar dissolves (mixture should feel completely smooth when rubbed between your fingers). With an electric mixer on medium speed, whisk egg-white mixture 5 minutes. Increase speed to medium-high, and whisk until stiff, glossy peaks form and meringue has cooled (test by feeling bottom of bowl), about 6 minutes. Reduce speed to medium. Add butter, 1 piece at a time, beating well after each addition. Beat in vanilla and drops of red and blue food coloring. Adjust food coloring until you reach the desired shade of lavender.
Recipe used with permission from Martha Stewart Living. Copyright © 2013, Martha Stewart Living Omnimedia, Inc. Originally published in Cakes & Cupcakes.