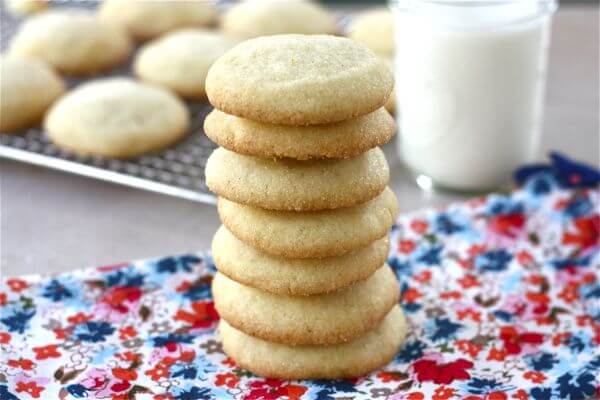 Today this post is all about saying sorry...to yourself.
Do you ever have those days when you're just irritable? Of course you do. Yesterday, this happened. But instead of being irritated with others (like what would normally happen), I found myself all by myself with no one around, thus resulting in me just being irritated with myself.
I was annoyed that I almost backed my car into my landlord's car. I was annoyed that I kept tripping over cords. I was annoyed that it was hot and yet I was determined to blow-dry my hair. And then I got annoyed with myself for sweating so much. I was annoyed with myself that I let my pile of laundry get sky-high. I was annoyed that I really wanted a hamburger but was too lazy to drive somewhere. And then I just got really annoyed for being annoyed. Like, shut up. Ew. Stop whining.
It was like I was 2 people but wasn't. Like, one really annoying, bad mood person and one totally innocent person. The innocent person totally taking the brunt of my irritableness. Humans are complicated.
I finally forced myself to snap out of it. I decided to be super nice to myself. I painted my nails. I watched a movie. And then I gave myself some cookies. Being nice is way more fun.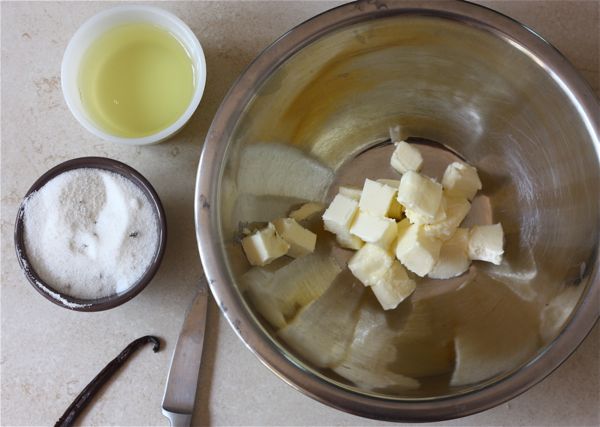 These cookies were inspired by a scoop of salty vanilla ice cream I had last week at my favorite ice cream shop in Los Angeles, Scoops.
The ice cream walked the perfect line between salty and sweet. Both flavors were noticeable without being overbearing.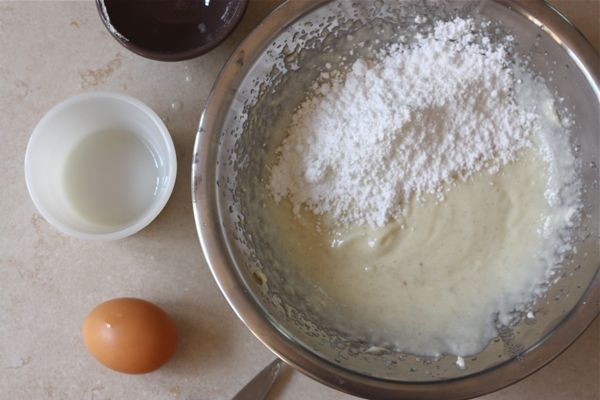 After the cookie dough is whipped up, it takes a trip to the fridge to firm up.
Cookie dough balls are rolled in a combination of sugar and sea salt.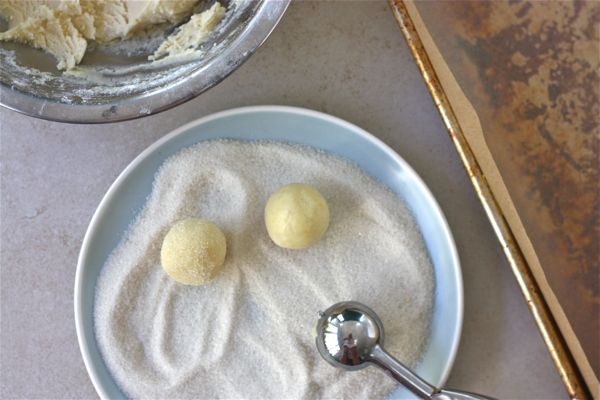 Thirteen minutes later the cookies come out with the perfect amount of sparkle and a nice crumb. These cookies are chewy and crumbling and easy and perfect. YES!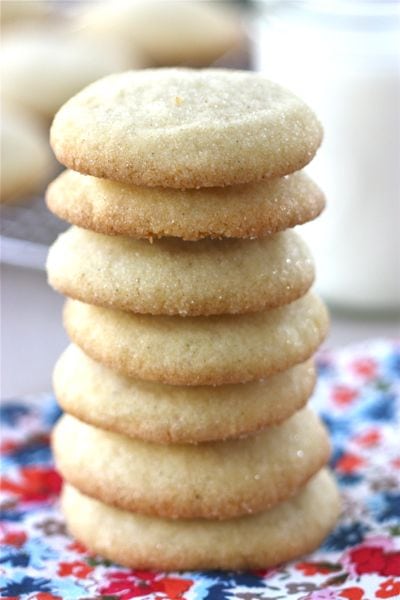 Salty Vanilla Bean Sugar Cookies
Cookie Dough:
½ cup white granulated sugar
½ vanilla bean, scraped
½ cup vegetable oil
½ cup (8 tablespoons) butter, room temperature
½ cup confectioners sugar
1 large egg
2 cups all-purpose flour
¼ scant teaspoon baking soda
¾ teaspoon baking powder
¾ teaspoon sea salt
⅛ teaspoon ground nutmeg
Salty/Sugar Coating:
½ cup cane sugar
1 teaspoon sea salt
1. To a small bowl, add the white granulated sugar and vanilla bean. Mix with your hands until the vanilla bean seeds are evenly distributed throughout the sugar. To a medium bowl, add the vanilla sugar, oil and butter. Using a stand-up mixer or hand-mixer (you could even use a whisk), beat until fairly smooth. Add the confectioners sugar and beat once again. Add the egg, beating until smooth.
2. To another medium bowl, stir the dry ingredients together: flour, baking soda, baking powder, salt and nutmeg. Add the dry mixture to the wet mixture, beating until combined, yet being sure not to over-mix.
3. Cover the bowl with plastic wrap and refrigerate the dough for at least 2 hours, until it's stiff enough to scoop easily and hold its shape; overnight is fine.
4. Just before shaping the cookies, preheat your oven to 350°F. Line 2 or 3 baking sheets with parchment.
5. Mix together the sugar and salt in a shallow pan or on a plate, and scoop the chilled dough by the tablespoon, rolling the dough into a ball using your palms. Next, roll the dough into the sugar/salt mixture, being sure to evenly coat. Place the cookies, evenly spaced, on the prepared baking sheets. Next, slightly press each cookie, flattening the tops. I did about 6 cookies per batch. And be sure to refrigerate the dough in between batches.
6. Bake the cookies for about 13 minutes, until their edges are just beginning to brown. Bake slightly longer for a crisper cookie.
7. Remove the cookies from the oven, and cool on the pan for at least 10 minutes before transferring to a rack to cool completely.
8. As soon as the cookies are completely cool, store them airtight, to retain their crunchy texture. For soft cookies, allow them to rest uncovered overnight before wrapping and storing.
Recipe adapted from King Arthur's Flour