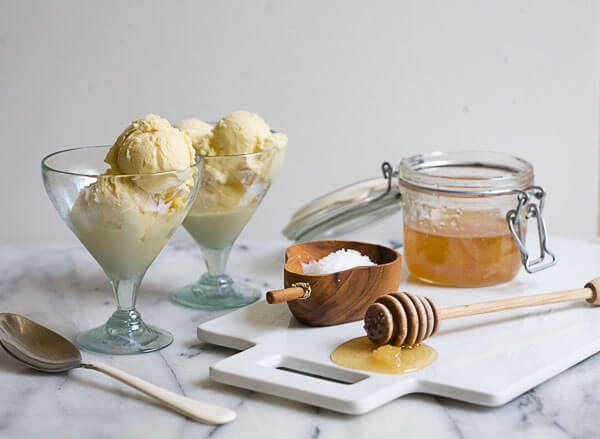 You guys, Ice Cream Week is here, in full effect, on A Cozy Kitchen. And I'm excited! Who's with me?!
Every day this week I'll be throwing a new ice cream recipe your way. Maybe there'll be lots of berries up in ice cream, maybe some malt balls, most likely there'll be some chocolate and there might even be some waffle cone slingin', who knows.
Back in January when it was freezing cold (even in LA), all I could dream about was summah-time fun like slip n' slides, sitting in the sun wearing sunnies (I secretly hate that word), and most of all, ice cream-making. I had this idea of dedicating a whole week to just ice cream. So, here we are…Ice Cream Week!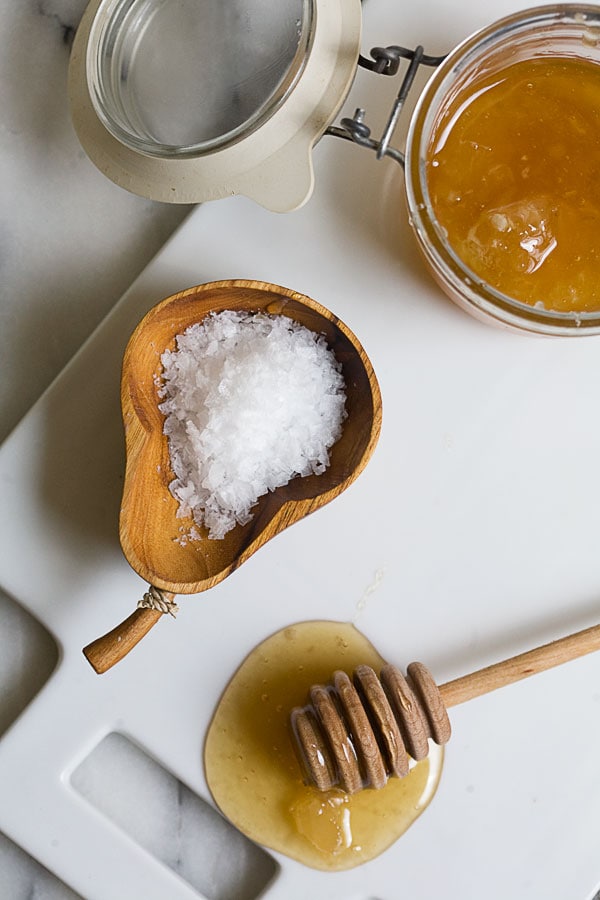 We're kicking it off with an ice cream I really REALLY like. It was inspired by something I made a few months ago that was the simplest thing ever but so amazing – salty honey butter.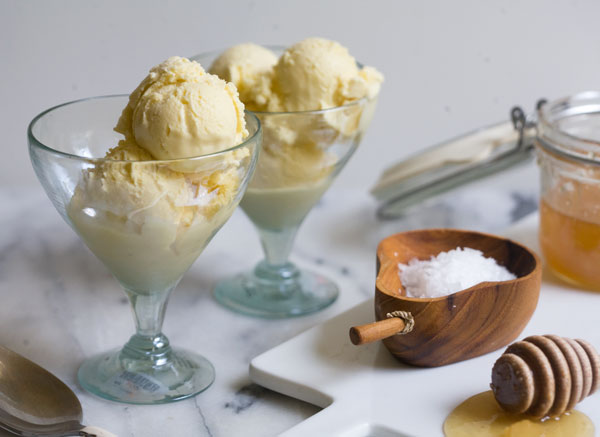 I debated as to whether or not I should post a how-to on making ice cream or if providing my favorite basic recipes for flavors like vanilla, chocolate or strawberry might be helpful, but I decided against it. I wanted to get fun and crazy, and I figure other blogs, other people have already covered that. Buuuut, I will give you a quick run-down of ice cream stuff I like.
I use this Cuisinart Ice Cream Maker.
I like The Perfect Scoop by David Lebovitz.
I like Jeni's Splendid Ice Cream.
I like these scoopers. I like these containers. I love this digital read thermometer. I think David gives great tips on making ice cream.
Oh one thing I'm so adamant about is using a digital read thermometer. It takes the guessing part out of ice cream making. And it totally eliminates the whole "I cooked the custard too long and now I have scrambled eggs" part. It's a breeze, invest in one–you won't regret it!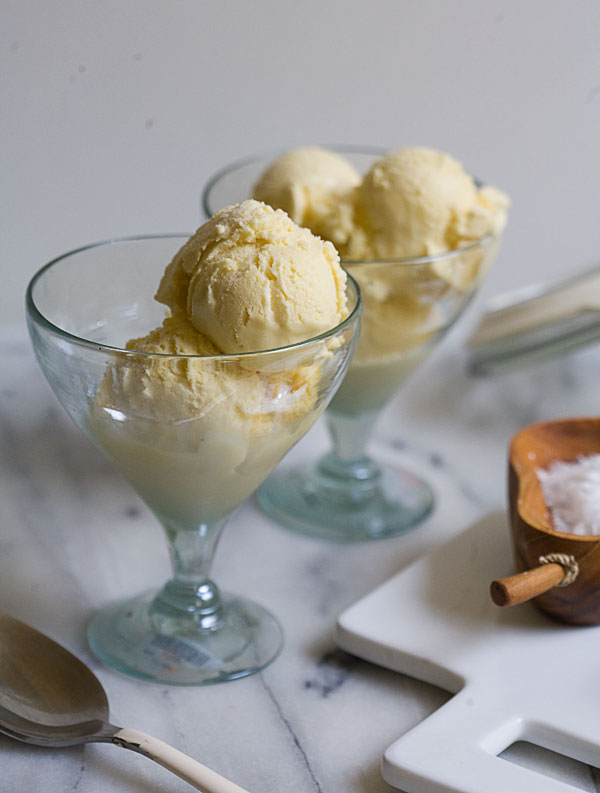 Back to this salty honey situation. It's basically like salty honey butter but in ice cream form, which sounds strange but I promise is super delicious—it's sweet, salty and floral. I used clover honey in this recipe, but feel free to replace it with other types of honey like wildflower, sage or orange blossom.
Pretty excited about the rest of the week, guys. I hope you are too.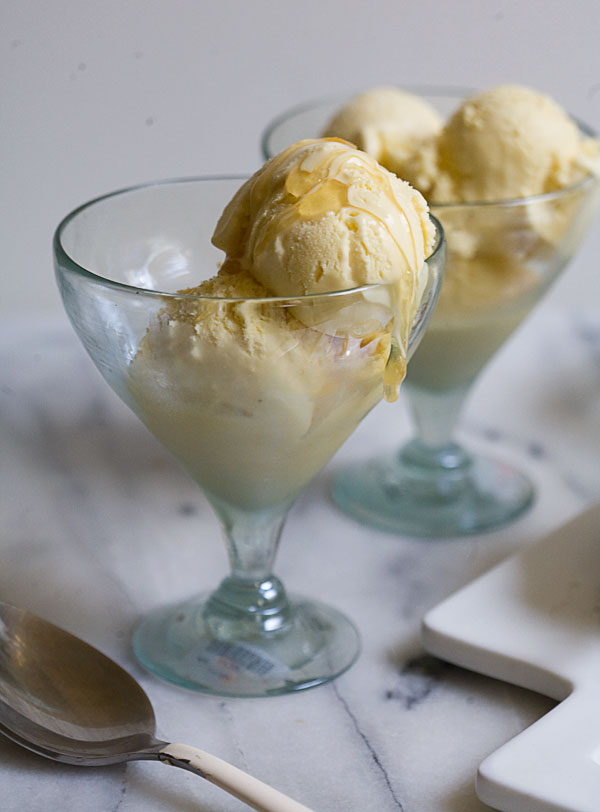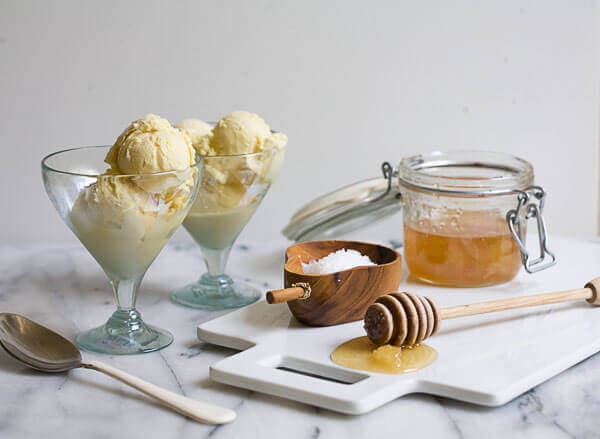 Print Recipe
Salty Honey Ice Cream
Ingredients
8

tablespoons

honey

clover or sage

3/4

teaspoon

Maldon sea salt

1

cup

whole milk

2

tablespoon

sugar

4

large egg yolks

1

cup

heavy cream
Instructions
To a bowl, prepare an ice bath by adding 10 or so ice cubes and adding a few splashes of water. Set a slightly smaller bowl inside the bigger bowl and set a sieve or strain inside the smaller bowl. Set the whole ice bath contraption aside.

In a small saucepan or skillet, heat the honey over medium-low heat. Add the salt and mix; take the pan off the heat and set it aside.

To a medium saucepan, add the milk and sugar; heat over medium until the milk reaches a slight simmer and the sugar dissolves. Once it reaches the simmer, remove the pan from the heat.

In a medium mixing bowl, beat the egg yolks together, thoroughly. Next you're going to temper the milk mixture. Whisking the entire time, add about 1/4 cup of warm milk to the egg yolks. Add the remainder of the milk to the egg yolk mixture and whisk. Return the entire mixture back to the medium saucepan and place over low heat. Cook the milk and yolk mixture, stirring constantly, until the thermometer reads 170 to 175 degrees F and the mixture appears thick and coats the back of the spoon.

Pour the mixture through the sieve into the bowl. If the honey has cooled, quickly rewarm it and add it to the egg yolk mixture, mixing thoroughly. Lastly, stir in the heavy cream. Keep mixing until the mixture is room temperature. Wrap the bowl in plastic and transfer it to the fridge for 4-5 hours, or overnight, until very cold.

Churn the mixture into the bowl of your ice cream maker, according to your ice cream maker's instructions. Serve immediately for soft serve or alternatively transfer to a freezer-safe container and freeze overnight.