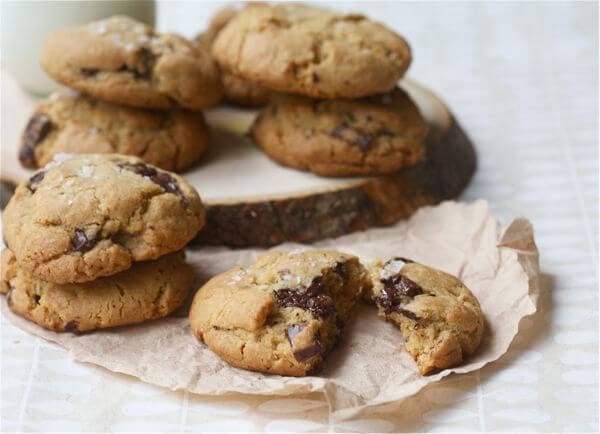 You guys…I'm an adult now. I've been an official adult for some time now, but yesterday, as I was driving down the street, it dawned on me that the past few months have been revelatory. I've changed. I've grown up. The evidence is evident. And here it is:
1. I have a Christmas tree in my living room. Every year, pre this one, I've felt no need to get a Christmas tree because I'd usually just enjoy my family's tree. But this year…I bought one for myself, to enjoy by myself. Whoa.
2. I picked a color palette for Christmas. I'm using the same color for my tree, wreath and Christmas gift-wrapping. Yes, my friends…a Christmas color pallete. Who am I?! (It's white, silver and wood-colored, in case you're curious.)
3. As I was driving last night, I saw three very lovely (and probably very smart) girls walking down the street in heels so high and dresses so short and tight that I thought: A. I might see their privates any second. B. They might fall down and I might laugh, like, a lot. I shook my head. I wished their mothers could see them. And then I just felt old.
4. Yesterday I took the ice cube tray out of the freezer, used up all the ice and then did something I never do: I filled it up with water and returned it back to the freezer. Ahhh…adulthood!
But then I ate three slices of lemon tart for dinner while standing in my kitchen. And I was doing so well…
Cookies. Let's talk about cookies that belong in your arsenal.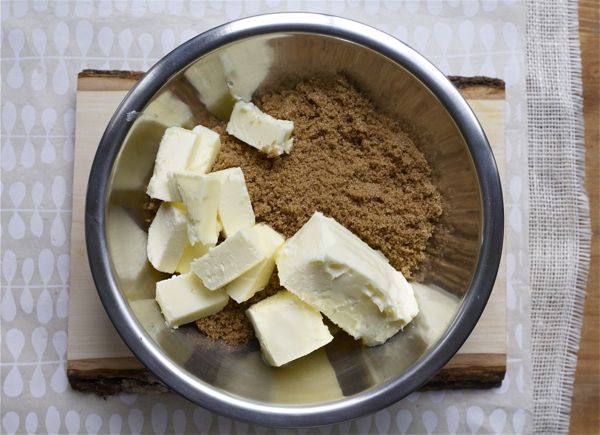 This is a famous chocolate chip cookie recipe.
Maybe the most famous, next to Alton's Brown and Nestle's.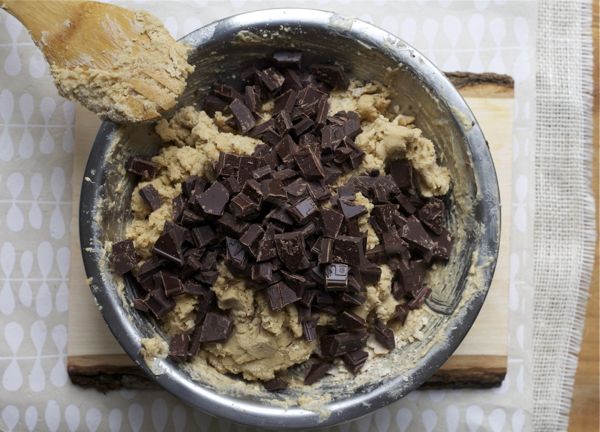 I've tried all three of these recipes and Alton Brown's used to be my favorite. Nestle's is cool, but not as awesome.
But Jacques Torres's recipe is just perfect.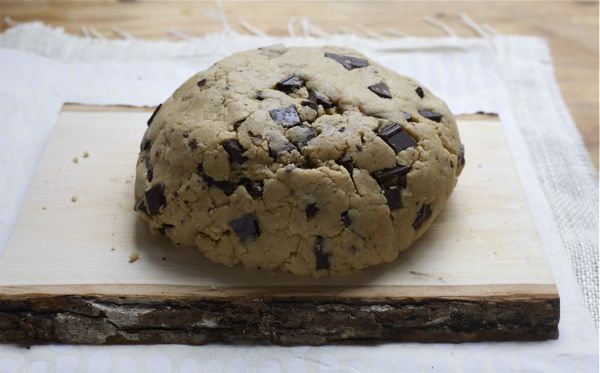 I added whole wheat pastry flour in the mix to give it a touch of nuttiness. I dig it.
And I added a tad bit more salt than what the original recipe called for, but for the most part this recipe is flawless.
It needs no revamp. It needs no makeover.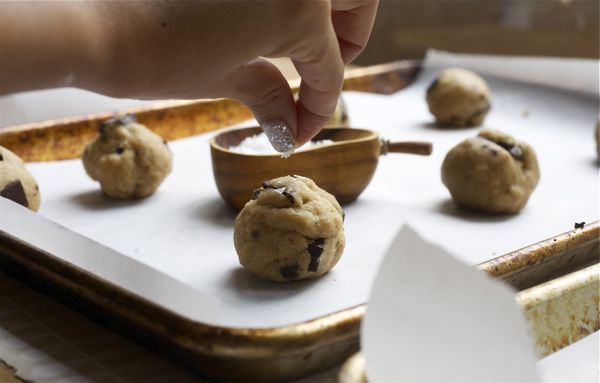 It's the chocolate chip cookie we should all be making for Santa a.k.a. ourselves.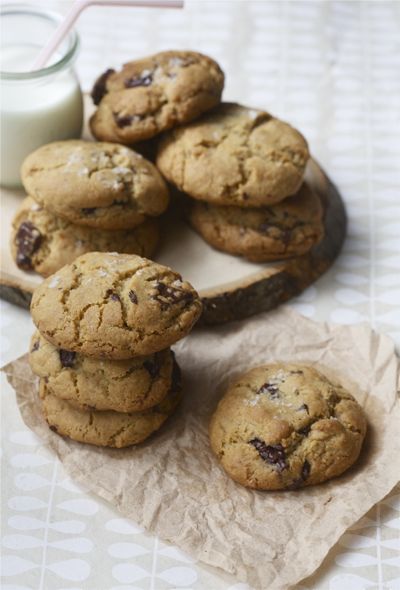 Salty Dark Chocolate Whole Wheat Chocolate Chip Cookies
2 cups whole wheat pastry flour
1 2/3 cup bread flour
1 1/4 tsp baking soda
1 1/2 tsp baking powder
1 1/2 tsp sea salt
1 1/4 cups unsalted butter
1 1/4 cup light brown sugar
1 cup, plus 2 tablespoons, granulated sugar
2 large eggs
2 teaspoons natural vanilla extract
16 ounces chopped dark chocolate (at least 60% cacao content)
Sea salt for garnish
1. Sift whole wheat pastry flour, bread flour, baking soda, baking powder and salt into a bowl. Set aside.
2. Using a mixer fitted with paddle attachment, cream butter and sugars together until very light, about 5 minutes. Add eggs, one at a time, mixing well after each addition. Stir in the vanilla. Reduce speed to low, add dry ingredients and mix until just combined, 5 to 10 seconds. Drop chocolate pieces in and incorporate them without breaking them. Press plastic wrap against dough and refrigerate for 24 hours. Dough may be used in batches, and can be refrigerated for up to 72 hours.
3. When ready to bake, preheat oven to 350 degrees. Line a baking sheet with parchment paper. Set aside.
4. Scoop 6 2-ounce mounds of dough (the size of a golf balls) onto baking sheet, making sure to turn horizontally any chocolate pieces that are poking up; it will make for a more attractive cookie. Sprinkle lightly with sea salt and bake until golden brown but still soft, 15 to 18 minutes. Transfer sheet to a wire rack for 10 minutes, then slip cookies onto another rack to cool a bit more. Repeat with remaining dough, or reserve dough, refrigerated, for baking remaining batches the next day. Eat them .
Yields 18 Cookies; Recipe tweaked from Jacques Torres