If you're looking to make new friends, salted caramel is a good place to start. Combine salted caramel with apples and put them in a pie? An even better start.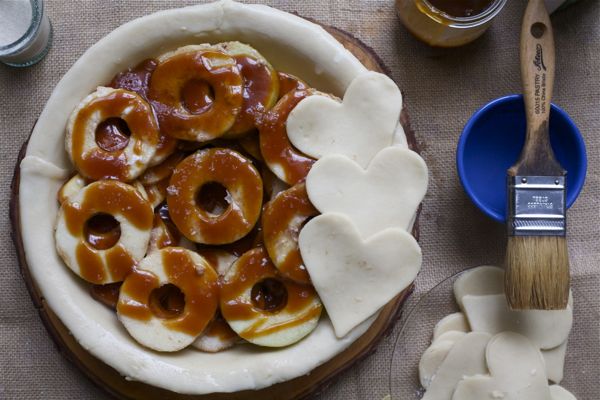 This Thanksgiving is going to be the first T-Day I've ever spent away from home. EVER! And I know I'm like a full-grown adult and should have been having "Friendgiving" like for years now, but I dunno...I like my family. Even though I live across the country from them, I've always figured out a way to get home. I'd either cry poor and they'd feel bad and buy me a ticket or I'd save my pennies and get myself home or even cash in on some airline miles I didn't even know had. It was all in the name of making 10 Thanksgiving dishes with too little time and too little kitchen equipment. But every time the effort to go home was worth it.
This year I'm going to San Francisco with my dude (!!) to spend it with his family. I'm nervous. I don't know them; they don't know me. But naturally, I want them to like me. For this possibly awkward, sweat-inducing situation I'll need a pie.
I'm thinkin' this salted caramel deliciousness will do the trick.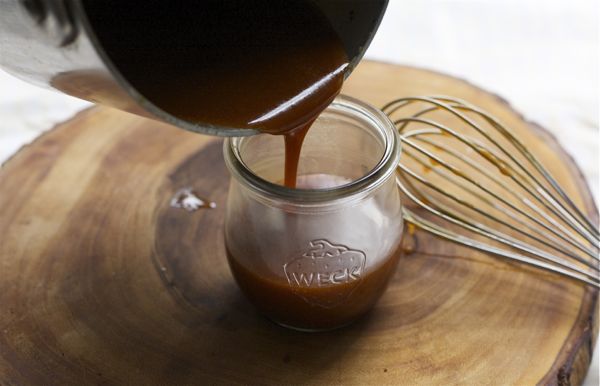 This pie is my new love. I thought my new love was the Bourbon Pumpkin Pie (and it is good!) but this one...OHH-MM-GGEEE.
I will admit that this one takes a little effort. That's why I'm going to recommend something I never have before: maybe possibly buy your pie dough.
WHAAA?
Yes. Or make it the night before. Because between the making of the caramel, slicing up the apples, etc., etc., this thang is a good amount of work. But it's worth it, ohhh is. it. worth. it.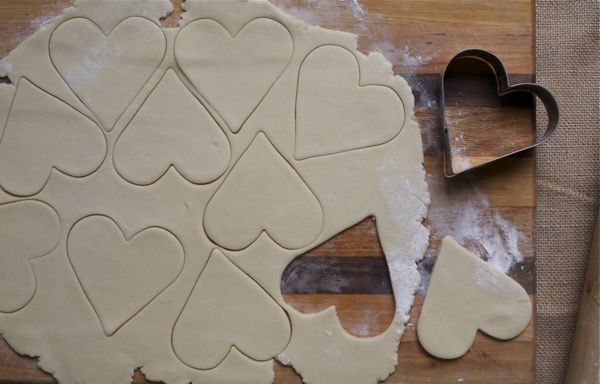 The heart pie dough border is totally optional. I think it's pretty cute. But you're more than welcome to do a lattice or whatever you're feeling.
I used the combination of Gala apples and one Granny Smith. I liked the teeny-bit of tartness with the caramel. Such a win.
The most glorious part about this pie is how the caramel actually ends up tasting like apple salted caramel.
When the pie is in the oven the apples cook in the caramel and transform the caramel to tasting like apples. It's ridiculously amazing.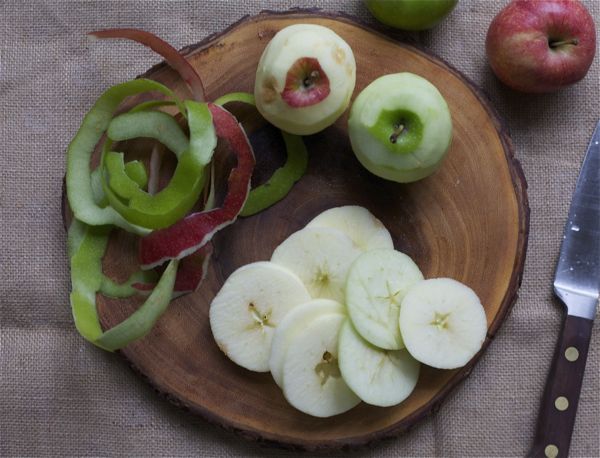 Can we talk about caramel for a second? Making caramel at home can be a little scary and if you've never done it, I got some tips:
1. Get everything ready before hand. I'm talking the cream, the sugar, the butter, your whisk. Get your stuff in place.
2. Wear long sleeves. When you add the butter and cream, the mixture will bubble up, but you'll need to keep whisking. It's pretty easy for a little bit to escape the pan so wearing long sleeves will protect your arms.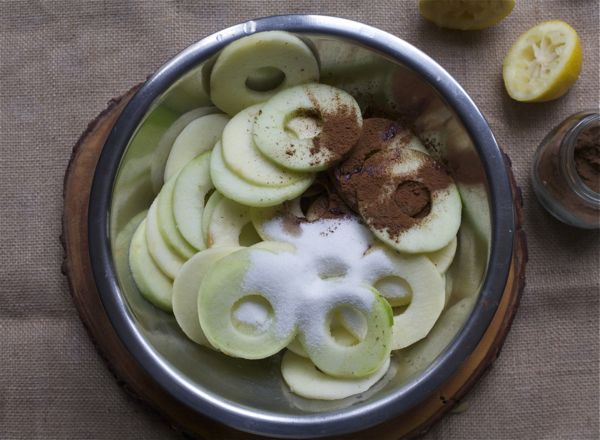 3. Add room temperature butter and add warm heavy cream. It's in the directions below, but warming up your heavy cream is a big one. If you add super cold cream, the caramel will seize. Sure, you can cook it a bit more and it will melt again, but why do that. Just warm it up and you won't have any problems.
4. Don't taste it! I've done this before and it's like, why did I do that? It's hot cooked sugar. Wait 'til it cools down to do a taste test. You may need to add more salt but just let it chill out first.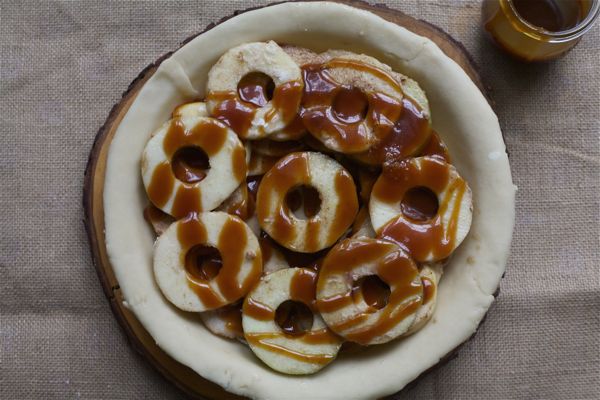 The other thing with this pie, it'll be goopy when you take it out of the oven.
You might even curse my name a little. Don't worry, it'll thicken and be sliceable once it's completely cooled.
And I'm not talking like an hour cooled. It's going to take more like 5 hours, so just plan accordingly and you'll be all good.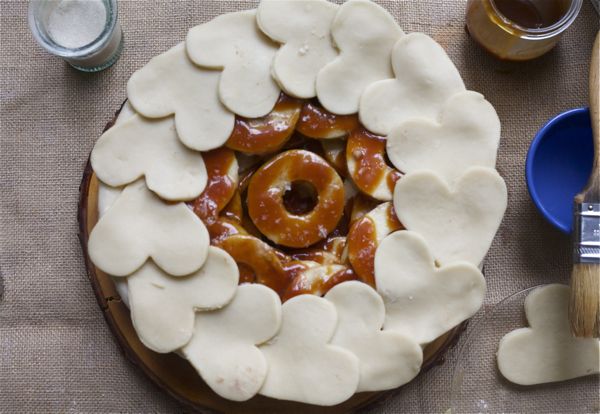 About a month ago, as we were planning this trip, I got an email from the nice people over at Acura and they were like, Do you want to borrow a car for a week? And I was like, Sure!
So next week they're giving me a car and we're using it for our road trip. We were planning on flying, but driving up the coast of California is a stunner - if you've never done it.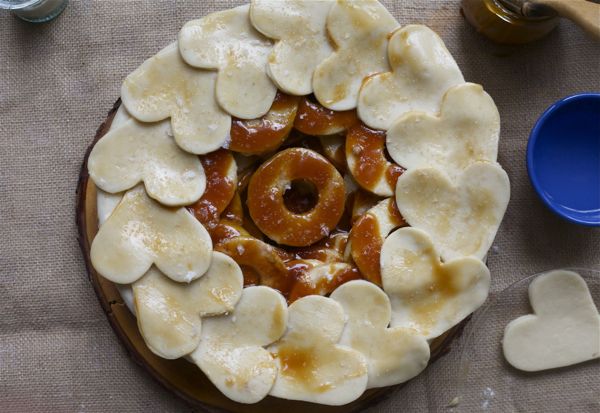 Back to San Francisco! I haven't been to this city in a few years. If you have restaurant recommendations, cute store recommendations, fun activities, I'm all ears.
Where should I eat? What should I do?
I like you. Make this pie.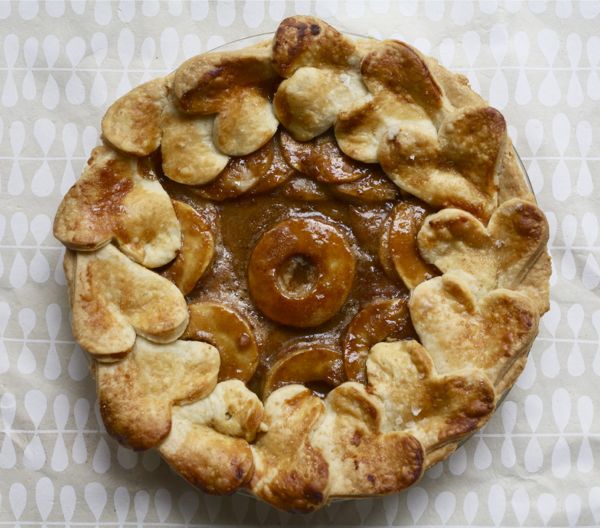 Salted Caramel Apple Pie
Salted Caramel:
½ cup heavy cream
1 cup white granulated sugar
5 tablespoons unsalted butter, room temperature
½ teaspoon of flaky sea salt (I used Maldon)
Pie:
2 nine-inch pie crusts (homemade or store-bought)
3 Gala Apples (You can use others too - like Russets or Orins)
1 Granny Smith Apples (I used this for an added tartness - totally optional)
1 lemon
4 tablespoons of all-purpose flour
1 teaspoon bourbon (optional)
3 tablespoons white granulated sugar
1 teaspoon ground cinnamon
¼ teaspoon freshly grated nutmeg
¼ teaspoon allspice
Topping:
Turbinado Sugar
Flaky Sea Salt
Special Equipment:
9-inch pie pan
Whisk
Silicon Spatula (we don't want it to melt in the caramel)
1. In the microwave or a small pot, heat the heavy cream until it's warm to the touch. Set it aside.
2. In a medium to large pot, add the sugar and place it over medium heat. Do not stir. Cook the sugar until the bottom starts to turn a light golden brown, about 3 minutes. Stir the sugar, if needed, so all of it gets its turn hitting the bottom of the pan. Cook the sugar until it turns a medium brown, this process will happen fast so be sure not to leave. Once the caramel reaches a medium brown color take it off the heat and whisk it until smooth. You'll notice that it will still turn a darker color and cook more as you whisk. At this point it should be a dark brown - if it's not, place it back on the heat in 30 second increments, whisking the entire time, until it reaches that dark caramel color. Turn off the heat and whisk in the 5 tablespoons of butter (it will bubble up!). Keep whisking until the melted butter fully incorporates into the cooked sugar. Next, add the warm cream (it will bubble up!), whisking it in until it's fully incorporated. You'll notice that the texture is much thinner than it was earlier - not to worry it will thicken as it cools. Add the salt and whisk. Transfer it to a glass container and set aside.
3. To assemble the pie, roll out ½ of your homemade or store-bought dough to a 12-inch circle and place it in the 9-inch pie pan. Trim the edges, leaving a ¼-inch overhang - it will shrink in the oven! Transfer the pie pan to the refrigerator while you make the heart-cut outs. Take the second half of your pie dough and roll it out. Cut out about 10 hearts, re-rolling the scraps and making 2 more. Lightly flour them, transfer them to a cutting board and place it in the refrigerator.
4. Preheat the oven to 300F. Peel, core and slice the apples to a ¼-inch thickness. I lopped off the tops and bottoms and sliced them horizontally. TIP: If you don't have an apple core, you can use the bottom half of a large piping tip (I did this!). Transfer the apples slices to a bowl and to prevent them from browning, coat them with the juice from the lemon. Add the flour, bourbon, sugar, cinnamon, nutmeg and allspice to the apples and using your hands, toss the apples until they're evenly coated.
5. Take the pie crust out of the fridge. Transfer the apple mixture to the pie crust, layering them in a circle pattern. Taste the caramel - does it need more salt? Add more if needed. Pour about ¼ cup of caramel over the apples. Top them with a few pinches of salt. Brush the edges of the pie crust with water. Place each heart around the pie crust, gently pressing them down so they are secured to the pie crust underneath. NOTE: There will be some heart sinkage because of the holes in the cored apples, to prevent this from happening, cube up an apple and fill those holes to keep the pastry dough upright. When you're done arranging the hearts, lightly brush them with the leftover caramel and top with a few pinches turbinado sugar and a few pinches of sea salt.
6. Transfer the pie to baking sheet and place it in the preheated oven. Bake at 300F for 25 minutes, until the pie crust is a very lightly golden brown. Turn the heat up to 350F and bake for an additional 35-40 minutes. You'll know when it's done when the pie crust is a golden brown color and the caramel looks bubbly. NOTE: When you take it out of the oven, the caramel may look thin - that's ok. It will thicken completely but it needs to cool. If you serve it now it will be goopy - but delicious! If you want attractive looking slices, allow it to cool (on your kitchen counter) for 5-6 hours. Serve with whipped cream or ice cream and a drizzle of salted caramel.
Inspiration from Four & Twenty Blackbirds