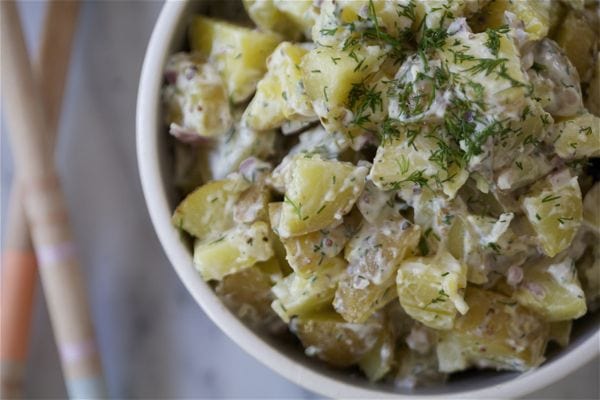 Soooo...here's the thing. It's not that I hate normal potato salad. I mean, if I'm at a 4th of July party or Super Bowl party and it's there, I won't hesitate to put it on my plate (with all the other stuff), but you can bet that it'll be the last thing on my plate, and I might t ake a few bites. Might. Cole slaw on the other hand? Gimme. Baked beans YES! Fried jalapeño poppers? Double yes.
Here's the deal with normal potato salad: the potatoes inside, like, internally are sort of bland. Once you get past the awesome mayonnaise/sauce stuff, the potatoes are just boiled, dry and kind of whatever. Potato salad in general is little meh to me until...wait for it...until NOW!
These potatoes aren't boiled. We're doing a salt crust. It's simpler than it sounds. And fun. And, it takes just as long as it would to put them in a pot with boiling water. The result is a million times better. The potatoes end up with a slightly salty interior. And they actually end up tasting more like potatoes. More earthy. More flavor. More potato-ey.
I'm in love.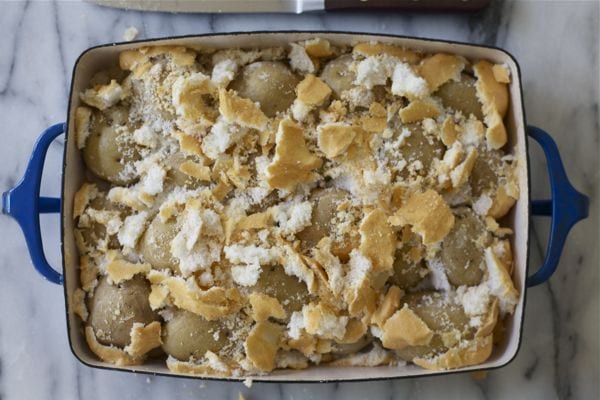 It all starts with egg whites and salt. That's it. The egg whites are whipped until stiff peaks form. This is pretty much like we're making meringue, except instead of adding sugar, we're adding salt.
A few tablespoons are added to the bottom of the casserole dish, the potatoes are added and arranged, and then the rest of the egg white situation goes on top. Smooth it out and then in the oven.
The salt crust actually acts as a moisture-sealer. Rather than roasting the potatoes, the potatoes steam in their own juices. Yum.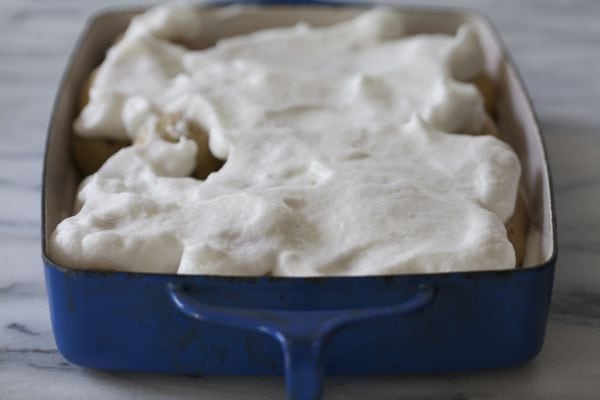 This whole exercise got me thinking about other things. Like, imagine if you take something inherently tart, like, rhubarb and encase it in a sugar crust. The rhubarb might end up being less tart, more sweet and more delicious. (I have secret issues with rhubarb.)
I will experiment and get back to you!
While the potatoes are baking, make the dressing.
I kept it pretty simple: mayonnaise, whole grain Dijon mustard (nice added texture), minced shallot (for a little bite), fresh dill (duh) and a liberal amount of black pepper.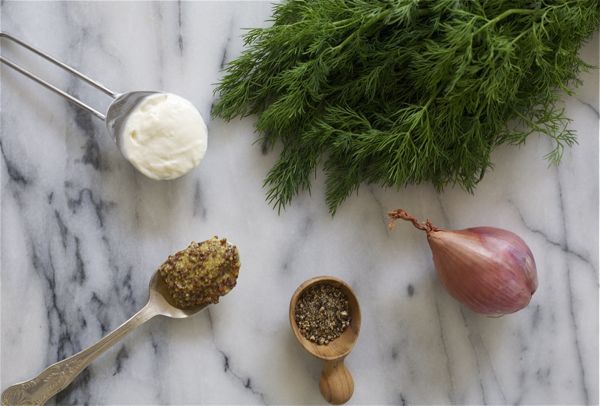 I've been waiting for the day when Amelia actually learns to beg for food, but so far she has no idea that there's a big difference between what she eats and what I eat. I often times find her passed out, whimpering in her dreams, as her short little legs move like she's running. Weirdo.
This is a position I often find her in: on her back, legs up, surrounded by all of the things she loves.
The black object to her left is a computer case. She has store-bought, approved dog toys but this is her favorite. I fail to understand this creature.
By her (non-existent) tail is her bankie aka baby blanket. That baby blanket was actually my baby blanket that I passed down to her. It now has four holes in it and smells like wet dog.
To the top right of her is an alligator toy that is now decapitated. And to her direct right is her dog bed that she hardly uses, but loves to bite on, bark at and drag through the apartment.
Pretty sure this is her "slightly annoyed" look.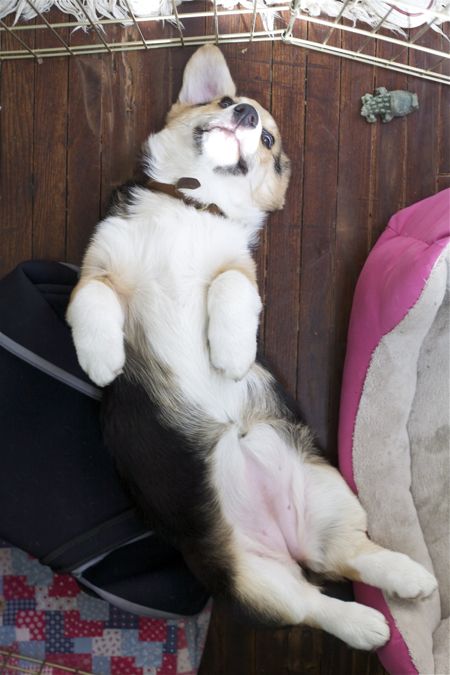 When the salt crusted potatoes come out of the oven, the whole thing will look like toasted meringue. So pretty!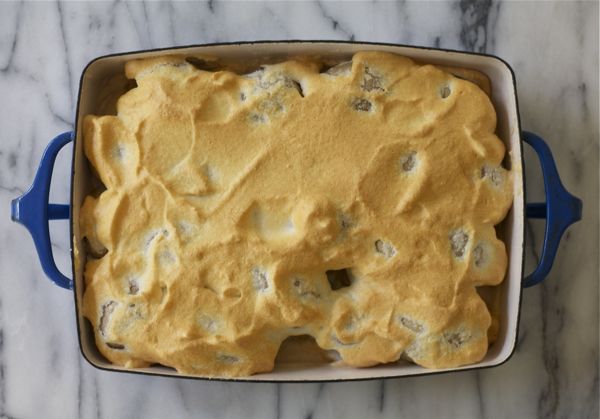 The next part is so fun. You take a knife and crack the shell.
When the potatoes are cool enough to handle, you cube up the potatoes and add 'em to a bowl.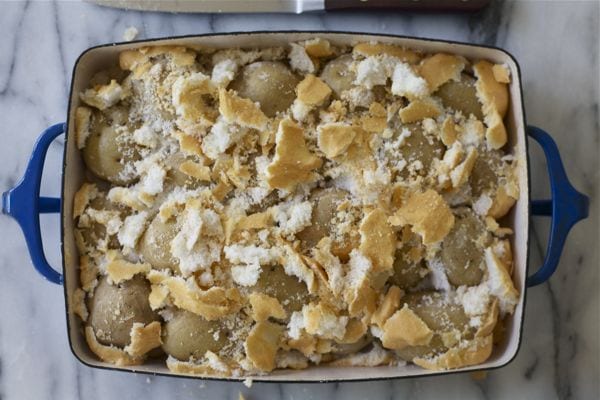 Toss with the dressing. And that's it.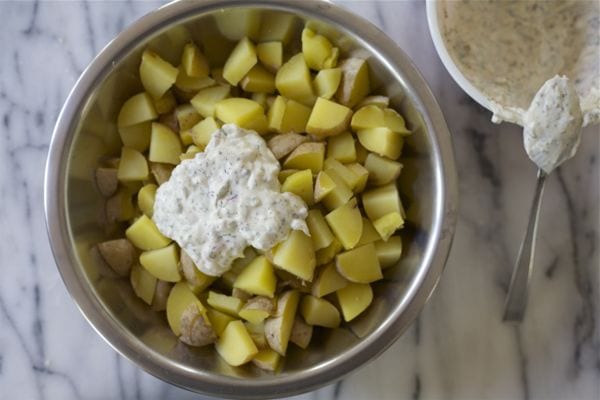 Potato salad has never made me SO EXCITED!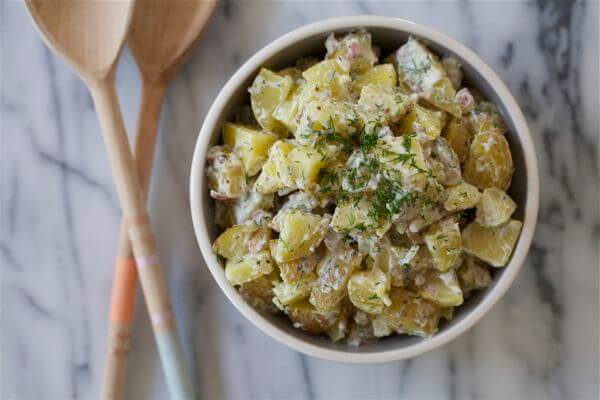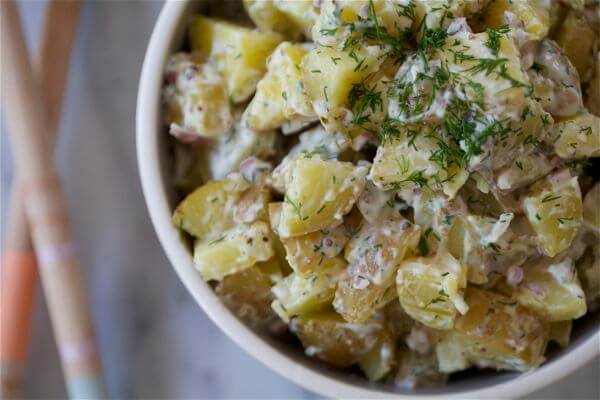 Print Recipe
Salt Crusted Potato Salad
Ingredients
3

egg whites

¾

cups

kosher salt

2.5

pounds

small yellow potatoes

½

cup

mayonnaise

1

shallot

minced

2

teaspoons

whole grain Dijon mustard

1 ½

tablespoons

minced fresh dill

1

teaspoon

freshly ground pepper
Instructions
Preheat the oven to 350 degrees F.

In a medium bowl, and using an electric mixer, beat the egg whites until they form stiff peaks, about 2-3 minutes. Next, fold in the kosher salt.

In a 13 x 9 casserole dish (or one that's similar in size--these things don't have to be totally exact), spoon a few tablespoons of the egg white mixture to the bottom of the dish. Using the back of the spoon, create one even layer and arrange the potatoes atop. Add the rest of the egg white mixture to the top of the potatoes, smoothing it out evenly. Transfer the potatoes to the oven and bake for 40-45 minutes. Note: If you're using larger potatoes like, say, russets, increase the bake time to 1 hour. If the salt crust starts to get too brown, tent it with a piece of foil.

Meanwhile, let's make the sauce. To a small bowl, mix together the mayonnaise, minced shallot, Dijon mustard, fresh dill and ground pepper. Set aside.

Remove the potatoes from the oven and using the back of a knife, crack the formed crust. Allow to cool for 5-7 minutes before handling. Remove the potatoes and dust off the salt, thoroughly. Cube up the potatoes and transfer them to a bowl. Toss with the dressing and serve warm, or alternatively, you could cover the bowl with plastic wrap and place it in the refrigerator to cool, about 2-3 hours.