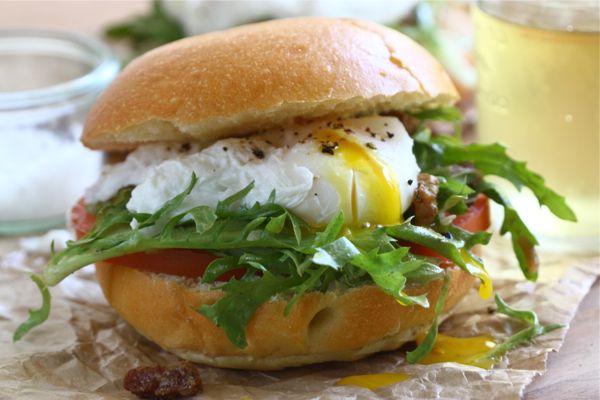 I'm doing this thing–not sure if I told you–where I cook alongside Bravo's new show, Around the World in 80 Plates (which airs each Wednesday at 10pm/9pmc on Bravo!!). Wherever they go, I go…kinda sorta.
Each week they're in a different international city cooking away and competing, stressing out and being judged, while I stay home, turn on some music, make a dish (corresponding with each city), all while intermittently checking Instagram and texting away–it's fun!
This week's show takes place in the gastronomy capital of the world, Lyon, France. Um…this location had my brain in knots because it's like the equivalent of someone letting me loose in fifty combined Chanel boutiques and saying, You can have whatever one thing you like. Too many options! Too much pressure!
I had lots of elaborate dishes on my brain, but I kept circling back around to my favorite salad ever: Salade Lyonnaise. This salad is everything. There's frisée tossed in a bacon mustardy vinagrette topped with a perfectly poached egg. And sprinkles of salt and pepper make it extra pretty. Nothing fancy. Total simpleness at its best.
I now welcome you to the sandwich version…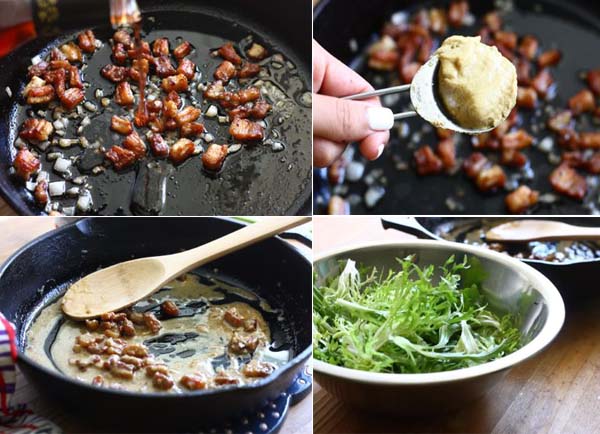 I figured that my favorite salad would taste even better sandwiched between two buttery brioche buns. I think I was correct.
The sandwich begins with some lardon being cooked up in a skillet. (Regular bacon will also work just fine!) Minced shallots are thrown in. Then some red wine vinegar (sherry vinegar will work, too!). Next up, some Dijon mustard.
This is the bacon vinaigrette. Soooo easy and quick. I can imagine this with a variety of different salads.
After you poach the eggs, you'll toss the frisée with the bacon vinaigrette. Just a lil' gentle toss!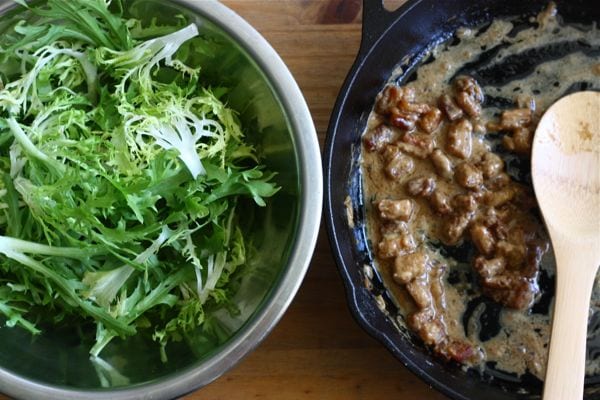 Warm the bread. Add a few slices of tomatoes. Sprinkles of salt.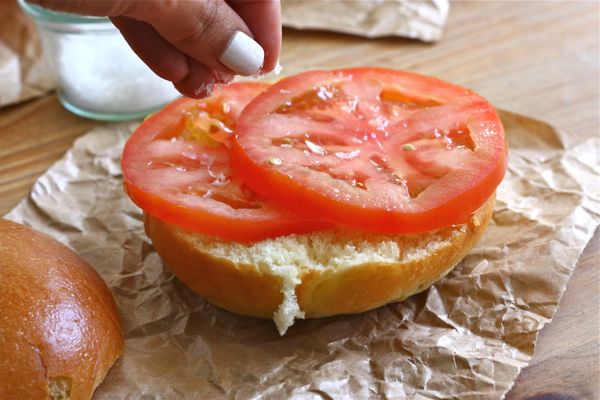 (Yeah, I'm actually walking through how to make a sandwich but I dunno what else to say right now.)
Add the frisée.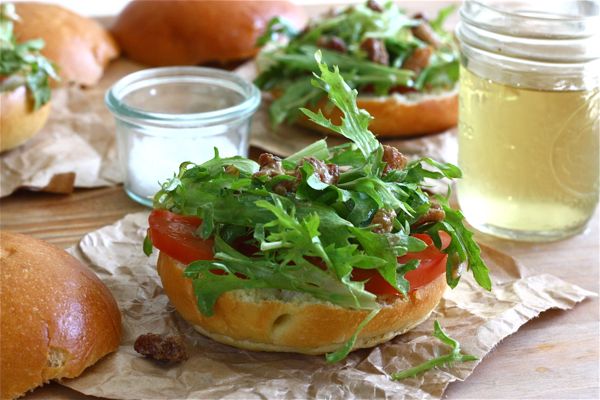 Then the poached eggs. Sprinkle on a little salt and freshly ground pepper…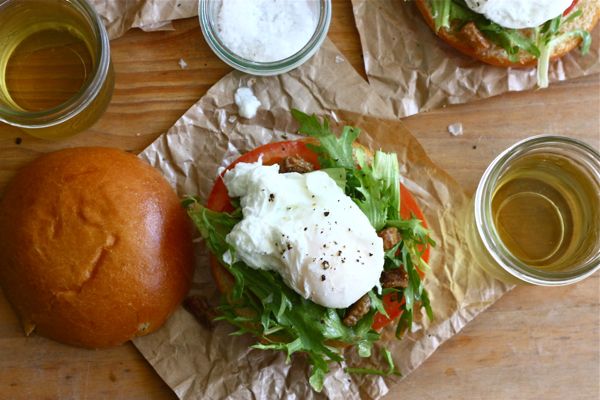 Place the top on…and then BOOMBOOMPOW!
French sandwich heaven.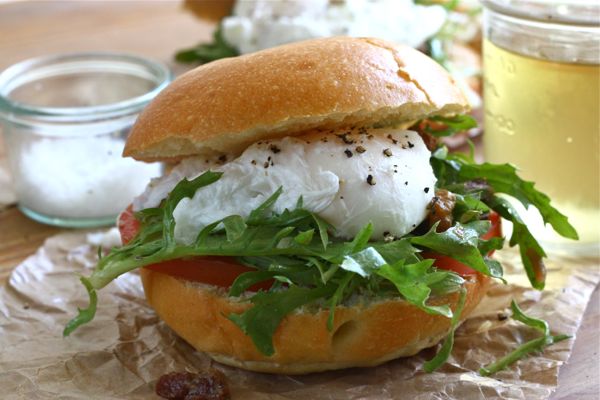 Salade Lyonnaise Sandwich
1/4 pound pork belly (or thick-cut bacon), cut into 1-inch cubes
1 shallot, minced
1 tablespoon red wine vinegar
1 tablespoon Dijon mustard
Salt
White Vinegar
4 large eggs
2 1/2 cups of frisée salad, washed and torn into bite-size pieces
Freshly ground pepper
4 brioche buns, slice in half
1 large tomato, sliced
1. Place cubes of pork belly in a skillet, set over medium heat and cook until bacon is crisp all over, about 10 minutes. Add minced shallot and cook until softened, a minute or two. Add red wine vinegar and mustard to the skillet and bring just to a boil, stirring, then turn off heat.
2. Meanwhile, bring about four inches of salted water to a boil in a medium pot, then lower heat to barely bubbling. Add a splash of white vinegar, which will aide the egg whites in coagulating. Take a spoon and swirl it around in the water, in one direction, creating a whirlpool. One at a time, break eggs into a shallow bowl and slip them into the center of the bubbling, swirling water. Cook eggs for about 3 to 4 minutes, just until the white is set and the yolk has filmed over. Remove each egg with a slotted spoon and drain briefly on paper towel.
3. Put frisée in a medium bowl. If necessary, gently reheat dressing, then pour over greens (they should wilt just a bit), toss and season with salt and pepper to taste.
4. Preheat oven to 300F. To assemble the sandwiches, slice buns in half and transfer to a warmed oven or conventional oven. Bake until just warm. Remove and lay out. Place a few slices of tomatoes on each bottom half and top with a pinch of salt. Top with a small handful of the frisée mixture, poached egg and garnish with salt and pepper. Serve immediately.
Recipe adapted from Mark Bittman's Salade Lyonnaise
Yields 4 sandwiches