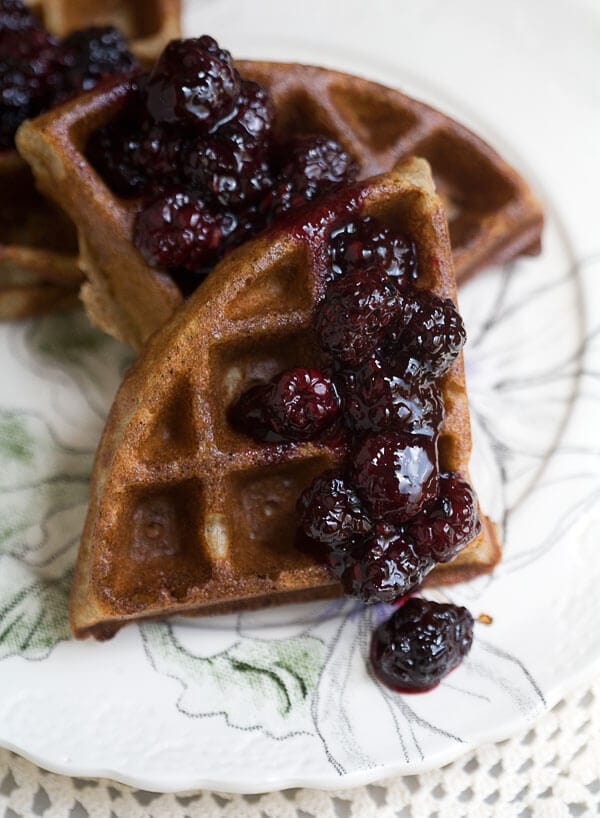 You guys, my keys are still lost but WHO CARES! We have waffles! And not just any waffles, but my new favorites. Rye. Can we please talk about how obsessed I am with all these rye. Even mentioning this right now makes me crave a pastrami sandwich and a cel-ray soda. My love of rye is reeeaaal. I like my rye bread with lots of caraway seeds, by the way. And I like pickles on the side. Lots of them. Have you ever met a person who didn't like pickles?! I have. They're not to be trusted.
These rye waffles taste exactly nothing like a pastrami sandwich. They're very breakfast-ey. The rye gives them a certain earthiness that's fun to experience bright and early in the morning. The secret-fun-ingredient is ground all-spice. It just chills on the back of your tongue and you're like, what is that?! It's pleasant, not overbearing and just delightful, really.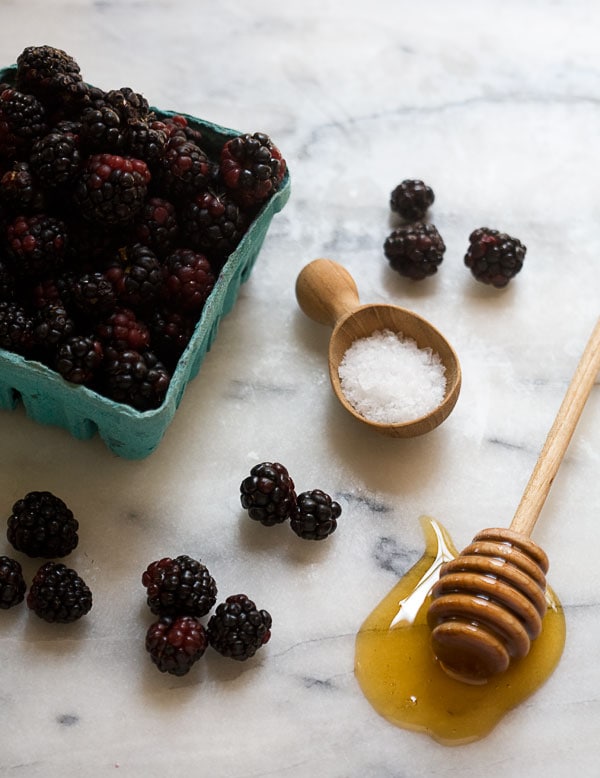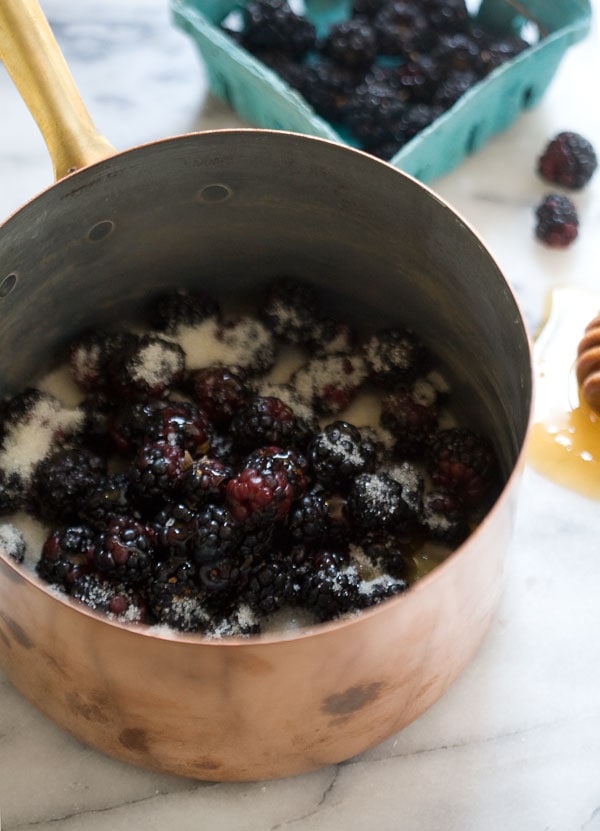 These waffles are the yeasted variety because they're my absolute favorite and my feeling nowadays is if you're going to go to the trouble of making waffles, then just make them yeasty. They're that awesome.
I love that I can make the majority of this batter at night, let it sit overnight and then the next morning mix in a bit of baking soda and eggs. It's like a Sunday-easy-breakfast dream.
The compote is simple and delicious. My local neighborhood market had pretty and fragrant blackberries. I scooped them up, mixed them with honey and sugar and a bit of grapefruit juice and cooked them for a bit.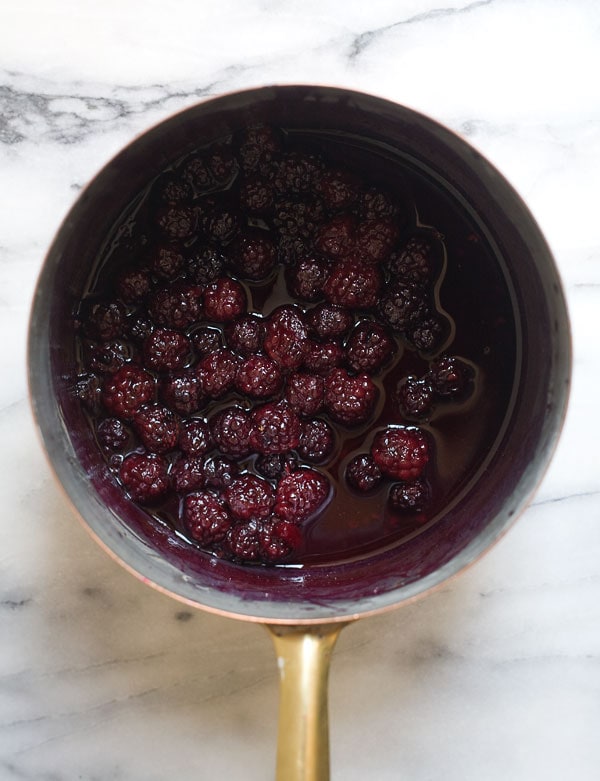 They were the most ideal thing to top these rye waffles with. This whole plate is a nice mix of sweet, hearty and delicious. I hope you make these this weekend. They're calling your name.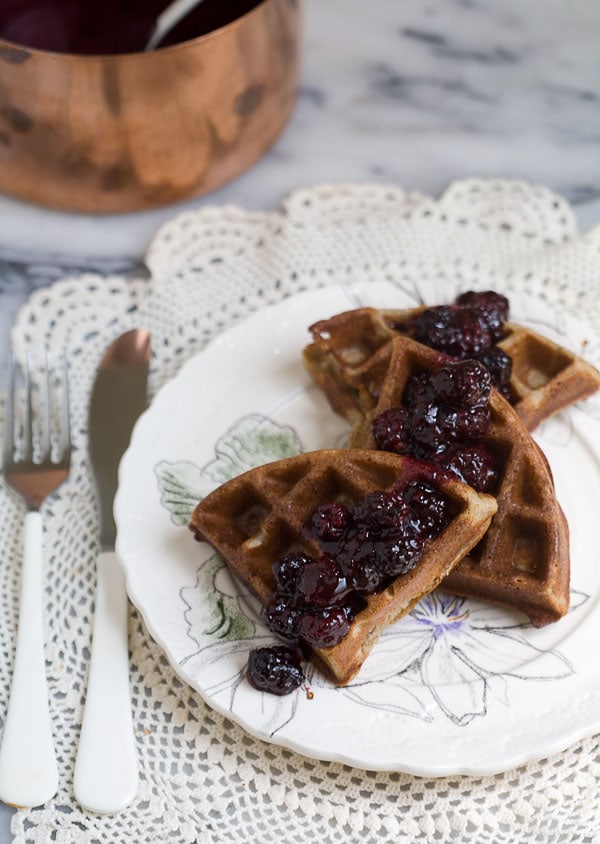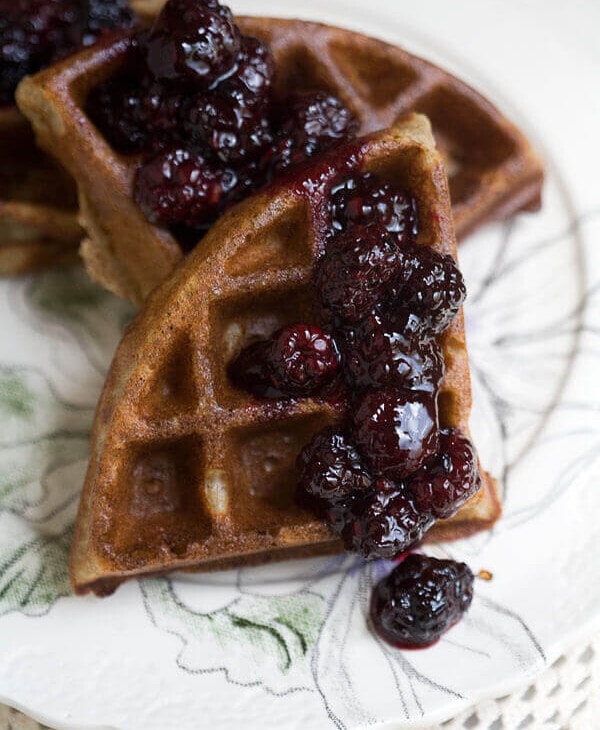 Print Recipe
Rye Waffles with Blackberry Compote
Ingredients
Waffles:
1/2

cup

warm water

1

package dry yeast

1 1/2

cups

rye flour

1/2

cup

all-purpose flour

2

tablespoons

brown sugar

1/4

teaspoon

ground all-spice

1

teaspoon

salt

2

cups

warm milk

1/2

cup

melted butter

2

large eggs

1/2

teaspoon

baking soda
Compote:
1 1/4

cup

fresh blackberries

divided

3

tablespoons

ruby red grapefruit juice

2

tablespoons

sugar

2

tablespoons

honey

Pinch

salt
Instructions
Waffles:
In a large mixing bowl - the batter will rise so you need some room - add the water and sprinkle in the yeast. Let it stand for 15 minutes until it becomes nice and foamy.

To a small bowl, mix together the rye flour, all-purpose, brown sugar, all-spice and salt. Add the flour mixture, milk and melted butter to the yeast mixture and mix until smooth. Cover the bowl with plastic wrap and let it stand overnight at room temperature.

Just before cooking the waffles, beat in the two eggs and baking soda; stir until well mixed. The batter will be fairly thin with a few lumps. Preheat your waffle iron and be sure to brush it with oil or butter (I had some sticking issues!). Pour about 1/2 cup to 3/4 cup batter into the hot waffle iron. Bake the waffles until they are golden and crisp, or according to the directions of your waffle maker.
Compote
To a small saucepan, add 1 cup of blackberries, grapefruit juice, sugar, honey and salt. Mix and cook on low for 5-7 minutes. Smash the blackberries with the back of your spoon. Add the remaining 1/4 cup of blackberries and cook for 1-2 minutes more. Take off the heat and set aside.
Adapted from these waffles from Marion Cunningham