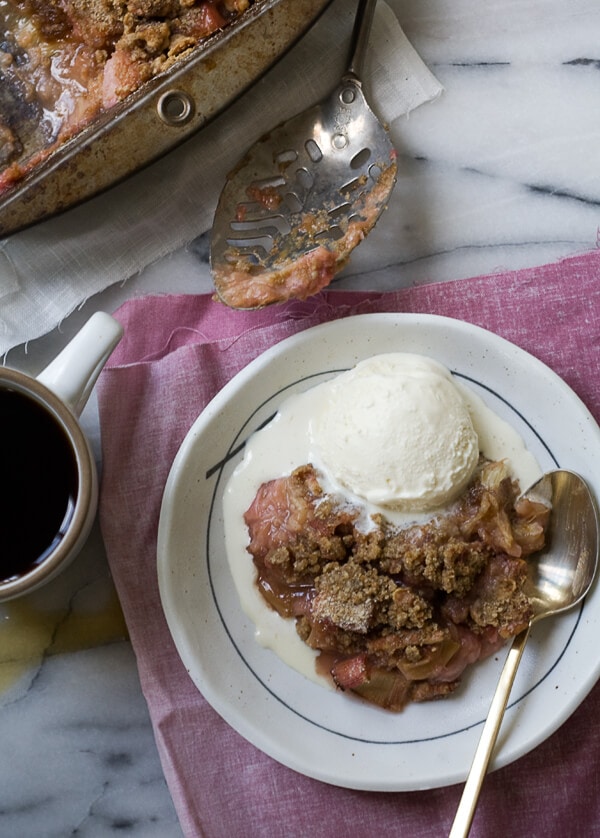 I've been feeling lazy lately. My bed sheets need changing. Dog hair is accumulating under the credenza in my living room (and everywhere else, if I'm being honest) as we speak, I haven't brushed my hair in far too long (I can't find my brush) and I have to bribe myself to wash dishes (read: snacks). It's probably just a "this-week" kind of thing. But I'm feeling it.
Crumbles are a perfect fit for lazy moods. They're the lazy person's pie. They're for when you're in a no-make-up-top-knot-slouchy-sweatshirt kind of mood.
Remember when the whole world hated rhubarb? Now it's like a celebration when stalks show up in the markets. I imagine rhubarb never expected to be this cool, to all of a sudden be in fashion. Almost like how Birkenstocks are now the It-Shoe. It's true. I have my sights set on a white pair. They're oddly sleek. Anyway, Rhubarb and Birkenstocks have a lot in common. Both inherently unexciting. Both totally in fashion…or as my mom says it, "Esta in la moda, Adrianna."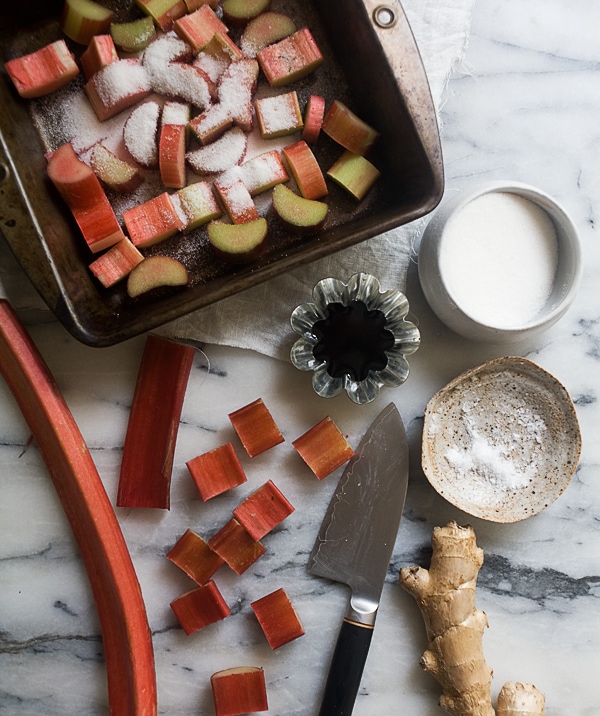 A few weeks ago I asked for rhubarb-pairing suggestions. Lots of people recommended weirdo combinations that I loooved hearing. Three suggestions have made their way into this crumble: balsamic vinegar, ground cardamom (via my friend Dervla) and fresh ginger.
All add a nice hint of flavor, without one being overly apparent. Think tart, a teeny bit spicy with a hint of earthiness.
And the rye flour! Ahh, as you know I love rye flour. It's nutty and flavorful and just so grain-y in the best way possible. The walnuts add a nice crunch to an otherwise soft crumble.
This crumble is perfect for a big brunch gathering…you know, like Easter! Which is this weekend! I love Easter.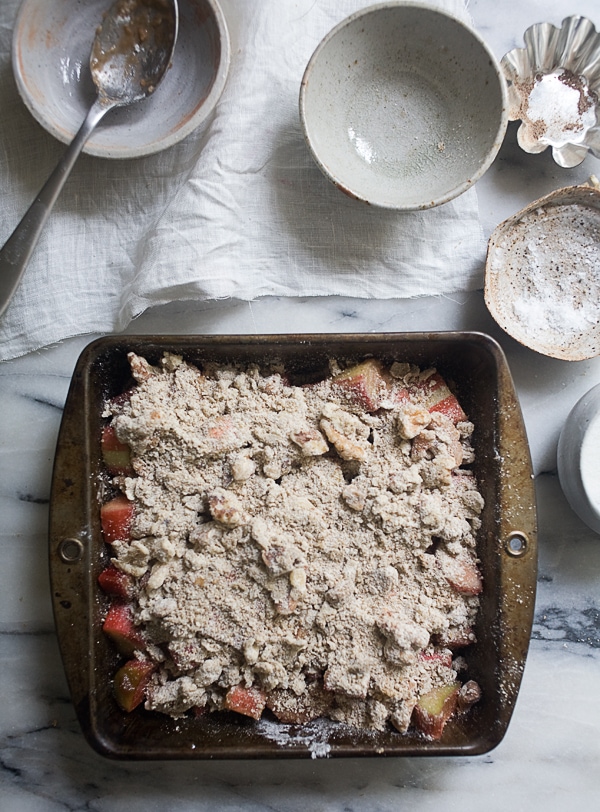 I do have one rule when it comes to this rhubarb: it must be eaten warm (ok, two rules) AND it must be eaten with ice cream.
The cream is really necessary. It cuts through the otherwise tart crumble and the two just work so magically together. It's a match made in heaven. Truly.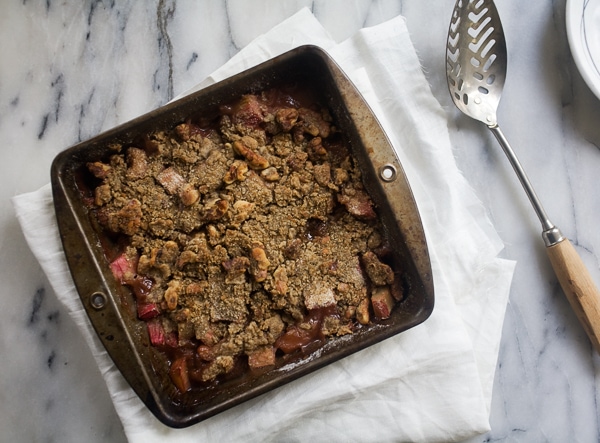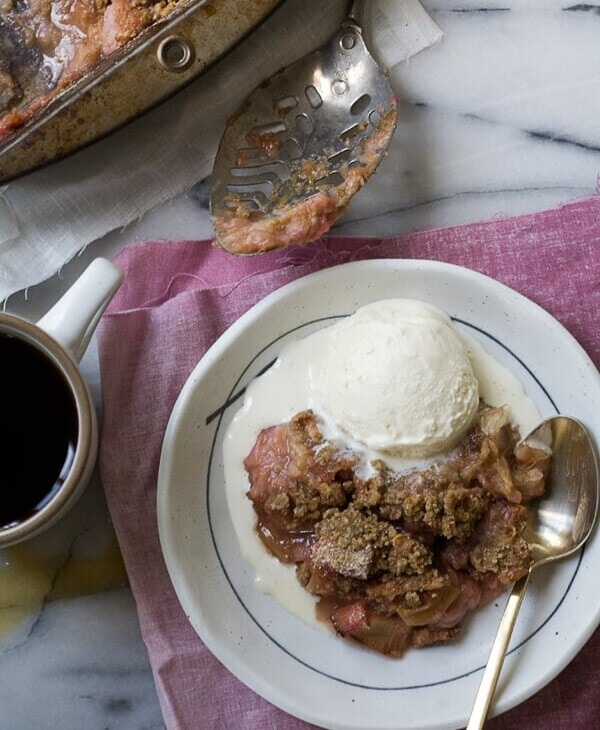 Print Recipe
Rye Rhubarb Walnut Crumble
Ingredients
Filling:
1 1/2

pounds

rhubarb

cut into 1-inch pieces

1/2

cup

brown sugar

1/4

cup

white sugar

2

tablespoons

all-purpose flour

2

tablespoon

balsamic vinegar

1

teaspoon

vanilla extract

1/2

teaspoon

freshly grated ginger
Crumble Topping:
3/4

cup

rye flour

1/4

cup

of cold unsalted butter

cut into cubes

1/2

cup

walnuts

roughly chopped

1/2

cup

light brown sugar

1/4

teaspoon

ground cardamom

1/2

teaspoon

salt
Instructions
Preheat oven to 375 degrees F. In a 8 x 8-inch baking dish, mix together the rhubarb, brown sugar, white sugar, flour, balsamic vinegar, vanilla extract and ginger. Set aside while you make the crumble.

In a medium bowl, add the flour and cold butter. Using your hands, break up the butter until it resembles pea-sized bits. Add the roughly chopped walnuts, brown sugar, cardamom and salt. Place the crumble topping atop the filling; transfer to the oven and bake for 35 to 40 minutes, until the top is lightly golden brown and the filling is bubbly. Serve warm and I don't mean to be bossy but this crumble is really perfect with vanilla ice cream.