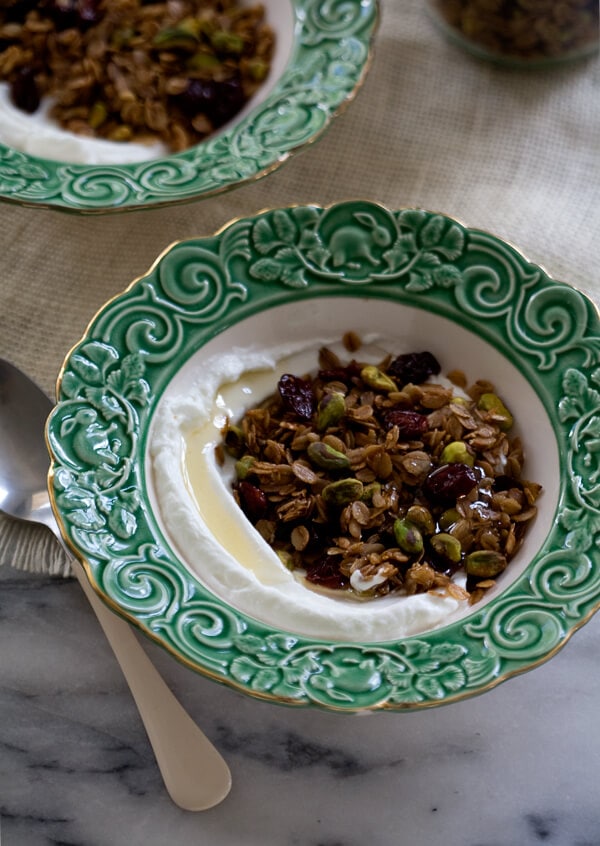 And just like that, we're all back in it…
Last night I set my alarm clock for the first time in a week or so. (Amelia seems to have adjusted because she, too, has been sleeping in—a Christmas miracle!) And I'm surprisingly eating sorta healthy, and not because I set any particular parameters or diet-resolutions, but because my body actually doesn't want sugar and crazy carbs, at least for now.
I spent the past few weeks sleeping, drinking lots of water, drinking lots of other stuff, catching up with friends and taking the time to just read. It's been amazing. I think that rest has made me so excited and energized for 2014.
This week I'll be sharing a few healthy(ish) recipes that aren't necessarily diet food, but sort of what our bodies are calling for after enduring stuff like marshmallows for dinner.
This granola comes from the queen of granola, Megan Gordon from A Sweet Spoonful. She's the head lady in charge and granola-maker at Marge Granola, and the author of the newly released book, Whole-Grain Mornings! You guys, you know I love me a grain.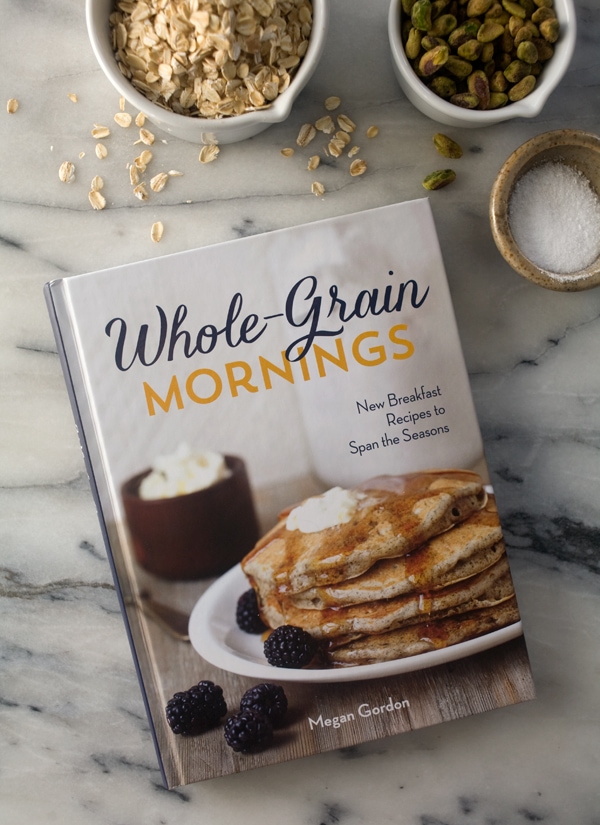 As I was sifting through the book, there were so many delicious, warm and cozy breakfast dishes that I wanted to try, but I figured why not make a granola recipe.
The recipe in the book is called "Make-Your-Own-Signature-Granola." I love recipes that allow me to add what I like. I actually like restaurants that give me the option of customizing, too. In college, the only decent restaurant in town was Macaroni Grill and I loved nothing more than being able to customize my own pasta dish. I always felt like I could make better combinations than them anyway…mainly because I'm a brat.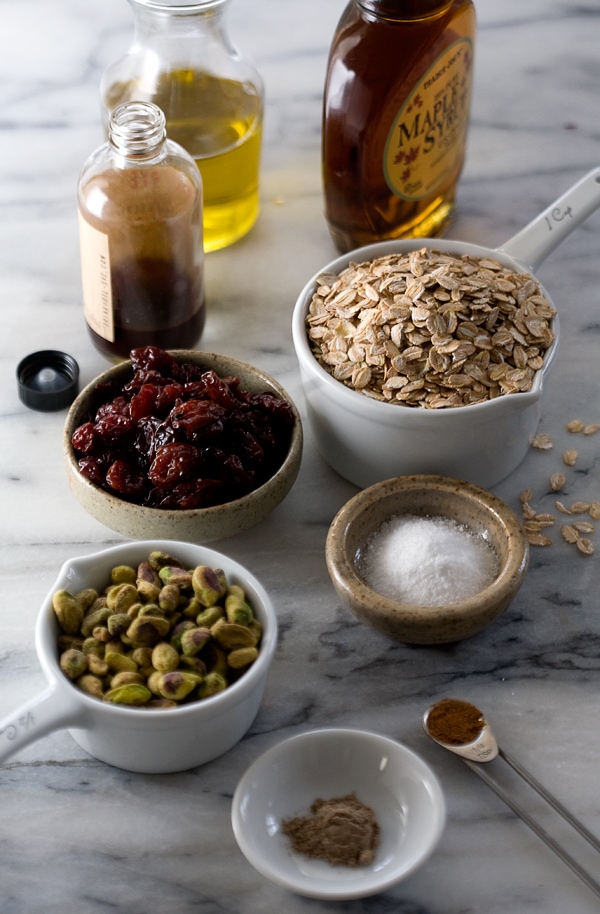 The base recipe for this granola is keeper! The sweetness is absolutely perfect. I love the addition of more cardamom than cinnamon and the saltiness! I love a saltier granola.
Megan adds good tips in the book about achieving perfect granola that I think are just great.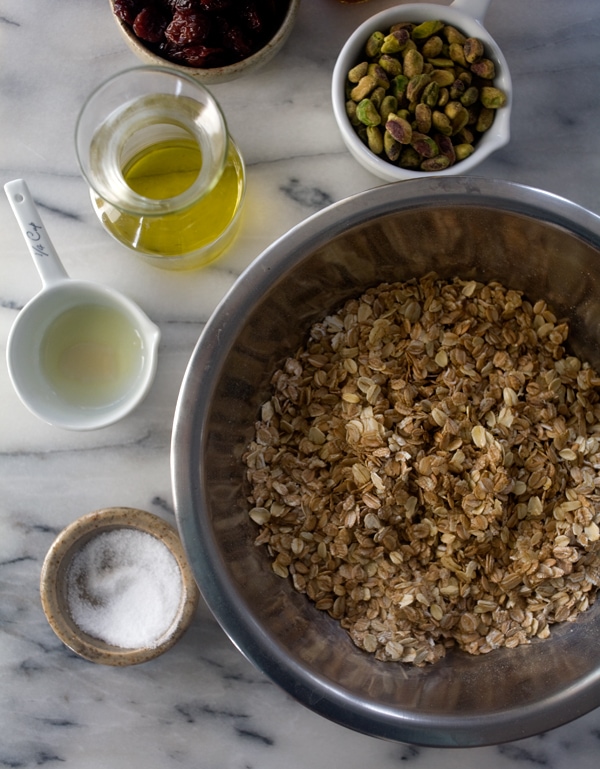 This is the first time I've ever made granola with maple syrup and I just love it. I might actually never go back to using sugar ever again.
Below you'll find the customizations marked, so you, too, can just make what you like. If you don't have rye flakes, simply use oat flakes. If you don't have maple syrup, you have other options. Hate pistachios? Go with something else. You get the idea…
Oh and just a heads up, I added the pistachios last rather than with the oat flakes (as directed by Megan in the book) because I think pistachios are the only nut that tastes better not toasted. If you decide to go with another variety, like almonds or pecans or walnuts, you should add them with the flake and spice mixture.
Here's to healthy and beautiful mornings in 2014. It feels good to be back.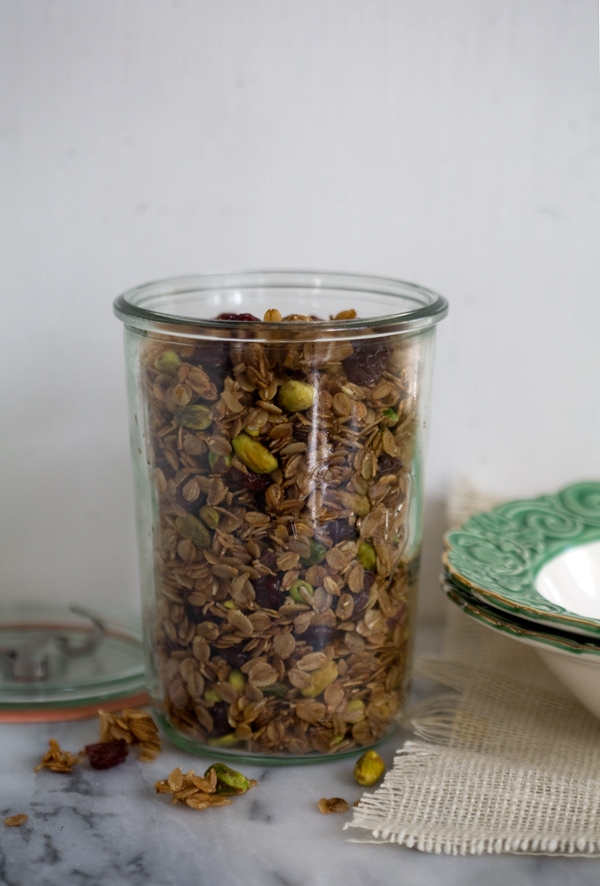 Recipe slightly adapted from Megan Gordon's book, Whole-Grain Mornings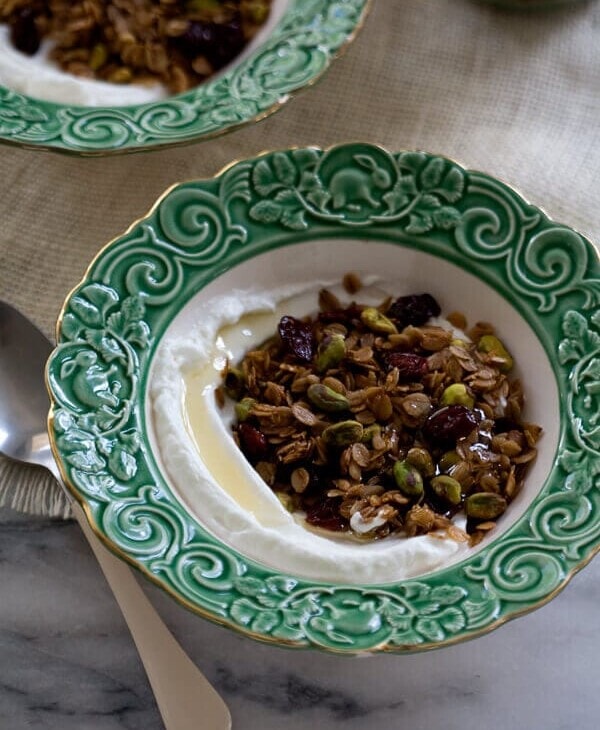 Print Recipe
Rye Granola with Dried Sour Cherries and Pistachios
Ingredients
3

cups/300 g rye flakes

or oat flakes

1 1/2

teaspoons

kosher salt

1/4

teaspoon

ground cinnamon

1/2

teaspoon

ground cardamom

1/2

cup/120 ml extra-virgin olive oil

1/2

cup

plus 1 tablespoon/135 ml maple syrup

Other sweeteners: golden syrup, honey

1/4

teaspoon

pure vanilla extract

2

cups

pistachios

If you use another nut, add them to the oat/rye flake mixture so they can toast

1/4

cup

chopped dried sour cherries

Other dried fruit ideas: golden raisins, crasins, dried figs, dried apricots
Instructions
Preheat the oven to 300 degrees F. Line a 13 by 18-inch baking sheet with marchment or a silicone mat.

Mix the rye flakes, salt, cinnamon, and cardamom together in a large bowl. Stir to combine. Add the oil, maple syrup and vanilla and stir again to combine fully.

Turn the granola out onto the prepared pan and spread in an even layer. Bake until the mixture is light brown and fragrant, 20 to 30 minutes, stirring every 10 minutes or so to make sure the granola cooks evenly.

Remove from the oven and let cool completely on the pan. Stir in the pistachios and dried sour cherries. Store in an airtight container at room temperature for 3 to 4 weeks or in the refrigerator for up to 6 weeks. The granola also freezes beautifully for up to 3 months.