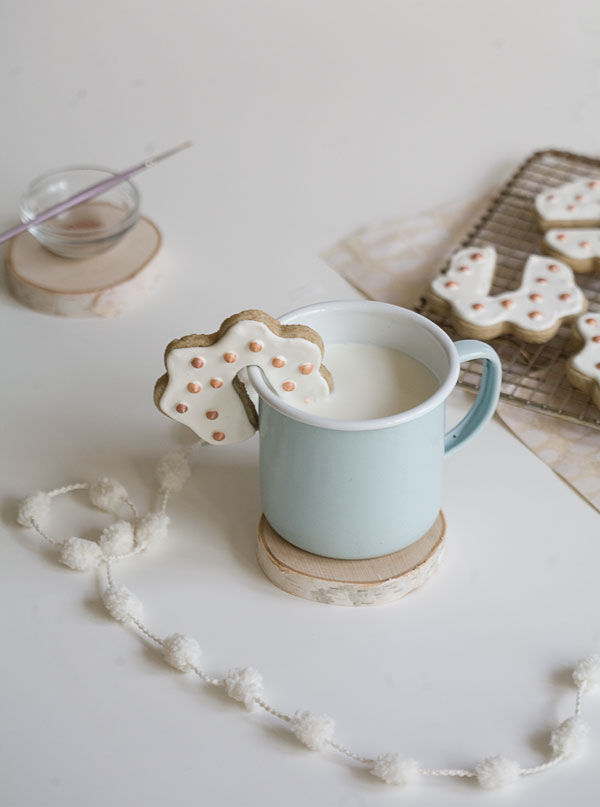 COOKIE WEEK! It's here!!
I'm going to be honest with you, I'm definitely not a sugar cookie master. I usually don't even really like them. I love the way they look, actually, and often times find myself in awe of people like Marian. She's a cookie artist. Chance are, if I walk into a holiday party and there's a plate of sugar cookies seated right next to a plate of chocolate chip cookies, it'd be an obvious choice for me. Sugar cookies tend to be too sweet and flat-tasting for my liking. They're sort of there just to look cute. And they do a good job at it---they're the cutest!
I decided that if I was going to make sugar cookies, they had to taste good. So I swapped out some all-purpose for my beloved rye flour. I added some brown sugar for some depth of flavor and threw in a nice dollop of créme frâiche. I think it adds a nice texture. (Don't worry, you can substitute sour cream if you're unable to find créme frâiche at the market. P.S. Trader Joe's sells it for a pretty inexpensive price.)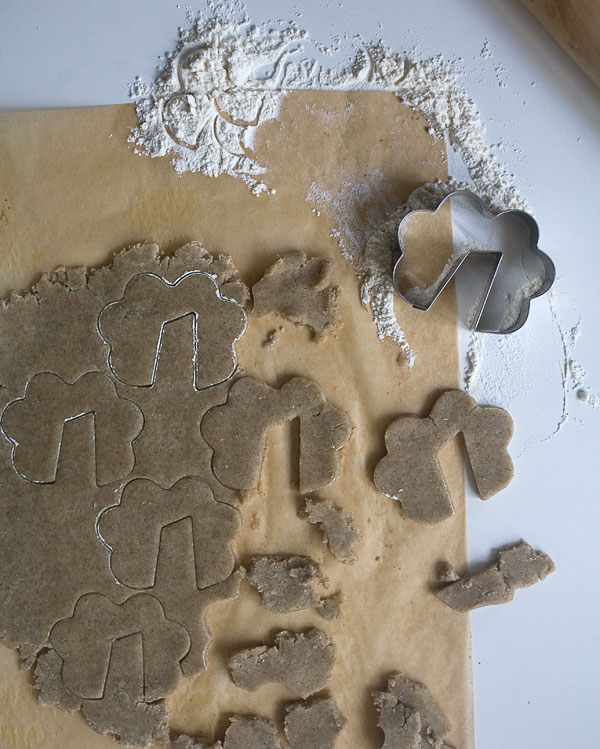 I have some decorating tips on sugar cookies! It's only because I've made these a few times and seriously made a mess of my kitchen. What's good is that just like pie, you can break these cookies into a few steps, which I think is really helpful.
Tip #1: Make the dough the night before. It really does help if the dough is cold when you roll it out. Also, rolling it out in between two pieces of parchment, means that you don't add any more flour to the dough, which can result in a drier tasting cookie. PARCHMENT for the win!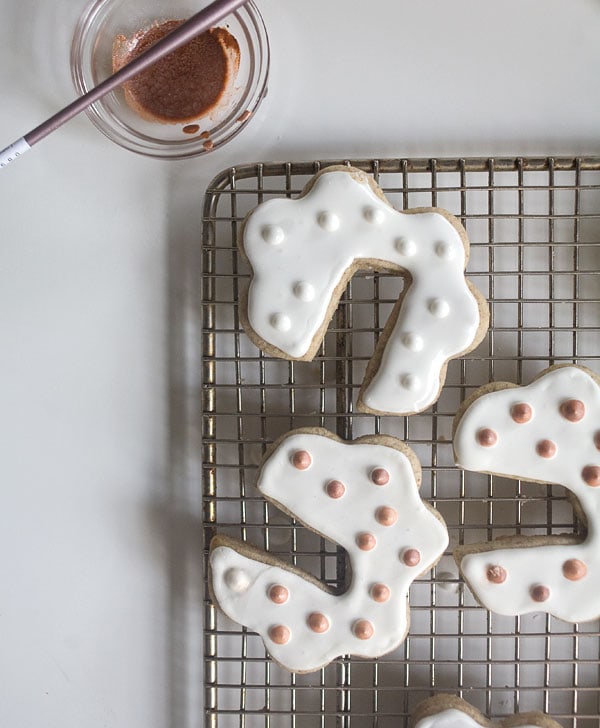 Tip #2: Ok, so icing sugar cookies maybe takes a bit of practice. It helps if you've frosted a cupcake or two in your life. Icing sugar cookies is broken up into two steps: there's the "outlining" and the "flooding." The recipe you see below makes one batch and then you just thin out half of the batch with a bit of water. The thinner one is your flood icing.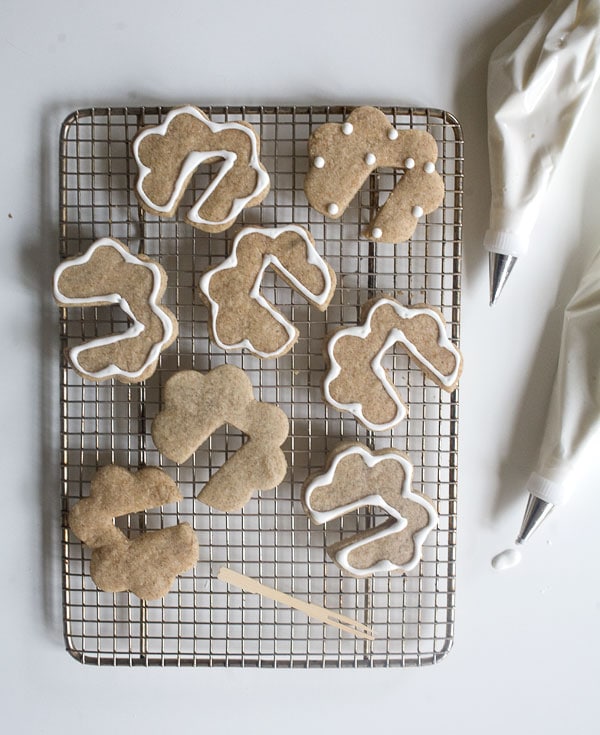 Tip #3: Outline and flood immediately. This is only if you want one cohesive color per cookie. I just wanted the whole cookie to be white, so right after I outlined the cookie, I filled it with the "flood" icing immediately. No drying!
Tip #4: Use a toothpick or skewer to even out the flood icing.
Tip #5. If they're not perfect, it's not that big of a deal. We're talking about cookies! Also, when they're all on a plate together, they'll look great. So just relax if they're not perfect.
And lastly, I'll reiterate that I'm not the master queen of sugar cookies. Check out Marian's tutoritals---they're really great.
Here's a list of supplies that I used, in case you want to give these cute little cloud cookies a go. And how cute is the cookie cutter. It makes it so the cookie fits perfectly onto a mug. Perfect for Santa. Did you know he doesn't exist?!
Supplies:
1. Disposable pastry bags. (I would never in a million years spend 20 minutes cleaning a pastry bag. I always opt for the disposable ones. Cut the bag off the piping tip and move on with your life.)
2. Tips #2 and #3. I used the #2 for the "outlining" and the #3 for the "flooding."
3. Cloud cookie cutter.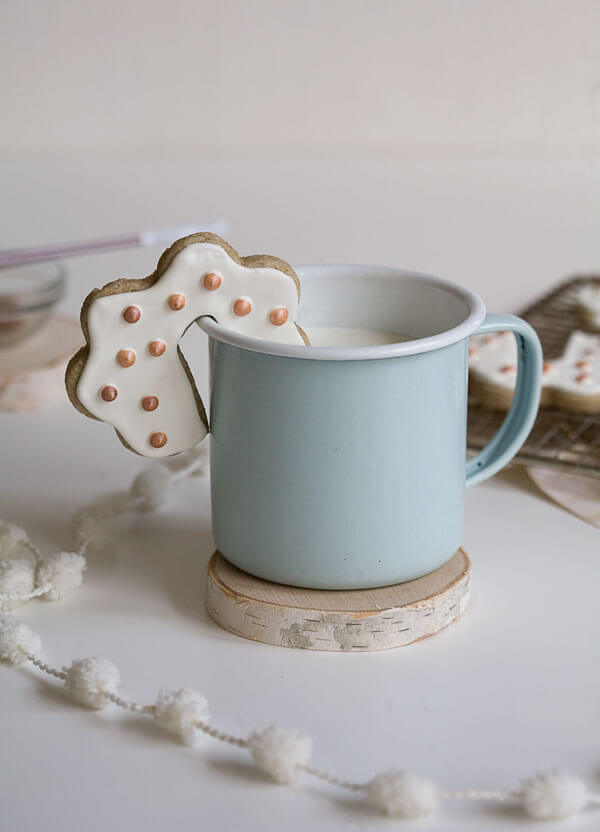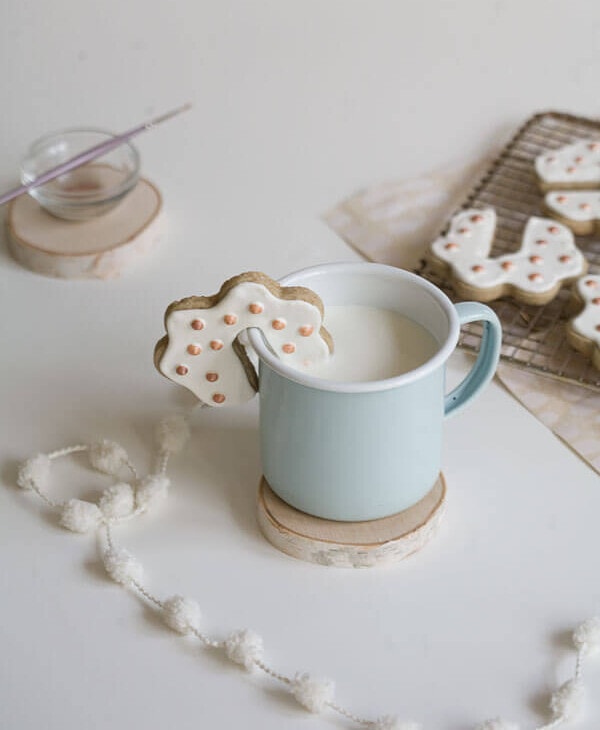 Print Recipe
Rye Cloud Sugar Cookies
Ingredients
Dry Mix:
1 ½

cups

all-purpose flour

1 ½

cups

rye flour

Pinch

salt
Wet Mix:
1

cup

unsalted butter

2 sticks, room temperature

2

tablespoons

creme fraiche or sour cream

2

tablespoons

whole milk

⅔

cup

light brown sugar

1

teaspoon

pure vanilla extract
Royal Icing:
3

large eggs whites

3 ¾

cup

sifted powdered sugar

Pinch

salt
Instructions
In a medium bowl, mix together the all-purpose flour, rye flour and salt. Set aside.

In a large bowl (or the bowl from your stand-up mixer), add the room temperature butter, créme fraiche (or sour cream), milk and light brown sugar. Beat until the light and fluffy, about 5 minutes. Pour in the vanilla extract and beat until combined. Turn the mixer on low, and in two batches, add the flour mixture; mix until combined. If the dough looks a bit crumbly, not to worry---it'll come together when we start kneading. Keeping the dough in the bowl, knead the dough with your hands until it forms a big uniform ball. Divide the dough into two mounds; wrap each dough ball in plastic wrap and transfer to the refrigerator for 2 hours or overnight.

Preheat the oven to 350 degrees F. Remove the first ball of dough from the refrigerator and place it in the center of a sheet of parchment. Top the dough with a second piece of parchment and using your rolling pin, roll the cookie dough to a ¼-inch thickness.

Flour your cookie cutter so it doesn't stick and cut the shapes as close to one another as possible (this is so we can avoid re-rolling the scrapsthey never taste as great). Using a flat spatula, carefully transfer the cookie dough to a parchment-lined baking sheet. Bake for 6 to 7 minutes. Allow the cookies to cool for a few minutes on the baking sheet and then carefully transfer the cookies to a cooling rack until room temperature. When the cookies are warm they're a bit fragile so be gentle!

You can dust the cookies with powdered sugar, if you like and serve immediately. If you're going the icing route, let's get to it!

In a large bowl, add the egg whites. Using the beaters from an hand-mixer or whisk attachment from a stand-up mixer, beat the egg whites until frothy, about 2 minutes. In two batches, add the sifted powdered sugar, until the sugar is incorporated. Turn the mixer to high and beat the mixture until it doubles in volume and the icing looks glossy and stiff, about 5 to 6 minutes.

Transfer about ¼ of the icing to a pastry bag with the #2 tip attachment. Add a teaspoon or two of water to the icing and mix. Transfer the remaining icing to a second pastry bag with a #3 tip attachment. Outline the cookies and immediately fill the cookies, spreading the icing out using a toothpick. Top with sanding sugar, luster pears or any sort of decoration that you'd like. In my case, I allowed the icing to dry completely and then dotted each cloud with polka dots. After the polka dots dried, I brushed gold dust (that I made into a paste by mixing it with a drop of vodka) onto each of the dots. Allow the cookies to dry completely before packaging.