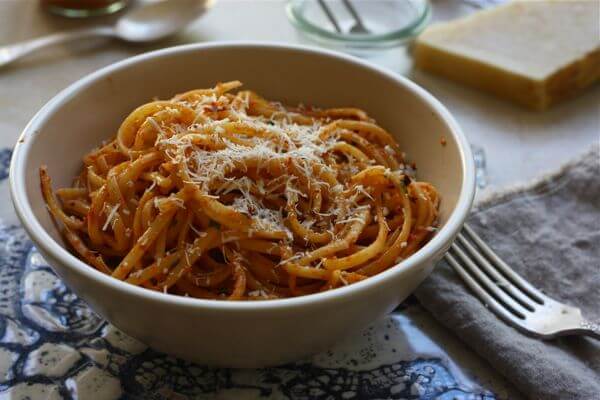 Pasta: A Love Story.
Week nights are weird. Most of the time you're tired and kind of want to just eat something, chill out, sit on the couch and watch a few things before you have to do it all over again the next day. I know what this feels like. And most nights cooking something even slightly labor-intensive is really daunting, but take-out also seems like a lot of work because you have to talk to someone…on the phone. And forget about driving somewhere, you JUST got home. UGH. And OMG the feeling of hungry has now turned into HANGRY (hungry + angry), and you just wanna eat something. right. this. second. When this is the case, I turn to pasta–it's my go-to. Always and forever.
Over the years I've become a private master of the "15-minute pasta dish for one person." Lemon pasta. Vegetable scrap pasta. Spaghetti with eggs and lots of black pepper. Carbonara. Butter and crushed red pepper (not all that exciting). Butter and cheese pasta (also not that exciting, but very dependable), and the list goes on and on…
If you do a small amount of planning and remember to a buy a few red peppers over the weekend, this is a new little 15-minute pasta that could enter your rotation. It's a solid one.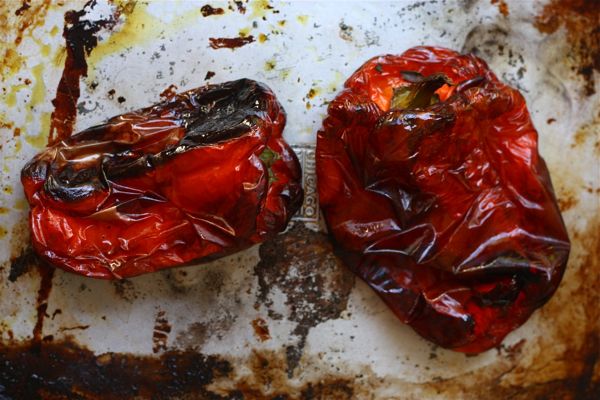 Okay so I know I just sold you on "EASY," "FAST," and "15 Minutes Only." But you do need to roast some red peppers.
The other alternative is that Trader Joe's (and a lot of other supermarkets) actually carry roasted red bell peppers in the jar. Buying this will save this roasting step for you completely.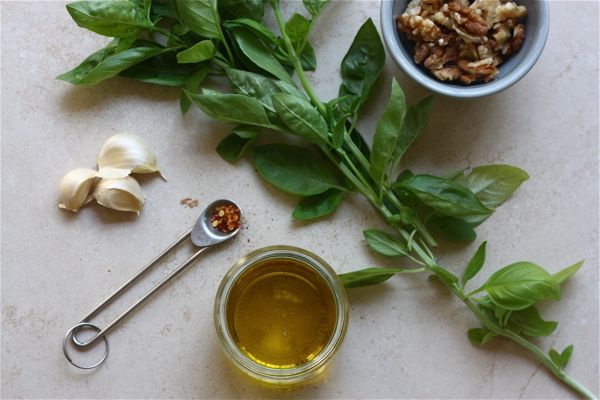 If you decide to roast them, it's really no work at all, just a bit of oven time. An hour to be exact.
This pesto has a handful of fresh basil, a good amount of Parmesan cheese, garlic, olive oil and walnuts, though, pine nuts or almonds would be lovely too.
Things are pulsed and pureed for about a minute. This pesto is sweet and slightly smokey. The walnuts give it a good nuttiness, while the basil add freshness.
Freshness is very important when shoveling big bites of carbs into your mouth, you kno.
Toss this pasta with some warm pasta, swirl it around your fork and turn on some bad television.
You've earned it.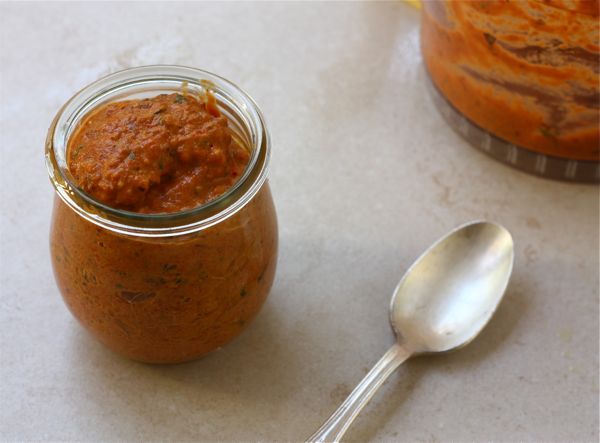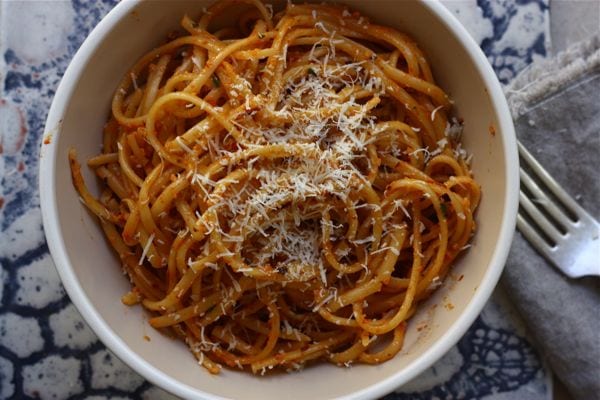 Roasted Red Pepper Pesto
2 large red bell peppers (or 1 pound of red bell peppers)
Olive Oil
2 whole garlic cloves
2 tablespoon walnuts
1/2 cup fresh basil
1/4 cup Parmesan-Reggiano, grated
1/4 teaspoon crushed red pepper
Sea salt
1. Preheat your oven to 400F. Place the red peppers on a baking sheet and sprinkle both of them with 1 tablespoon of olive oil. Transfer the peppers to a hot oven and roast for 1 hour, turning them over, using tongs, at the 30 minute mark. Remove from the oven and allow them to cool to room temperature, about 15 minutes. When the peppers are cool, using a knife, remove the seeds, white membrane inside and stem. Set aside.
2. In a food processor, add the garlic cloves and walnuts; pulse until the mixture resembles a coarse meal. Next, throw in the roasted red peppers, 2 tablespoons of olive oil, fresh basil, Parmesan-Reggiano, crushed red pepper and pulse until mixture is smooth-ish, about 1 minute. Salt to taste (I added about 1/2 teaspoon of salt). Add a little more crushed red pepper, if you like, too.
Yields about 1 cup of pesto