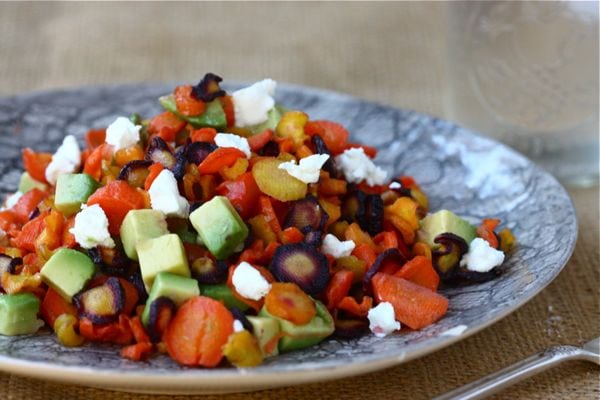 The real name of this salad should read:
"Roasted Rainbow Heirloom Carrot Goat Cheese and Avocado Salad with a Citrus Cumin Dressing."
But! it needed some tweaking. Let's not do recipe titles that read like paragraphs. Not a good look. Also the word "rainbow" is way cuter than the word "heirloom." (I think.) Who doesn't want to eat a rainbow?! No one.
This dish is like a plate full of skittles...but in carrot form.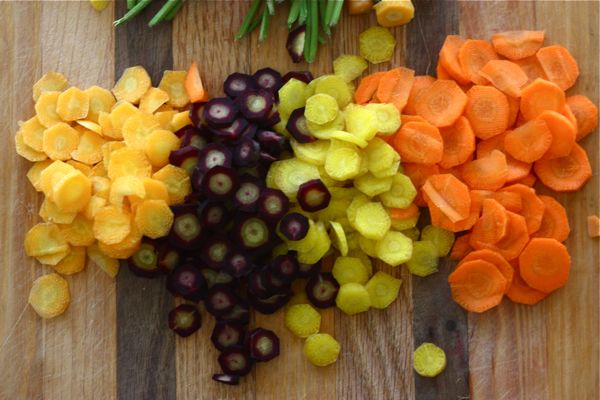 Have I ever told you how I sorta think lettuce blows? I'm not a big salad eater.
Let me retract my statement: I'm not a big salad maker. As a kid, making the salad and setting the table was my job, every day...for what felt like for forever. So now, in adult protest, I don't make salads. Unless they have brown butter dressing on them.
I am, however, a big salad orderer. When I go to a solid restaurant, I usually get a salad. I dig good salads. They're not super easy to make. There's an art to the anatomy of a successful salad.
I had something similar to this at a restaurant here in LA. It couldn't have been simpler: roasted carrots sprinkled with cumin and goat cheese. That was it. Easy. Incredible.
The texture of the roasted carrots is super spesh, guys. Special. They're thinly sliced and roasted until they become chewy with a slight crunch. That might sound weird, but trust me it's such a win.
Add some avocado! And some goat cheese! Major.
I'm also not over winter citrus yet. I dunno if I'll ever be.
I made a simple citrus and cumin dressing, using a few tangelos and a meyer lemon. Feel free to use an orange and a regular lemon. And for the carrots, I found some beautiful heirloom carrots at the store. Regular ol' orange carrots will work juuuust fine.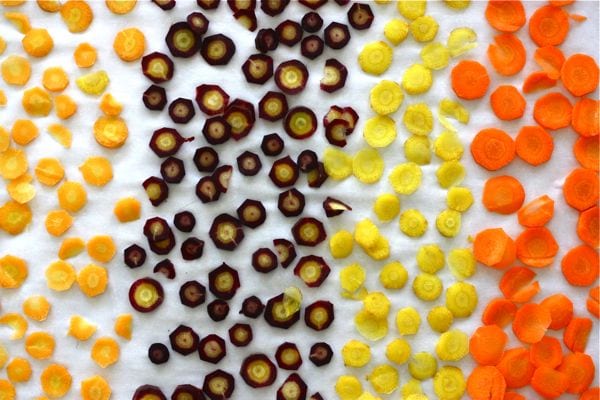 In other non-salad news, Pepperidge Farm asked me if I would cook something up that's healthy for the Super Bowl, which is funny 'cause I dunno even know who's playing...
...actually, I do now. I just googled it.
So, what are you feeling? Are you feeling healthy? Do you even care about eating healthy on the Super Bowl? If so, what do you think I should figure out how to bake? This is important!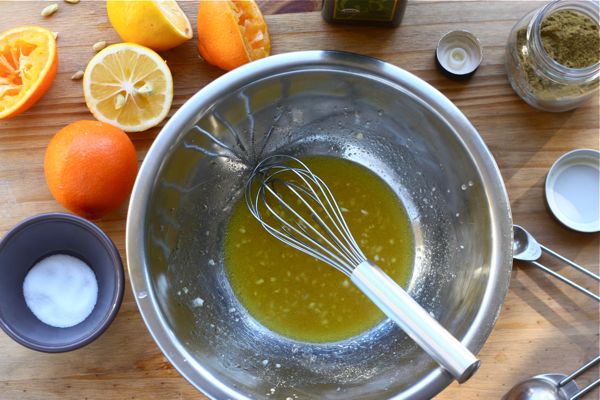 Roasted Rainbow Carrot Salad (with Citrus Cumin Dressing)
Salad:
15 carrots (peeled, trimmed and thinly sliced)
1 avocado, cubed
2 ounces goat cheese, crumbled
Dressing:
1 shallot, minced
2 tangelo oranges
1 meyer lemon
⅓ cup extra virgin olive oil
½ teaspoon ground cumin
Salt
Ground pepper
1. Preheat oven to 375F. Evenly divide sliced carrots between two lined (important!) baking sheets and place in oven for 15 minutes. Remove carrots and let cool on baking sheets. You'll find them slightly rubbery. This is good. You don't want a carrot chip salad, ya know?
2. Meanwhile, make the dressing. Place the minced shallots in a small bowl. Squeeze the juice from the oranges and lemon, being sure to catch any seeds. Whisk in extra virgin olive oil. Add cumin and add salt and pepper to taste.
3. To assemble the salad, add the carrots, cubed avocado to a medium bowl. Pour half of the dressing over top and gently toss. Add more and more dressing until it's to the point of your liking. Divide salad between two plates and crumble goat cheese on top. BOOM! Eat the rainbow.
Yields 2 Salads