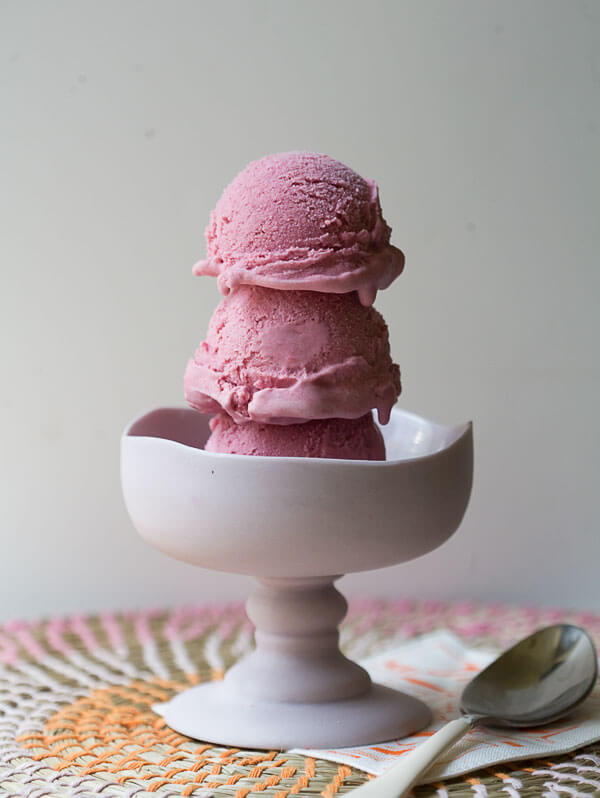 All I want to talk about right now is Beyonce's new haircut. Did you see this? I'm not sure how I feel about it. Actually, I know. I don't like it. I just don't. I like old Beyonce. What was wrong with old Beyonce?!?!? I also don't like change. Like, I'll probably never use Instagram video, ever.
Anyway, I had to get that out of the way. Now I'm going to gush all about this roasted plum ice cream and how obsessed I am. I had serious plum-plans for some super fancy Santa Rosa plums that promised the world. They still had leaves attached and were still dusty ... but I ate 'em. All. I ended up having to go back to the normal grocery store to get more plums for this ice cream. Normal plums are the best! I roasted them with a little brown sugar and salt and the results were ridiculous.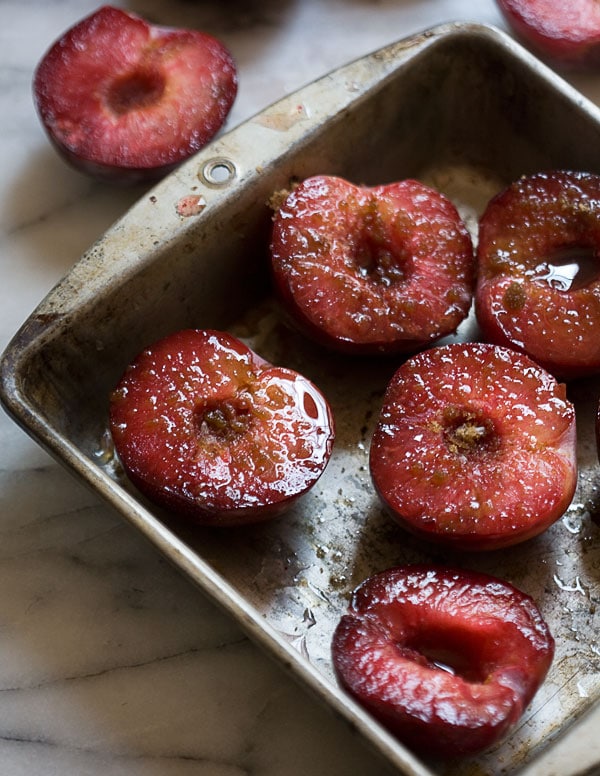 They developed this really rich, concentrated flavor and the viscosity of the syrup was thick and smooth. The color? Beautiful.
I heated some heavy cream with sugar, honey, a bit of salt and some vanilla extract. The roasted plums were blended with a bit of the milk mixture and then drained.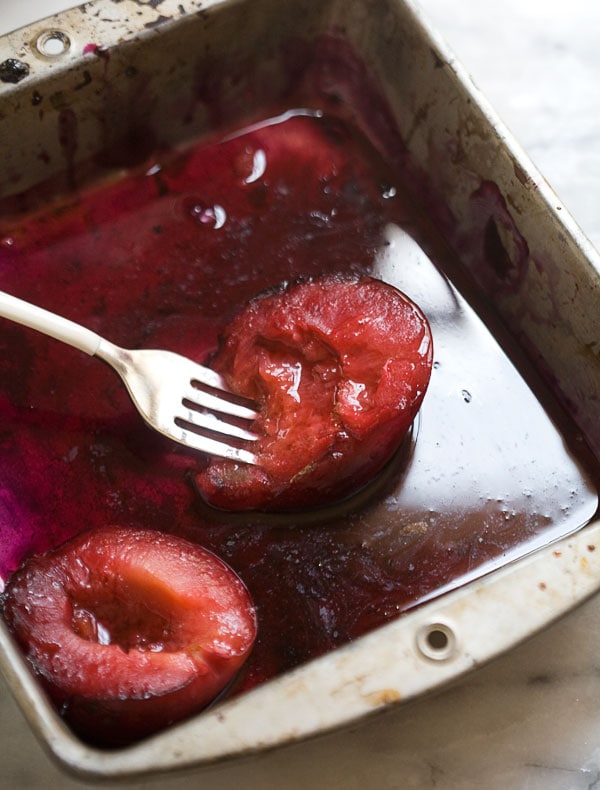 The result was this beautifully-hued ice cream that was perfectly tart and perfectly sweet.
After I took these photos, I saw scooped the top scoop onto the waffle cone, sat on the floor and ate the entire thing. And then gave Amelia the last lick. She thought it was heaven. And for the record, she luuuvs Beyonce's new 'do.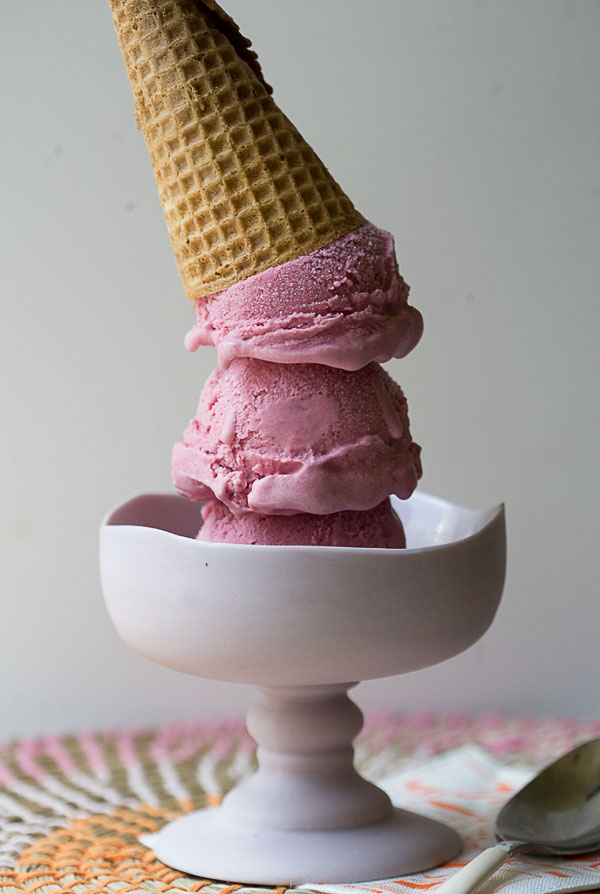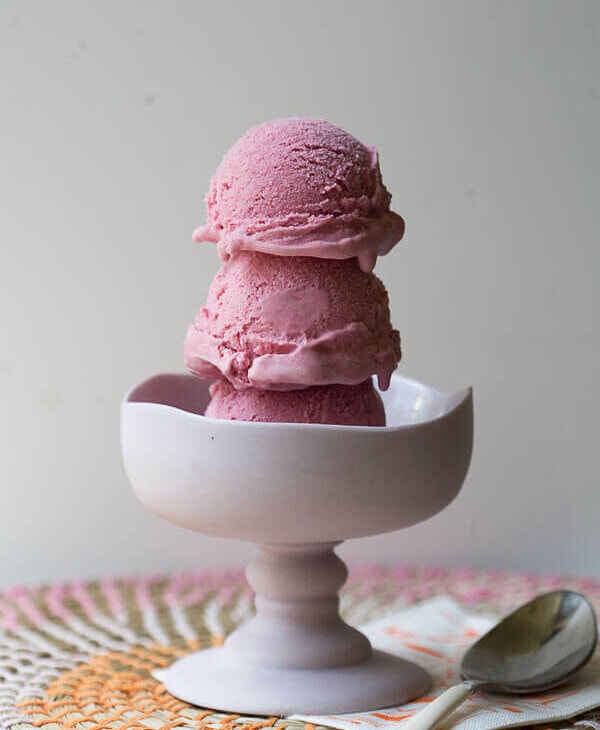 Print Recipe
Roasted Plum Ice Cream
Ingredients
2

pounds

ripe plums

halved and pitted*

2

tablespoons

brown sugar

Pinch

salt

2

cups

heavy cream

¾

cup

cane sugar

2

tablespoons

honey

1

teaspoon

vanilla extract
Instructions
Preheat the oven to 400 degrees F. Place the plums in a 9 x 9-inch baking dish or casserole dish. (I found this better than a baking sheet because of how much juice is released from the plums.) Sprinkle plums with brown sugar and a few pinches of salt. Roast the plums for 20 minutes and until they're completely tender with a fork and a lot of juice has been released. Remove from the oven and allow to cool for about 5 minutes.

Add 2 cups heavy cream, sugar, honey and vanilla extract to a saucepan. Heat until sugar is dissolved, about 2-3 minutes. Add ¼ cup of cream mixture (you can eyeball this measurement) to the jar of a blender, along with the roasted plums and their juices. Blend until very smooth, about 1 minute. Place a sieve atop a large bowl and pour the puree through it, discarding the pulp. Add the remaining milk to the bowl and mix until thoroughly combined. Cover the bowl with plastic wrap and refrigerate until very cold, at least 4 hours of overnight.

Churn the mixture in the bowl of your ice cream maker, according to your ice cream maker's instructions. Serve immediately for soft serve or alternatively transfer to a freezer-safe container and freezer overnight.
*The type of plums that will give you this beautiful purple color are called Black Splendor plums. They have a purple exterior with a red and purplish flesh.