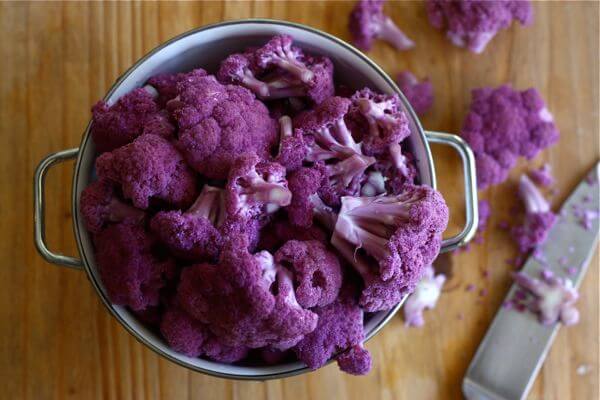 Cauliflower and I have a thing. My love for this cluster of white, mild-tasting florets runs deeeeep, guys. Deep.
Spicy Cauliflower Soup? I make it. So cozy and delicious. Cauliflower Puree? It's like the healthier version of mashed potatoes…that's almost better. I dig it. I even love it in its simplest form: sauteed in a little butter, olive oil with a few red pepper flakes. Good. Solid.
I know good and well there's no evidence of my adoration for cauliflower on this blog, and there's a reason. It's shallow, but I dunno, cauliflower is kinda ugly. Like, not ugly ugly, but it's not a looker, you know? It's pale..kinda boring to look at and when you cook cauliflower it becomes even more unattractive. LAME of me. SHALLOW of me. Whatever.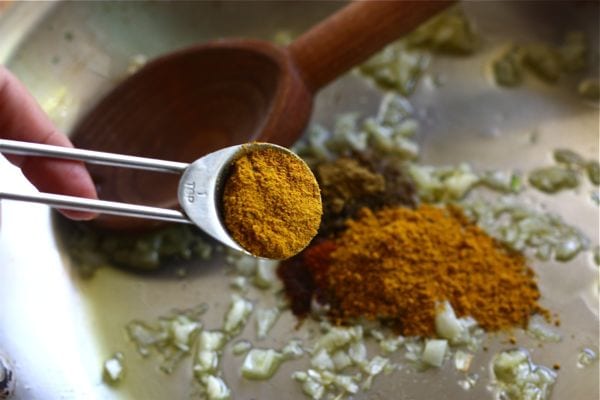 So when this time of year rolls around, I'm always on the look out for the green, bright yellow and purple cauliflower. I've made variations of this recipe a few times…all with white cauliflower, not nearly as pretty.
There's no taste difference between purple cauliflower and white cauliflower. Its purpleness can be attributed to something called anthocyanin–which is also the thing that makes purple cabbage purple.
Cauliflower facts are really exciting right, guys?! RIGHT?!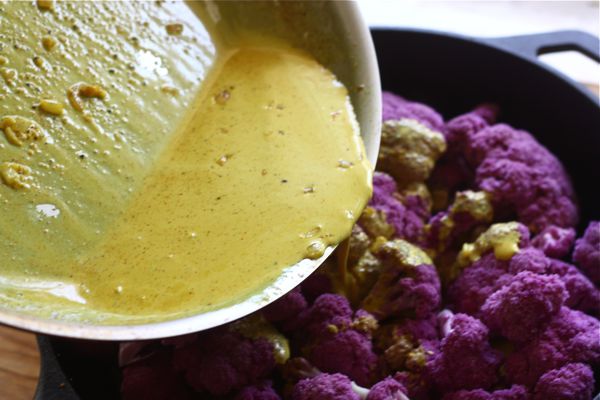 This dish is easy peasy.
You start it by making the curried cream sauce by sauteing some shallots and garlic together. You throw in the spices, whisk in the heavy cream and pour it over the cauliflower. Give a little toss action and stick it in the oven. This is it.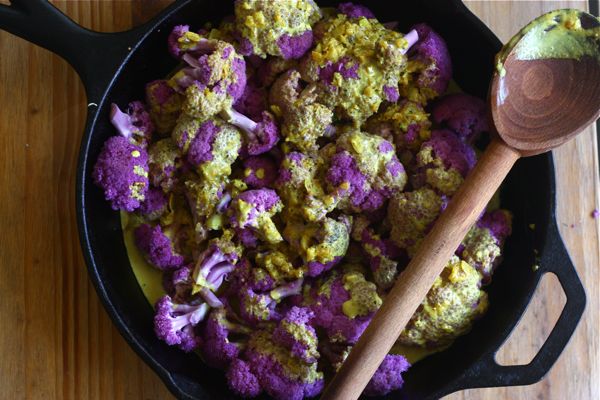 In the oven, beautiful things will happen. The sauce will bubble and the cauliflower will roast, creating a crazy incredible smell that will work its way all up and through your house.
When you're done, you have options. You can transfer it to a pretty side dish and put it on the table with other delicious creations. Or you can do as I like to do, and serve it with a salad (that has some acid in the dressing) and a large piece of crusty bread.
Simple, pretty, fast, delicious.
P.S. I bought a lemon and some fresh Italian parsley with the intention to finish this dish with a bit of both. But I forgot. My excuse: when I took this thing out of the oven, I was too busy "ooo-ing" and "ahhh-ing" at the purple/yellow marriage, which turned the cauliflower sort of green. So yeah, I forgot.
I topped it with lemon and parsley as I ate the leftovers over the stove, and it's good. It really is, so if you have it, go ahead and add it. But it's definitely not necessary. I'm not including it in the ingredient list because I can't justify the extra $4 you'd need to spend. 🙂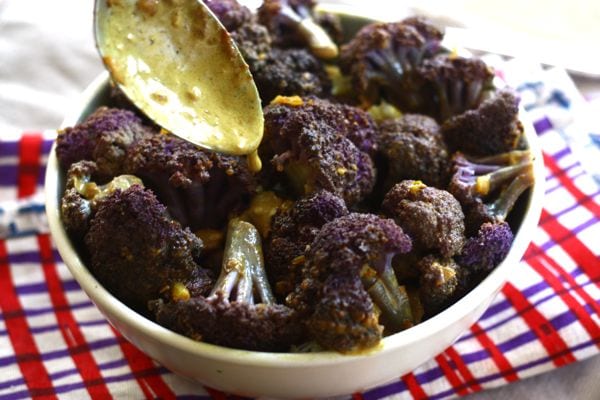 Roasted Curried Cauliflower
1 pound cauliflower, cut into florets, cleaned
2 tablespoons olive oil
1 shallot, minced
2 garlic cloves, minced
2 teaspoons madras curry powder
1 1/2 teaspoons ground cumin powder
1/2 teaspoon ground paprika
1 cup heavy cream
3/4 teaspoon kosher salt
1. Preheat the oven to 400F. Place the florets, in one layer, in a 10-inch cast iron skillet or baking dish.
2. In a medium skillet, heat the olive oil, over medium-heat. When hot, add the shallots and cook for 2-3 minutes, and until translucent. Place the garlic atop the shallots and cook until fragrant, 1 more minute. Add the curry, cumin, paprika and mix until it resembles a paste. Take the pan off the heat and whisk in heavy cream until spices dissolve.
3. Pour the curry cream over the cauliflower and gently toss. Transfer the skillet or baking dish to the oven and bake for 17-20 minutes. The cauliflower will be slightly toasted on top, tender, but not overcooked.