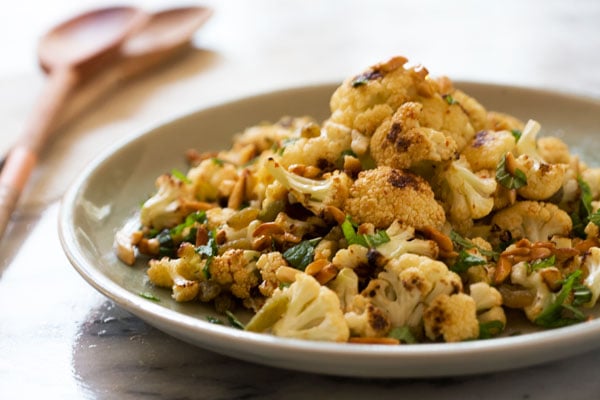 No one tells you that throwing a surprise party requires lots and lots of lying. Which would be totally fine except that when I lie I get an awkward smile on my face and can't wipe it clean to save my life. Basically, whenever I'm super uncomfortable I smile or laugh. Like, for instance, when I'm at the lady doctor…there's lot of uncomfortable laughing with almost tears running down my face. I'm melodramatic. I'm embarrassing. Also, apologies for the overshare! So yes, if you ever meet me and I'm smiling awkwardly as I speak to you, it's either because I'm super stoked to be meeting you OR I'm extremely uncomfortable. Just go with the former.
This past weekend I was a total lunatic and consumed about five snow cones, three tacos, two waters, three Mexican cokes (maybe four), a fried chicken-skin egg sandwich and a few red vines, just for fun.
I feel like my body needs a break and my energy needs a boost.
I'm being super LA on Thursday and starting a cleanse. I'm not ready. I like food. I love food, rather.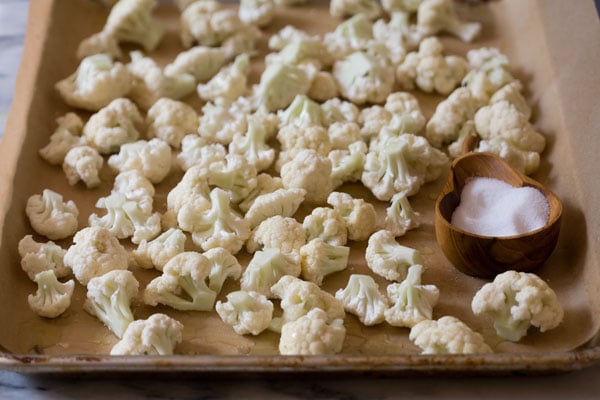 Instead of going totally cold-turkey, I'm being kinder to my body and doing it gradually.
I'm grooving into it…starting with this salad.
If I'm going to eat healthy, I like it spicy.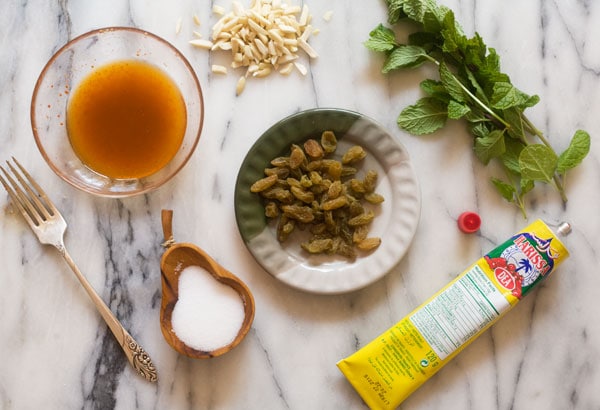 I feel like I've been promising something healthy for a few weeks now, but just kept giving you fried chicken and waffles.
I love eating indulgent, crazy and fun food, but sometimes I need to eat something that will make me feel good about myself, you know?
This salad is it. It's fun, spicy, sweet and filling.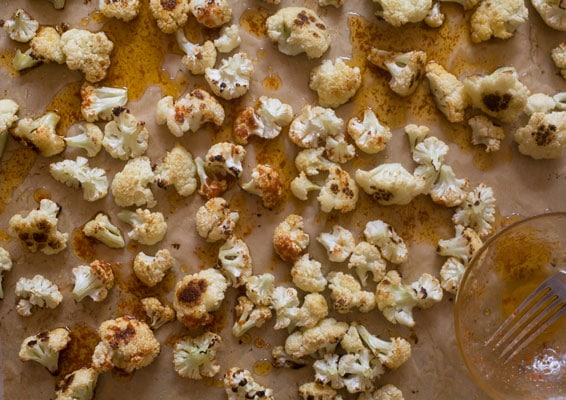 The cauliflower is roasted and then tossed with a light harissa dressing. The golden raisins are quick-pickled to add a bit of sweetness and tartness to the salad. The slivered almonds candied in honey and salt give a nice crunch along with a bit of sweet. And the mint, oh the mint! So dreamy and refreshing.
This salad is a salad. Yes, it is, but it's also one of those salads that can double as a main dish and rise to the occasion. I ate a big bowl of this at room temperature and called it lunch. No egg, no meat, no addition. Just a big ol' bowl of cauliflower!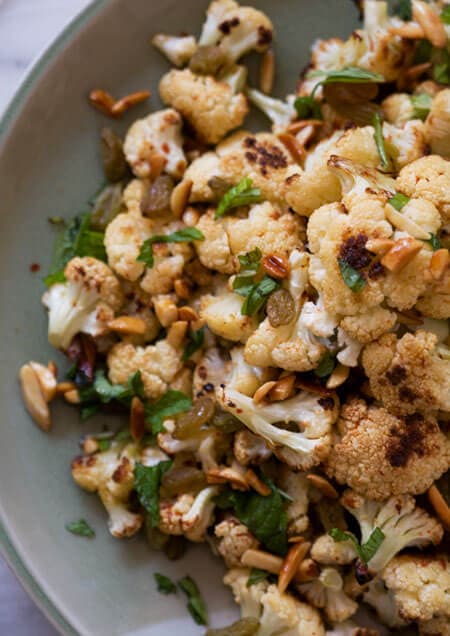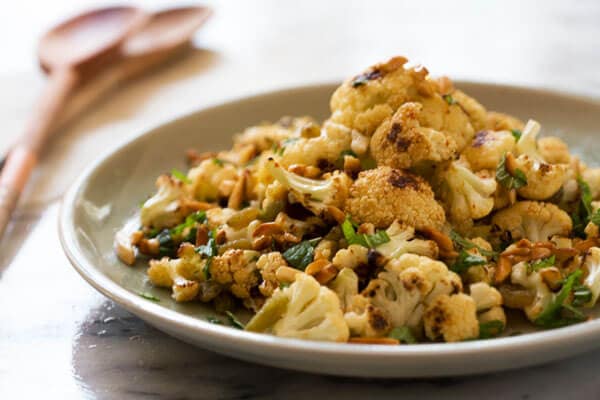 Print Recipe
Roasted Cauliflower, Golden Raisin and Candied Almond Salad with Harissa Dressing
Ingredients
Salad:
1/4

cup

golden raisins

or regular raisins

1/2

cup

white vinegar

Salt

1

head cauliflower

Olive oil

1/4

cup

slivered almonds

2

tablespoons

honey

5-6

leaves

fresh mint

chopped
Dressing:
1/4

cup

olive oil

1

teaspoon

harissa

Salt
Instructions
Preheat the oven to 450 degrees F. Line a baking sheet with parchment or foil. Set aside.

Add the golden raisins, white vinegar and a pinch of salt to a small bowl; allow to sit to quick-pickle while preparing the salad, about 30 minutes.

Next, cut the cauliflower into florets and spread them in one even layer on the baking sheet. Drizzle a few tablespoons of olive oil over the cauliflower and toss. Transfer to the oven and bake for 15-20 minutes, flipping the cauliflower at the 10-minute mark. You'll know when the cauliflower is done when it's tender when poked with a fork and lightly golden brown in color.

Meanwhile, add the honey, slivered almonds and a few pinches of salt to skillet. Turn the heat to medium and cook until the almonds are golden brown and caramelized, about 3-4 minutes. Remove with a spoon and set aside. To make the dressing, mix together the olive oil, harissa and a few pinches of salt. Adjust salt accordingly.

When the cauliflower comes out of the oven, allow to cool slightly, about 5 minutes. Add the dressing and toss. Drain the golden raisins and add them to the cauliflower, along with the slivered almonds and mint. Toss once more and transfer to a serving plate.