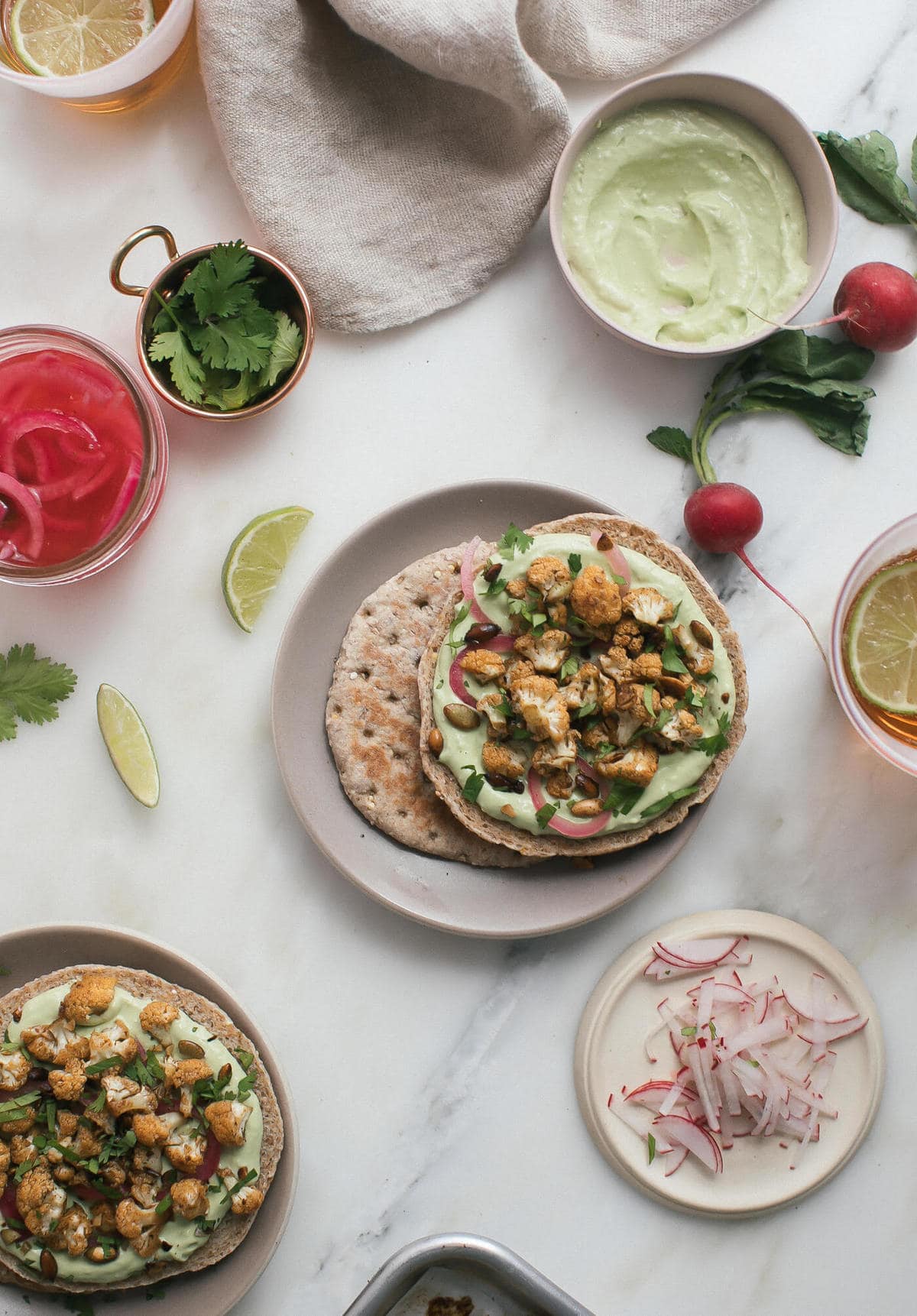 Why didn't you guys tell me I've been making nothing but pink food lately?! Good gracious, I looked at the first page of this blog the other day and was GIRL, get it together. Consider this dish/post a big gigantic break from all things strawberries/rhubarb/raspberries, etc. Woohoo!
When I went to college, my roommate was this Dominican girl from Queens named Kim. She cooked the best chicken; it was her mom's chicken. I remember she offered me a plate and I almost passed out it was so good. Whenever she would cook, I would always make sure to linger around so she'd offer me some and she always did because she was the best.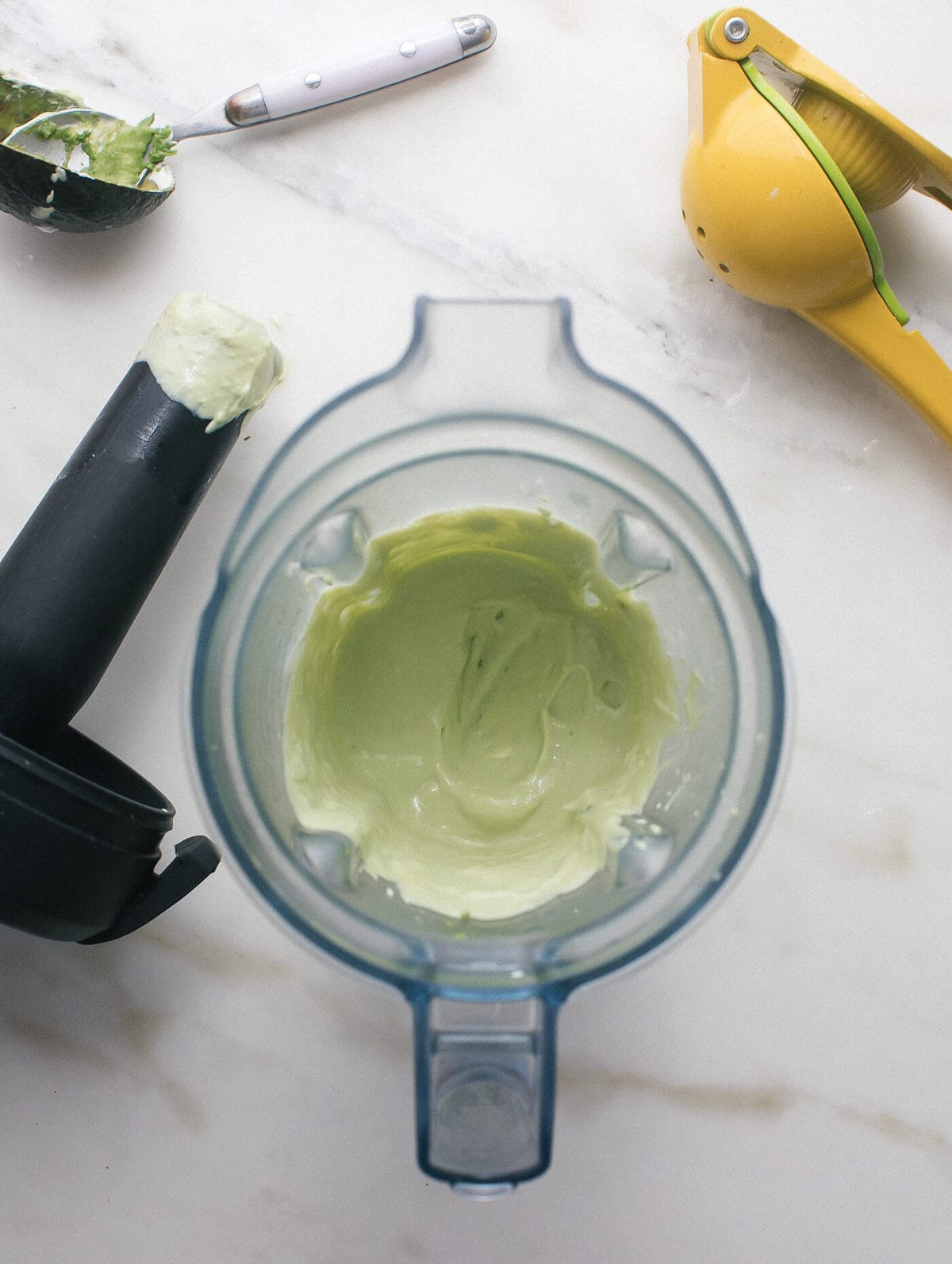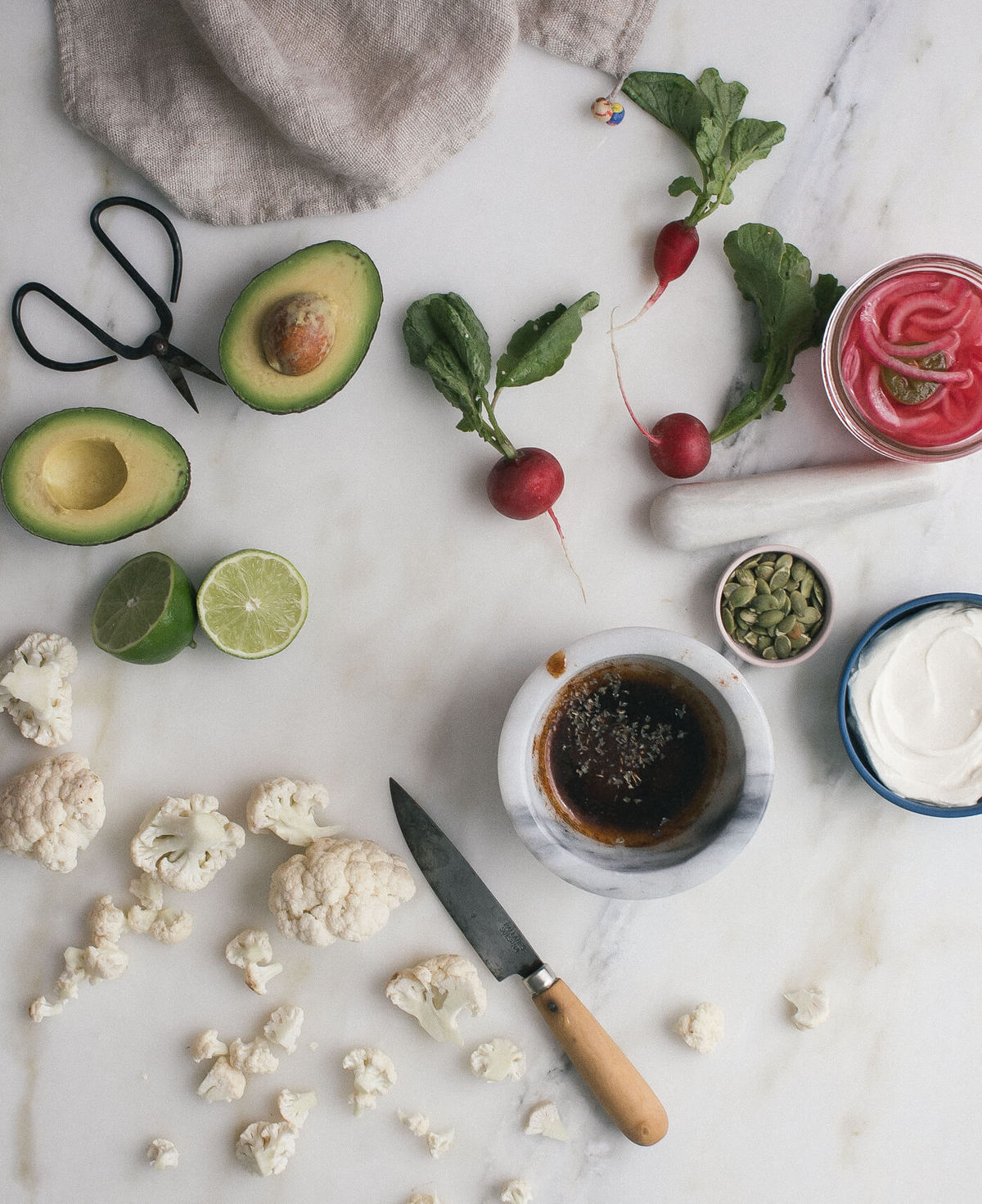 When I finally asked her why it was so good she told me the spices. The one thing she said her mom always told her was to add A LOT of spice to everything.
And I'll never forget that because my mom cooked with lots of spices too. I also remember thinking oh I guess that what us Latinas do—we cook lots of spices. Ok!
For this recipe, I teamed up with Ozery Bakery and their delicious bread. My favorite part about them is that I keep them in the freezer so I don't feel the need to eat all of the bread within a few days (because I will).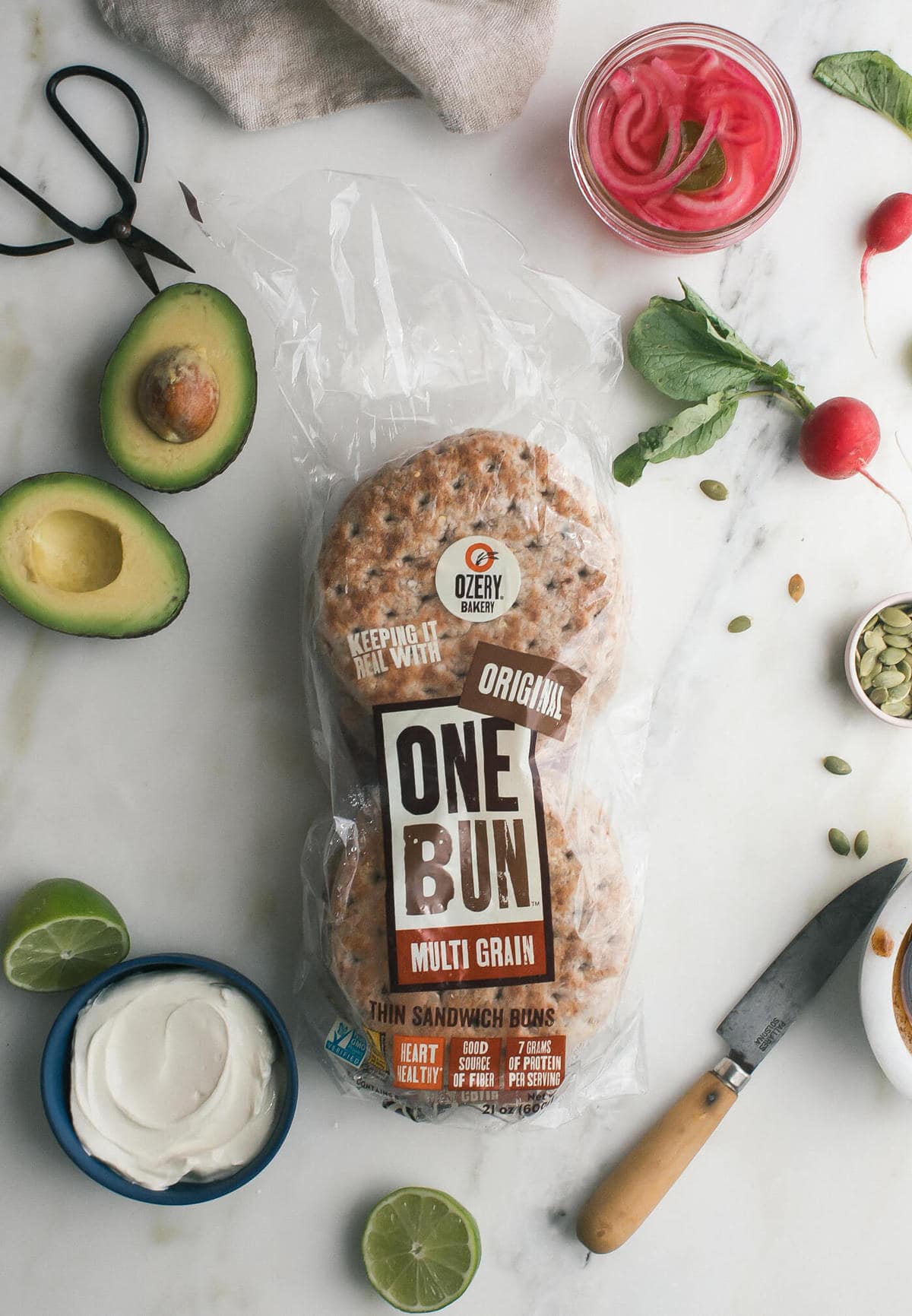 Whenever I want one, I just remove it from the freezer and warm it up. And the bread is SO soft. I like to think of it almost like as soft as a hamburger bun but half the thickness which is great for this type of arrangement. Also the ingredient list is great—nothing scary and all non-GMO.
They have a bunch of different types of breads but for this recipe, I chose the OneBun Multi-Grain.
The recipe starts with a spice oil mixture all mixed together. There is ancho chile powder, which is an all-time favorite spice of mine because it has a rich nuttiness (and subtle spiciness), cumin, salt, cayenne and dried Mexican oregano.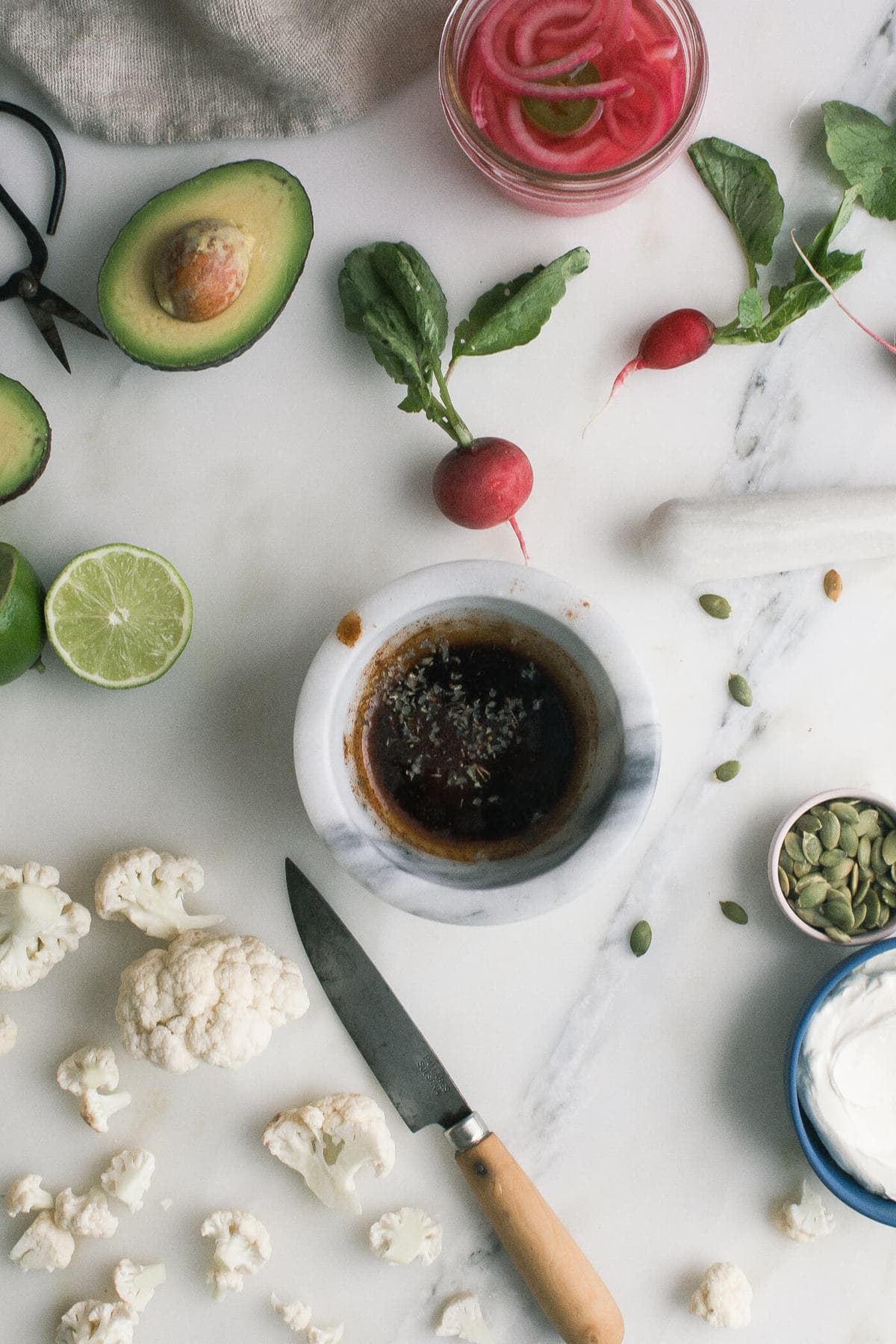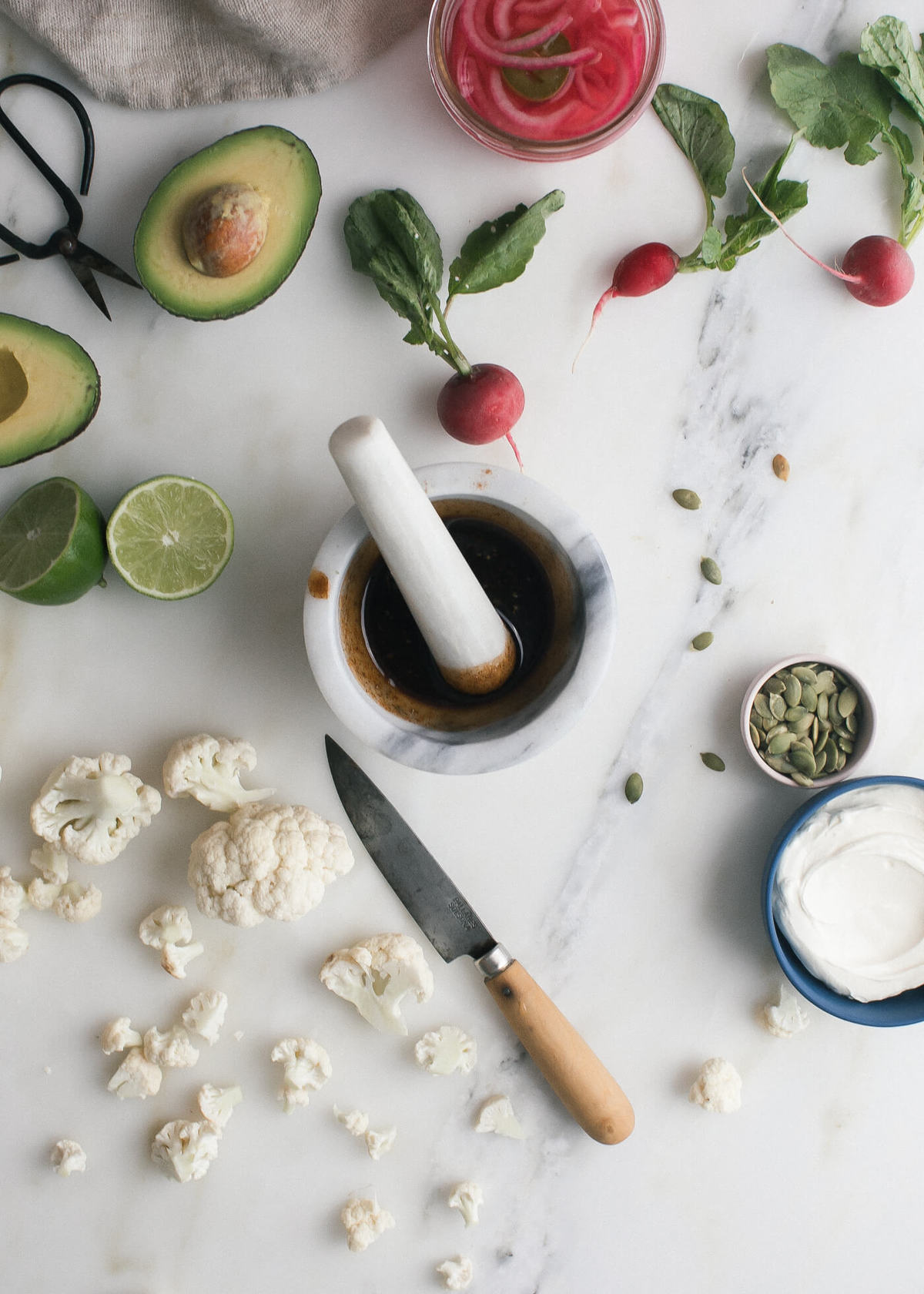 The cauliflower is tossed in this spice mixture and then roasted. It is SO good, I could almost just eat the cauliflower by itself. Cauliflower doesn't have a ton of flavor on its own so it really requires a lot of flavor to be added. I like to think of like the vegetable equivalent to tofu.
I made an avocado crema, which was way better than I could have imagined. I put sour cream and avocado and jalapeño, salt and lime juice in a blender and it was SO good. If you wanted to go a healthier route, you could do this with yogurt (it would be bomb—I've done it!).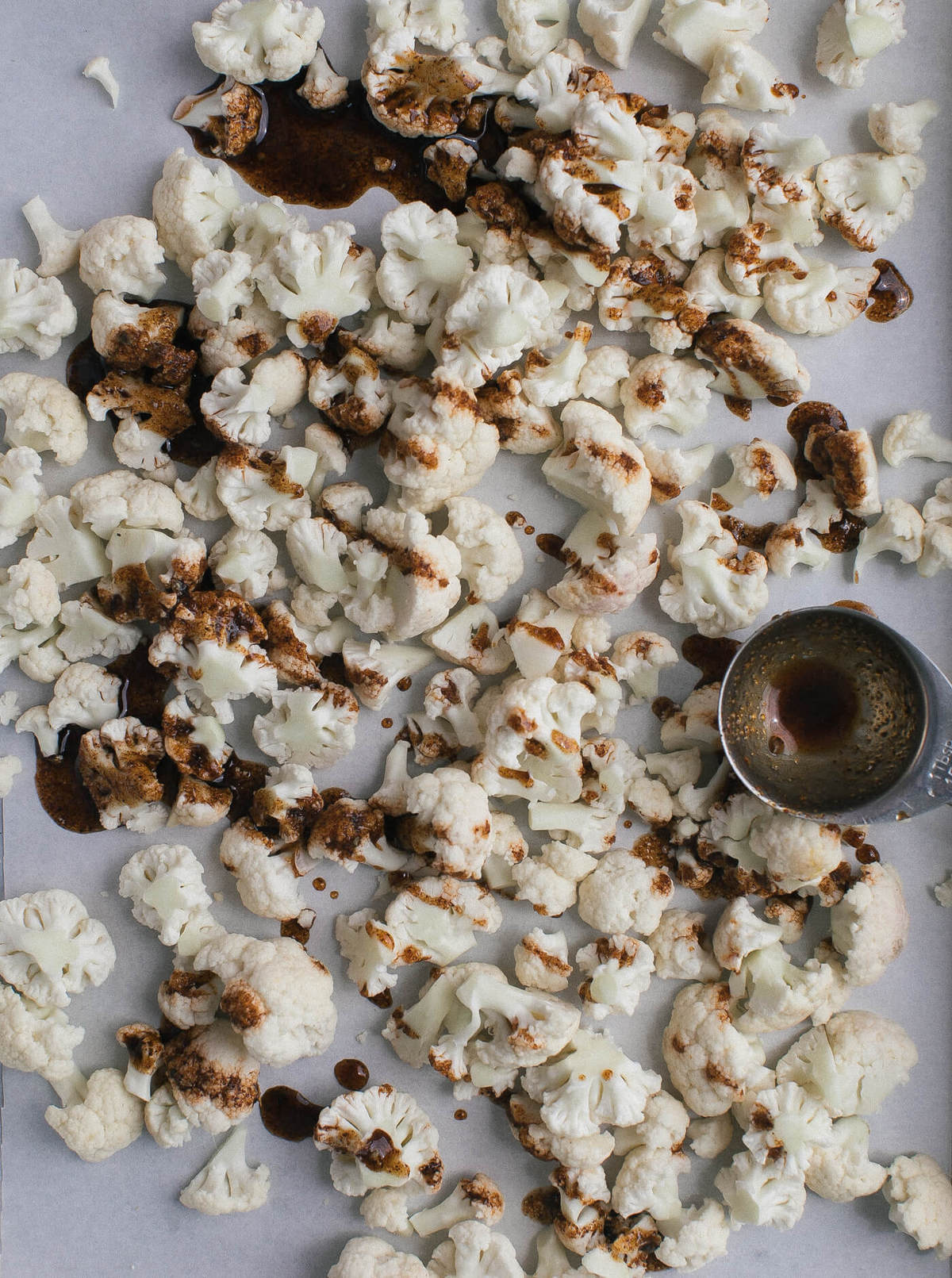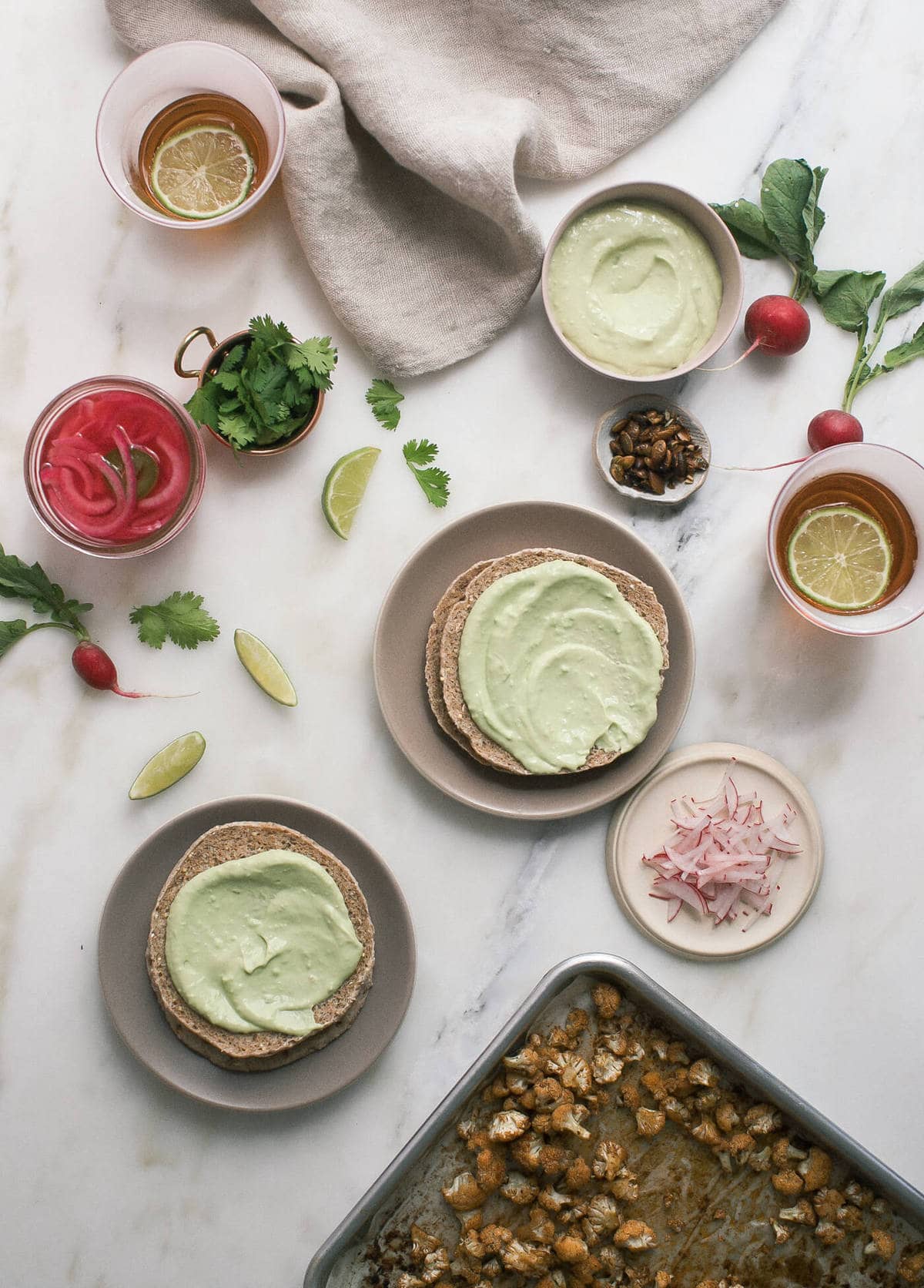 To assemble the whole thing, I took a few buns, smothered that avocado crema on top, added the cauliflower, some pickled red onions, cilantro and toasted pepitas (that were cooked in that spice mixture).
This is the best thing I've cooked up in a LONG time and it'll take you under 30 minutes, too. Big bonus!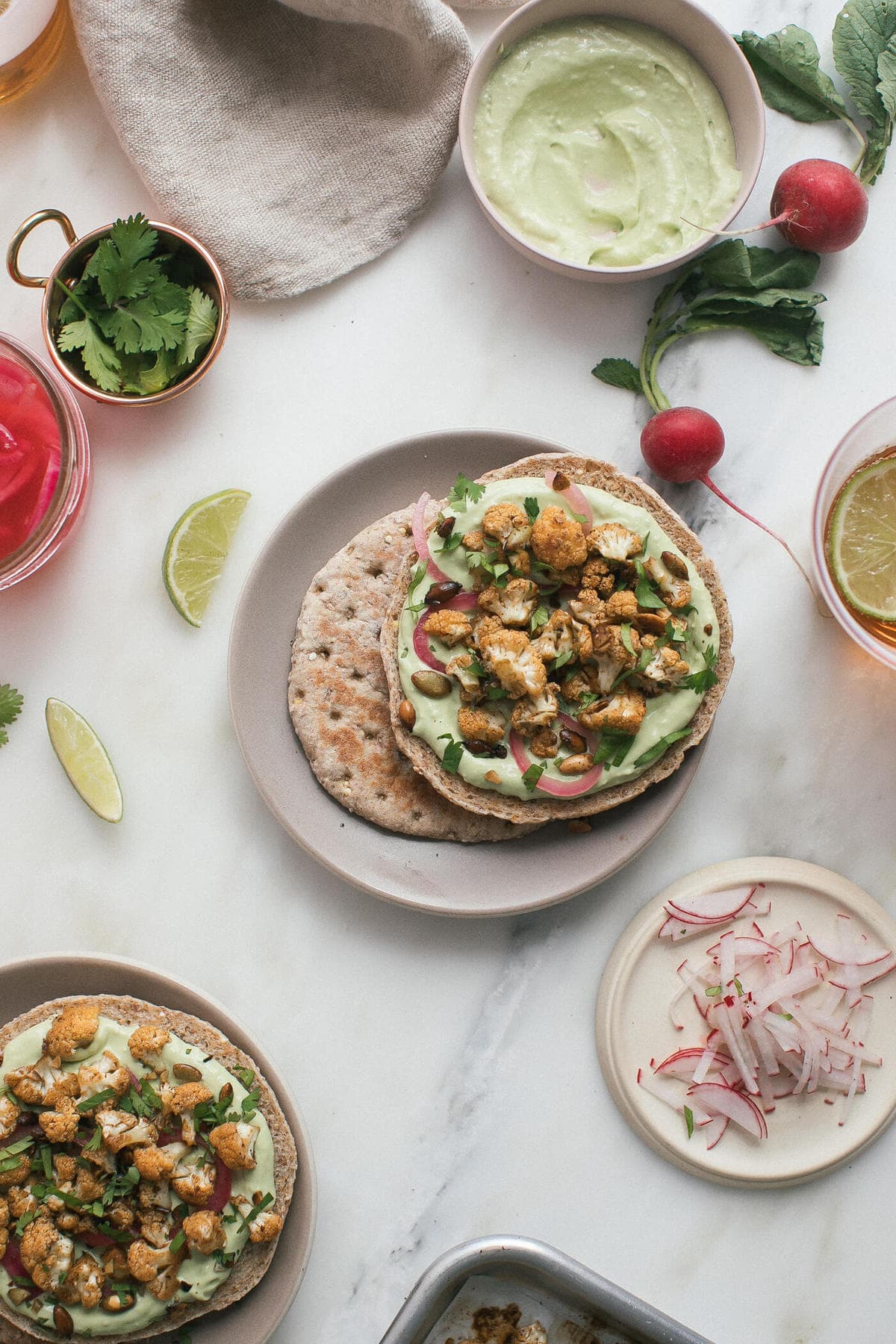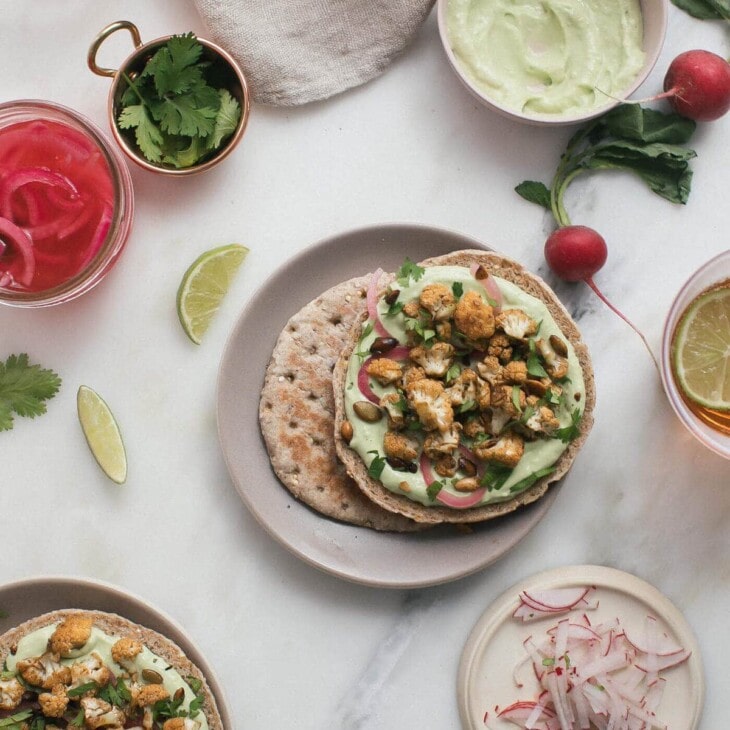 Print Recipe
Roasted Ancho Chile Cauliflower with Spiced Pepitas and Avocado Crema
Ingredients
Quick-pickled red onions: 
1/2

cup

white vinegar

1/2

cup

water

2

teaspoons

salt

2

teaspoons

sugar

1/2

jalapeño

sliced

1/2

red onion

peeled and sliced
Avocado crema:
3/4

cup

sour cream

1

avocado 

1/4 to 1/2

of a jalapeño

depending on how spicy you want it!, seeds and membrane removed

Juice from 1 lime 

1/4

teaspoon

salt + more to taste
Cauliflower + Pepitas: 
1/4

cup

olive oil 

1

teaspoon

ancho chile powder

1

teaspoon

salt 

1/2

teaspoon

paprika 

1/2

teaspoon

ground cumin

1/4

teaspoon

Mexican dried oregano 

1/4

teaspoon

ground cayenne 

1/4

cup

pepitas 

1/2

head of cauliflower

florets chopped 
Garnish + Assembly:
4

Ozery Bakery One Bun Multi-Grain Buns

1

radish

thinly sliced

1/4

cup

cilantro

roughly chopped 
Instructions
To make the Quick-Pickled Onions:
In a small saucepan, combine the vinegar, water, salt, sugar and jalapeño. Heat until a gentle boil and allow to cook for about 2 to 3 minutes. Place the thinly sliced red onion in a bowl or glass measuring cup. Pour vinegar mixture over the red onions and stir until the onions are completely submerged. Set aside. (Should pickle in about 1 hour and can keep in the fridge for up to 3 months in an airtight jar.) 
To make the Avocado Crema:
To a blender or food processor, add the sour cream, avocado, jalapeño, lime juice and 1/4 teaspoon of salt. Pulse until very smooth, scraping down the sides as needed. Give it a taste and adjust the salt to taste (I ended up adding a few more pinches of salt). 
To make the Cauliflower + Pepitas: 
In a small bowl, whisk together the olive oil, ancho chile powder, salt, paprika, cumin, oregano and cayenne. 

To another small bowl, add the pepitas and add 1 tablespoon of the spiced olive oil mixture to them. Toss until combined. Set aside. 

Preheat the oven to 425 degrees F. Add the cauliflower florets to a parchment-lined baking sheet. Pour the oil mixture over the cauliflower and toss until evenly coated in the oil mixture. Transfer to the oven and roast for about 15 to 17 minutes, until the cauliflower is tender. 

Meanwhile, in a small skillet, set over medium heat, add the pepitas. Toast the pepitas until lightly browned, about 1 to 2 minutes. Transfer to a small bowl and allow to cool. Once cooled, roughly chop them up and set them aside until serving. 
To assemble: 
Halve and lightly toast

Ozery Bakery

buns and then add a liberal dollop of avocado creama to each half bun. Smear it to the edges and then top with a few pieces of pickled red onion. Add a few spoonfuls of cauliflower florets and garnish with pepitas, radishes and cilantro.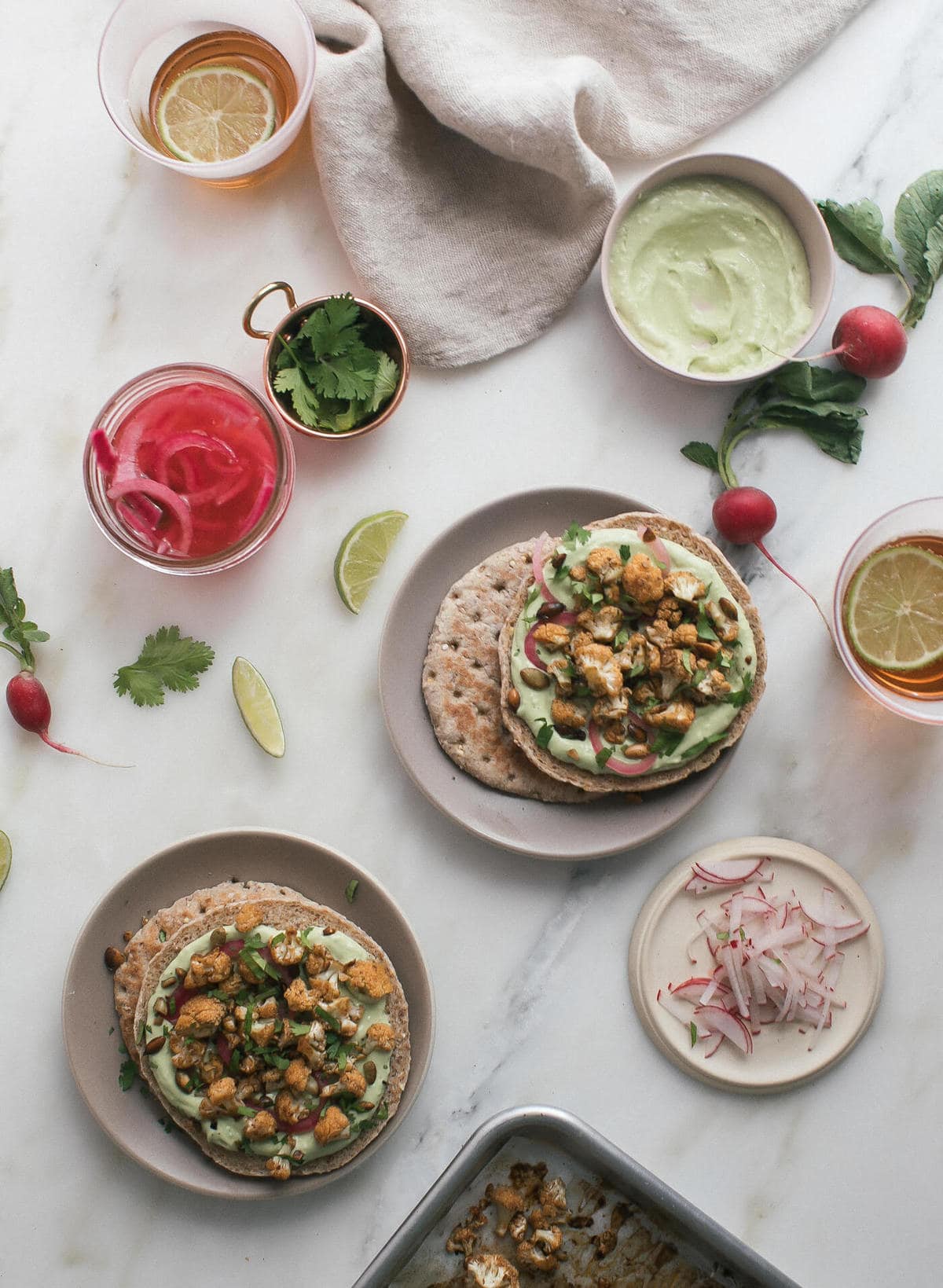 (This post is sponsored by Ozery Bakery. Thank you for supporting the sponsors that keep A Cozy Kitchen cozy!)