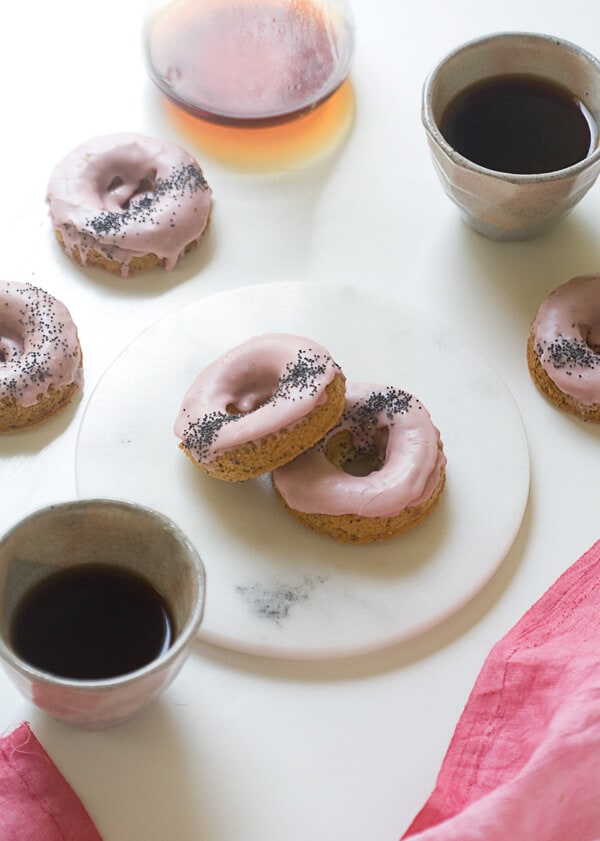 Today is National Doughnut day which means you must make these…this weekend. I honestly never pay attention to this day or that day because it seems like every single day it's something else. Also, who came up with these designated food days? Where's the calendar where all these days exist? And if it's just some rando person coming up with them, then can I come up with a dedicated day?
Mine will probably be sort of specific…like, Skip-Work-And-Pet-A-Corgi-Day, or Let's-Make-Pie-Day-And-Give-It-To-Our-Neighbor-Day, or Let's-Get-Our-Nails-Did-And-Then-Eat-Tacos-Day. Basically my days have a lot more to them than just eating one type of meal or food item…they'd be adventure-driven. Anyway, that's not going to happen so here's a recipe so you can just make doughnuts.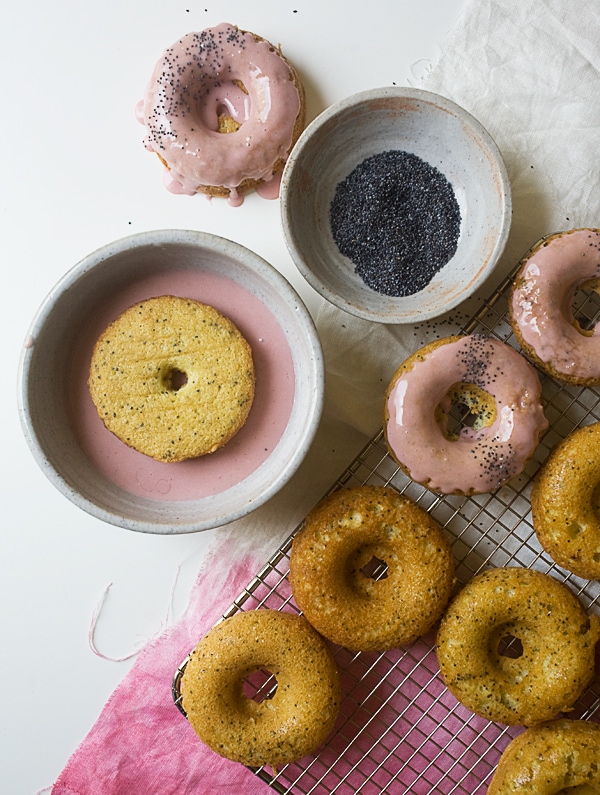 Everyone and their mother HATES deep-frying foods. I do too, actually, so much so that I've contemplated buying one of those counter fryers but then I thought about my thighs and reconsidered. I've been working out and eating lettuce wraps for the past couple months and one fryer addition could ruin it all.
These baked doughnuts require no fryer. Thank heavens! And they're easy to whip up. I'd say they're lighter in texture, more similar to a super light and fluffy cake. So I'd say they're light and fluffy cake doughnuts. Not dense at all.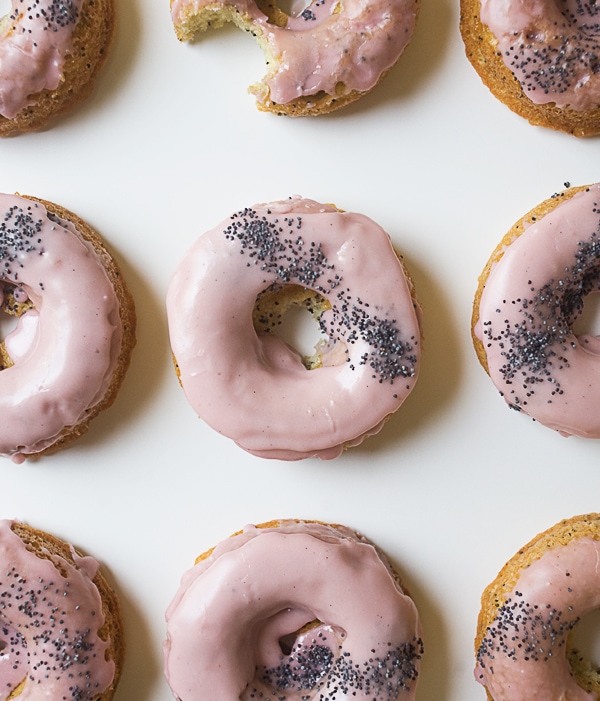 Baked doughnuts require one piece of equipment, but it's inexpensive and when I bought one I thought I'd never use but fortunately for me, I use it ALL of the timez.
The glaze is all rhubarb and a bit of sugar and salt. It's delightful. The poppy seeds add a nice texture element to these doughnuts as well as some nice floral notes.
Happy National Doughnut Day…or whatever!
My blogging comrades have also made copious amounts of doughnuts:
i am a food blog - Waffled Donut (WUUUT!)
My Name is Yeh - Biscuit Donuts with Naturally Colored Glazes. (BEAUTIFUL!)
Wit and Vinegar - Baked Peanut Butter Oreo Doughnuts (WUT!)
Coco Cake Land - Milk Tea Donuts. I luuuurve Milk Tea
Faux Martha - Mix and Match Baked Doughnuts (Pretty, pretty!)
Studio DIY - Donut Marshmallows (So cute!)
Edible Perspective - Samoa Baked Doughnuts (Your favorite girl scout cookie in doughnut-form. YES!)
Hummingbird High - Sour Cream Doughnuts (Classic and kewl.)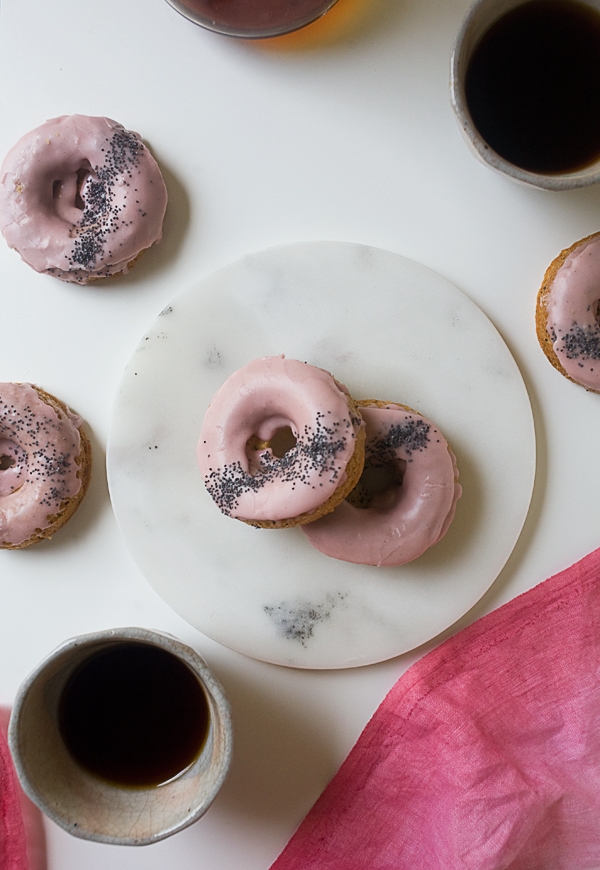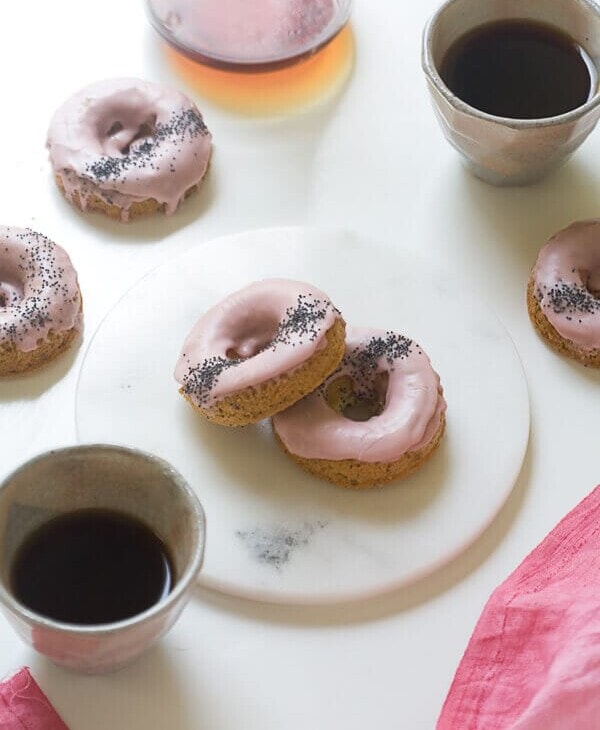 Print Recipe
Rhubarb Poppy Seed Baked Doughnuts
Ingredients
½

cup

white granulated sugar

½

vanilla bean

¾

cup

all-purpose flour

¼

teaspoon

baking powder

¼

teaspoon

baking soda

½

teaspoon

salt

3

large egg yolks

room temperature

¼

cup

vegetable oil

¼

cup

water

1

teaspoon

pure vanilla extract

1

teaspoon

poppy seeds

3

large egg whites

room temperature

Pinch

salt

½

cup

water

1

stalk very red rhubarb

washed and diced

1 ½

cup

powdered sugar
Instructions
Preheat your oven to 325 degrees F. Stick a medium stainless-steel or glass bowl in the freezer (we're going to use this to beat the egg whites later on in the process). Liberally grease your doughnut pan with cooking spray. Note: I NEVER use cooking spray but I've found it necessary when making this recipe. Set aside.

In a small bowl, add the sugar and vanilla bean caviar. Using your hands, vigorously rub the vanilla beans into the sugar so it's evenly dispersed. In a medium bowl, add the vanilla sugar, all-purpose flour, baking powder, baking soda and salt.

In a large bowl, whisk together the egg yolks, vegetable oil, water and vanilla extract. Next, in two batches, add the dry ingredients and mix until you no longer see any flecks of flour, and then mix in the poppy seeds.

Remove the bowl from the freezer, which by now should be very cold, and add the egg whites and pinch of salt. Using a hand-mixer with the whisk attachments, beat the egg whites until stiff peaks form, about 3 minutes. Gently fold the stiff egg whites into the batter, being sure to not deflate the egg whites by going too quickly.

Using a teaspoon, spoon the batter into each of the cavities in the doughnut pan, filling each one almost all the way. Transfer the pan the oven to bake for 8 to 10 minutes, until the edges are lightly golden brown and the doughnuts have risen. Run a sharp paring knife along the edge of each doughnut and invert onto a cooling rack. Repeat the process until you've baked your way through all of the batter.

To make the glaze, add the rhubarb and water to a small saucepan. Cover the pot and place over medium heat, simmering the mixture for about 5 minutes. After the 5-minute mark, uncover the pan and using the back of a wooden spoon or spatula, press the rhubarb down. Strain the rhubarb, pressing on it to expel all of the rhubarb water; discard the rhubarb pulp and reserve the rhubarb water. Measure out 1 tablespoon. To a medium bowl, sift in the powdered sugar and pour in the 1 tablespoon of rhubarb syrup; whisk until very smooth. If needed, add a splash more of rhubarb syrup, but be careful, you want the glaze to be thick.

To assemble the doughnuts, dunk each doughnut into the glaze and garnish with a sprinkling of poppy seeds. Repeat until all of the doughnuts are covered in pretty glaze and a poppy seeds.