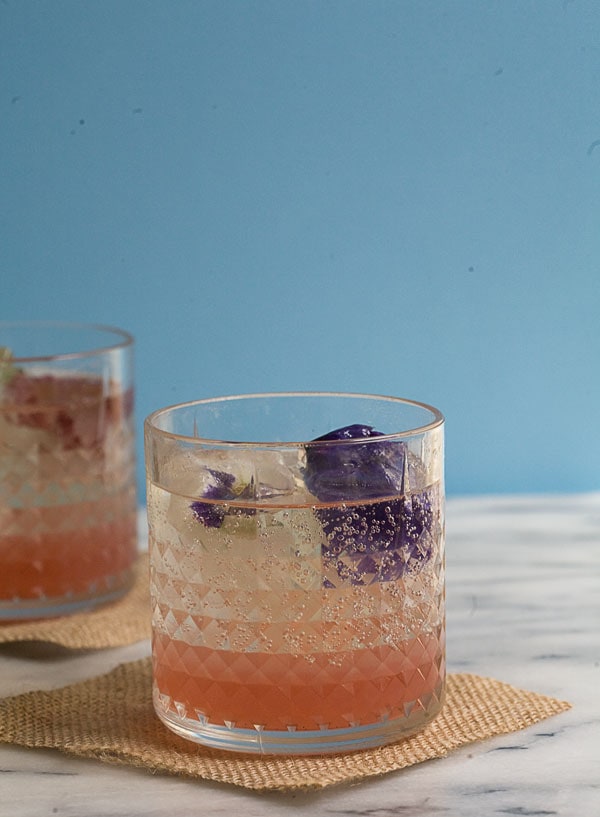 This weekend is dang important. I mean, SUPER important. It's Mama's Day! And I know dogs aren't considered real children (though they are in my house for the time being), but I'll be celebrating my first Mother's Day as a mama. I want brunch, man! I hope Amelia bakes me a quiche.
When I was around 10 years old or so, I remember being pretty bummed. I wasn't the tallest, prettiest, fastest or smartest kid in my class. Actually, I was the total opposite. I had gaps between every.single.one.of.my.teeth. My hair was frizzy (the 90s were pre-blow outs/Morrocan hair oil), my teeth were unfortunate and I was the teeniest and tiniest person ever. I remember expressing my overall terribleness to my mama and her response was simple, "You're a later bloomer." I remember it so specifically because it made all my current short-comings (literally and figuratively) ok. It made me calmer about the present and really excited about the future.
A few weeks ago I was feeling a little bummed about things, when I came across this article written by Martha Stewart. It's all about being a late bloomer, how she, specifically, is a late bloomer. I don't think anyone would consider her a late bloomer but she is! She started her empire in her 50s. Isn't that amazing? It's never too late. It was an inspiring and motivating read. Let's relax about right now and get excited for our future. There's still time.
And more importantly, let's take the day and celebrate our mamas.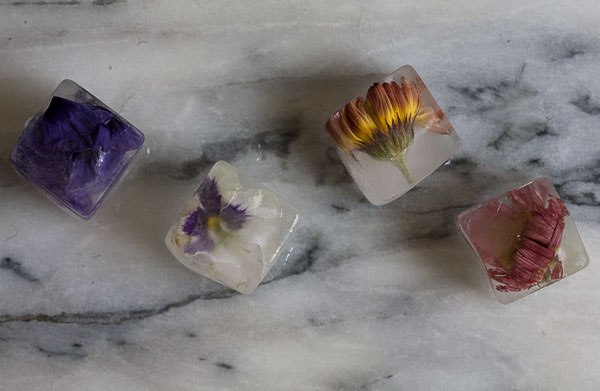 Am I totally fan-girling out on Martha? Maybe. But her people sent my people (a.k.a me, myself and I) an email asking if I was interested in blogging about a recipe. And I was like ok! SURE! Pass the gin!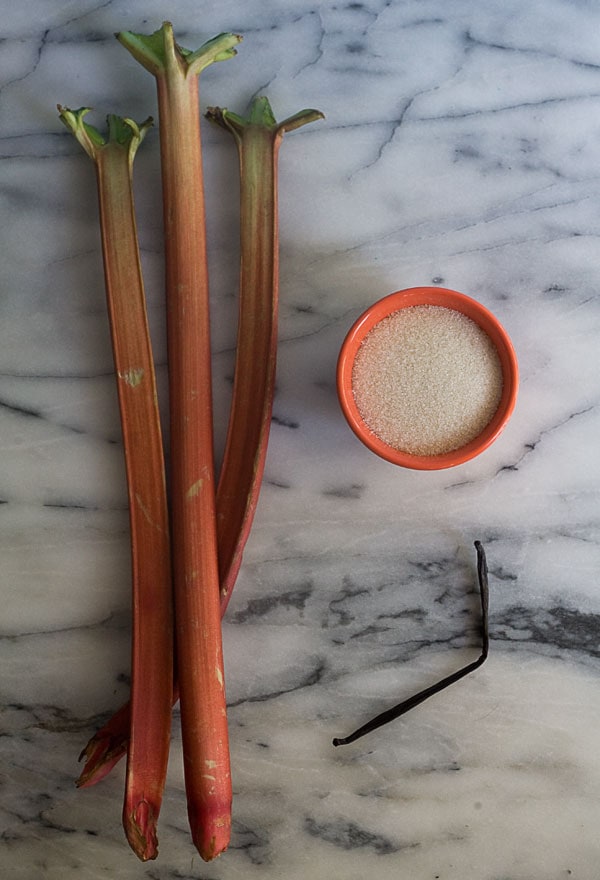 This recipe begins by making a beautifully hued rhubarb syrup. There's vanilla, sugar and stewed rhubarb slices--it's a glorious mixture. I just love it.
There's gin, sparkling Prosecco (or Cava) and some lemon juice. You can make the rhubarb syrup the night before and mix everything together right before serving.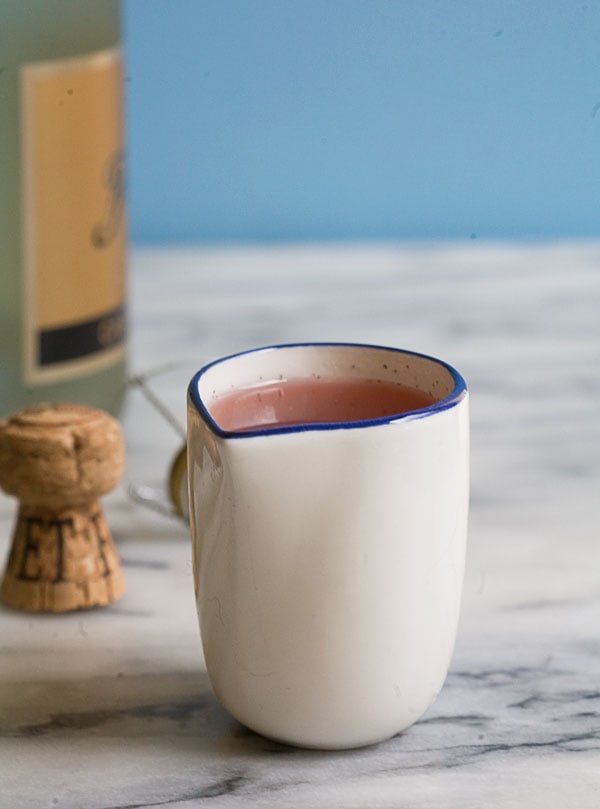 Oh and the ice cube. They came from my brain.
I bought beautiful edible flowers at Whole Foods and made edible flower ice cubes. I think they're dainty and pretty. Someone on Facebook was like, "Cooooool, those are pretty, but they must taste disgusting!" So I tried them to see if they were right and actually, the edible flowers were pretty tasty. Most of them were sweet and really fragrant. Tasty and cute: the ideal combo around these parts.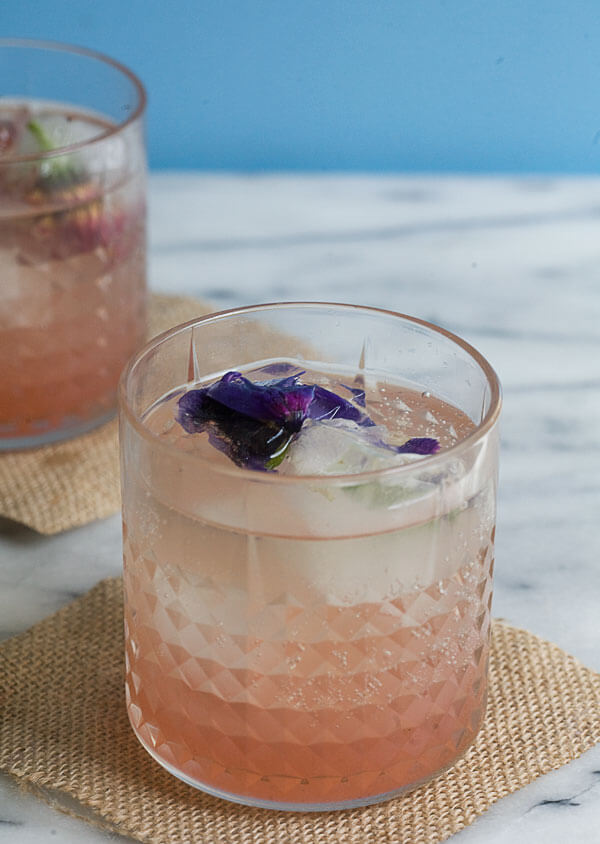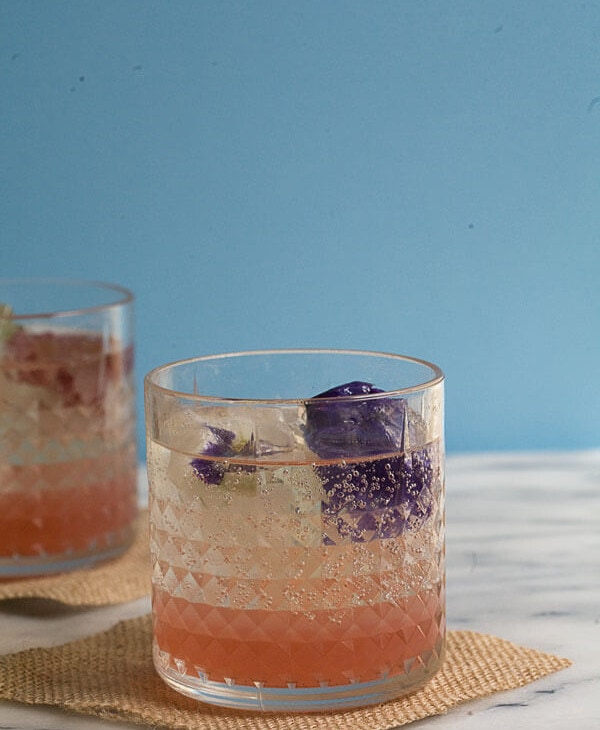 Print Recipe
Rhubarb Fizz with Edible Flower Ice Cubes
Ingredients
Rhubarb Syrup:
1

cup

sugar

1

cup

water

½

vanilla bean

pod split and scraped

6

ounces

rhubarb

finely chopped (about

1¼

cups)
Rhubarb Fizz:
8

ounces

gin

9

ounces

Rhubarb Syrup

½

cup

fresh lemon juice

Ice

for serving

12

ounces

chilled sparkling wine

such as Prosecco
Instructions
Combine sugar, water, vanilla pod and seeds, and rhubarb in a medium saucepan and bring to a boil, stirring to dissolve sugar. Simmer until rhubarb is tender, about 3 minutes. Let cool completely. Pour the syrup through a sieve, discarding the rhubarb. Remove vanilla pod before serving, if desired. Syrup (with vanilla pod) can be stored in refrigerator up to 1 week.

Combine gin, syrup, and lemon juice in a pitcher and stir to combine. Divide among ice-filled glasses and top off each with 2 ounces wine. Stir gently and garnish with lemon rounds. Serve immediately.

Alternatively, you could do a non-alcoholic drink option with replacing gin and Prosecco with sparkling water.
Copyright © 2013, Martha Stewart Living Omnimedia, Inc. Originally published in the May 2013 issue of Martha Stewart.