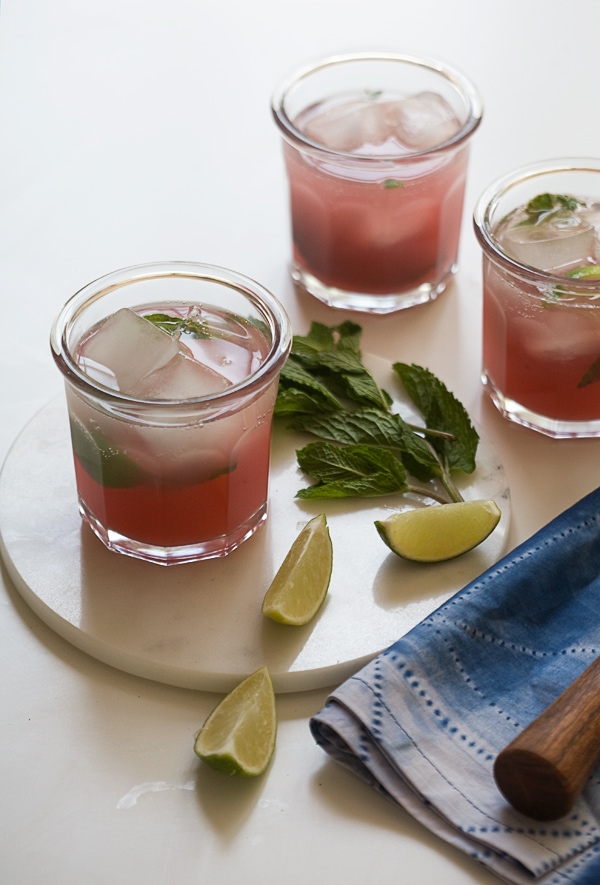 The name of this cocktail is just an indicator that there are times in the kitchen when I don't know what I exactly want and am usually like, why can't I add mint to this. I'd only make sense! This is a hodgepodge of two kinds of cocktails: a mojito and a caipirinha. So…that makes it a caipirijito. If I've confused you, please ignore me and make this cocktail with rum and you can call it a rhubarb mojito.
Sometimes I overly complicate things and annoy myself.
What is the difference between cachaca and rum anyway? There is a difference, even though it might not seem that way at first glance.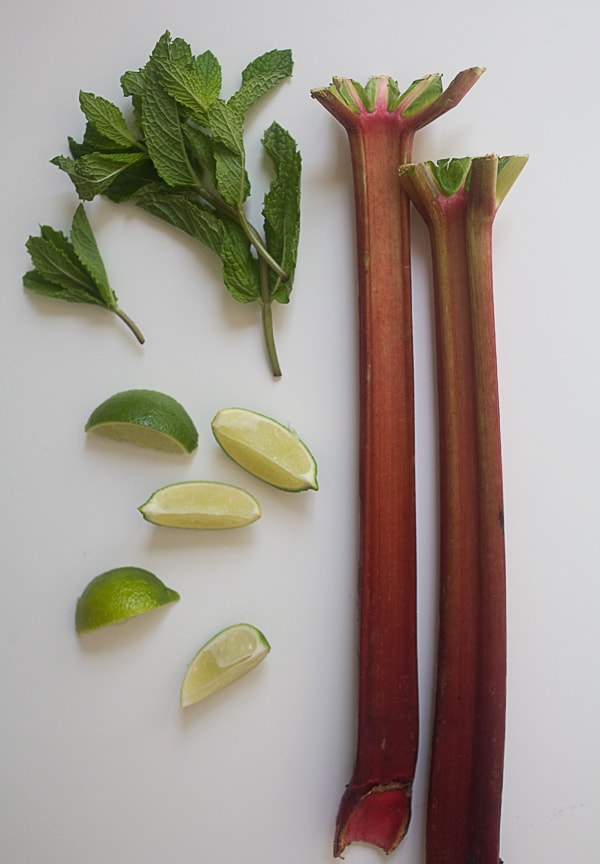 Rum is made using processed cane; hence the reason why rum usually has notes of molasses.
Cacacha is much cleaner in flavor because it's made with unprocessed cane juice. So, I think when you're pairing it with something like, say, rhubarb, the cleaner flavor is the way to go.
There are a ton of cacachas out there you can use; I picked a super standard one called Pitu. It's great for mixing cocktails a.k.a. caipirhinias. Is it fancy? No, it won't impress anyone and it's definitely not made to sip, but it'll do the trick when making mixed drinks. And it's not expensive at all.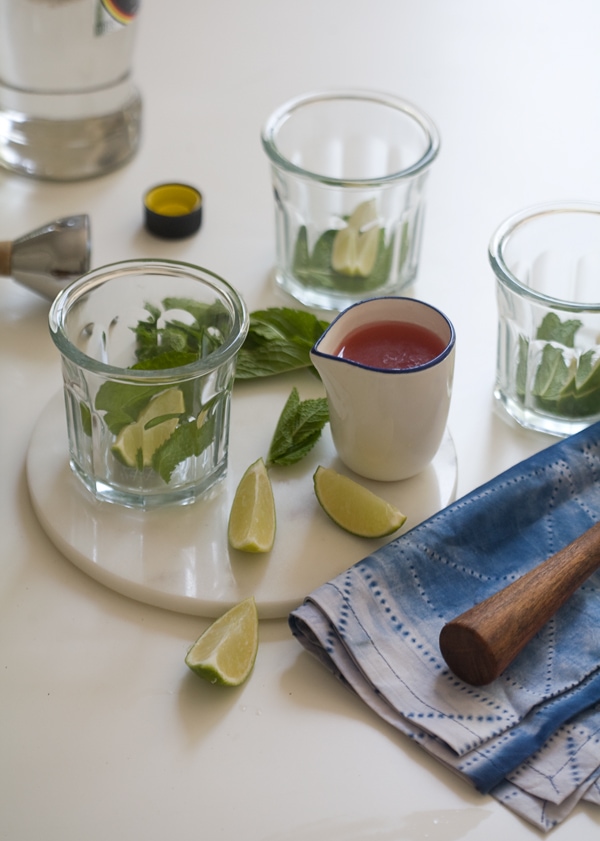 I know it's only Thursday but it's been a long week already, so I say let's make a drank already.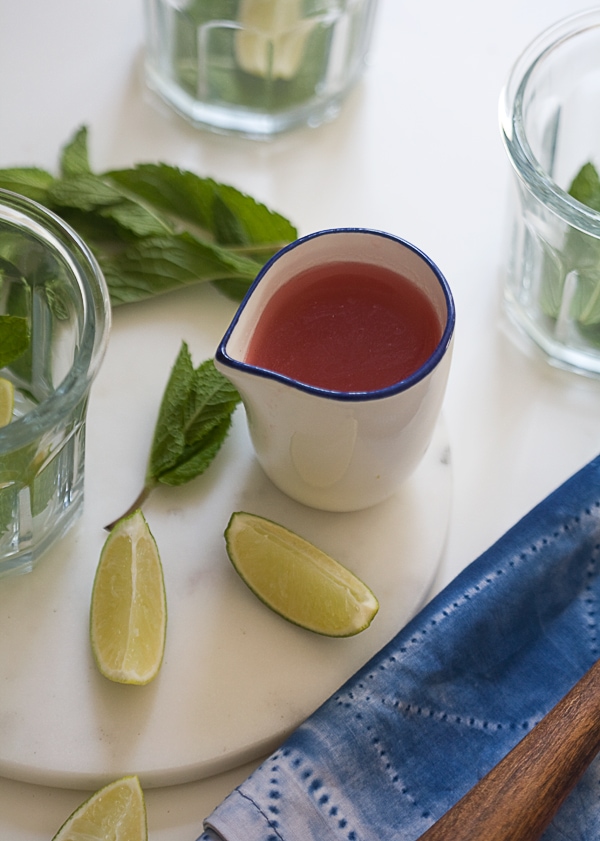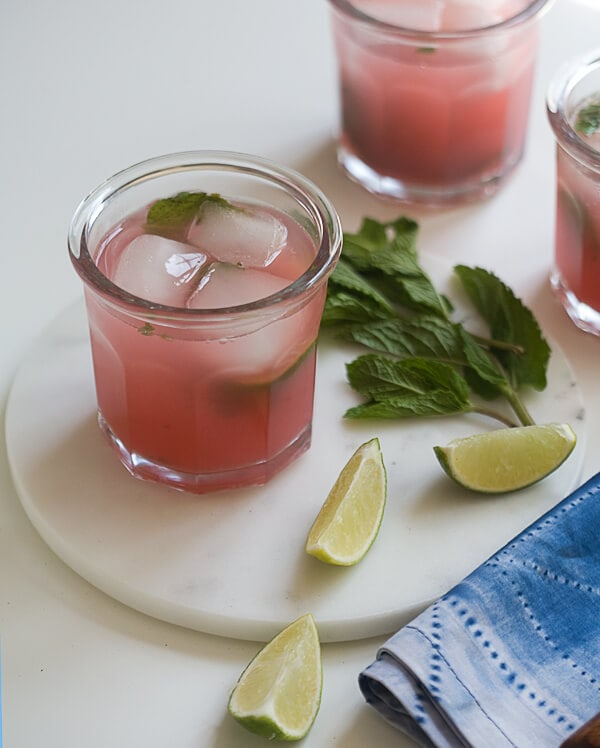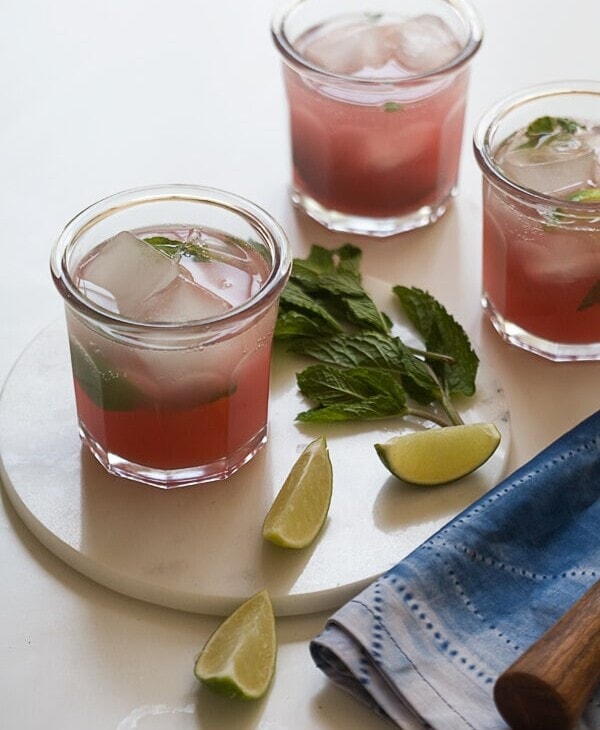 Print Recipe
Rhubarb Caipirijito
Ingredients
2

stalks rhubarb

cut into 1-inch pieces

1

cup

water

1/2

cup

pure cane sugar

Pinch

of salt

Handful of fresh mint

3

limes

cut into wedges

Cachaca

or you can always use white rum and it'll be a mojito

Sparkling water
Instructions
In a medium saucepan, set over medium heat, add the rhubarb pieces, water, sugar and pinch of salt. Simmer for 5 minutes, or until the rhubarb has softened. Using the back of a wooden spoon, crush the rhubarb, being careful because it might splatter! Simmer for an additional minute or so; the mixture should be a pale to bright pink. Pour the syrup through a sieve into a small bowl or glass with a spout.

To make the cocktails: add a 3-4 sprigs of mint per glass, along with the a wedge or two of lime. Pour a splash of the rhubarb syrup into each glass. Muddle the lime wedge and mint until crushed and fragrant. Add 2 ounces of cachaca and an additional 2 to 3 ounces of rhubarb syrup to each glass. Top with a splash of sparkling water and stir.