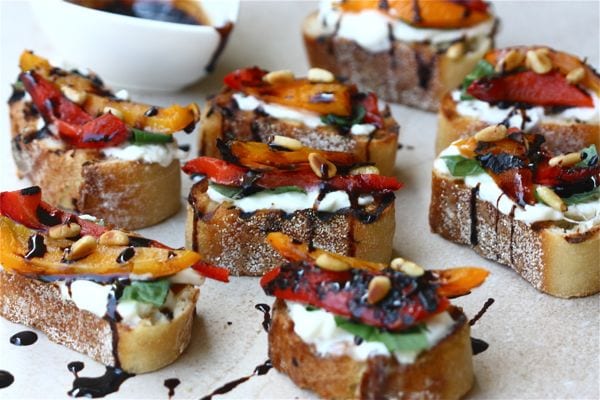 Are you familiar with the coonhound Maddie? She stands on things. That's all. She's famous because she stands on things. But not just any things, but more like everything. She stands between two refrigerator doors, she stands on a basketball hoop (!!), she stands on the McDonald's "M", and sometimes she just sleeps…and looks totally adorable while doing so. I might be a little obsessed. Just a little.
I realized this yesterday when I was walking, talking and gushing to a friend all about Maddie…like I knew her. I'm totally emotionally invested in this creature I've never petted, seen or met in real life. The internet is SO WEIRD. So weird…and kewl.
I urge you to hop over to Maddie's world and just stare at how awesome she is. And then come back because I have burrata which is–in my opinion–just as obsession-worthy as Maddie.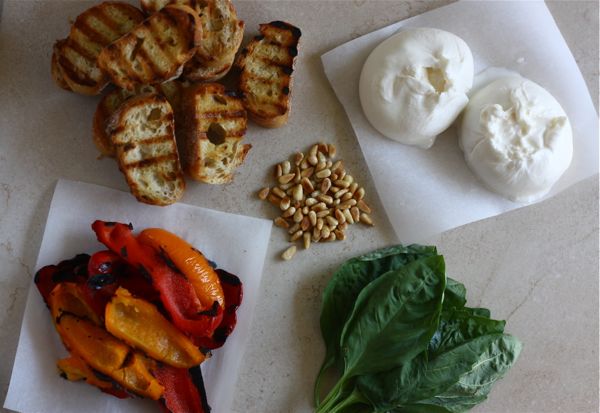 I loooove eating appetizers for a main meal.
These are a recreation of what I had the other day at my favorite LA coffee shop, Coffee Commissary. I literally changed nothing because the crostini was absolutely perfect.
I mean…there's burrata. The end.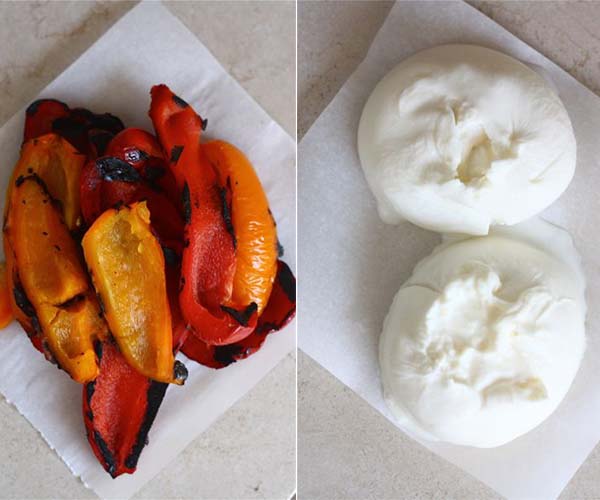 These crostinis are super easy, obvi, but there are a few steps like charring and then roasting the peppers. Super easy and it doesn't take long. Then there's the balsamic reduction, which just needs to heat up a bit to thicken. And the toasting of the pine nuts. So necessary. And the toasting of the bread. Double necessary.
The crunchy toasted bread acts is so lovely with the soft, rich burrata. And the roasted, slightly charred red peppers…whoa! I know pine nuts are expensive/annoying so I urge you to take a trip to Whole Foods where you can buy them in the bulk bin. You might spend $1 versus the usual $12 they are for a bag. This recipe is a good amount of little steps. But all so so worth it.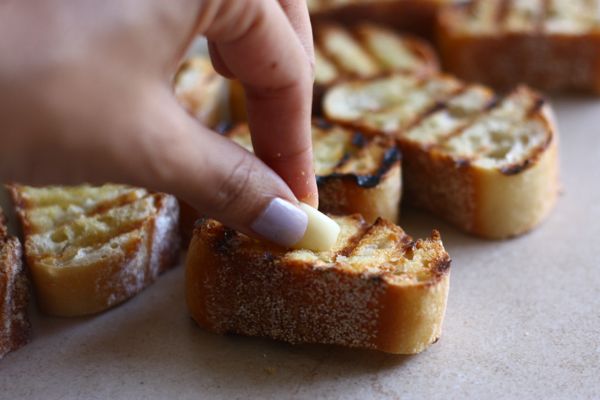 Roasted Red Pepper Burrata Crostini
1 red bell pepper
1 yellow bell pepper
Salt and Pepper
1/2 cup balsamic vinegar
1 loaf of French bread, sliced into 1 1/2-inch pieces
6 ounces burrata
1 bunch fresh Italian basil, sliced (a.k.a. chiffoned)
1/4 cup pine nuts, toasted in a pan for 1-2 minutes
1. Preheat oven to 425 degrees F. Place the red and yellow pepper on the grates of your gas stove. Turn the flame on medium, rotating the peppers every few 30 seconds or so, until the peppers are lightly charred. Carefully transfer the peppers to a cutting board, and using a knife, cut them into strips, discarding the membrane and stem. Place the pepper strips on a lined baking sheet and season with salt and pepper. Transfer peppers to the oven for 15 minutes, until the strips are slightly soft.
2. Meanwhile, add the balsamic vinegar to a small saucepan and bring to a boil. Reduce the heat to low and simmer for about 5-7 minutes, and until it begins to thicken. Take off the heat and transfer to a small bowl–it'll thicken a bit more as it sits.
3. Heat a grill pan over high heat and brush it liberally with olive oil. (If you don't have a grill pan, you can simply use a skillet–the bread will still toast.) When hot, add the bread and toast on each side for about 1 minute or so, pressing each side down onto the grill in order to achieve those pretty grill marks.
4. To assemble crostinis, rub each piece of bread vigorously with garlic, top with a teaspoon of burrata, add two pieces of bell pepper, a few slices of basil, a few toasted pine nuts and lastly, a drizzle of balsamic vinegar reduction. Repeat until all of the crostinis are assembled. Serve right away, obvi.