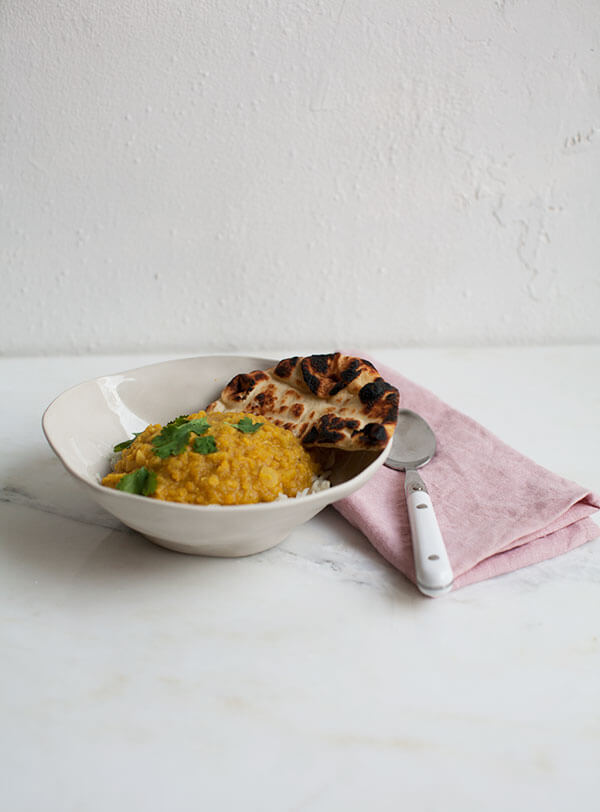 Even if I'm on a diet or trying to eat healthy, I'm always trying to find ways to incorporate carbs into my diet. I mean, I have the best intentions but it doesn't always end well. It's a daily struggle.
Some days I'm like, I WANNA LOOK CUTE AND BE IN SHAPE – NO BREAD! And then other days I'm like, BUT RICE AND BREAD!
It's hard.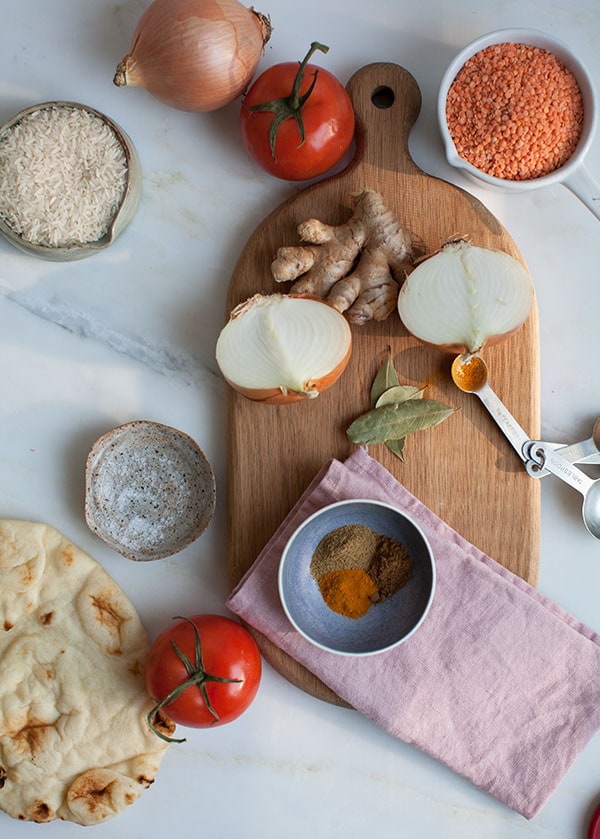 This is somewhat of a happy medium. It's healthy. I don't care what anyone says but lentils are not bad for you. These are clean flavors, there is very little fat and all of the foods below are whole foods that I think anyone's body would feel better having eaten. THIS IS MY STORY! I'm sticking to it!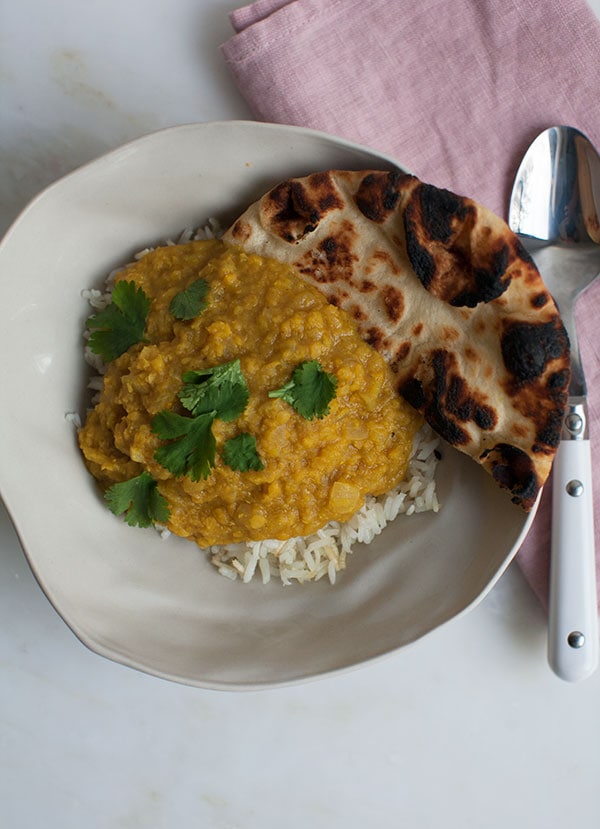 There's a small chance that this recipe might be a very American. I looked at a good amount of recipes and these ingredients and ratios are what I liked best. But if you have an Indian grandmother and she just glanced at this recipe over your shoulder and told you it is b.s., she might not be wrong!
Apologies to your grandma.
However, I loved this recipe. It has flavor. It's not very spicy (as I've been told dal shouldn't be) yet the flavor punch is very present. It feels light yet filling enough for a cold January day.
Eat over rice. Or maybe even boil a few potatoes and mix them in. Whatever you do, don't toast the naan bread like I did. Put it in the oven in between a few damp kitchen towels. Steam them. Soft naan is a gift from the gods.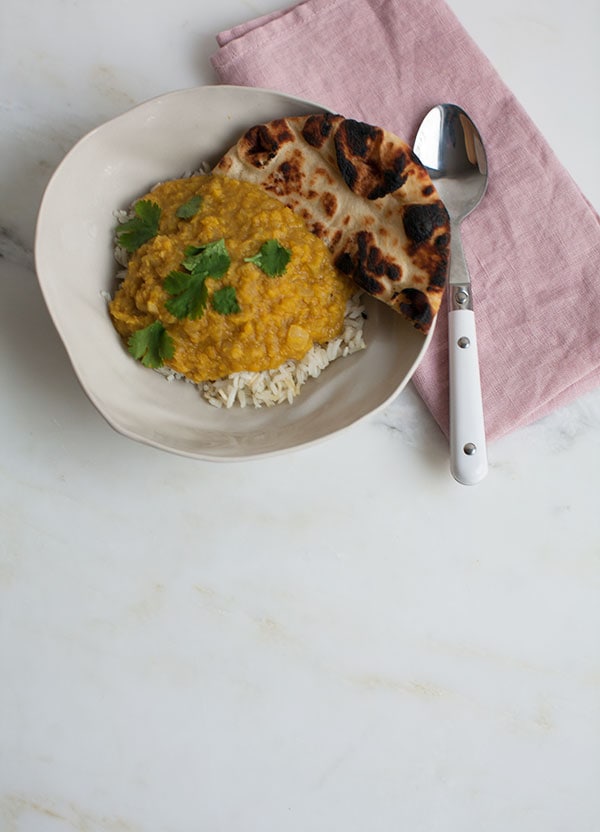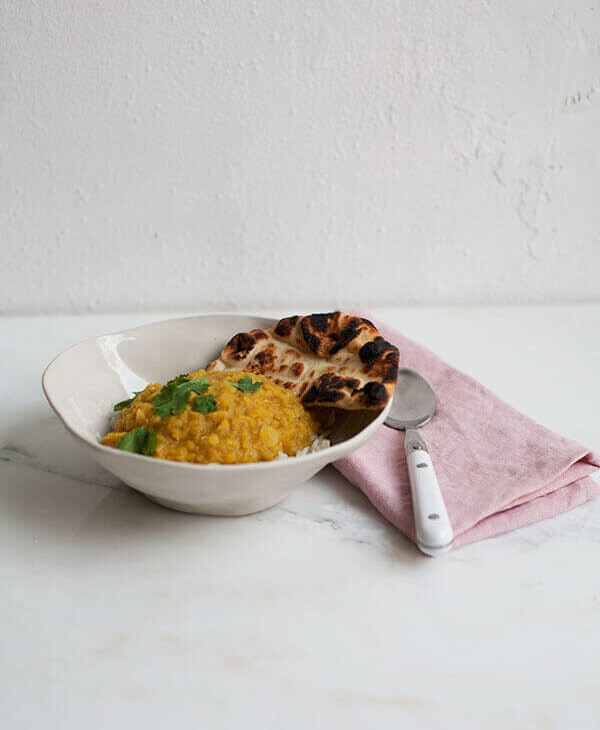 Print Recipe
Red Dal
Ingredients
2

tablespoons

olive oil

2

yellow onions

diced and divided

Salt

1 to

mato

diced

1/8

teaspoon

ground cardamom

1/2

teaspoon

ground tumeric

1

tablespoon

ground cumin

1

tablespoon

ground coriander

1

teaspoon

fresh grated ginger

3

garlic cloves

peeled minced

3

dried bay leaves

1

cup

dried red lentils

3

cups

water

Basmati rice

for serving

Fresh cilantro

for garnish

Naan bread

for serving
Instructions
In a medium saute pan, set over medium heat, add the olive oil. When the oil is hot, add the diced onions and sprinkle with a few pinches of salt, along with the diced tomato, ground cardamom, tumeric, cumin, coriander and ginger; mix until combined. Stir often and cook until the onions have softened and the spices are really fragrant, about 5 minutes. Mix in the garlic and cook for an additional minute. Transfer the onion mixture a a blender and set aside.

To the same medium sauté pan (no need to wash it out), add the lentils, water and bay leaves. Bring to a boil, then reduct the heat, cover and simmer until the lentils are cooked, about 15 minutes.

To the blender, add about 1/4 lentils (avoid the bay leaves) and pulse until smooth. Pour the onion lentil mixture into the pot with the lentils and stir. Give it a taste—it'll need salt! I added about a few teaspoons. Know that the more salt it has, the more the other flavors will come out, so be generous, but you know, not too generous.

Serve the dahl over rice. If you love carbs like I do, serve it with warm naan, too. Garnish each bowl with some fresh cilantro.