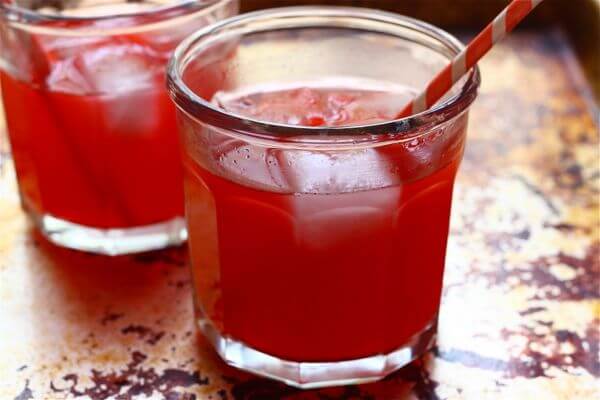 One thing I don't want to hear about at the moment: fall. No. Just no. I'm not ready. I don't want to hear about pumpkins or yellow leaves or sweaters. Not just yet. Let me enjoy this sweltering heatwave. Let me enjoy the pool (if I can find one). Let me just enjoy the now, which is usually so hard for me to do, okay?
One thing I do want to talk about: ways to not be miserably hot. Firstly, air-conditioning. I typically think air-conditioning is like fake air and fake air is a little weird. BUT, it's kind of necessary right now. Secondly, if I'm going float around a pool, I want to do it in a donut floatie. Can we all just agree that that's awesome. And ridiculous. Which means all of us need one.
Thirdly, lemonade of all kinds. Specifically this one, because there's raspberries and a vanilla bean and lemon juice. And, you get to smash the whole thing up which makes it fun!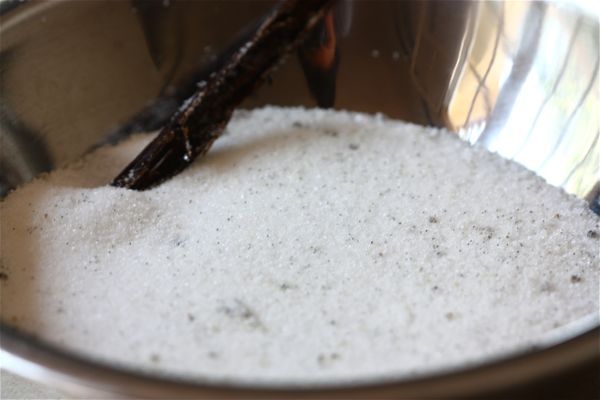 This recipe is not really a recipe. It is a recipe, but it's almost too easy to be called a recipe.
You basically smash three awesome things together: raspberries, vanilla/sugar and lemon juice. And then add water. Perfect. We're in what I like to call a "let's not turn the oven on" zone.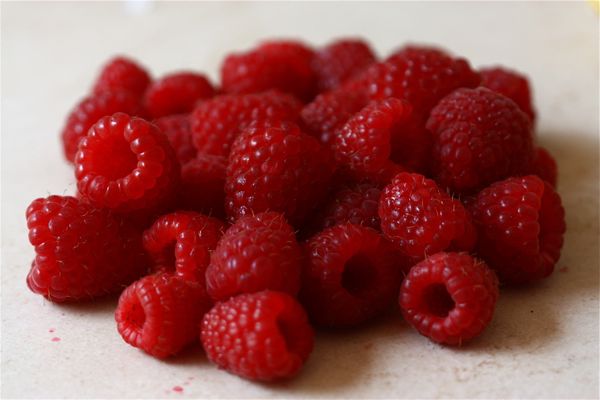 Do you ever notice that when you add vanilla bean caviar to a liquid it just stays clumped together? That's annoying. While I love vanilla bean, I don't want a small ball of it in my lemonade, I want it evenly disbursed.
I like to mix the vanilla bean with the sugar. This creates an even distribution of vanilla specks.
Very important. It's the little things!
(P.S. I think the sugar/vanilla tip is genius but can't take credit for it. I learned it on the internets from Shuna Lydon. She's smart.)
The raspberry flavor is tart, as is the lemon, so I made this recipe a little bit sweeter than I usually do. If you don't have the biggest sweet tooth, start with ½ cup of sugar and go from there.
This lemonade is pretty and tart and has the most lovely smell. When you stare into your glass, you'll even see little vanilla specks floating around.
Delicious! Refreshing! Gimme!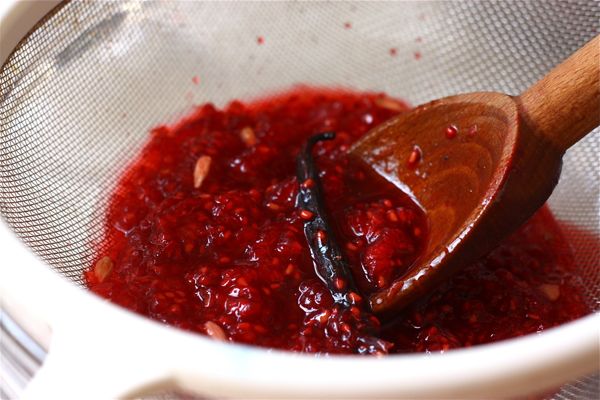 Raspberry Vanilla Smash Lemonade
¾ cup white granulated sugar
½ vanilla bean, split and scraped
1 ½ cups raspberries, rinsed
5 lemons, juiced (about 1 ¼ cup of lemon juice)
Pinch of salt
3 cups water
1. In a small bowl, add the sugar. Using your fingers, mix in the vanilla caviar until it's thoroughly distributed throughout the sugar.
2. In a large bowl, add the raspberries, lemon juice, vanilla sugar and pinch of salt. Let the mixture stand for 10 minutes. The lemon juice and sugar will help release the raspberries' juices. Next, using the back of a wooden spoon (or muddler, if you have one), smash the raspberries until the mixture resembles a puree. Strain the juice through a sieve, pushing the mixture with the back of spoon. You want to get all the juice you can get! Add 3 cups of water to the mixture and transfer to a fridge for at least an hour. Pour over ice. YUM!