Holy heat wave. Help me! It's been close to 100 degrees F the past few days and I might die. I'm serious. Even though I'm really good at feeling sorry for myself, I really feel badly for Amelia. I know people say a dog's fur is like an air conditioning and there's like an inner cooler in there, I don't really buy it–she's English! Engladn doesn't get super hot, she wasn't built for this type of heat. So, as a cure of the heat, I've taken to dunking her in cold water a few times a day. I think she likes it. I think…
She's not really suited for this weather. And neither am I. I should move to Portland. I really should. My whole being is much more suited for rainy and cold weather. This was supposed to be a cake. A delicious one, studded with honey and figs and yogurt and maybe almonds? Who knows. It'll have to wait because I seriously have no interest in being next to my oven. All I want to do is assemble things and drink dranks.
Have you tried Lillet Blanc? It's delicious.
You can drink it over a few ice cubes and call it a day, but I like mixing it with stuff.
And by stuff, I mean fresh raspberries, sugar and a cinnamon stick. Oh the cinnamon stick! So important. This concoction is amazing. I'm totally feeling the hit of cinnamon throughout this drink. And the sparkling water gives it this effervescence which is crazy important when sweating a lot.
Another reason I was super excited about making this drink is that it allowed me to pull out my new-to-me vintage jigger. Look at that wooden handle! I love it so much.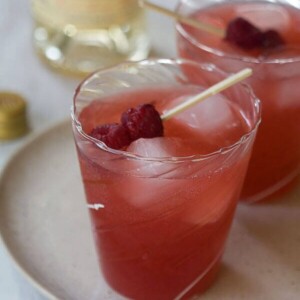 Raspberry Lillet Fizz
Print
Serving Size:
4
cocktails
Ingredients
1

cup

raspberries

1/2

cup

cane sugar

1/2

cup

water

Juice from 1/2 lemon

Pinch

salt

1

cinnamon stick

Lillet Blanc

4

ounces

sparkling water
Directions
In a small skillet, add the raspberries, cane sugar, water, lemon juice, pinch of salt and cinnamon stick. Place the skillet over medium, cooking the raspberry mixture for about 5 minutes, and until the raspberries begin to break down a bit. Next, mash the raspberries with the back of a fork. Turn the heat off and allow the raspberries to steep for 10 minutes. Pour through a sieve, discarding the pulp.

Divide the syrup between four glasses (or two glasses if you're in the mood for a big ol' drink. Not judging.). Add a few ice cubes to each glass. Pour about 4-5 ounces of Lillet into each glass. Top each cocktail off with two ounces of sparkling water and garnish with fresh raspberries.