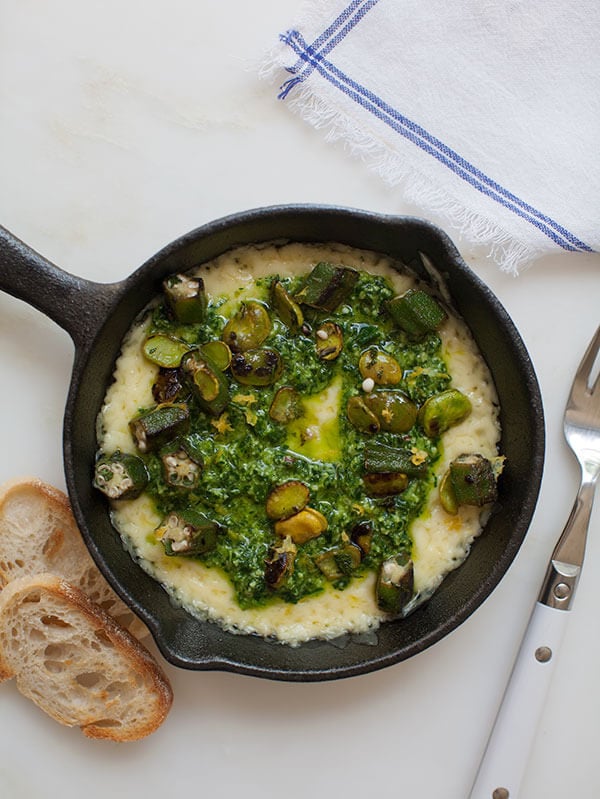 I miss the south sometimes. A lot of times actually. I miss the summer rains, the golden leaves in fall, the beautiful flowers blooming in spring and the biscuits. Oh man, the flakey biscuits. Whenever I don't know what to cook, I'll usually think of something super boring and then give it a southern twist.
I like to think that this is a dish a southern girl would make after she spent the summer backpacking through Europe. Maybe she spent a few weeks in Switzerland, maybe she had a fling with a Swiss dude (think Before Sunrise-like) and during that fling she ate at a restaurant and was introduced to the wonderfulness that is raclette.
This isn't the "right way" to eat raclette. It's usually cheese that's cooked over an open fire, the cheese gets super melty and then the cheese is scraped onto awesome things like a variety of meats, vegetables and carbs.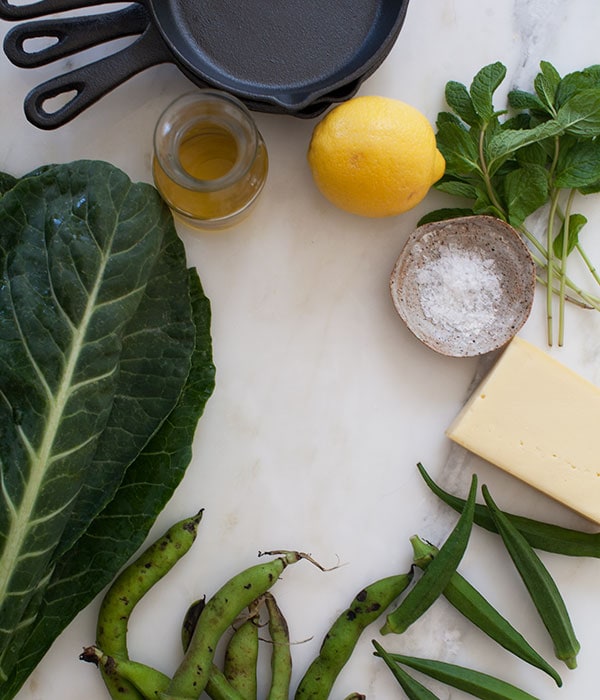 This version is what this southern girl would make when she returned to the south, putting raclette cheese in mini cast iron pans, topping it with collard green pesto and sautéed fava beans and okra.
It's a marriage of two places that I love so very much. Some of my best teenage memories took place in Switzerland. And some of my favorite childhood and college memories were in the south. It's a meeting of two places that wouldn't normally intersect.
I know not everyone is a fan of okra; it's true that it can be slimy but I think that's what happens when it's super overcooked…or pickled. Okra is my favorite when it's cooked with high heat and it's creamy, not slimy.
The collard green pesto is soooo good and lovely but feel free to use another green if you like! All I know is that melted cheese with pesto and vegetables, mint and a bit of lemon zest, makes the entire world, no matter what is happening in it, so much better.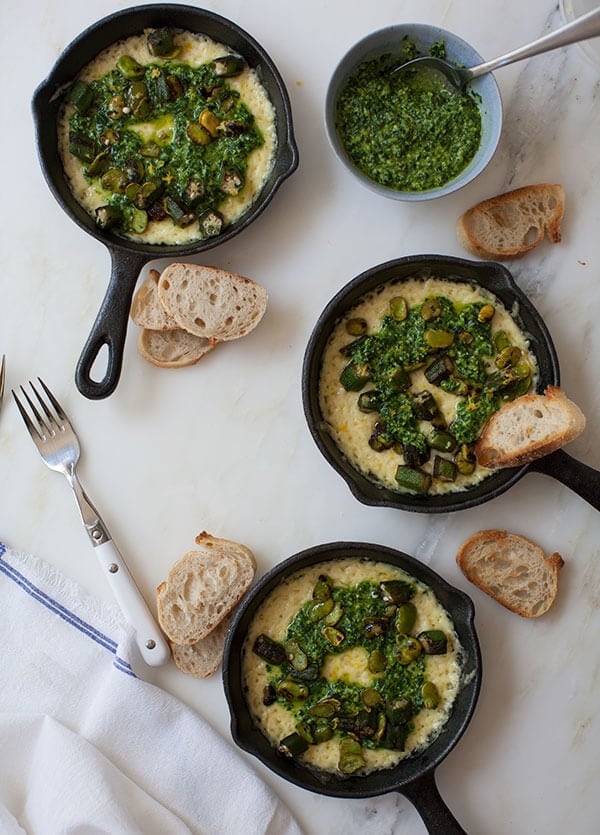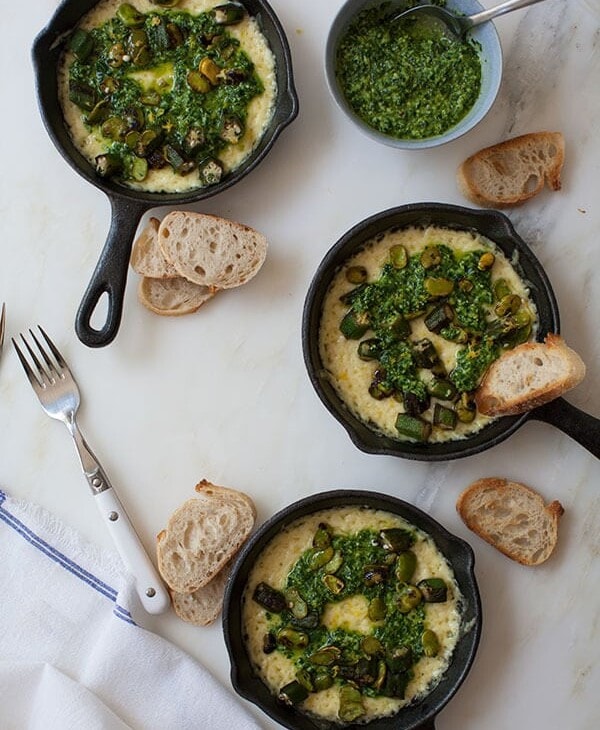 Print Recipe
Raclette with Collard Green Pesto and Favas and Lemon
Ingredients
Collard Green Pesto:
4

collard green leaves

1

garlic clove

½

cup

olive oil

¼

cup

Parmesan-Reggiano

3

tablespoons

macadamia nuts

Pinch

crushed red pepper

¼

teaspoon

salt

plus more to taste
Raclette:
2

cups

8 ounces shredded raclette

1

tablespoon

olive oil

6 to 8

okra

ends discarded and sliced

8

fava beans

twice shucked (will equal to about ⅓ cup of fava beans)

3 to 4

mint leaves

minced

Zest and juice from ½ lemon

Salt

Serve with toasted baguettes
Instructions
Prepare an ice bath by filling a medium bowl with water and adding few handfuls of ice cubes. Fill a medium saucepan with salted water and bring it to a boil. Place collard greens in water and blanch for 15 to 20 seconds until leaves turn a bright green. Transfer to ice bath. Transfer to a cutting board and cut out the stem, discarding them. Dry the leaves with a few sheets of paper towels. Transfer to food processor, along with the garlic, olive oil, Parmesan, macadamia nuts, red pepper and salt; pulse until very smooth. Adjust salt according to taste.

Preheat oven to 250 degrees F. Divide the raclette cheese amongst the baking dishes. The end of this dish goes very quickly so be sure to prep your fava beans and okra. Bake the cheese for 10 minutes, until cheese is very very melty.

Meanwhile, heat about a tablespoon of olive over medium high heat. Once hot, drop in the sliced okra and fava beans and cook until a bit toasty and browned, about 2 to 3 minutes. Sprinkle with the minced mitn leaves, salt and a squeeze of lemon.

Once the cheese is ready, immediately top with the sautéed okra and fava beans, a spoonful of collard green pesto and a sprinkling of lemon zest (a must!) and a pinch of salt. Serve with toasted bread.
Notes
Feel free to use another baking dish or dishes.