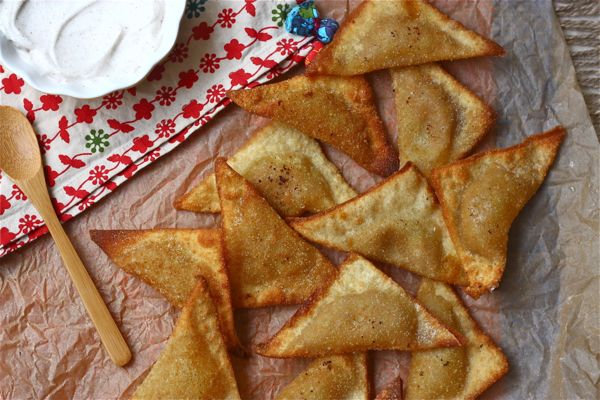 I really love sleeping.
I know most people like sleeping, but I really really love it. I don't like sleeping for long periods of time (hello headaches), but the sleep I do get is heavenly. I wake up sometimes wishing I could repeat the sleep.
Like, I wish I could go back in time to midnight and do the whole thing over again. Which is sort of ironic, considering I fall asleep at midnight dreaming about the next morning cup of coffee.
I lay my head down on my pillow and can literally hear the sound of the coffee pouring out of my chemex and into my mug. I'm a weird human, I understand.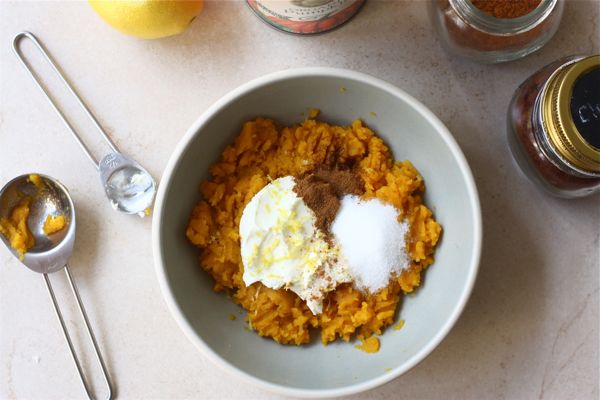 Despite my sleep-loving attitude, I'm not particular about pillows. I don't need fancy pillows, goose-down pillows, thempur-pedic pillows (though I actually have one and love it) or any of that fancy stuff. I just need something a piece of foam that smells good and is soft. I'm a simple pillow person!
But if I'm gonna eat pillows, I need them to be stuffed with cool stuff like spiced pumpkin and mascarpone and lemon zest. Very important.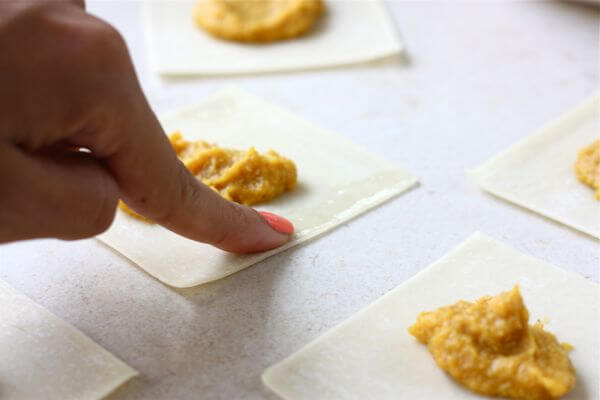 This pumpkin pillow making process starts with pumpkin puree being mixed with good stuff like mascarpone cheese (cream cheese could be a substitute too), lemon zest/lemon juice, and spices like cinnamon, nutmeg and cloves.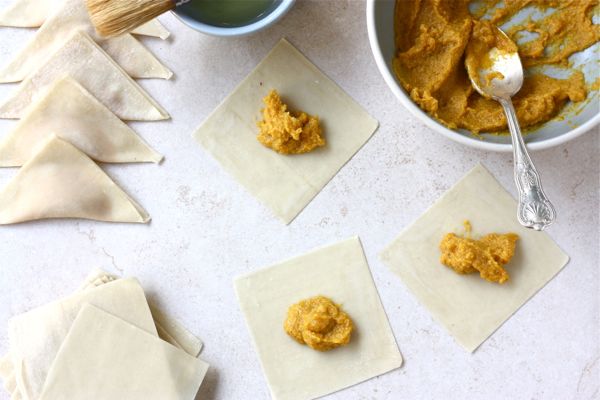 About a half teaspoon of the pumpkin mixture is added to the center of store-bought wonton wrappers.
A little egg white is brushed on the edges and you fold the wonton wrapper over, making a triangular shape.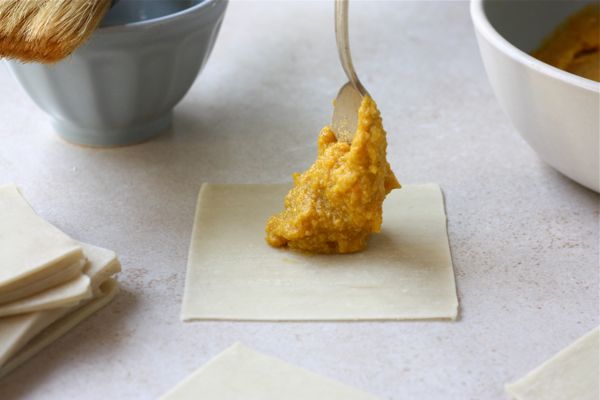 And then you repeat the process over and over again. This recipe makes about 24 little pumpkin pillows.
But doubling this recipe is a very good idea, because if you're making them for a group of people, they'll go fast!
Heat up about an inch of oil and then gently place them in the fryer. There's no photo of this step because a camera near hot oil is always a dangerous little prospect. AND I have terrible light in my kitchen. Alternatively, you could bake these at 350F. I tried to test this baking situation for you buys and put a few in the oven but like a moron completely forgot about them and burned them to a crisp. So, I'll say be safe and check them at the 10-minute mark and go from there. Alternative FAIL!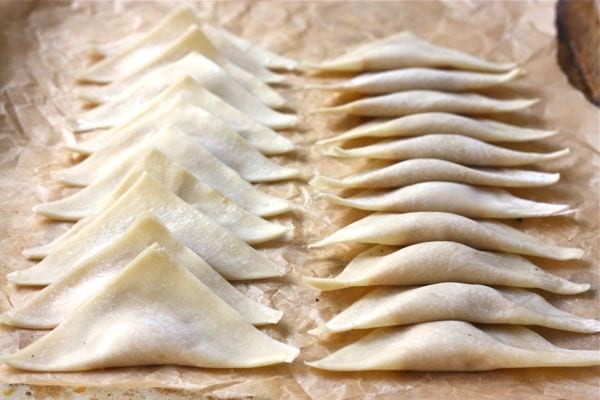 I love these little pillows, especially dipped in this cinnamon spiked whipped cream. I'm very into this little fall dessert snack. Not too time consuming, not too sweet, not too difficult. Pretty perfect.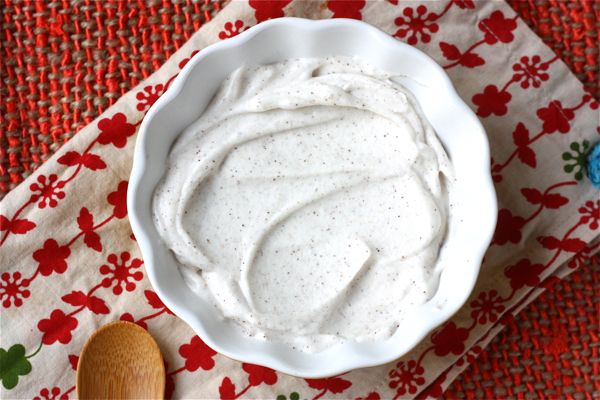 Pumpkin Mascarpone Pillows and Cinnamon Whipped Cream
Whipped cream:
1/4 cup heavy whipping cream
2 tablespoons white granulated sugar
3/4 teaspoon ground cinnamon
Pumpkin Pillows:
1/4 cup, plus 1 tablespoon of pumpkin puree
1 tablespoon, plus 1 teaspoon of mascarpone cheese
1 tablespoon, plus 1 teaspoon of white granulated sugar
1/2 teaspoon of lemon zest
1/2 teaspoon lemon juice
1 teaspoon of ground cinnamon
1/4 teaspoon of freshly grated nutmeg
Pinch of cloves
Pinch of salt
24 won-ton wrappers
1 egg white
Vegetable Oil
1. Add the whipped cream, sugar and cinnamon to a medium bowl. Using a stand-up mixer or hand-mixer, beat until medium peaks form. Wrap with plastic wrap and transfer to the refrigerator until the wontons are fried and you're ready to serve.
2. In a medium bowl, add the pumpkin puree, mascarpone cheese, sugar, lemon zest and juice, cinnamon, nutmeg, cloves and salt. Mix until smooth. Sugar to taste. If you like it sweeter, by all means, add a bit more.
3. To assemble the pillows/wontons, lay them out onto your kitchen counter. Add a half teaspoon to the middle of each wonton. Using a pastry brush or your index finger, dip into the egg white and brush the edges of the wonton. Taking one corner, fold over to form a triangle and pressing out any air bubbles. Repeat process until all of the pillows are formed. If for some reason, you have to answer the phone or leave the process for more than 5 minutes, cover the wontons with a damp paper towel. This will make it so they don't dry out.
4. To a cast iron skillet (or pot), add the vegetable oil until it reaches about 1-inch up the sides. Heat the oil 'til it reaches 350F. Add a few wontons at a time, being sure not to overcrowd the skillet, and fry on each side for 1 minute or until lightly golden brown. Transfer to paper towels to drain. Place cooked pillows into a warm (200F) oven to keep warm while you repeat the frying process with the remaining wontons. Serve right away with cinnamon whipped cream.
Yields 24 Pumpkin Pillows