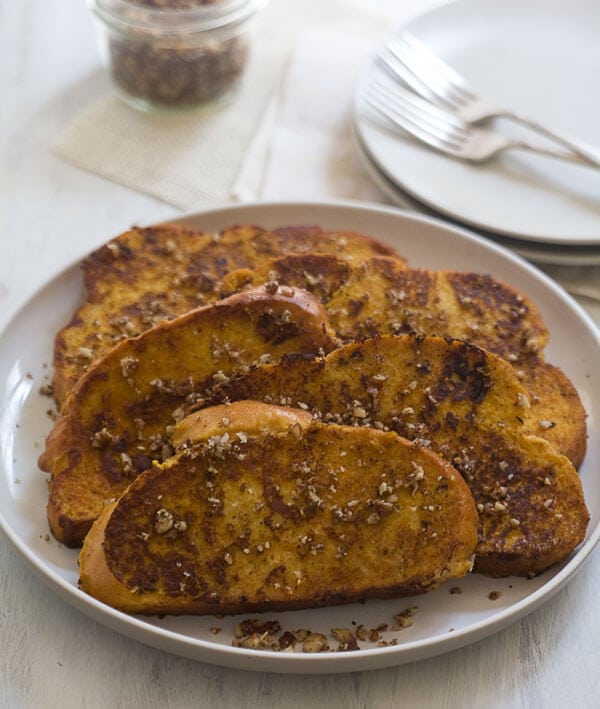 This week has been solid. Super solid. Lots of full days, long to-do lists and lots of check marks next to stuff. The feeling of "have- worked" is one of my favorites. It makes that shower and beer at the end of the day feel soooo good. I even drank a beer in the shower and it was amazing. Do you drink stuff in the shower?! I sometimes have my morning cup of coffee in there and I loooove it, though it is tricky. You don't wanna get soap water in your coffee/beer/juice, you know?
Earlier this week there was a lil' giveaway and one of you in the comments said, "I can't wait to make Pumpkin French Toast…" and I was like, whaaaa, that's a thing?! I couldn't get it out of my brain. I had to make it immediately! And so I did. It was heaven on a plate. I'm not trying to be all bossy, but you need to make this for breakfast very, very soon. You'll love it.
I initially thought that it might be cool to coat the French toast in finely chopped pecans, almost like corn flakes, but the pecans ended up being nearly burnt and the French toast looked kinda scary. A sprinkling of pecans turned out to be perfect.
The pecans are mixed with butter, brown sugar, ground coffee, whiskey and spices. They're toasted in the oven and then finely chopped.
The French toast is so simple. Get a good loaf of challah or brioche. I found this beautiful challah at Trader Joe's, if you can believe that! That store amazes me sometimes.
Brioche is a lot less sweet than challah, so If you end up using brioche, I'd recommend adding a tablespoon or two more of sugar.
This breakfast makes me happy. I hope you make it, eat a bite and then do a fist pump.
Ingredients
1/2

cup

pecans

1

tablespoon

unsalted butter

1

teaspoon

ground coffee

1

teaspoon

brown sugar

2

teaspoons

bourbon whiskey

Pinch

cinnamon

Pinch

salt

2

large eggs

1/2

cup

milk

1/2

cup

pumpkin puree

,

plus 2 tbls

3

tablespoons

light or dark brown sugar

1

teaspoon

pure vanilla extract

1/4

teaspoon

fresh orange zest

1/4

teaspoon

ground cinnamon

Pinch

of freshly grated nutmeg

Pinch

of ground ginger

Pinch

salt

1

loaf of challah or bread of choice

,

cut into 1-inch slices