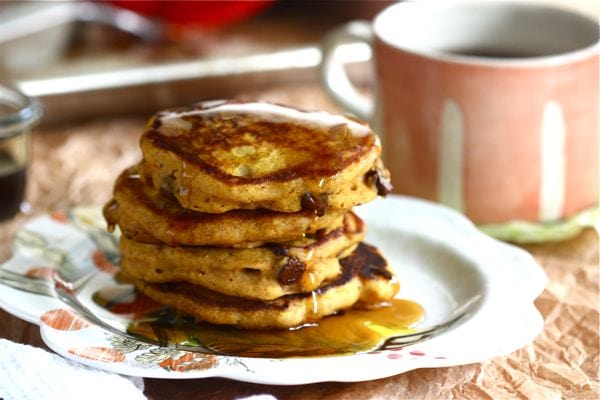 Food exists for every occasion. Birthday cakes for birthdays (obvi). Casseroles for cold nights. Chicken soup to rid a cold. Bacon wrapped jalapeños for pot lucks. Cookies for the holidays. Salads for getting cute and healthy…and then…and then there's heartbreak food.
You know…food for when your heart actually hurts. And you need something to hug you and tell you it's gonna be okay. And tell you that it's actually for the best. And that despite life being hard, good things are on their way. Because they are.
So yeah…there's food for this occasion, too.
Chocolate pudding is pretty popular for this type of situation, as is a pint of ice cream while calling home to mom. Or the first row in a package of oreos. And maybe the second.
But I…I personally recommend pancakes. These specifically.
There's carbs (requirement!), chocolate (double-requirement!), pumpkin (it's fall), all while swimming in a pool of warm maple syrup (triple-requirement!).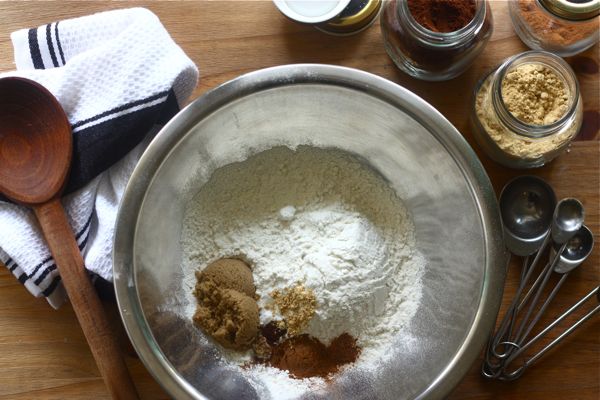 From the time I've spent on this earth, I've learned a thing or two about heartbreak; it's quite simple, really.
It usually happens when two people aren't on the same page. When one person makes plans for the other (or for the "us"), and when that one person finds out their plan isn't going to work…it hurts. And that person (a.k.a. me) feels like an idiot for ever thinking that plan was going to work in the first place.
For this special life occasion, I recommend a new purchase of fancy shoes…paired with a stack of delicious pancakes.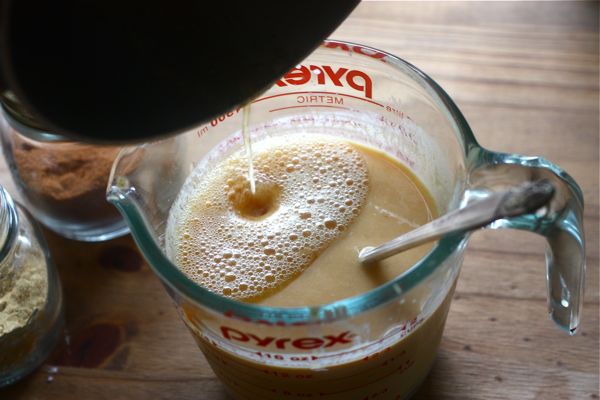 Please make them. Eat them. Enjoy them. And even if you aren't sad, share them…they're delightful regardless of what's going on in your heart/brain.
They can really service any type of predicament or celebration–they're versatile!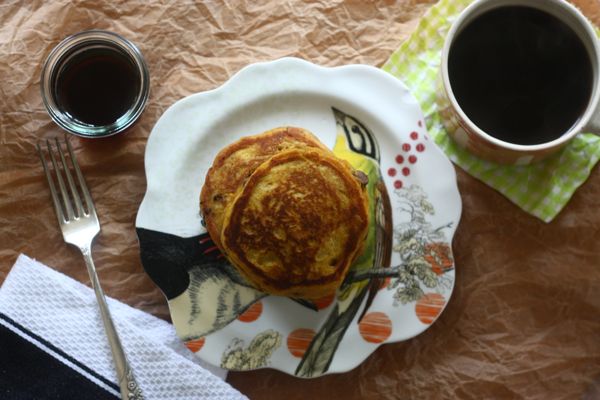 Today, though–for me–they're serving as a pep-talk, from me to myself (and maybe from me to you).
So:
Adrianna (and maybe you), stop listening to sappy music, stop sulking, eat some pancakes, put on some eyeliner and know there's better days ahead. Because there so is…
(Right? RIGHT?!)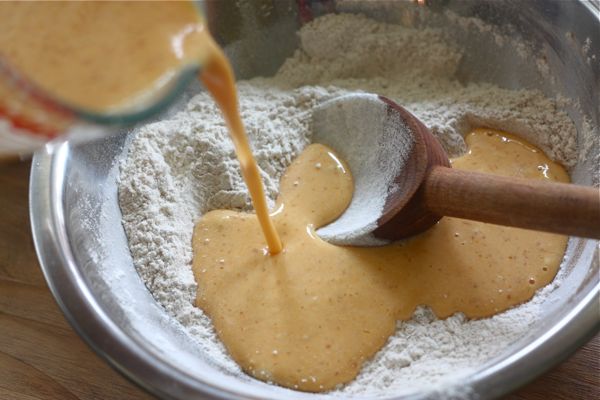 Print Recipe
Pumpkin Chocolate Chip Pancakes
Pumpkin Chocolate Chip Pancakes are deliciously pumpkin-y. Perfect for fall. There are gooey pockets of chocolate and a savory quality to these pancakes.
Ingredients
1

cup

all-purpose flour

1 1/2

tablespoons

light or dark brown sugar

1

teaspoon

baking powder

1

teaspoon

baking soda

1/4

teaspoon

kosher salt

1

teaspoon

cinnamon

1/4

teaspoon

nutmeg

1/8

teaspoon

ground cloves

1/8

teaspoon

ground ginger

1

cup

buttermilk

shaken

1

large

egg

1/4

cup

pumpkin puree

2

tablespoons

unsalted butter

melted and cooled slightly

1/2

cup

semi-sweet chocolate chips
Instructions
Pre-heat oven to 200˚F.

In a medium bowl, sift together the flour, brown sugar, baking powder, baking soda, salt, and spices: cinnamon, nutmeg, cloves and ginger. In a measuring cup (or small bowl), measure out the buttermilk. Add the egg and lightly beat. Next, mix in the pumpkin puree until completely blended. Pour in the slightly cooled melted butter and mix some more. Lots of mixin'!

In two batches, add the wet ingredients to the dry ingredients and mix until just combined. The batter should have some small to medium lumps.

Heat up your griddle or cast iron skillet over medium low-heat and brush with 1 tablespoon of butter. Scoop the batter, using a 1/4 cup measure, to the warm skillet. Top each pancake with desired amount of chocolate chips. I added about 6-7 chips per pancake. Cook until small bubbles form on the surface of the pancake and then flip. Cook on opposite side for about 40 seconds, or until golden brown.

Transfer done pancakes to a baking sheet and place in oven to keep warm. Proceed with the rest of the pancakes until you've gone through all of the batter. Serve with warm maple syrup.
Notes
This will work with butternut squash. And of course, you can leave out the chocolate chips.