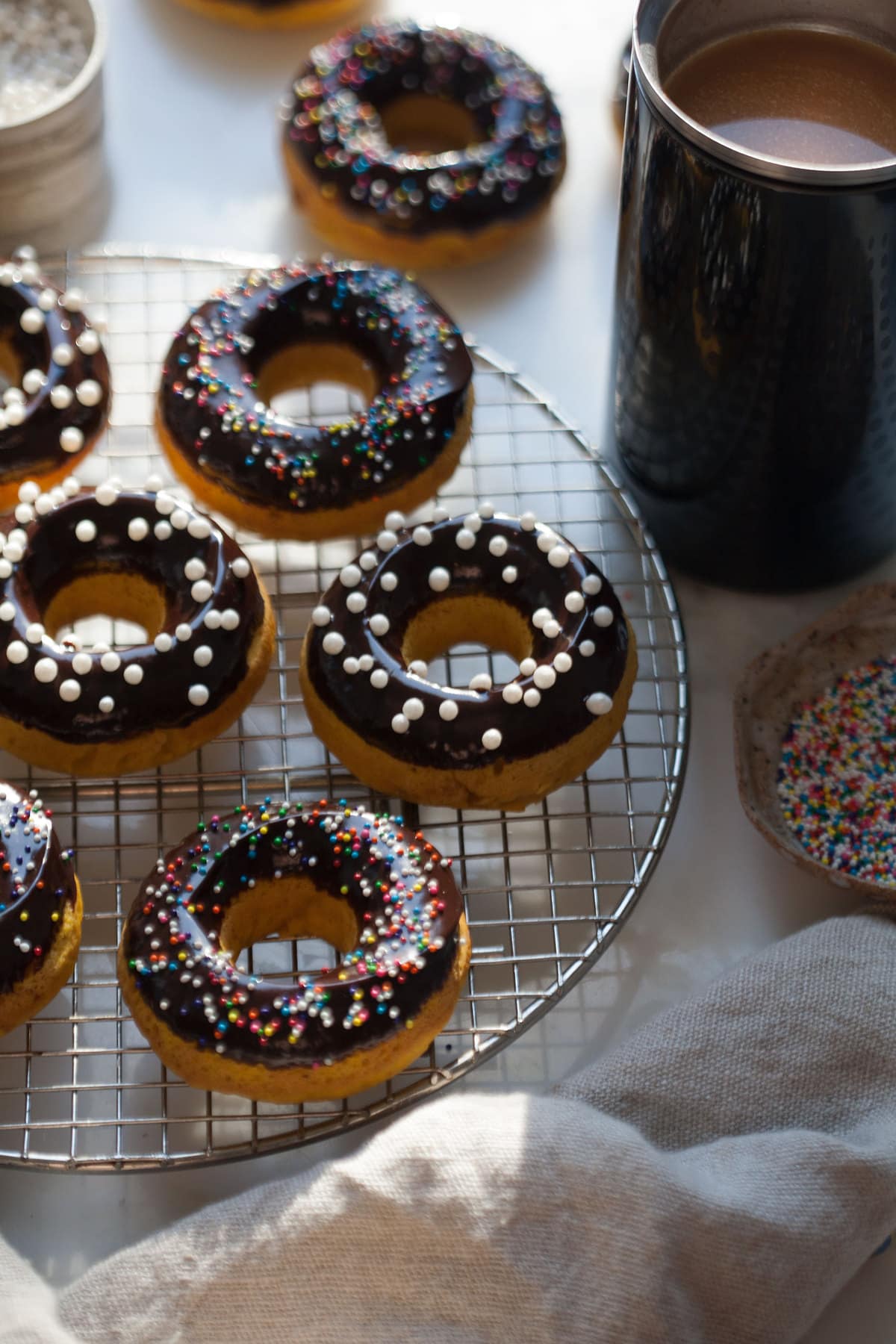 I know what you're probably eating today. I'm gonna take a very wild guess. It's a sandwich, piled high with shredded dark meat turkey and cranberry sauce and mayonnaise and if you're super crazy, you might've added mashed potatoes on your bread. I say live it up because in January everyone is going to be on a cleanse.
This recipe is all about using up those last bits of pumpkin puree you might have in your fridge from the pumpkin pie you maybe made. Or maybe didn't.
For this post I teamed up with bobble and their presse. I figured it was a good match because nothing goes better with doughnuts than coffee…and vice a versa.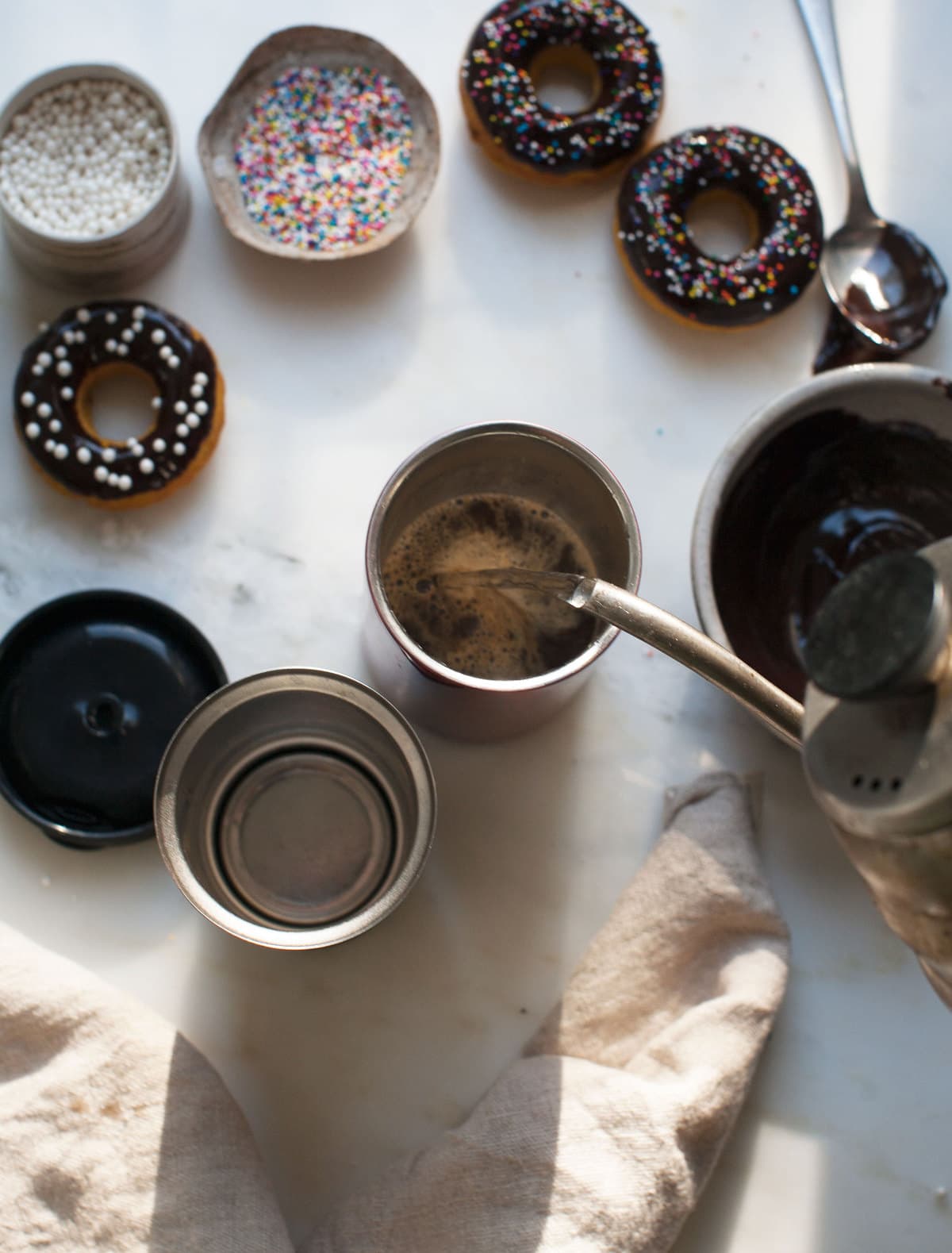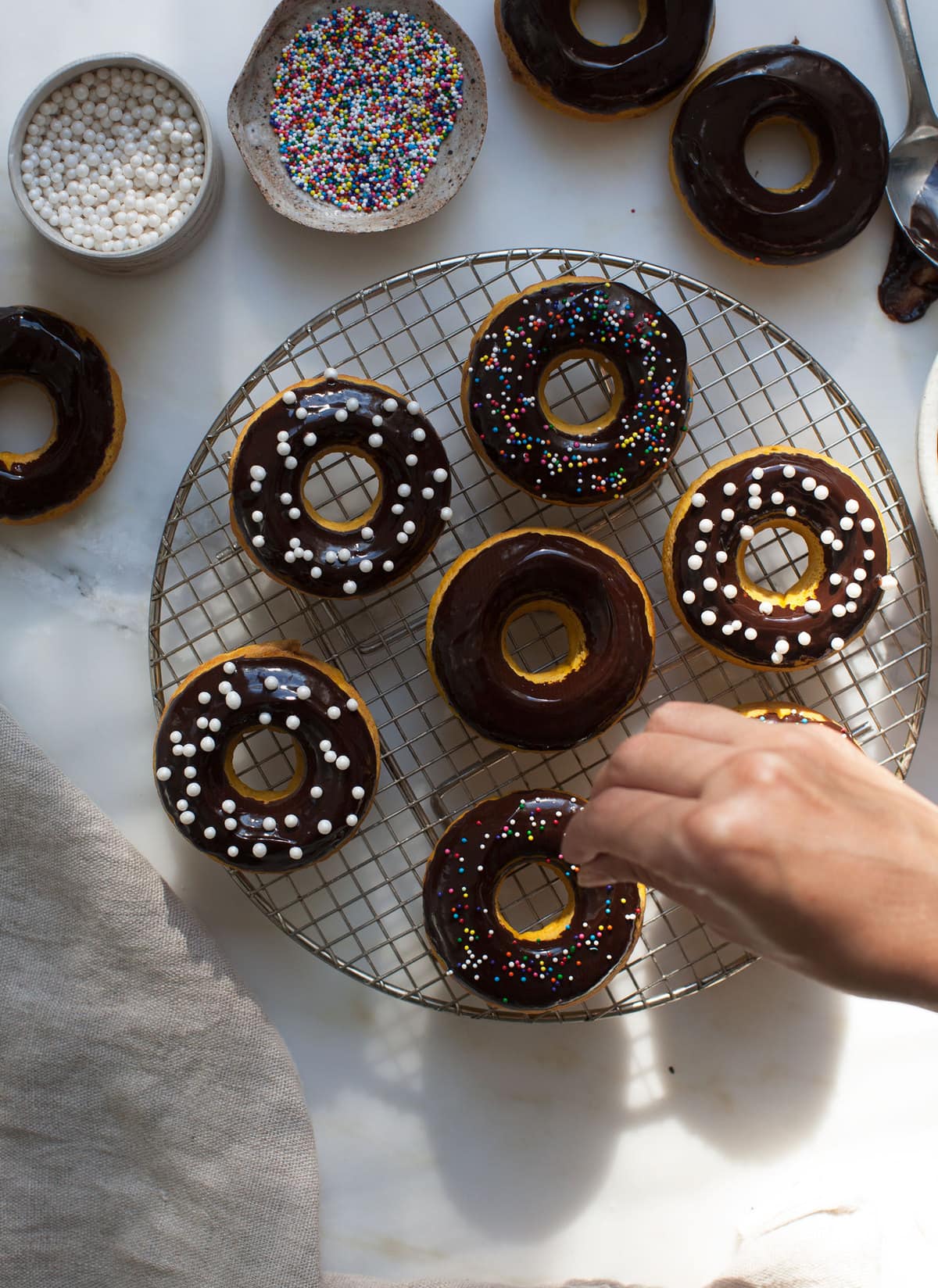 The presse works like this: You separate the two components, pour ground coffee in, hot water, let it stand for about 3 minutes and then presse—that's it! My favorite part about is that there are no filters you have to mess with. And the coffee it yields is a really good viscosity. It's somewhere between a pour over and a French press.
And the presse makes it so you can either drink it in your house (I do this for solo cups of coffee) or on the go, hopefully with a doughnut or two in hand.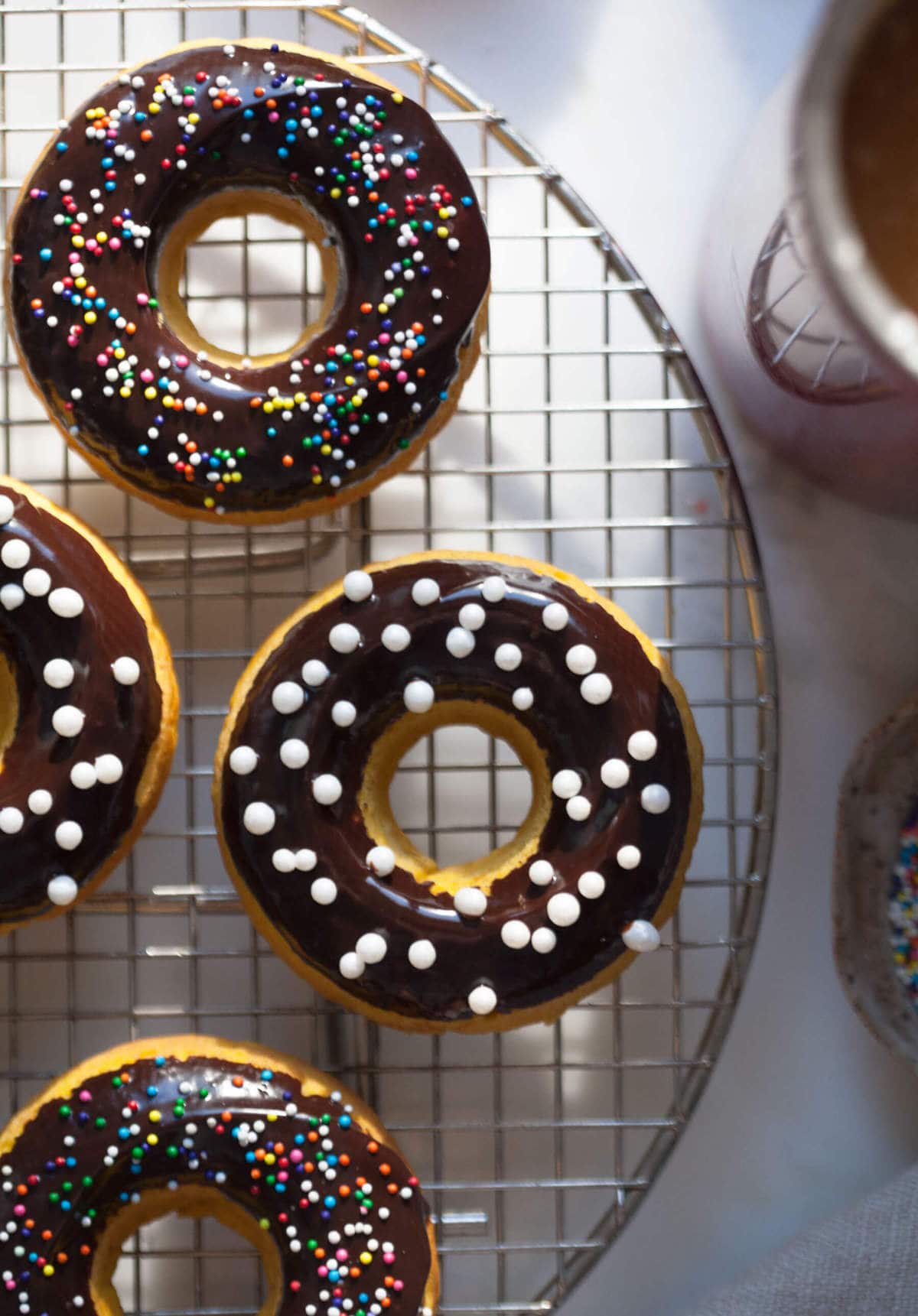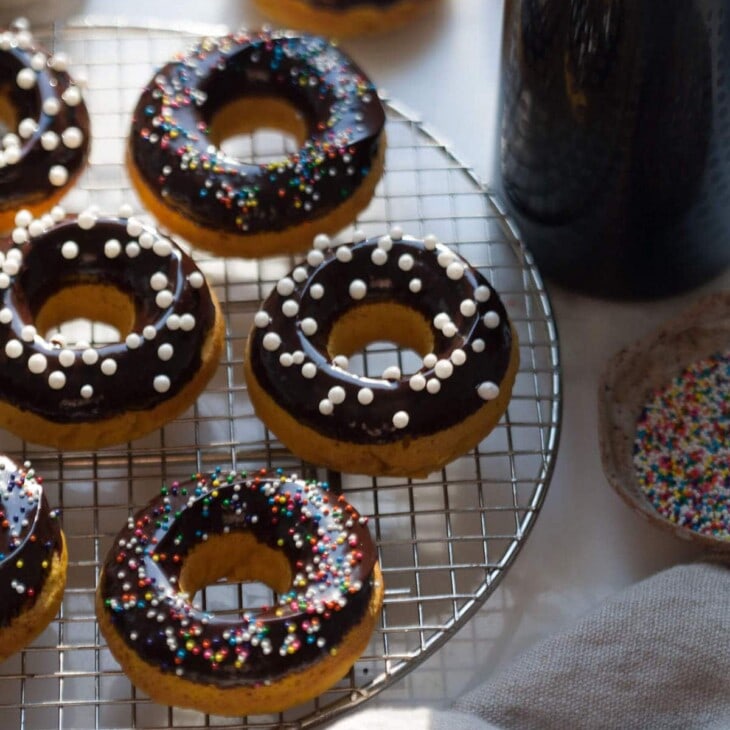 Print Recipe
Pumpkin Chocolate Doughnuts
Ingredients
Doughnuts: 
1/4

cup

butter, softened 

1/2

cup

light brown sugar

2

large eggs

1

cup

pure pumpkin puree

1 1/2

teaspoons

baking powder

1

teaspoon

ground cinnamon

1/4

teaspoon

ground ginger

1/4

teaspoon

baking soda

1/8

teaspoon

ground cloves

2

cups

all-purpose flour

1/4

cup

whole milk

(2 percent would work, too)
Glaze: 
4

ounces

dark chocolate or semi sweet chocolate

1/4

cup

heavy cream

1

teaspoon

vanilla extract
Toppings: 
Sugar pearls in a variety of colors 

Sprinkles 
Instructions
Preheat the oven to 350 degrees F. Grease the cavities of a doughnut pan with cooking spray and set aside.

In the bowl of a stand-up mixer (or a medium bowl using an electric mixer), add the butter and light brown sugar; beat until light and fluffy, about 2 to 3 minutes. Add the eggs and beat once more. Add the pumpkin puree, baking powder, cinnamon, ginger, baking soda and cloves; beat once more until thoroughly incorporated. In two batches, alternating between the flour and milk, add the two until just combined. Scrape down the sides as needed and mix one last time. 

Transfer the batter to a resealable kitchen bag and press any air out. Snip off the corner and pipe the batter into the doughnut pan. (If you're feeling super lazy, you can simply spoon the batter into the holes of the doughnut pan.) Transfer to the oven to bake for 7 to 10 minutes, until the doughnuts have risen and spring back when touched. Invert onto a cooling rack to cool. Repeat with the remaining batter. 

To make the glaze: Add the chocolate to a heatproof bowl. In a small saucepan, heat the heavy cream to very hot. Pour the heavy cream over the chocolate and allow to stand for 2 to 3 minutes. Mix vigorously until very smooth. Mix in the vanilla extract. 

To assemble the doughnuts: Dip the doughnuts into the ganache and then garnish with sprinkles and toppings of your choice. Repeat with the remaining doughnuts. These doughnuts are good when kept in an airtight container for up to 2 days, they're definitely best eaten the same day. 
(This post is sponsored by bobble. Thanks for supporting the sponsors that keep A Cozy Kitchen cozy!)