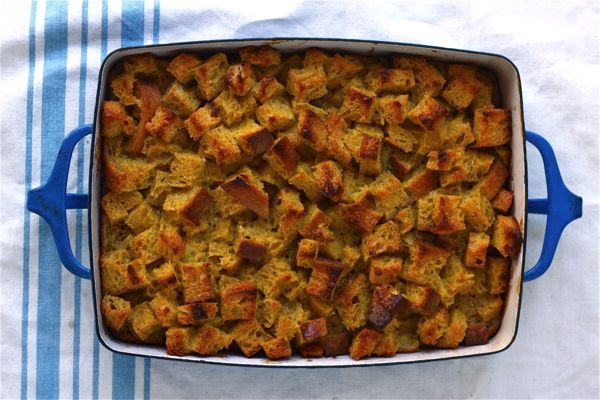 Yesterday, while cooking, I added some pepper to a bowl and sneezed. My friend Cassie, who was over at the time, paused and said, "Man, you make a very "interesting" face the moment just before you sneeze." I'm pretty sure what she meant by "interesting" was "ugly." So I started to think to myself, Are there other times when I look "interesting"? There must be!
Like, when I'm sleeping and my face just settles into dreamland, do I look unattractive? When I'm washing the dishes, in my own world, pondering what human name I'm going to give my future dog, does my face look unattractive?
And when I cry, do I have an ugly cry face like Kim Kardashian? (This, by far, is my favorite Kim K. moment. Actually, it's more of Kourtney's moment. I mean, the way Kourtney laughs at her? Incredible.) If Kim K. is the ugliest crier around, I'd like to nominate the prettiest. That award goes to Demi Moore in Ghost (skip to 1:39). Like, her eyes well up so perfectly, just the right amount of tears, before they overflow and fall so beautifully. Let's all aspire to cry like that. UGH!
Anyway, surely the moment before sneezing can't be the only ugly face I unknowingly make. When do you make your "interesting" face? It's okay, don't worry, we can't look cute all the time.
Speaking of unattractive! This bread pudding. Bread pudding is bread pudding. It's definitely not what I consider "pretty food." When I pulled it out of the oven I took a look at it and was like, well let's hope it tastes good. It did. OMG it did.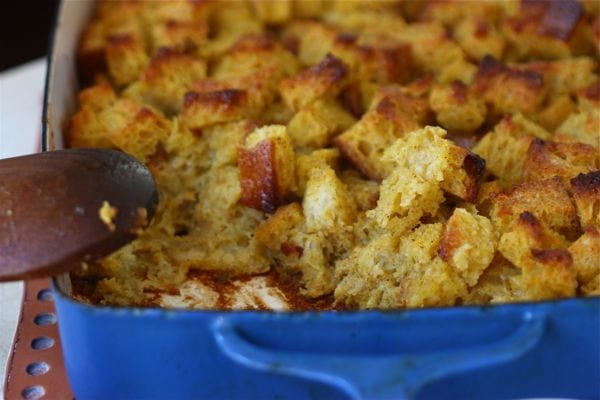 Bread pudding is incredibly simple. This one is pretty simple stuff, too.
You start by mixing together pumpkin puree, milk, cream, sugar and a little salt.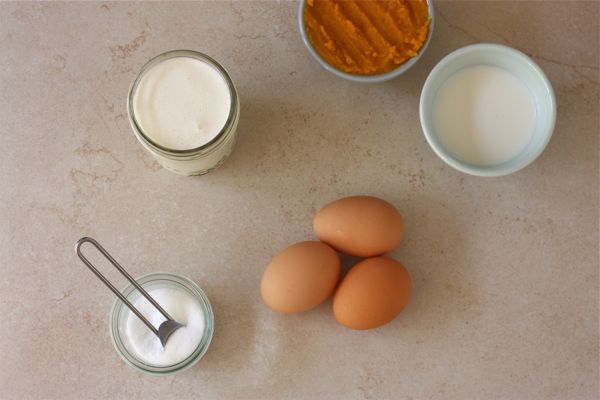 Throw in some spices.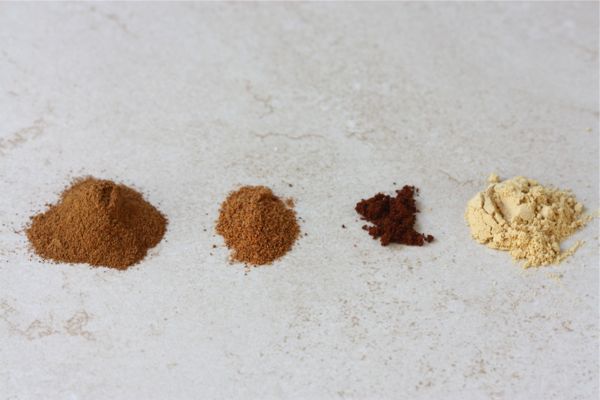 Cube up some bread.
P.S. I used a French loaf because I couldn't find challah nor brioche. If you do end up using either of those, I'd skip the butter in the recipe below. That'd be too much butter. How dare you! It's true; balance, people!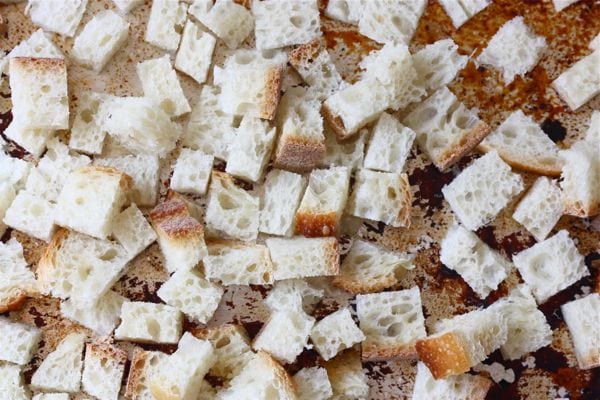 Toss the bread with the pumpkin/milk/spice mixture. And try not to drink it. I wanted to.
Bake until it's all set.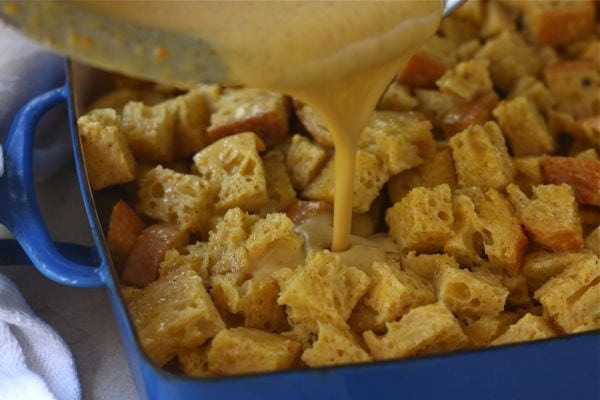 And serve. Add ice cream. Add whipped cream. Oh gosh. Maybe have it for breakfast? Why not.
Want some variations on this pumpkin bread pudding? Add bourbon. Oh gosh, do THAT! Add chocolate. YES!
Have a good weekend! I like you.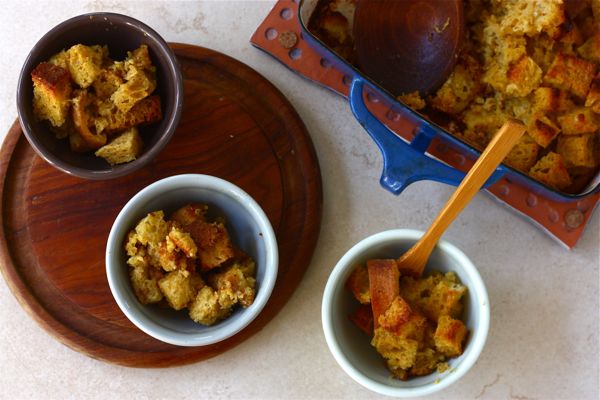 Pumpkin Bread Pudding
1 cup heavy cream
2/3 cup canned solid-packed pumpkin
1/4 cup whole milk
1/2 cup sugar
2 large eggs, plus 1 egg yolk
1/4 teaspoons salt
1 1/2 teaspoon ground cinnamon
1/2 teaspoon ground ginger
1/2 teaspoon ground allspice
1/4 teaspoon freshly grated nutmeg
1/8 teaspoon ground cloves
5 cups cubed (1-inch) French loaf
3/4 cup unsalted butter, melted
1. Preheat oven to 350F with rack in middle.
2. Whisk together cream, pumpkin, milk, sugar, eggs, salt and spices
3. Toss bread cubes with butter in another bowl, then add pumpkin mixture and toss to coat. Transfer to an 8-inch square baking dish and bake until custard is set, about 30 minutes.
Adapted from Gourmet Magazine