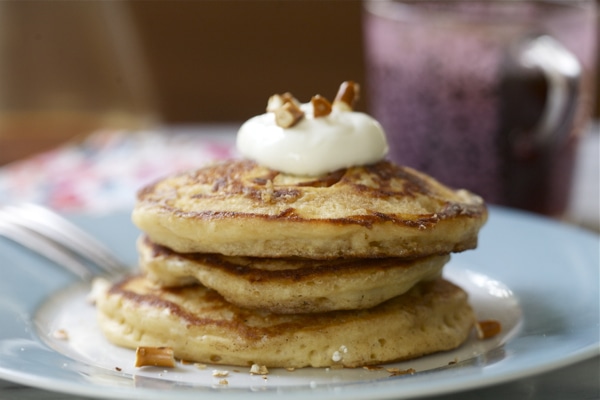 This is the story of me turning a pancake into pretzel...and then putting sweet yogurt on top so it tastes more like a yogurt covered pretzel. Do you love me? I love me...today, or actually yesterday. I made this yesterday. And ate it yesterday.
So, here's the thing about me and pretzels. I kind of don't like pretzels all by themselves. And I'm talking specifically about the crunchy ones. The soft ones can be eaten plain, with mustard, without, ice cold, warm, whatever---I just love them. But, the crunchy ones? I dunno man, they're kind of whatevs to me.
Trader Joe's (and I know this grocery store might be unavailable to some you and I think that's sad) is the king of having a ridiculous variety of pretzel-covered options without having any plain pretzels. That place understands me well...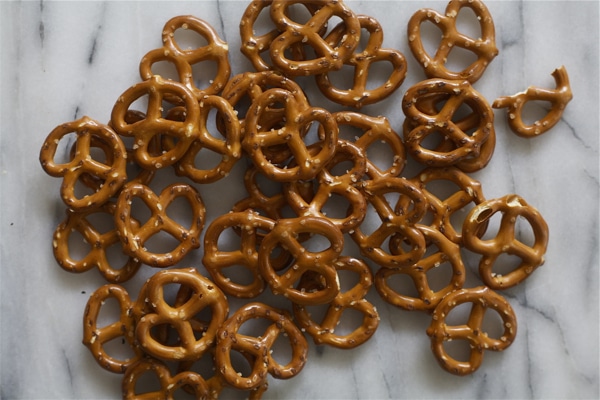 This recipe starts with a very Momofuku-esque pretzel milk. The pretzels are toasted and then get a good soaking in milk.
The shiny pretzel exterior fades and all of the pretzel-flavor transfer itself to the milk.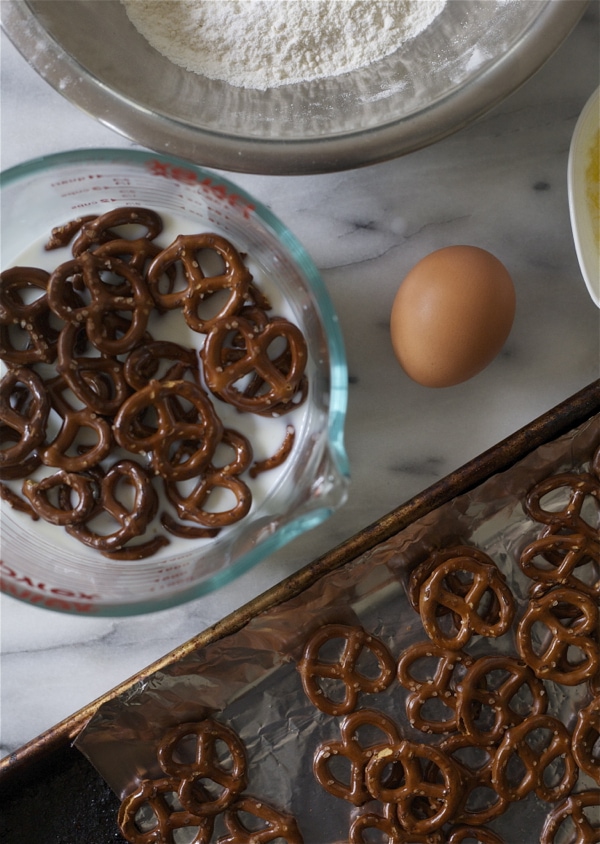 When you remove the pretzels, the milk magically smells, tastes and even (sort of) looks like a pretzel.
It's genius. It's amazing. It's magic.
And from there it's the usual, smooth-sailing-pancake-making steps. Dry mixed up; wet mixed up; and those two mixes combined. Super snappy. Super easy. Super tasty.
These pancakes do that whole sweet and salty thing so well. We're not over that, right?I'm not sure I'll ever be over salty and sweet together.
The pancakes are light and fluffy, and since I wanted the flavor of pretzel and the texture, I added a few broken pieces to each pancake.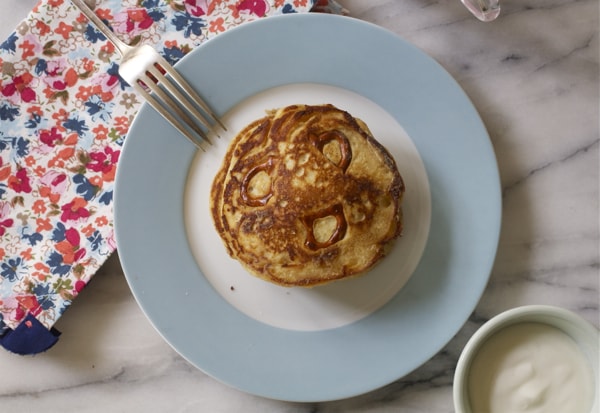 The whipped sweet yogurt is very optional.
I ate these with syrup AND the whipped sweet yogurt because, you know, I have to make sure both ways work, and I really do love them equally.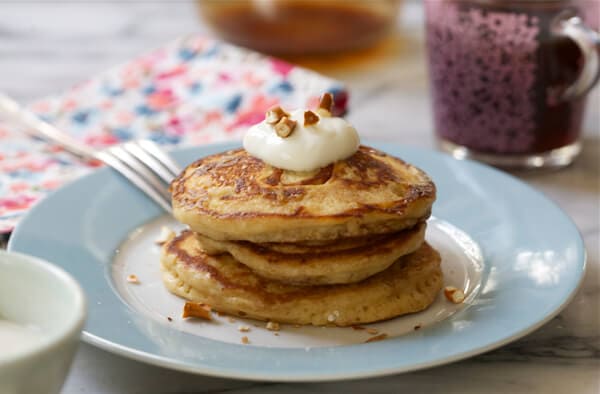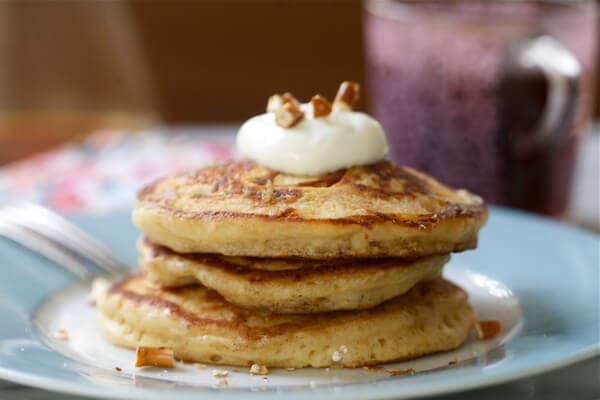 Print Recipe
Pretzel Milk Pancakes with Whipped Sweet Yogurt
Ingredients
Pretzel Milk:
3

cups

small pretzels

1 ½

cup

whole milk
Wet Ingredients:
1

large egg

2

tablespoon

unsalted butter

melted and cooled to room temperature

1

teaspoon

vanilla extract
Dry Ingredients:
1

cup

all-purpose flour

3

tablespoons

white granulated sugar

1

tablespoon

baking powder

¾

teaspoon

fine-grain sea salt

1

cup

reserved pretzel milk
Add-Ins:
1

handful of small pretzels

broken into smaller pieces
Whipped Sweet Yogurt:
3

tablespoons

Greek yogurt

1

tablespoon

whole milk

2

tablespoons

confectioner's sugar
Instructions
Pretzel Milk:
Preheat the oven to 350 degrees F. Spread the pretzels out, in one even layer, onto a foil-lined (or parchment-lined) baking sheet. Transfer the pretzels to the oven and toast until dark brown, about 10 minutes. Once they're done, remove them from the oven and set them aside until they're completely cooled. Add the cooled pretzels and whole milk to a bowl and allow to sit for 5 minutes. Pour the milk through a sieve, catching and discarding the soggy bits and pretzels. You should have 1 cup of pretzel milk remaining. If you have more, only use 1 cup and drink the rest--it's delicious. To the pretzel milk, add the egg, butter and vanilla extract; beat until completely combined.

In a medium bowl, mix together the flour, sugar, baking powder and salt. All at once, add the wet ingredients to the dry ingredients and mix until just combined. The batter should have some small to medium lumps.

Preheat your skillet over medium heat and brush with 1 ½ teaspoons of butter or a teaspoon of vegetable oil. Using a tablespoon measure, scoop the batter onto the warm skillet. Add 3-4 pretzel pieces to each pancakes, gently pressing them into the pancake. Cook for 1 to 2 minutes until small bubbles form on the surface of the pancakes, and then flip. Reduce the heat to medium-low and cook on the opposite side for about 1 minute, or until golden brown.

Transfer the cooked pancakes to a baking sheet and place in a preheated 200 degree F oven to keep warm. Repeat the process with the remaining batter, adding more butter or vegetable oil to the skillet when needed. Serve immediately.
Whipped Sweet Yogurt:
Using a hand mixer (or using a whisk), beat the yogurt, milk and confectioner's sugar together until light and creamy, about 1 minute. Serve on pancakes.
Pretzel milk idea from Momofuku Milk Bar