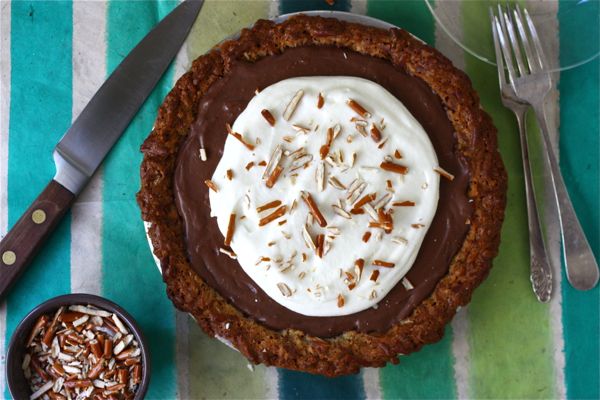 Pretzel Chocolate Pudding Piiii-aaaahh.
Sometimes when I say "pie" in my head, I actually say it in Paula Deen's voice and say "piiiii-aaaahh." I have no idea why. Mainly because when I'm all by myself saying things in other accents entertains me more than not. Also, Paula Deen's voice is kind of hilarious. I used to think she was faking it…that was until I met her a few years ago for a job I was on and it was then when I realized that she's totally real. Everything. It's not an act. She's a woman obsessed with butter and mayonnaise and putting a hamburger in between two doughnuts. I dunno…all I can say is that in real life she's Paula…which is both relieving and scary all at the same time.
Back to piii-ahhh…I had been dreaming of some sort of pretzel crust for months. I'm obsessed with all things salty at the moment. I have no idea what's wrong with me. First, there was the giant peanut butter thing with big flakes of sea salt on top; then just a few days ago there were salty vanilla cookie things. Though a little random, I think this recent, little obsession is proving to be delicious.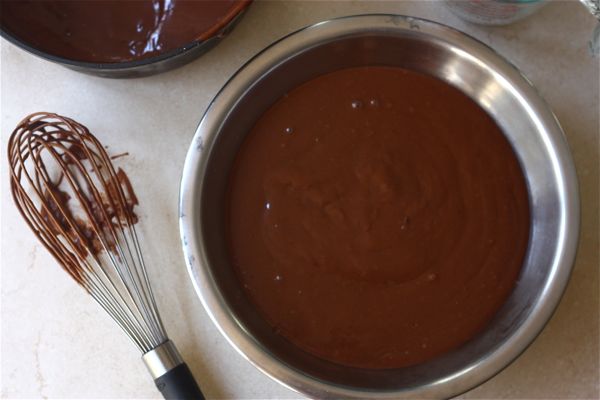 This pie is the perfect thing for late-summer-not-yet-fall weather. The filling is pudding, but not your normal, custard/egg base pudding–it's eggless, yielding a lighter pudding that what you might not be used to. I think it's the perfect compliment to this butter/pretzel, salty and sweet crust.
I will not lie to you and tell you that this recipe is "easy and fast" and "fuss-free."
While it's definitely not difficult, it for sure takes some time, mostly downtime, but it is a little time consuming. There's lots of "chilling in the fridge." Just a heads up to plan accordingly. That is all!
This situation starts with making some pudding. Super easy pudding. I made this the night before.
And P.S. It's actually the same pudding recipe I used in a dessert I made last summer, S'mores Pudding. Below you'll find the halved and slightly tweaked recipe.
The crust starts with mashing up pretzels. I put them in a freezer plastic bag and used a rolling pin to mash them up. It was relaxing.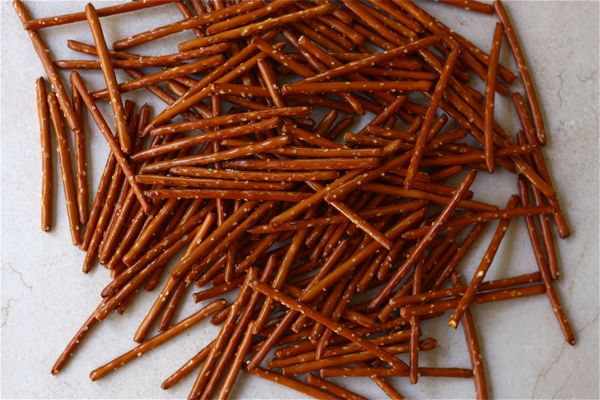 Softened butter, powdered sugar and some of the mashed pretzels are creamed together.
A little bit of flour is added, along with an egg to hold the whole thing together.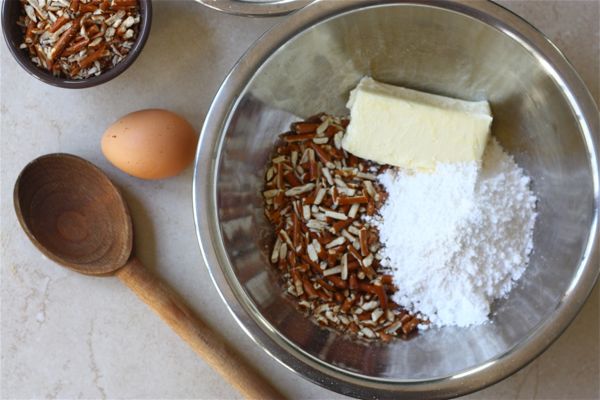 The mixture will not look pretty mid-way through.
But don't worry, sometimes in order to reach cuteness you have to pass through ugly. Just like most of us at age 11.
The mixture is flattened and refrigerated to chill. Lots of refrigerator time.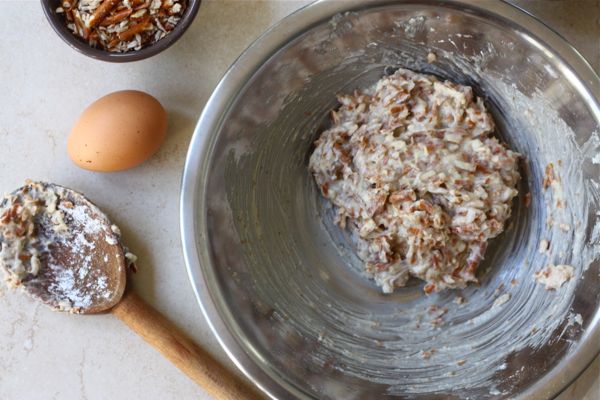 When it's hardened a bit, it's laid (and patched) into a pie pan.
The pie crust bakes all by itself. Can we talk about pie weights for a second? I don't own them. And refuse to buy them because they're pretty expensive. I keep a small plastic container of about a cup of uncooked rice (beans work too!) that I use over and over as pie weights. Not only cheaper, but there's a good chance you already have it in your pantry.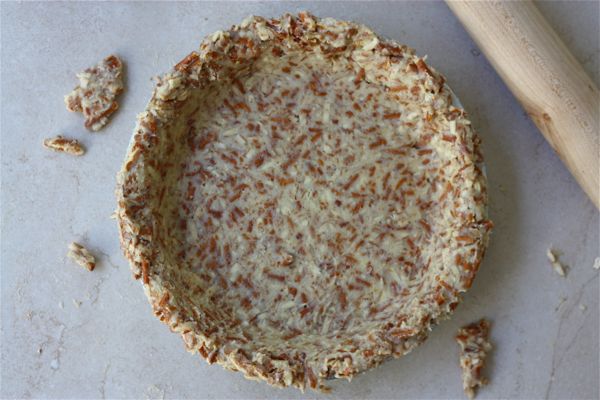 When everything is chilled and cool, the assembly takes place. Pudding into pie crust. Whipped cream on top. And add a little bit of crushed pretzels on top. That is all.
I'm obsessed with the crust. The pudding is good. It's delicious, but omg is the pie crust where it's at. It's the whole thing. It's everything.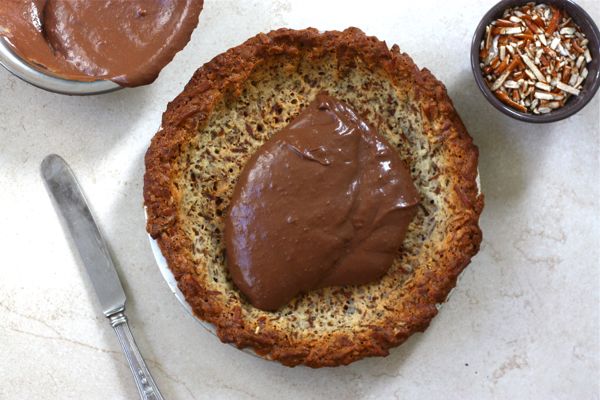 Pretzel Chocolate Pudding Pie
Chocolate Pudding:
2 tablespoons white granulated sugar
2 tablespoons corn starch
2 tablespoons unsweetened cocoa powder
Salt
1 1/2 cups whole milk
1/2 cup heavy cream
4 ounces semi-sweet chocolate, chopped
1 teaspoons pure vanilla extract
Pretzel Crust:
1 stick unsalted butter, softened
1 1/4 cups crushed pretzels, divided
3/4 cup confectioners sugar
1/2 cup all-purpose flour
1 large egg
Topping:
1/2 cup heavy cream
2 tablespoons white granulated sugar
Filling Directions:
1. Whisk together sugar, cornstarch, cocoa powder, and a pinch of salt in a 3-quart heavy saucepan, then gradually whisk in milk and cream. Bring to a boil over moderately high heat, whisking constantly, then boil, whisking, 2 minutes. (Mixture will be thick.) Remove from heat. Whisk in chocolate and vanilla until smooth.
2. To ensure the utmost smoothness, run the chocolate pudding through a sieve. Transfer to a bowl to chill pudding. Cover its surface with wax paper, or plastic (to prevent a skin from forming), and refrigerate until cold, at least 2 hours.
Crust Directions:
1. In a standing electric mixer fitted with the paddle (***Note: If you don't have a stand-up mixer, you can use a spatula, too. It just takes a little arm work) beat the butter with 3/4 cup of the pretzels and the confectioners' sugar at low speed until creamy. Beat in the flour and egg. Add the remaining 1/2 cup of pretzels, being sure to leave some pretzel pieces intact.
2. Flatten the dough between 2 sheets of plastic wrap and refrigerate until chilled, at least 30 minutes.
Preheat the oven to 350°. Roll out the dough between the sheets of plastic wrap to a 12-inch round. Peel off the top sheet and invert the dough over a 9-inch pie pan. Press the dough into the corners and patch any tears. Trim the overhanging dough and freeze the shell for 15 minutes.
3. Line the shell with parchment paper and fill with pie weights (or you can use uncooked beans or uncooked rice). Bake for about 25 minutes, until nearly set. Now, the edges of the pie shell should be golden brown. Tent the edges with foil and return to the oven to bake for 10 to 15 minutes longer, until the tart shell is completely firm the center is lightly golden brown. Allow to cool to room temperature.
Topping Directions:
1. In a medium bowl, using a hand-mixer (or stand-up mixer), beat together the heavy cream and sugar until soft peaks form. Be sure not to over-beat your whipped cream. It should be soft and fluffy.
Assembly:
1. To assemble the pie, pour the chilled pudding into the center of the pretzel pie shell, spreading it out evenly. If you want to serve it immediately, it's doable–it'll just be messy. I found that it was easier (and prettier) to eat after being refrigerated for at least 2 hours. Top with whipped cream and sprinkle a few crushed pretzels on top. Slice it up and enjoy. Pretty awesome stuff.
Filling recipe from Gourmet; Pretzel Shell recipe from Food & Wine
Yields 1 9-inch pie