Potatoes Adrianna
35
Apr 25, 2016, Updated Jan 26, 2019
Disclosure: This post may contain affiliate links, which means I may earn a commission if you click on the link and make a purchase.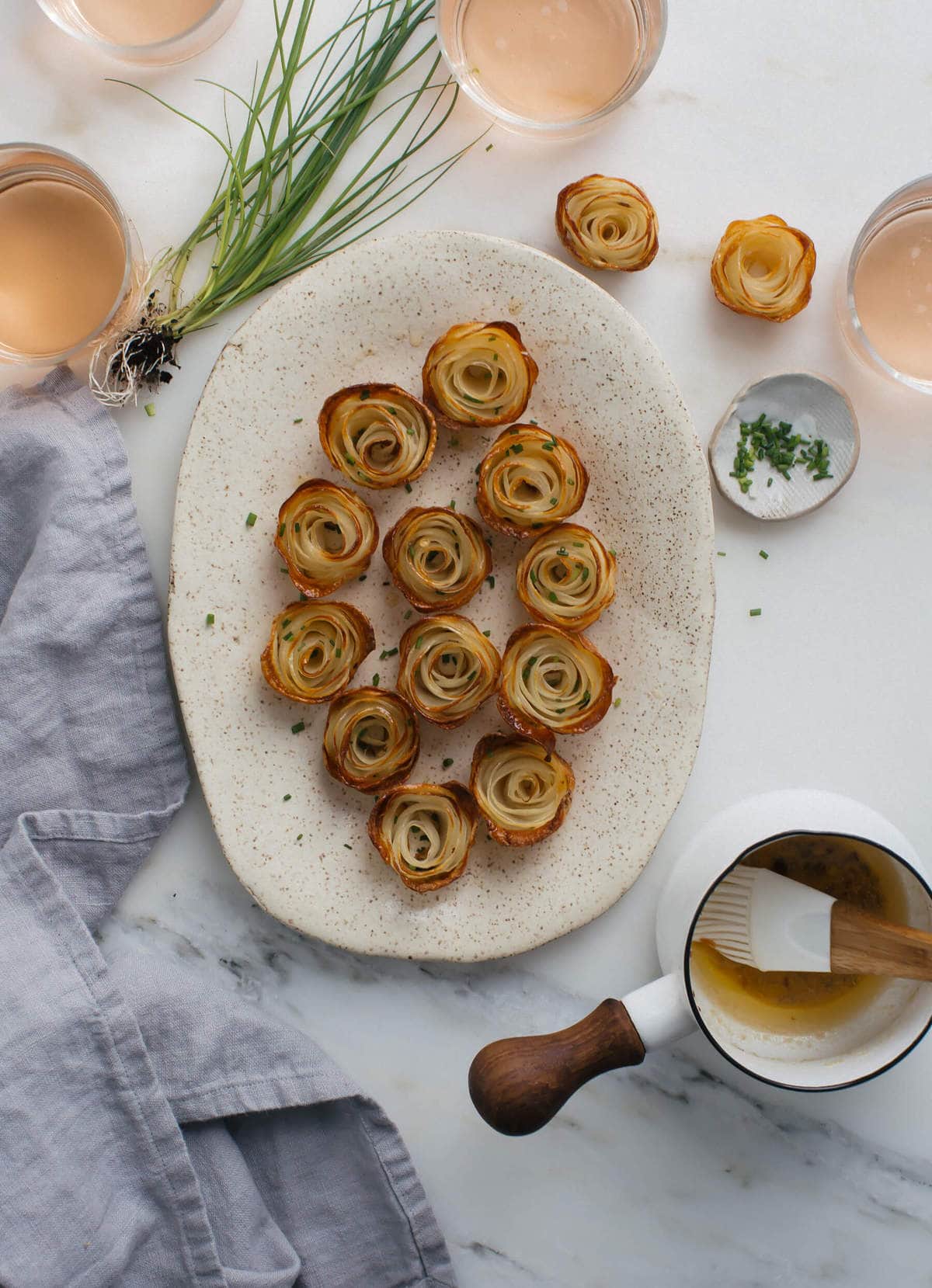 As a friendly reminder: Mother's Day is thisnext Sunday. YASSS. Mark it on your calendar because if you don't call your mom/get her a gift/think of her, etc. you'll probably have a Beyonce-type beehive buzzing at your door.
There's a classic French dish called Potatoes Anna. I hear that this is one of the first things you learn when you go to culinary school (never went! lol). But when I first started cooking a lot, my dad bought me the FCI textbook and I cooked my through many of the recipes.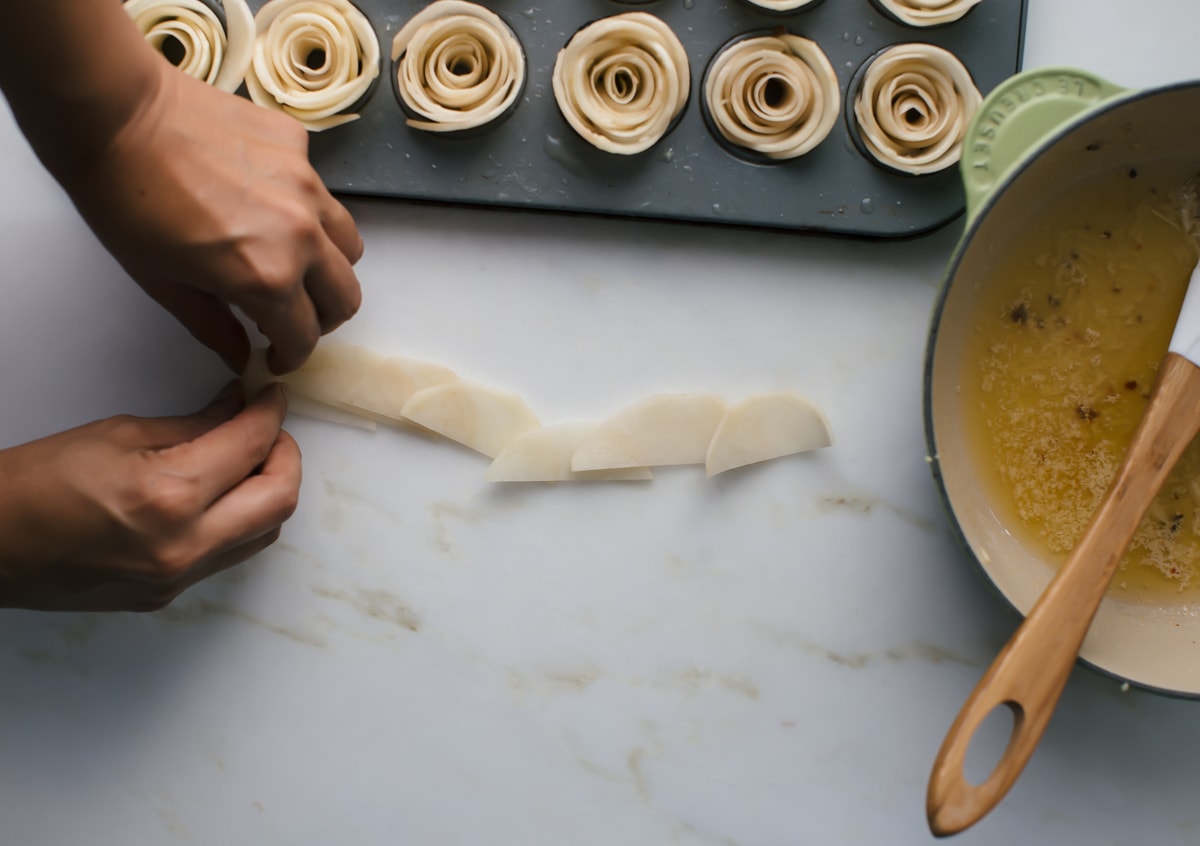 Potatoes Anna consists of a bed of perfectly browned round slices of potatoes, layered on top of each other. It's the simplest most perfect dish because it's literally just carbs and salt and butter. EMOJI HEART EYES
Since the beginning of time I've wanted to make a version of it, my way and call it a very cheeky, Potatoes ADRIANNA.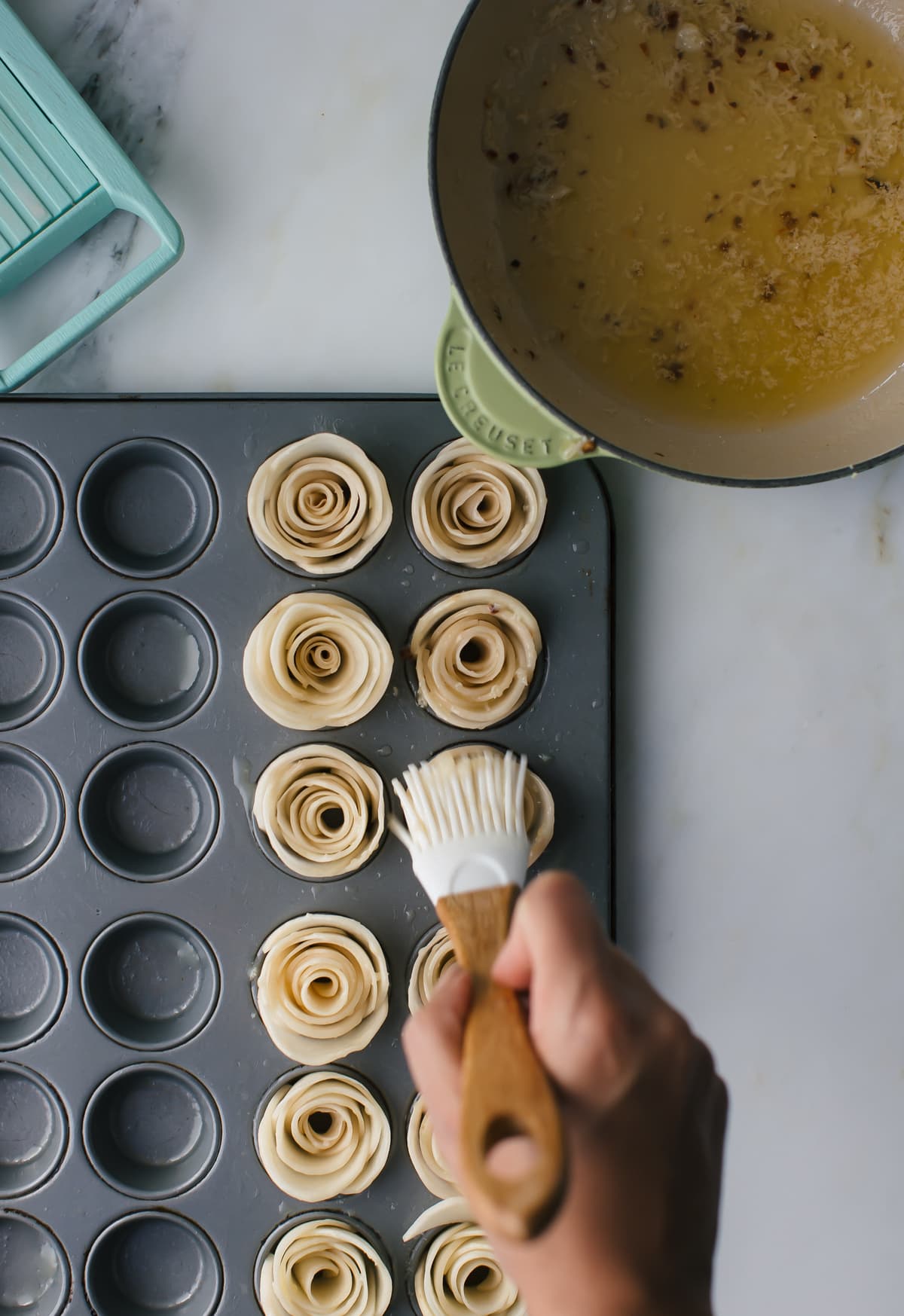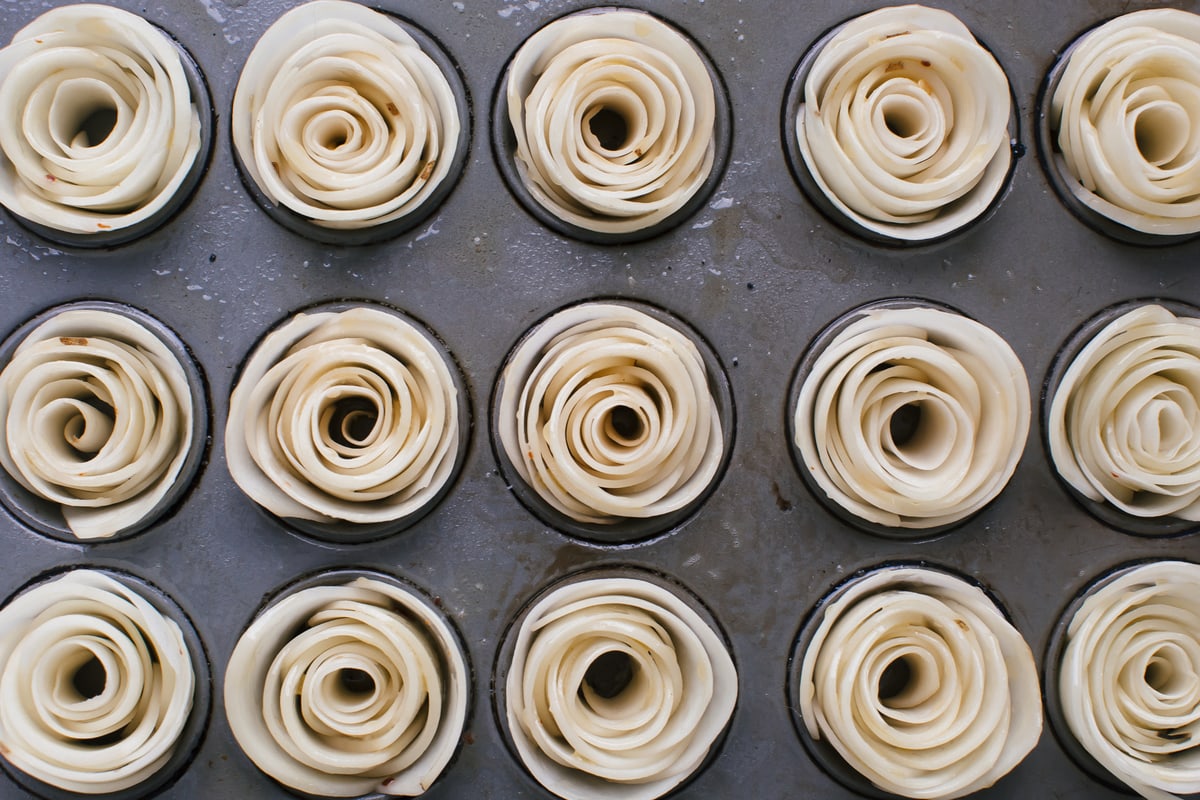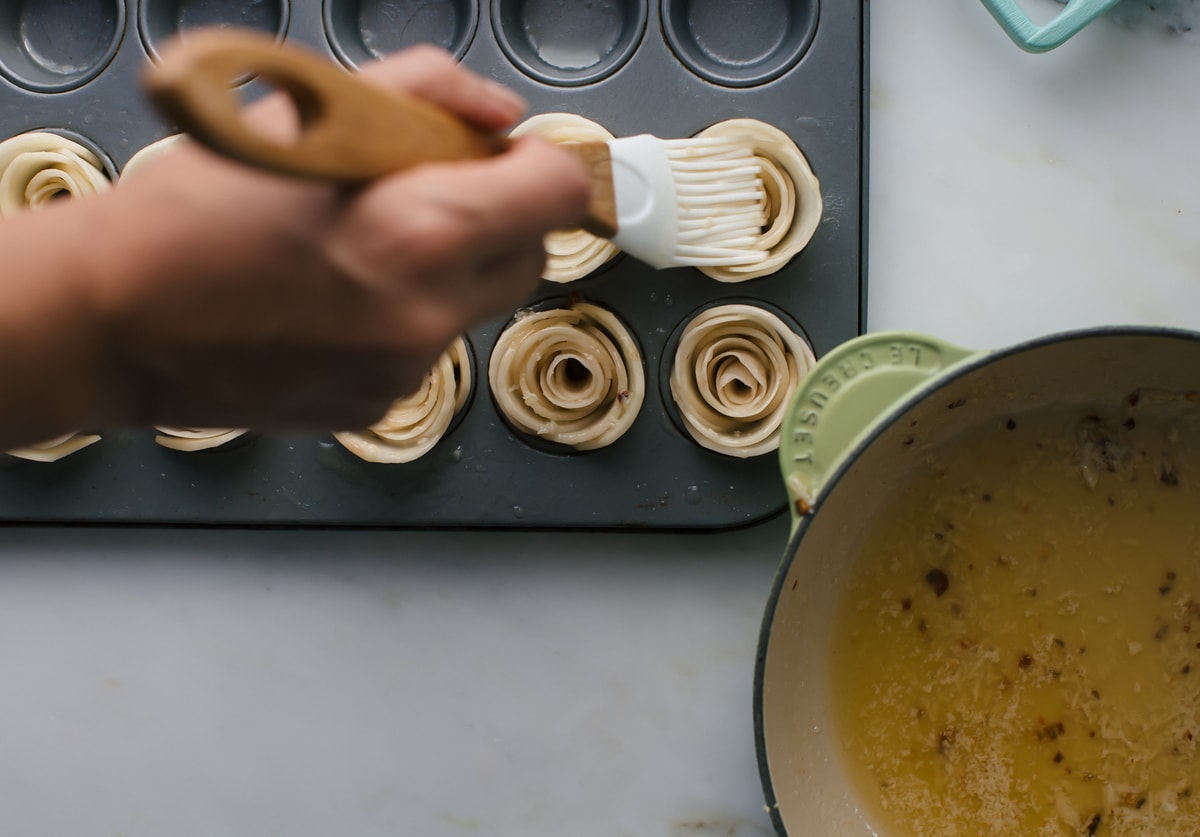 I started to think what would make regular potatoes anna more "Adrianna-like." Mini version would probably do it but ultimately it was Billy who was like well you do shape like everything into a rose so…
I started to think to myself, does Billy think I'm basic?! But then immediately ditched that idea because I was so focused on making the prettiest carb rose ever!
These are SO delicious and SO addictive. On the inside they're soft, almost like mashed potatoes and then the outside is insanely crispy. They're like a much prettier, daintier tater tot.
The butter that's rubbed on top is full of garlic, salt and crushed red pepper. The fresh chives on top add the freshest bite that makes you want to eat one after the other and never ever stop.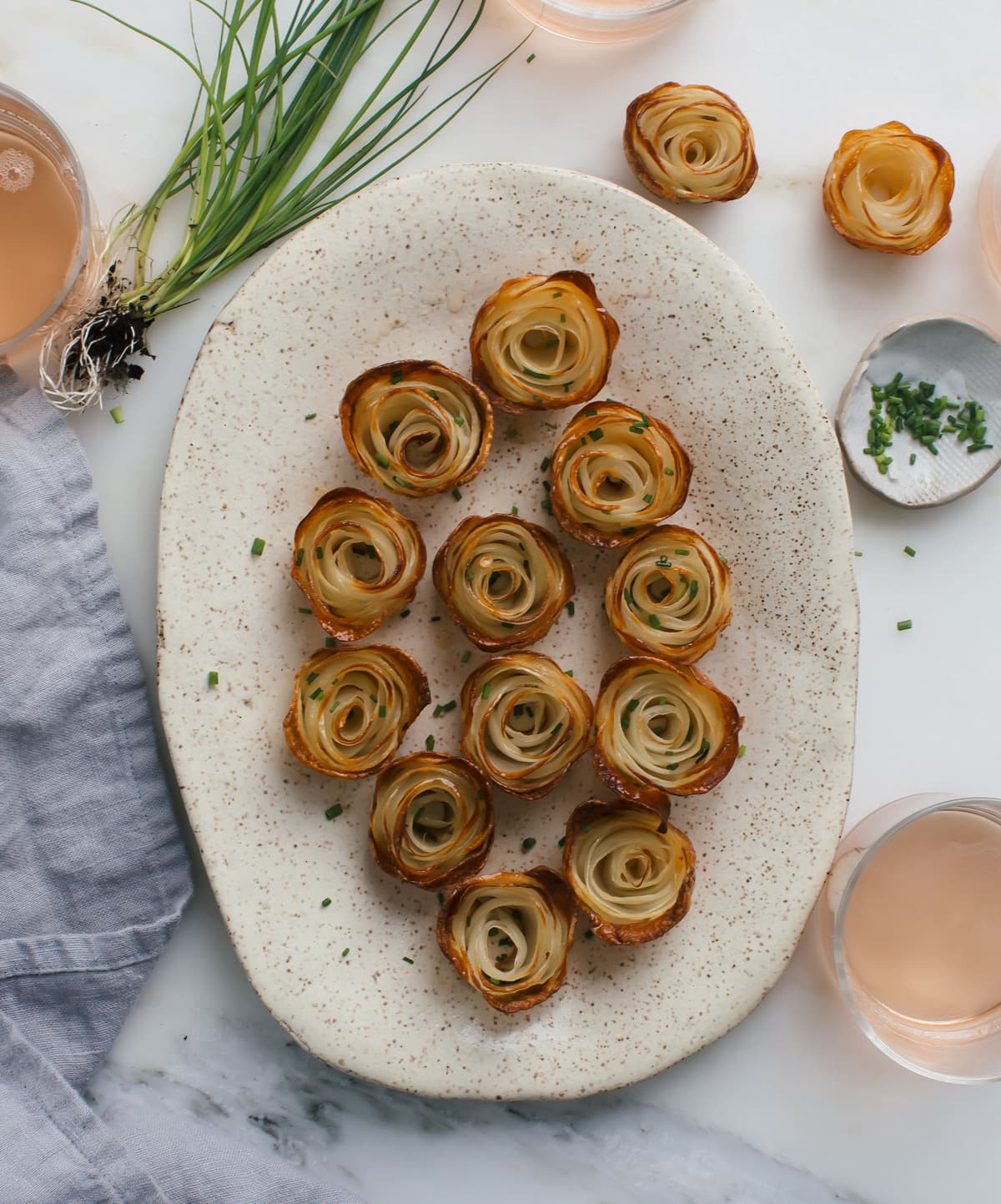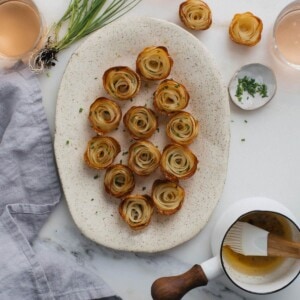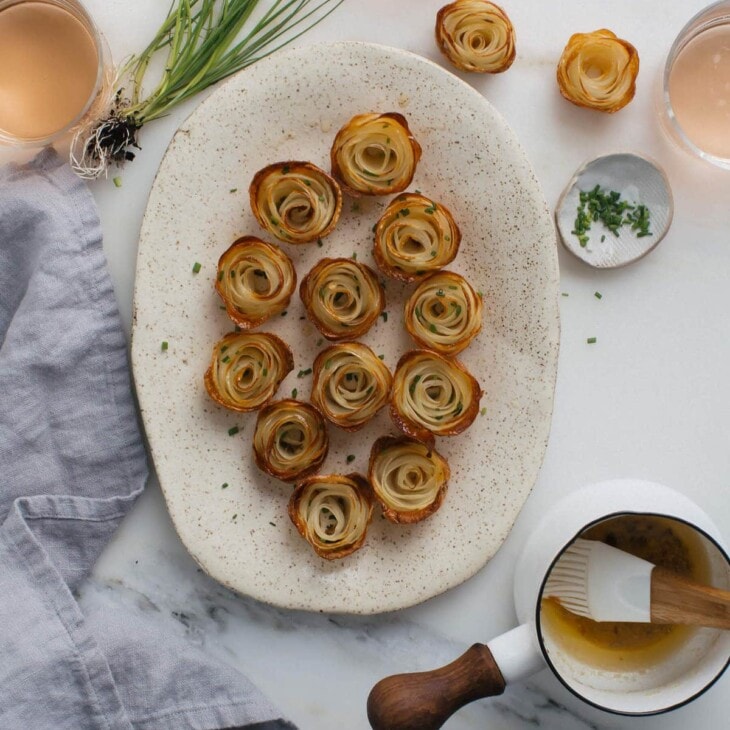 Ingredients
3

russet potatoes

,

peeled

1/4

cup

unsalted butter

1

garlic clove

,

peeled and minced

1

teaspoon

salt

1/2

teaspoon

crushed red pepper

Fresh chives

,

diced, as garnish
Instructions
Preheat oven to 400 degrees F. Spray a mini muffin pan with cooking spray and set aside.

Fill a large bowl with cold water and set aside. Using a mandolin set to the thinest setting possible, slice the potatoes into thin slices. They should be so thin that they're easily bendable. Transfer the potatoes to the cold water. Continue until you've worked your way through all of the potatoes.

Meanwhile, to a small saucepan, set over medium heat, add the butter, garlic, salt and crushed red pepper. When the butter has melted, turn the heat off and allow to steep while you assemble the potato roses.

Lay one dish towel on the counter and set the potato slices side by side. Top with another dish towel to dry the potato slices. Stack the slices on top of one another and slice the potatoes in half. Place about 10 half moon slices next to one another, overlapping them. Roll them up as tightly as you can and transfer them to a muffin cup. If needed, you can add a few potatoes slices to the outside of the rose. Repeat until you've worked your way through all of the potatoes. You should end up with about 16 roses. Make more if you like!

Brush the tops of the roses with the butter mixture. Transfer to the oven to bake for 20 to 30 minutes, until evenly browned. Garnish with lots of chives and a sprinkling of salt.
Notes
Some tips!
1. If the halved slices are too tall, feel free to trim them so the half moons are shorter/smaller in size.
2. I found it best to start the rose with the thinnest possible slice.
3. For this recipe I used a mini muffin pan but you can use a regular muffin pan, too. It'll just mean that you'll need more slices to fill it. More like 15 to 20 slices vs. the 10 the recipe calls for above.