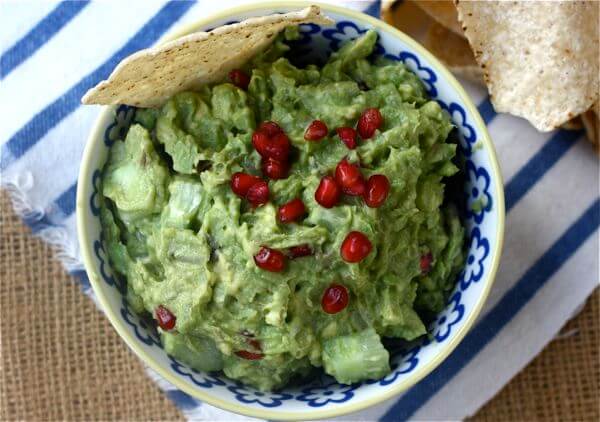 You know what you don't need? A guacamole recipe. I dunno.
Maybe this is me being a total brat, but honestly, even if you don't know how to boil water, the last thing you need is a recipe that involves mashing, folding and adding salt. That's just silly talk.
I lamented for a long time about sharing this situation you see pictured because why do you need this?! You can do this without me. Who am I to tell you how to make your guacamole.
But, I love it. So I figured that maybe you would, too. And maybe you never thought to put pomegranate seeds in guacamole. And maybe you'll make it and share it with someone. That'd make my day.
So here I am. Just a girl…with a bowl of guacamole, asking you all to mash up some ripe avocados, mix 'em with some chopped up cucumbers and pomegranate seeds. It's way more special this way! Refreshing, sweet, lime-y…special!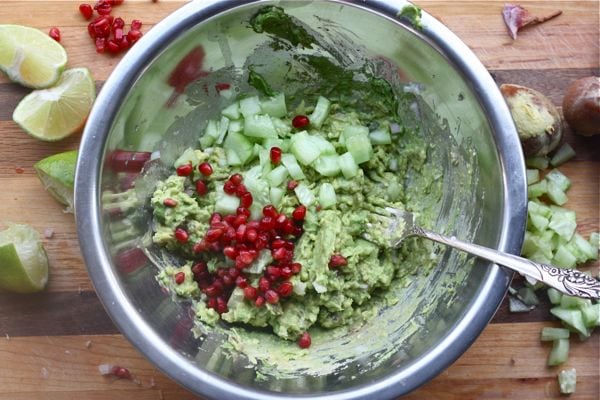 Pomegranate Cucumber Guacamole
Print this kinda sorta recipe!
2 Haas avocados
1/2 shallot, minced
Handful of pomegranate seeds
1/4 cucumber, peeled and finely chopped
1 lime
Salt
In a medium bowl, mash up both avocados. Fold in minced shallot, pomegranate seeds, cucumber. Squeeze in lime juice and mix. Salt to taste. THAT'S IT!
Recipe adapted from Recipe of Memory