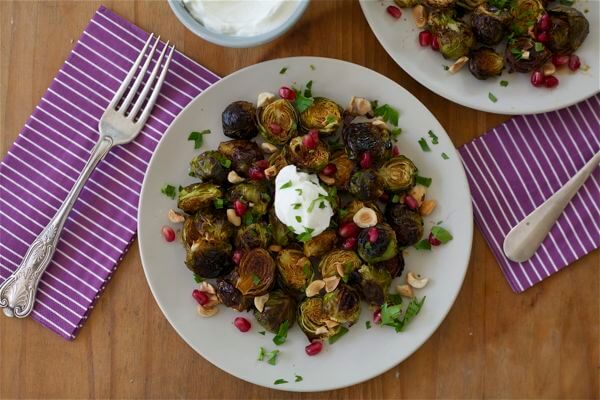 1st confession: When I was in third grade all the kids called me Adrianna A-dummy. Like Adarme (my last name), but A-dummy. That sucked.
2nd confession: I misspelled brussels sprouts up until a few years ago. I went nearly my entire life calling it and spelling it brussel sprouts. No 's' just singular. Brussel. Wrong!
I think somewhere in my subconscious I felt a little guilty about that mispronunciation because I started eating them regularly. Or I just started noticing them on menus or at the grocery store more; not sure, but duuude, do I love them.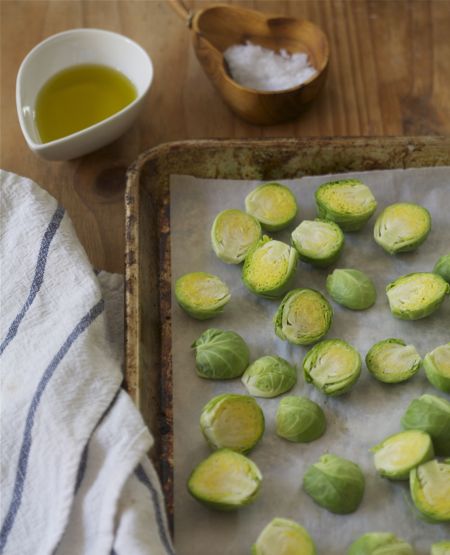 I think one of the worst thing in the world is overcooked, soft, limp-like cooked vegetables. When people say they hate vegetables; what they're really trying to say is that they hate overcooked vegetables.
(Or maybe they really hate vegetables. I dunno.)
Brussels sprouts are probably the only vegetable I've never eaten overcooked. They're pretty immune to getting overcooked. These things are known to keep their crunch.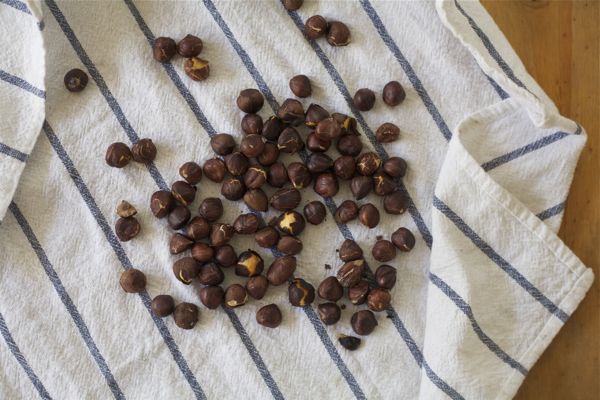 Let's talk pomegranate molasses!
Pomegranate molasses isn't molasses at all, it's actually just pomegranate juice reduced until it's a thick consistency that resembles molasses. You should be able to find it at any middle eastern supermarket or even Whole Foods.
This stuff is tart, rich, sweet and has a really nice consistency. I love it on meats like pork, steak or chicken, but I really LOVE it on vegetables.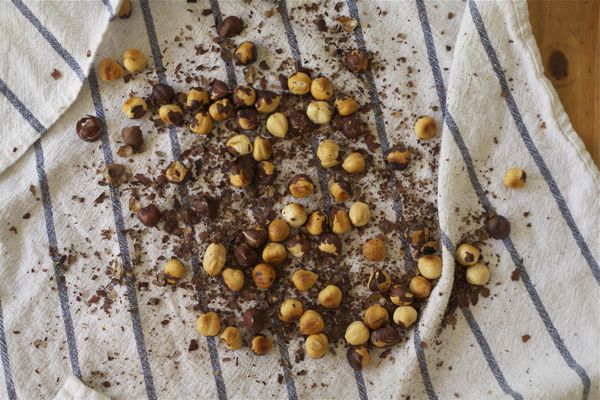 This dish started with brussels sprouts roasting in the oven. When they came out, I drizzled pomegranate molasses all over them.
After a bit more roasting time, they exited the oven looking and smelling delicious. Caramlization took place guys, caramelization!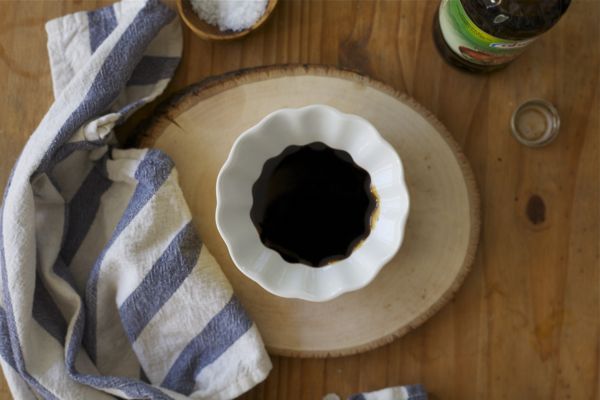 I love the addition of crunchy hazelnuts, fresh pomegranates, yogurt and Italian parsley.
Those little add-ons make this super warm meal feel light and refreshing. There's a lot of tang, a big crunch, some creaminess and a bit of freshness from the Italian parsley. I like!
This side dish is begging to be accompanied by a golden brown roast chicken, a seared pork chop or even some fluffy saffron rice.
Get on it!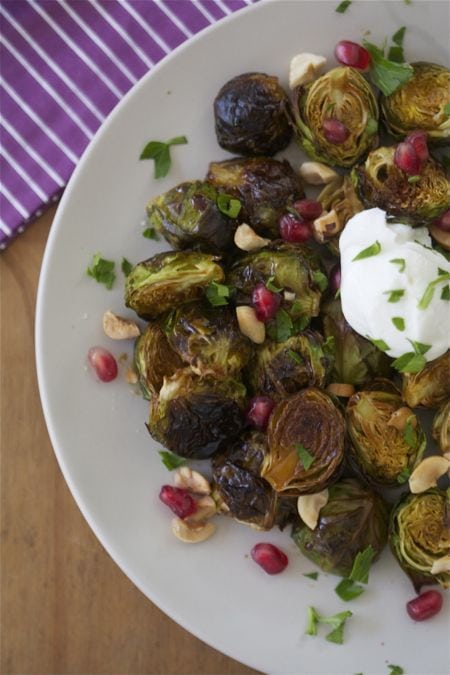 Pomegranate Molasses Brussels Sprouts with Hazelnuts
1/4 cup hazelnuts
1 pound brussels sprouts
Olive Oil
Sea salt
1/3 cup pomegranate molasses
2 tablespoons pomegranate seeds
2 tablespoons Greek yogurt
1 small handful Italian parsley, minced
1. Preheat the oven to 325 degrees F. Add the hazelnuts, in one layer, to a baking sheet and place in the oven for 8-10 minutes, until the skins are blistered and golden brown. Transfer the hazelnuts to the center of a clean kitchen towel, gather the sides of the towel and gently rub the hazelnuts with the towel until the skins fall off. Some little skin bits will stay on and that's ok. Chop up the hazelnuts and set aside.
2. Increase the oven's heat to 400 degrees F. Prep the brussels sprouts by cutting off the stem's end and peeling away the outer leaves. Slice the brussels sprouts in half and transfer them to a parchment-lined baking sheet. Drizzle them with a few teaspoons of olive oil and a few pinches of salt. Place the baking sheet in the oven and roast for 20 minutes.
3. Meanwhile, in a small bowl, mix together the pomegranate molasses, two tablespoons of olive oil and a pinch of salt. Carefully remove the hot baking sheet from the oven and drizzle the pomegranate molasses mixture over the brussels sprouts. Place the brussels sprouts back in the oven to roast for an additional 10 minutes.
4. Add the hazelnuts to the baking sheet (with the brussels sprouts) and toss. Transfer to a large plate and top with pomegranate seeds, a dollop of Greek yogurt and a handful of minced Italian parsley. Serve immediately.