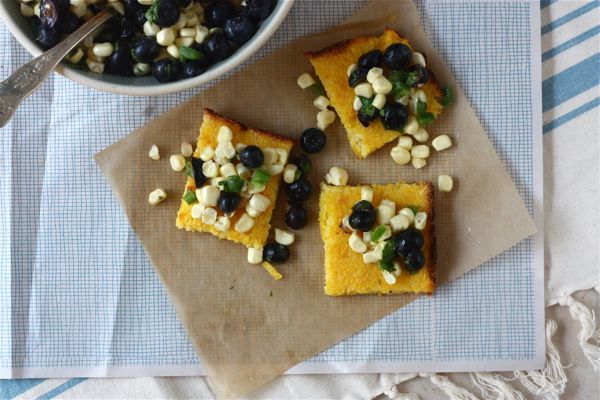 I read cookbooks like normal books. Like a novel with a cup of tea. I pay special attention to the dedication and awknowledgements, mainly because I'm naturally a very nosy person. I love reading the way certain authors write their recipes. I love reading all about the supplies and tips I'm supposed to keep in mind. And I love reading about a recipe's story in the head notes. If you're here, you're probably super weird like me too and get great enjoyment in reading this stuff.
So needless to say, when I received the new cookbook from Sprouted Kitchen, I was pretty pumped to read the thing from front to cover. The book is a direct extension of their blog – beautiful pictures with delicious and healthy recipes.
As I thumbed through each chapter I stopped at "Happy Hour." My favorite type of chapter. This one jumped out at me–it's perfect for late-summer when it's almost too hot to eat. Baked polenta squares, which are cooled, topped with blueberry and fresh corn relish. Yes. Just yes.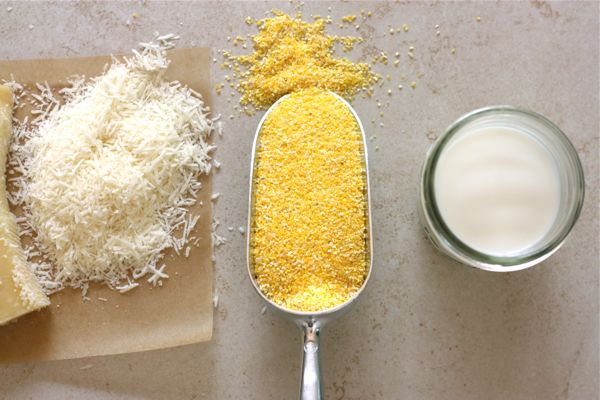 This recipe starts with whipping up some polenta. There's some water, milk, Parmesan, Mexican oregano and salt and pepper. Easy enough.
The polenta goes to a square dish and in the oven.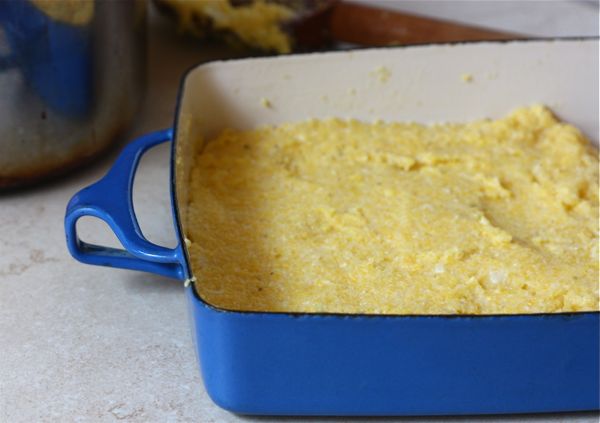 While that's baking, relish time!
Fresh corn is cut off the cob, which by the way, is ridiculously messy. WHY?
Blueberries are sliced in half. Jalapeño is minced. And cilantro and vinegar and olive oil added and everything is tossed together.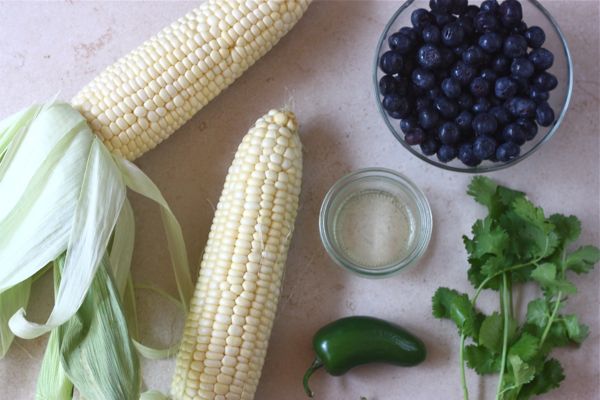 When the polenta is done baking it'll get a beautiful golden crust all along the edges. Let it cool slightly and then slice it up into squares. Top with a spoonful of the relish and serve.
The polenta squares have good flavor. That oregano addition is a must, truly. The relish is fresh tasting, sweet, salty and a little bit spicy. Everything you want in a summer appetizer that's totally fuss free.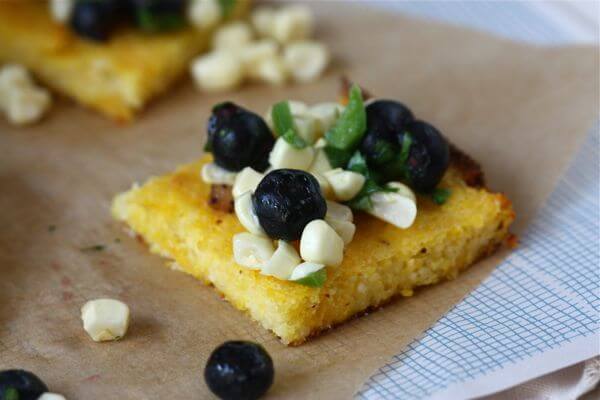 Polenta Squares with Blueberry and Corn Relish
Print this recipe!
3/4 cup whole milk
1 clove garlic, minced
1 cup water
3/4 cup polenta
1/2 teaspoon dried Mexican oregano
Sea salt and freshly ground pepper
1/4 cup freshly grated Parmesan cheese
2 ears of corn
1 1/4 cup blueberries
2 tablespoons finely chopped fresh cilantro
2 teaspoons rice wine vinegar
2 teaspoons extra-virgin olive oil, plus more for the pan
1 jalapeño chile, stemmed, seeded and diced
1. Preheat the oven to 425F. Lightly oil an 8-inch square glass or ceramic baking dish.
2. In a saucepan, combine the milk, garlic, and water and bring to a boil over medium-high heat. Add the polenta and dried oregano, turn the heat to low, and cook, stirring occasionally, until the polenta is thick and has lost its grittiness, about 10 minutes. Season generously with salt and pepper and stir in the Parmesan. Pour the polenta into the prepared baking dish and bake until the top is golden brown, 40 to 45 minutes. Set aside to cool.
3. Using a sharp knife, cut the kernels from both corn cobs and put the kernels in a mixing bowl. Cut half of the blueberries in half, leaving the rest intact. Add the blueberries to the corn along with the fresh oregano, rice vinegar, olive oil, jalapeño, and a pinch of two of salt and stir to combine.
4. Cut the cooled polenta into nine squares and serve with the corn mixture on the side, or top each square with a heaping spoonful of corn mixture and serve.
Serves 6
Recipe from The Sprouted Kitchen Cookbook