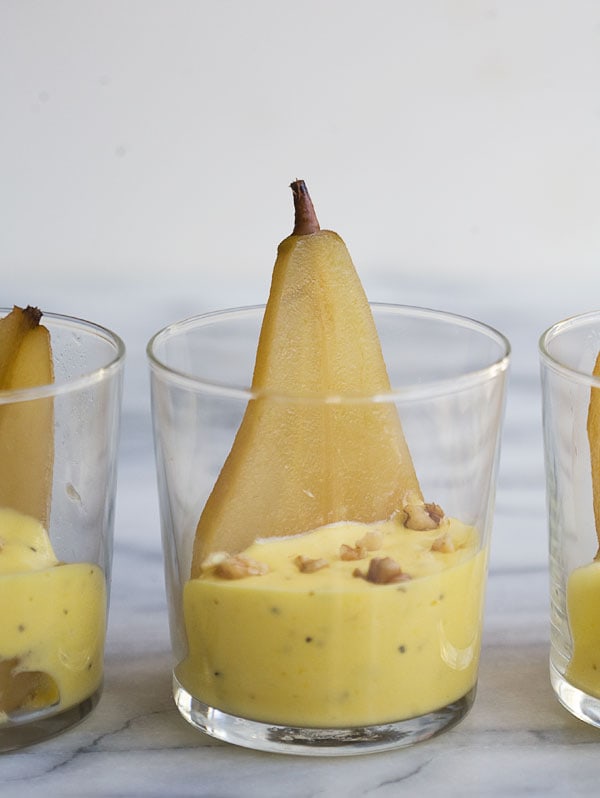 I apologize in advance but I'm currently having a bit of a moment with pears. Let me live. In only a moment's time I'll be forced to have a moment with stuffing and turkey and then it'll be Valentine's Day. Can you tell I'm grumpy about the year going so quickly?
The holidays always half excite me and then half stress me out. It's the impending end of the year that always wrecks my nerves. It's the sound of a bazookas and that sad-ass New Year's song that always plays. It has a blue tone to it that's supposed to signal a new beginning. For me it's just like omg what this year is over how??!?! where did it go?!?! So, for now I'm just gonna eat a (seemingly) fancy dessert that I'm sure I'm pronouncing incorrectly.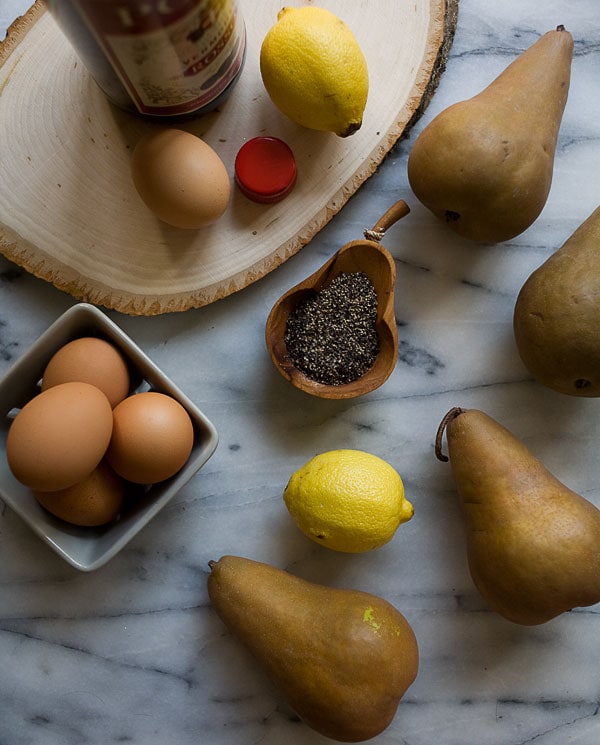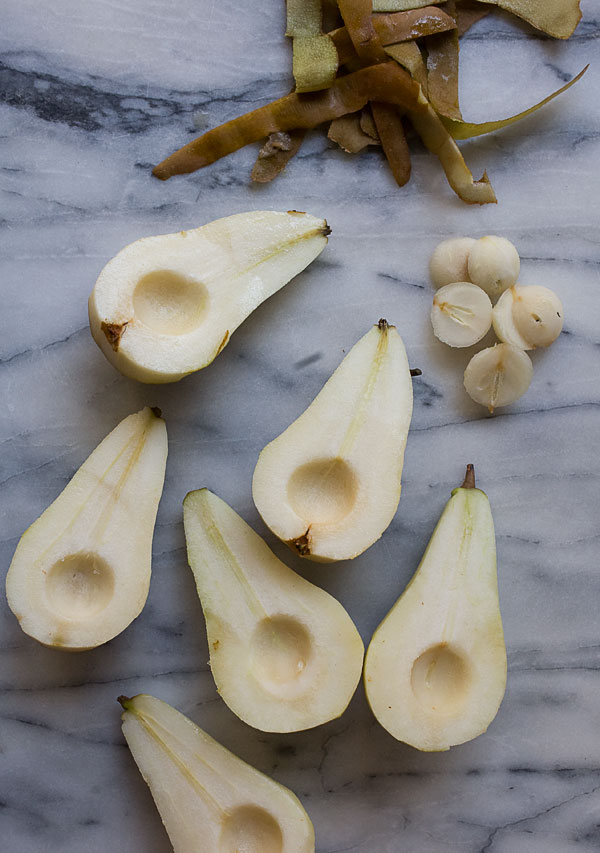 I made this dessert on a whim a few weeks ago while I was on vacation and it was surprisingly simple. The sweet vermouth, along with the spices like cinnamon and star anise impart a really nice warm flavor to the poached pears. And the sabayon is much fancier sounding that it actually is–it's basically just whipped, gently cooked egg yolks, flavored with sugar and lemon and pepper. I love it all so very much.
The best part about poaching pears is that it can be done ahead of time. These pears can be poached the day before, kept in the fridge in its syrup and then served the next day. So awesome.
I love lemon on top of the warmly spiced pears. And the black pepper adds a nice savory element to this not-too-sweet dessert.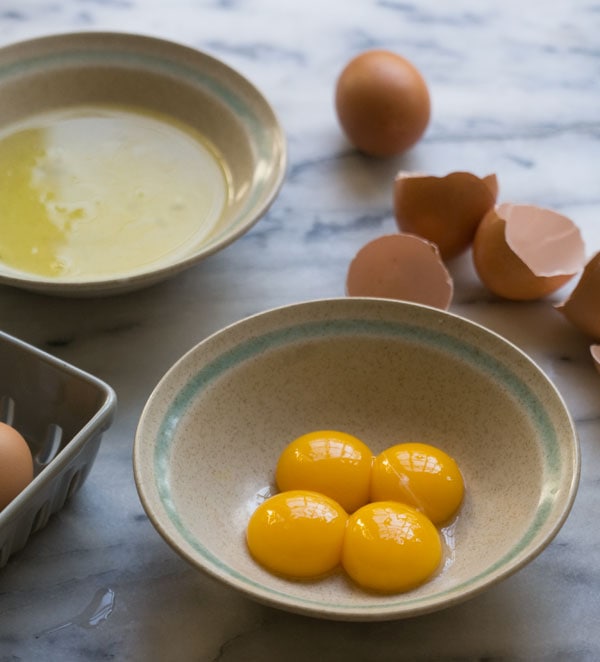 Also, when you serve this and are all like, this is poached pears with a lemon and black pepper SABAYNON, people will think you're crazy fancy and skilled.
It's a good look.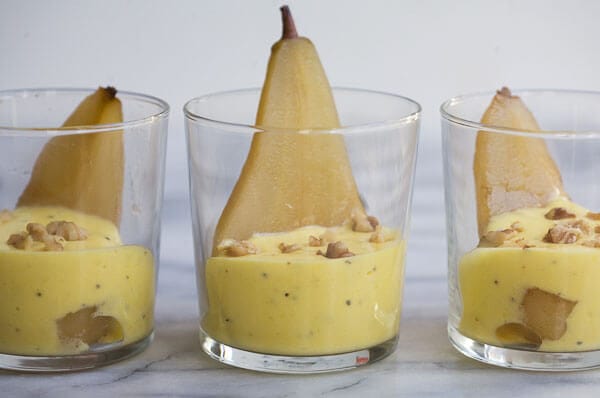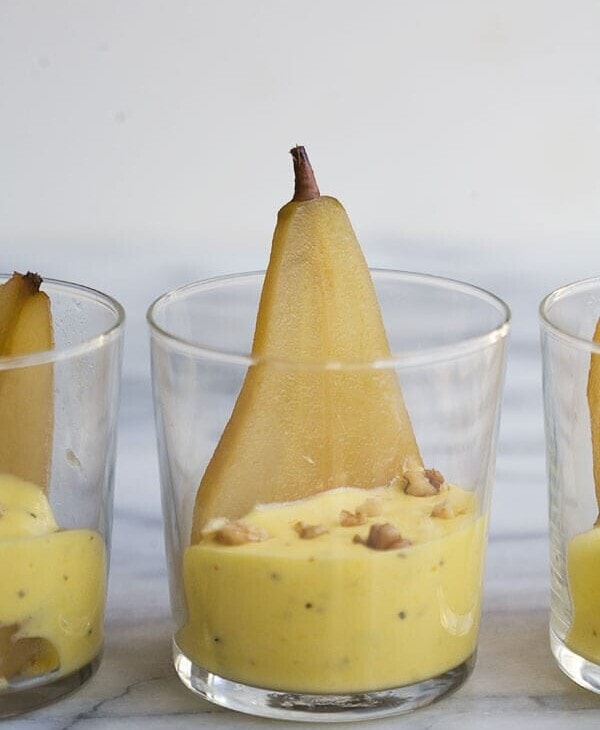 Print Recipe
Poached Pears with Black Pepper and Lemon Sabayon
Ingredients
Poached Pears:
1

cup

sweet vermouth

3

cups

water

1

cup

white granulated sugar

1

cinnamon stick

1

star anise

Pinch

salt

3

bosc pears

peeled, cut in half and cored
Lemon Black Pepper Sabayon:
2

tablespoon

lemon juice

1/4

cup

sweet white wine

1/4

cup

sugar

1/2

teaspoon

black pepper

6

large egg yolks
Instructions
Poached Pears:
To a large saucepan, combine the vermouth, water and sugar. Heat over medium until the sugar dissolves and a light boil has started. Add the cinnamon stick, star anise, pinch of salt and pear halves. Turn the heat down to a simmer and then cover the pot; cook for 20-30 minutes, until the pears are tender when poked with the tines of a fork. Remove from the heat and prepare the sabayon. Alternatively, you can make the poached pears the day ahead and store the pears in their syrup, covered, in the refrigerator.
Lemon Black Pepper Sabayon:
In a large, stain-less steel or glass bowl, combine the lemon juice, wine and sugar. Add the pepper and the egg yolks and begin whisking with a hand-whisk or a hand-mixer. I used the latter.

Bring a saucepan of water to a light boil and place the bowl atop, being sure the bottom of the bowl doesn't touch the water. Continue whisking vigorously, about 3-5 minutes, until the mixture is thick and frothy.

To assemble, place a poached pear half in a small bowl or glass, top with sabayon and chopped walnuts.