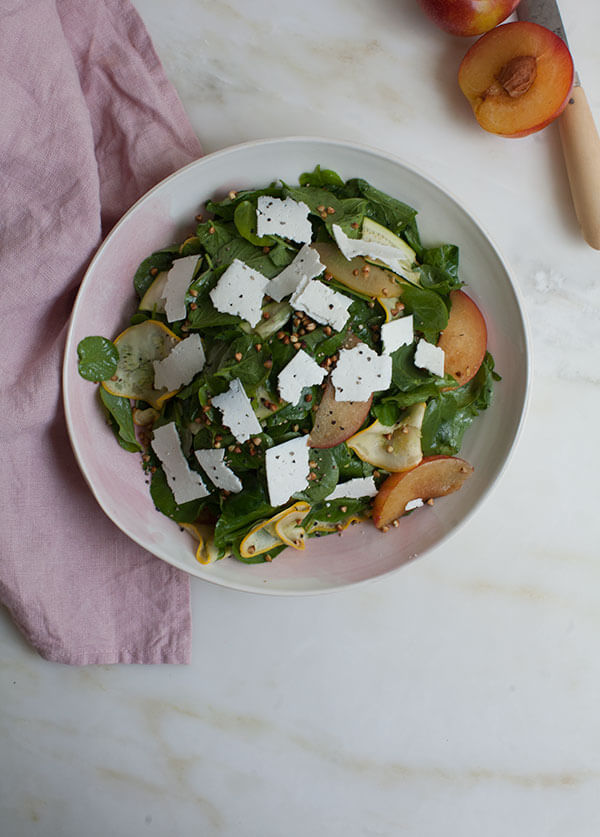 This past weekend I ate ribs, two hot dogs, one s'mores, slices of ribeye, a few slices of bread, two spoonfuls of cookie dough ice cream, a few (?) watermelon mojitos, nachos…and I feel like if I really tried, I could find more things that I consumed. But whatever, I'm past it. It happened and it was glorious.
My favorite part of the weekend was spending time with friends and family and watching Amelia swim her little heart out. I need more weekends like this one. I bet you do too. They remind you what's important. And hot dogs are important!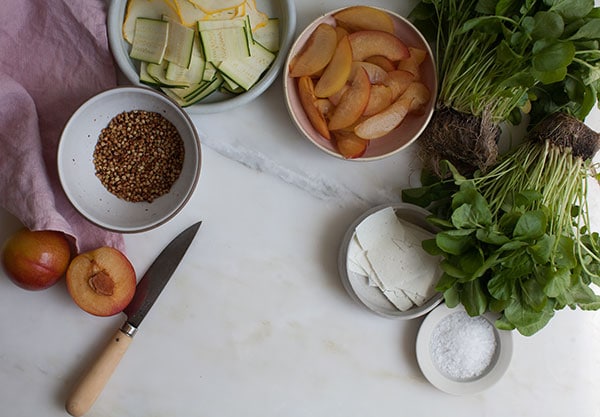 This is a recovery (ish) salad. There's fresh and spicy watercress, sliced yellow plums, sliced squash and buckwheat groats (!!).
Can we discuss buckwheat groats? Buckwheat groats are a toasted grain. I toasted these up in about 5 to 6 minutes and they were delicious on a salad. They add great crunchy texture to lots of dishes like vegetables, salads or even pancakes.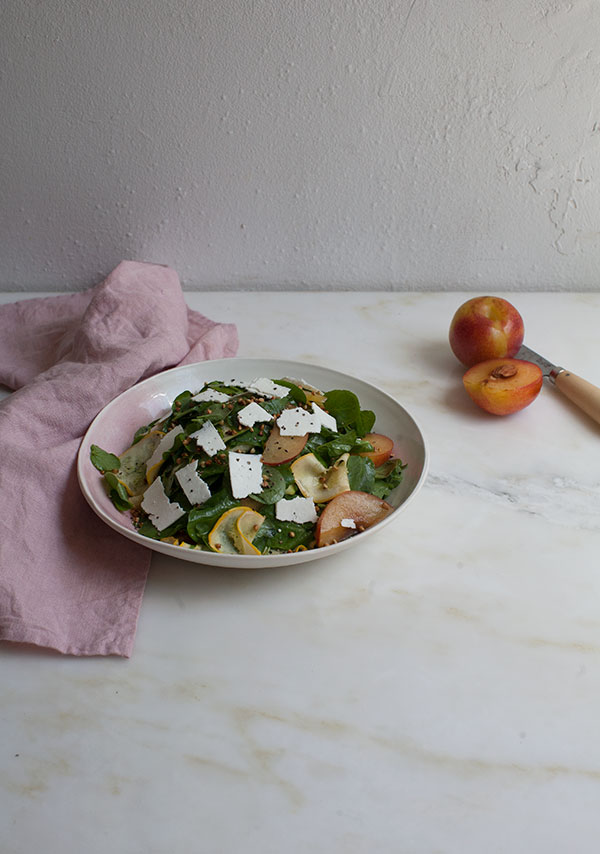 This salad isn't rigid. If you don't have all of the ingredients, it's not like you can't make it work. I looooove umeboshi vinegar. It's a Japanese plum vinegar and you can often times find it at Whole Foods or an Asian supermarket. I love having it in my pantry but if you can't find it you can just add lemon juice and it'll still be really delicious.
This is a non-basic, boring summer salad with things. Salad for me HAVE to be interesting because the basic ones are just such bummers, aren't they?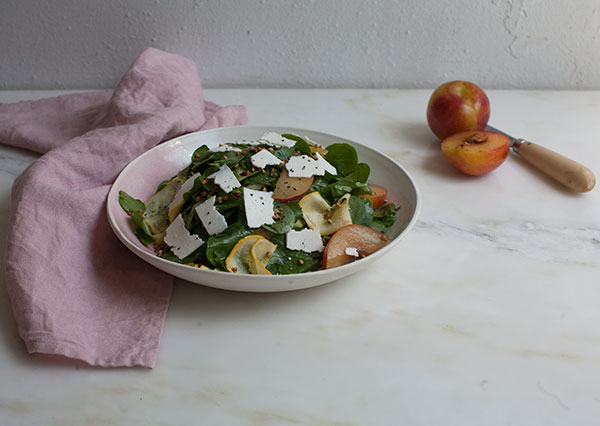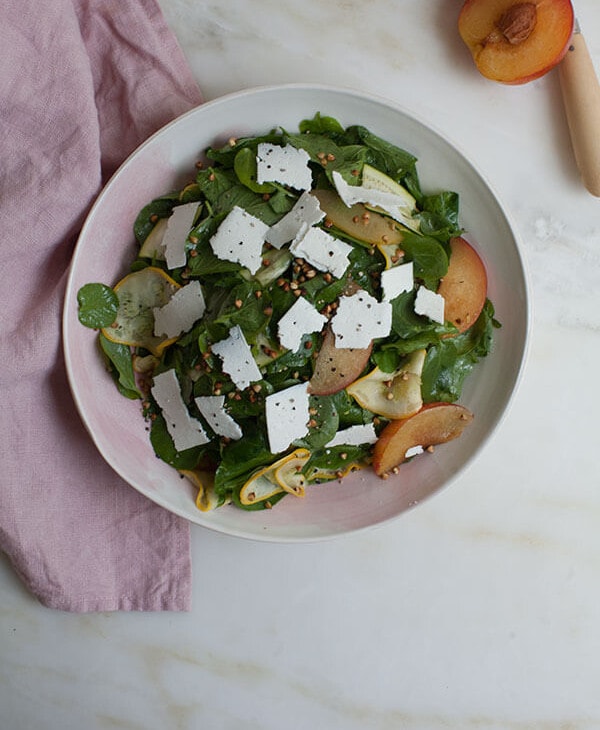 Print Recipe
Plum Watercress Salad with Ricotta Salata
Ingredients
3

tablespoons

buckwheat groats

2

bunches of watercress

leaves picked and stems discarded

1

summer squash or 1 Pattypan squash

thinly sliced

1/2

zucchini

thinly sliced

1

yellow or red or black plum

pitted and sliced

1

ounce

ricotta salata

shaved (as garnish)
Instructions
In a small skillet, over medium heat, add the buckwheat groats. Toast the groats for 3 to 5 minutes, shaking the pan every so often to ensure even light browning. (They should be lightly golden brown; if it's any browner it may taste a lil' burnt.) Transfer the groats to a small bowl and allow to cool.

To a large mixing bowl (or serving bowl), whisk together 1 tablespoon olive oil and the juice from 1 lemon and a few pinches of salt and pepper. Add the watercress, squash, zucchini and sliced plum. With your hands, toss the salad with the dressing, evenly coating the leaves and squash and plum. Sprinkle in buckwheat groats and toss once more. Top with shaved ricotta salata.