Let's get weird. Let's get pizza weird.
A few months ago when I was fishing around Google Images for pizza inspiration, I came across this gem of a photo and my mind was straight blown.
It took me a long time to figure out how I would actually do this/if I should do this. Initially I wanted to make it slightly classier but then I was like whatever, this is Pizzaception! let's make it fun!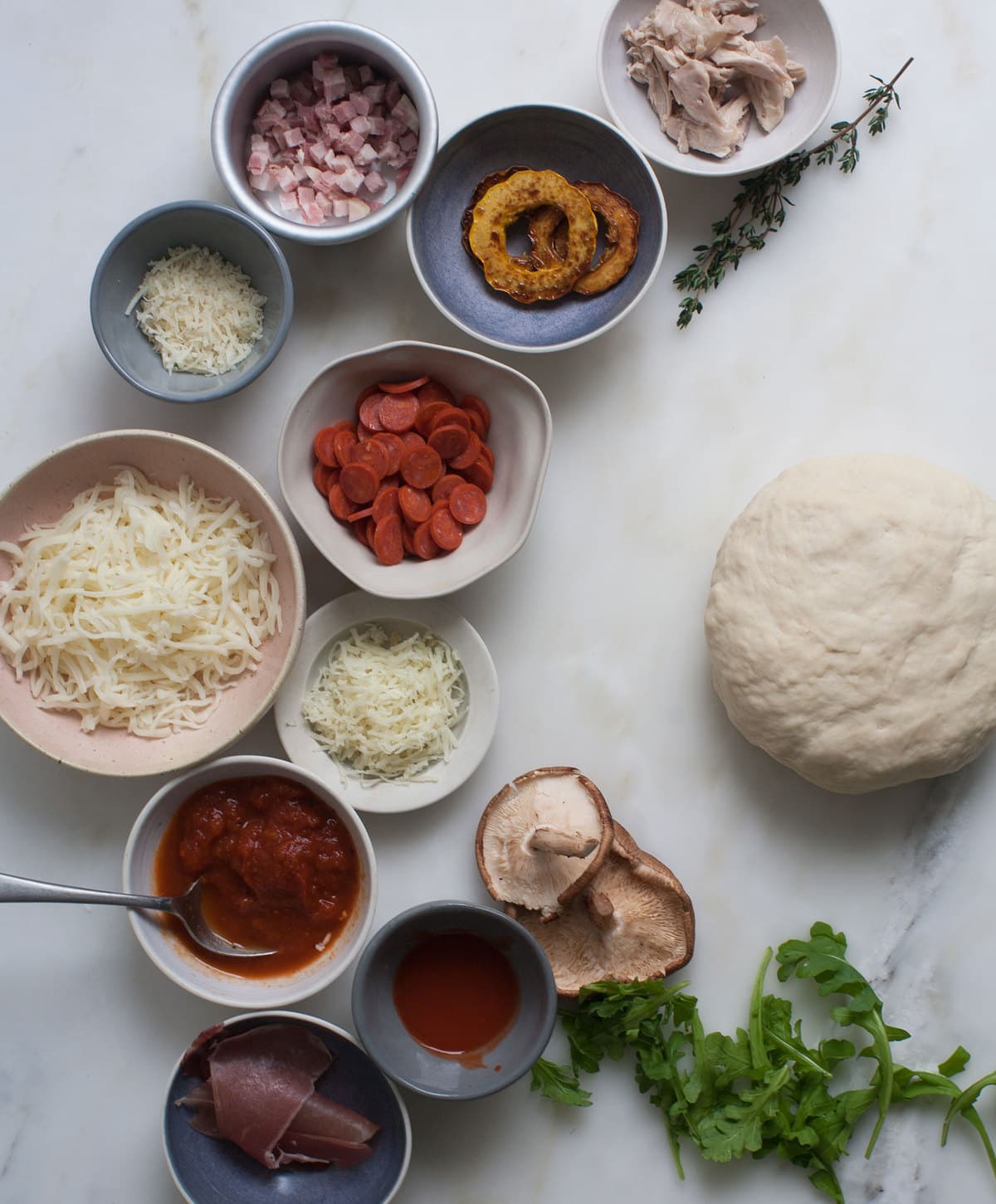 Before I forged forward with this recipe, I had a few concerns:
1st concern: Would it be too dough-y. Is there such a thing as too many carbs? I think yes.
To solve this issue, the dough is not allowed to proof, like, AT ALL. The first time I did this, it rose on the cutting board while I was making the mini pizzas and it was way too dough-y. SO, to prevent this, when we divide the dough, we put it in the fridge to stop the rise.
When we're done assembling the mini pizzas, then those too go in the fridge.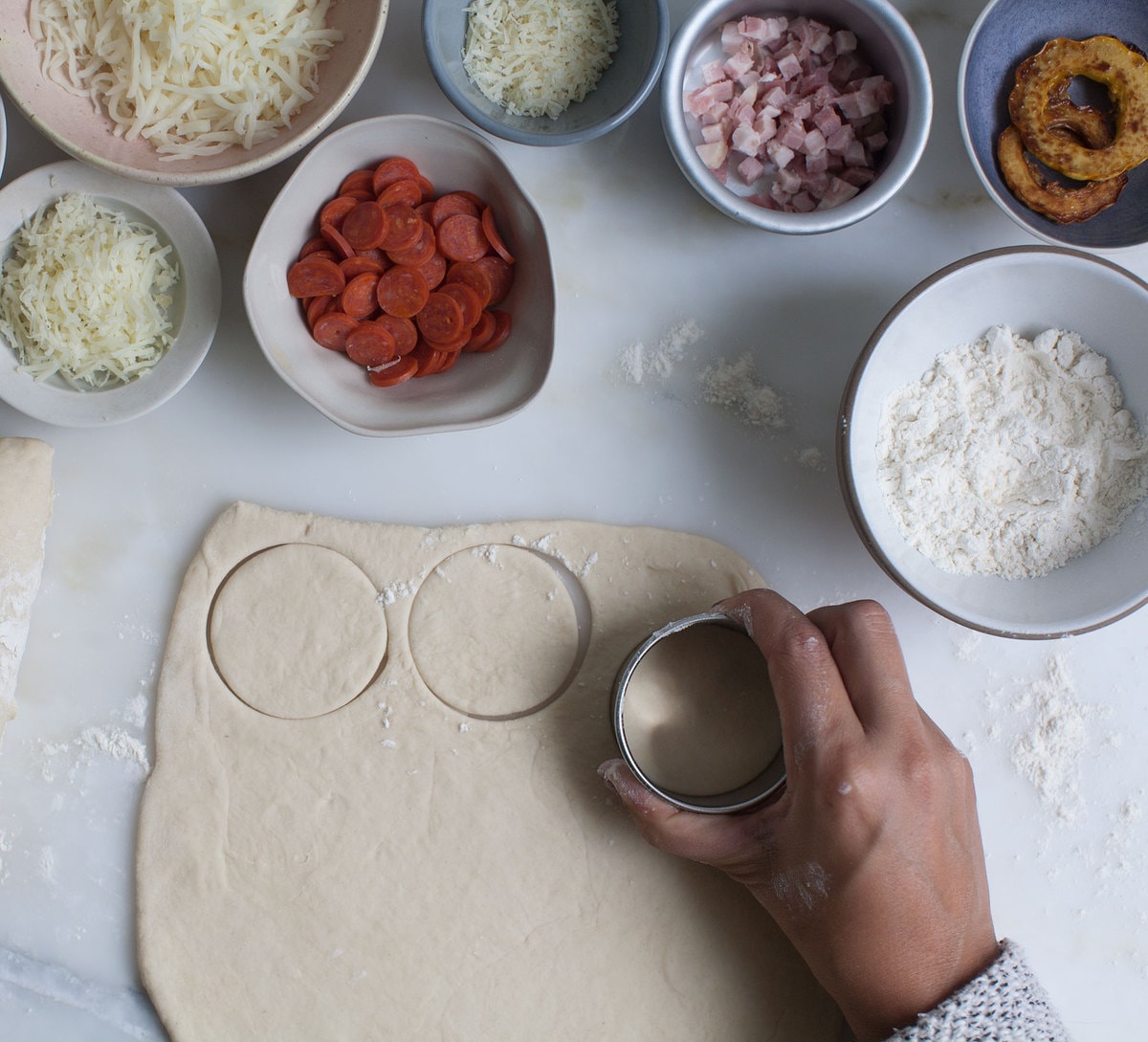 2nd concern: What's the point? Why don't we make little mini pizzas and end there?
Well, what if I told you that you could have different flavored pizzas in one slice! This is achievable here.
Also, this pizza is fun.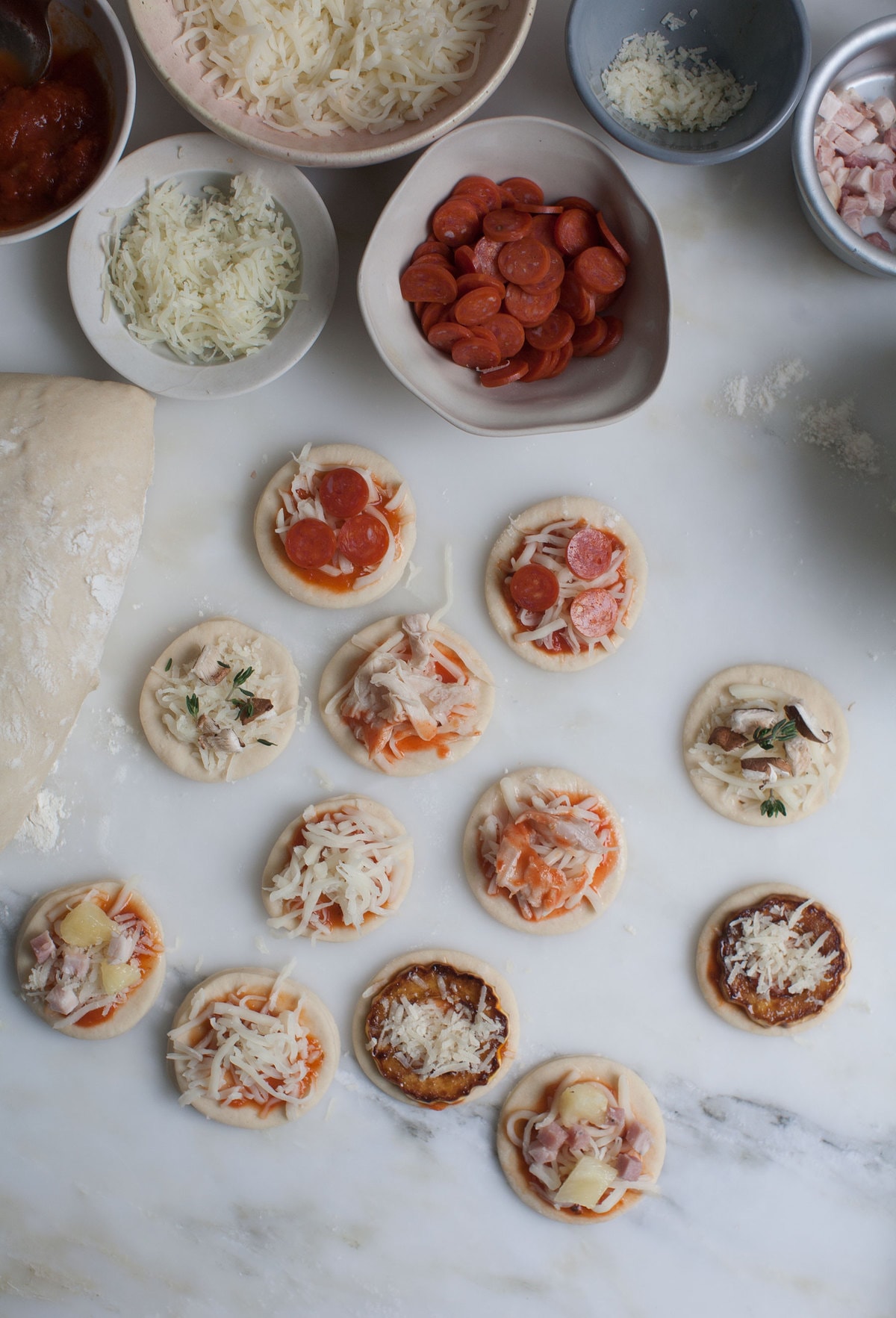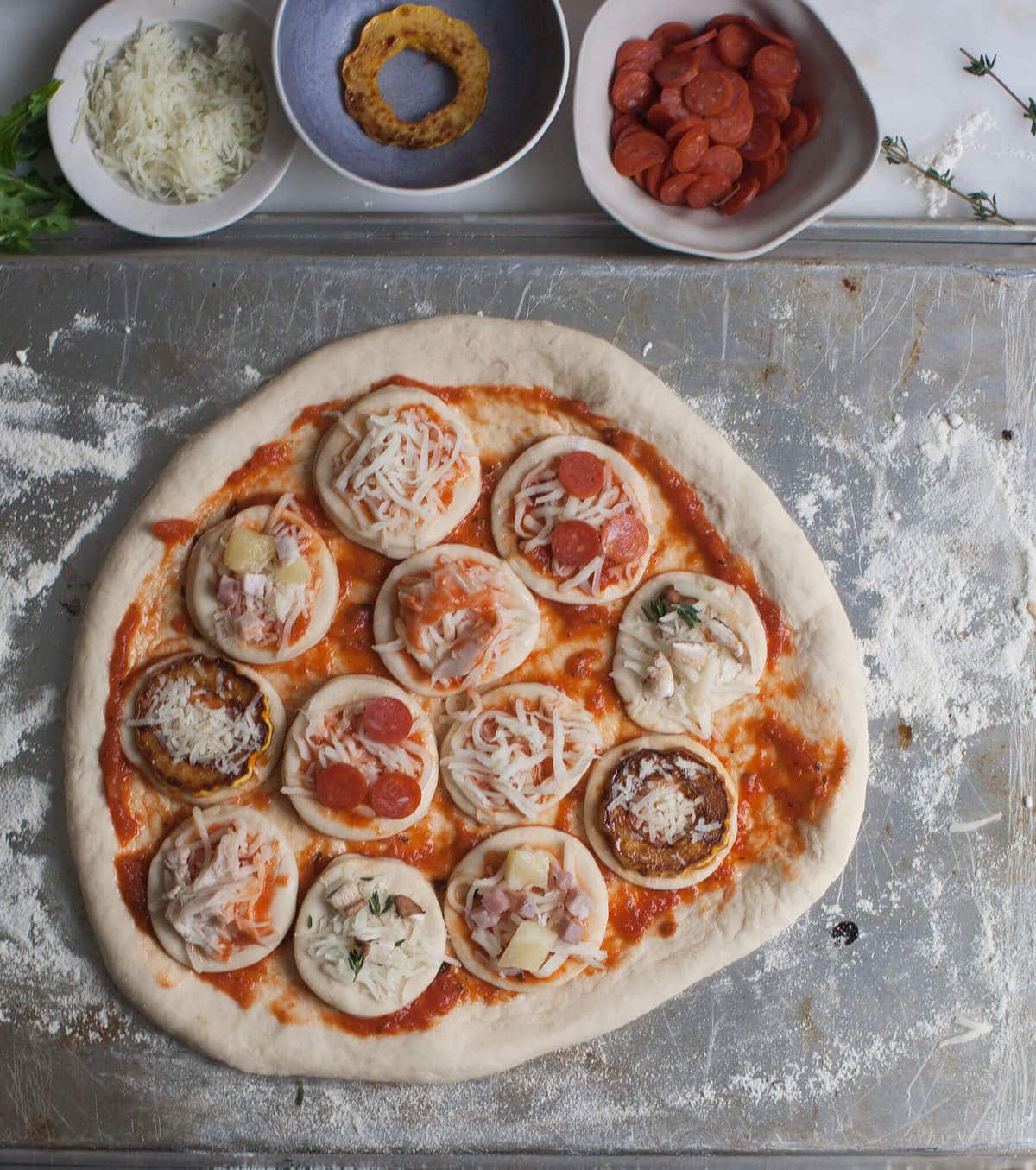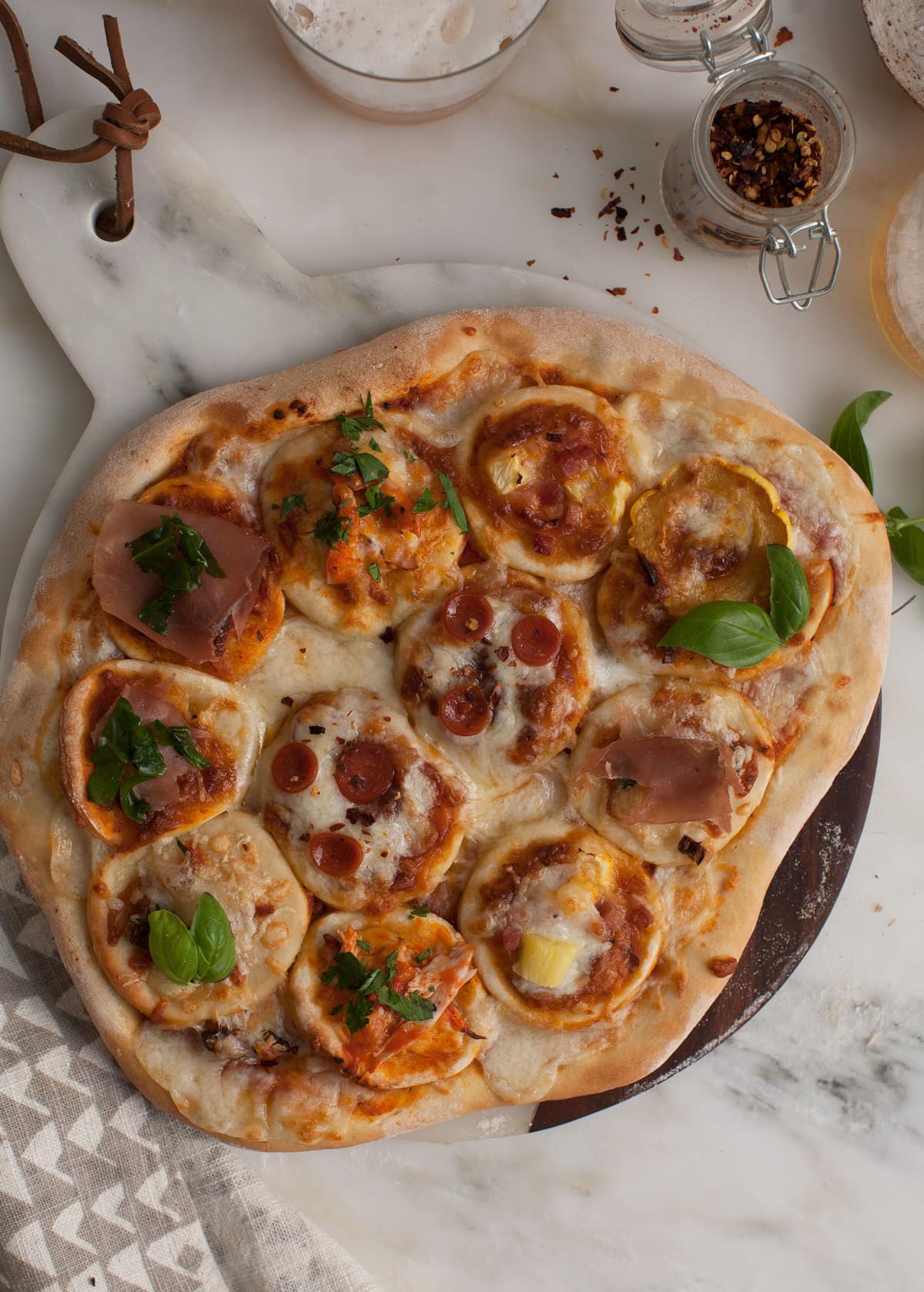 Now that I addressed and figured out my initial concerns, I decided on what the mini pizzas would be. Here's what I came up with:
1. Hawaiian Pizza – diced pancetta and pineapple
2. Pepperoni – mini pepperoni (yes these exist!), mozzarella and just a lil' bit of marinara
3. Fall-inspired – Delicata squash and mozzarella
4. California Pizza – marinara, mozzarella, fresh arugula and prosciutto
5. Three Cheese – diced mushroom, mozzarella, comté, parmesan and thyme
6. Buffalo Chicken – shredded chicken, tossed in Frank's Red Hot with mozzarella cheese
Obviously, the sky is the limit. Put what you like on it! You could also just make all of the mini pizzas just one type of pizza or two types of pizza. They don't all have to be different. In the pizza you see pictured, I did two of each type of pizzas.
It ends up being a lot of ingredients so feel free to streamline it for yourself, if you want.
And then bake the pizza, add more cheese on the end, making it so the little pizzas are surrounded by more cheese bc why not.
This pizza reminds why I love the internet so very much.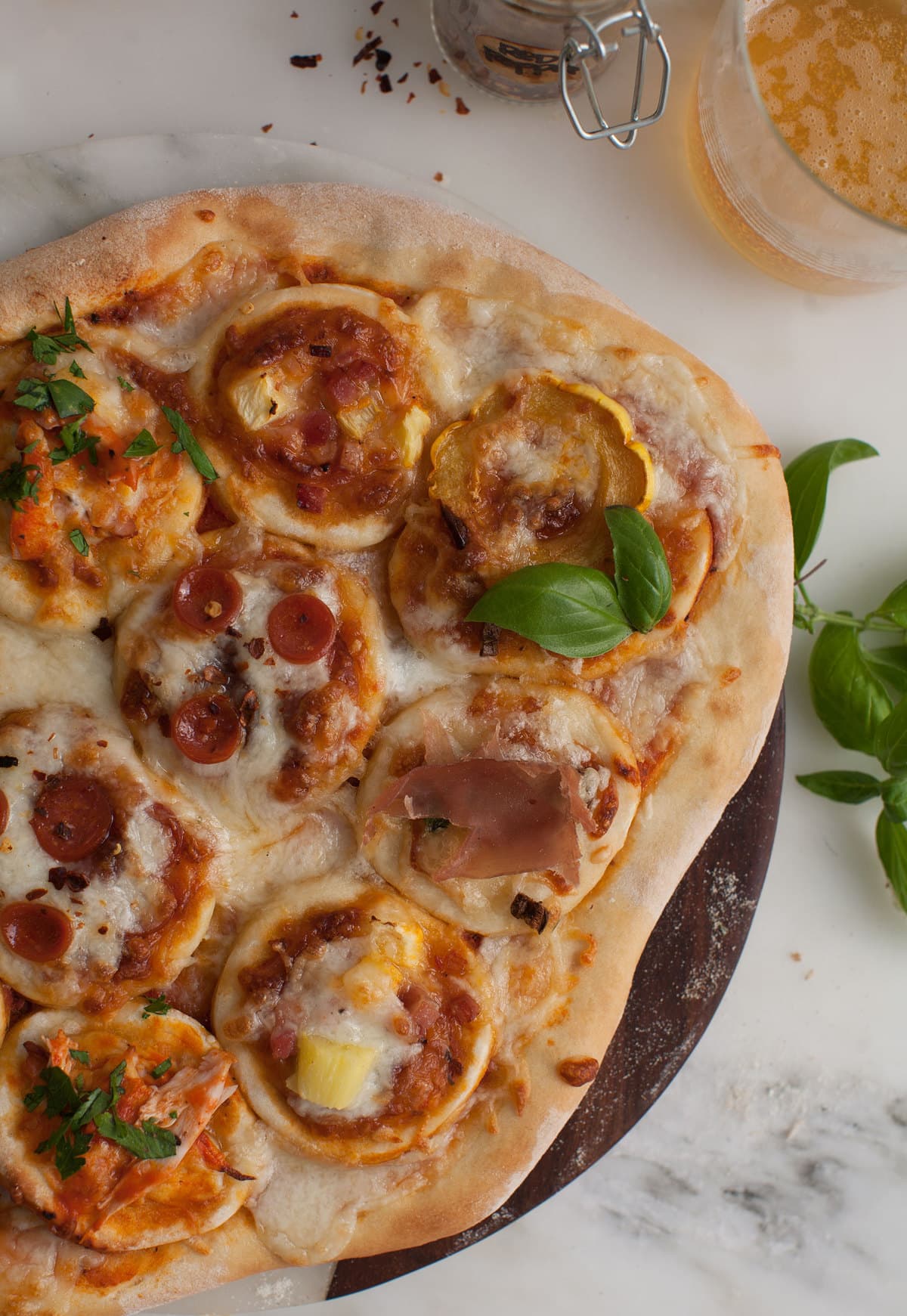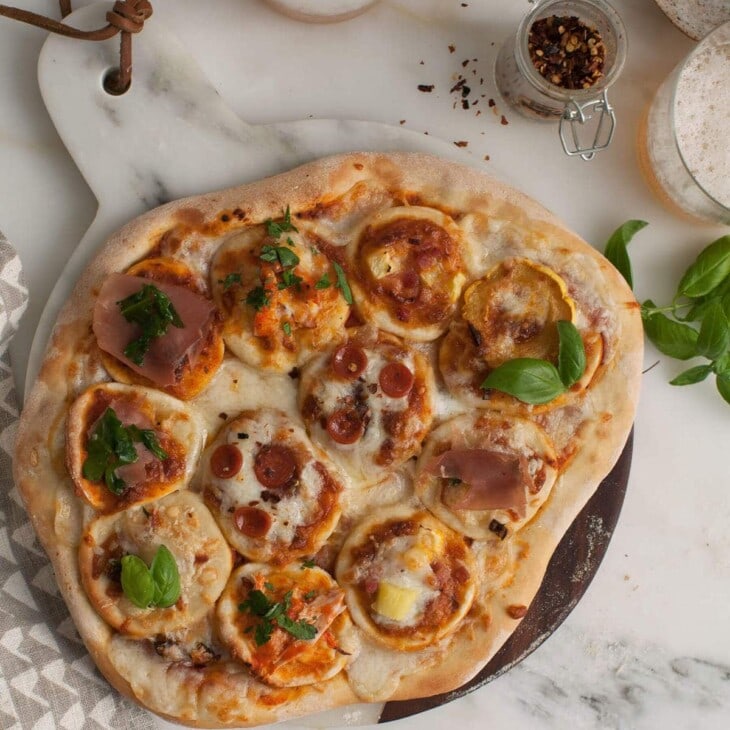 Print Recipe
Pizzaception: Lil' Pizzas on Pizza
Serving Size:
(12-inch) pizza
Ingredients
Dough:
1

cup

lukewarm water

1

teaspoon

active dry yeast

1

teaspoon

honey

3

cups

all-purpose flour

1

teaspoon

salt

1

tablespoon

cornmeal or masa

for dusting
Topping Ingredients:
6

mini pepperoni

2

tablespoons

jarred marinara sauce

4

ounces

shredded mozzarella

1

cremini mushrooms

1

sprig of thyme

1/2

ounce

shredded comté cheese

1/2

ounces

shredded parmesan cheese

1

piece

of pineapple

diced

1

teaspoon

cubed pancetta

1

small drumstick

roasted and shredded

1

tablespoon

Frank's red hot

2

slices

of delicata squash

1

piece

of prosciutto

Small handful of arugula tossed with a drop of olive oil and a pinch of salt
Instructions
Preheat your oven to 500 degrees F or as hot as your oven goes (the max might be 450 F and that works, too).

In a measuring cup, measure out the lukewarm water and then mix in the active dry yeast and honey. Let stand 5 minutes. Meanwhile, in the bowl of a stand-up mixer, with the hook attachment (you can also do this by hand but I'm super lazy), add the all-purpose flour and salt. Give it a mix. When the yeast and water mixture is nice and foamy, pour it into the flour mixture and turn the mixer on low. At first the dough will be shaggy and dry, but eventually it'll all come together. Keep the mixer on for about 5 minutes, during this time a ball of dough will form. Stop the mixer and pull the dough off the hook. Form it into a round ball and then cut off about 1/4 of the dough (we'll use the smaller amount of dough for the mini pizzas). Transfer the larger ball of dough to the fridge (this will stop it from rising, which we want!).

Roll the small ball of dough into a thin round and stamp out 12 mini circles using a 2 1/2 inch biscuit cutter. Transfer the mini pizza doughs to a floured cutting board Put the toppings on. See above for the combinations! Transfer to the fridge to stop the rising.

Sprinkle the cornmeal or masa on a pizza peel. If you don't have one, like me, flip over a (clean) baking sheet and dust that with cornmeal or masa. To form the pizza, start flattening the dough using your fingers, don't be afraid to pull the dough, thinning it out. I also like to pick up the dough and stretch it in the air a bit, allowing gravity to assist in the process. Flatten it out onto the pizza peel so it reaches about 12-inches round.

Spread a teaspoon or two of tomato sauce all over the pizza dough. I personally favor a super thin layer, feel free to add more. Remove the mini pizzas from the fridge and arrange on the larger pizza dough. Slide it onto your pizza stone or pizza steel and cook for about 10 to 12 minutes, rotating the pizza every so often if needed.

At the 10 to 12 minute mark, remove from the oven. Add more shredded mozzarella, filling in any gaps. Basically, you want to cover up the spots with just tomato sauce on the bigger round of pizza dough. If you want you can refreshen the mozzarella on any of the little pizzas, too. Transfer to the oven for an additional 1 or 2 minutes, until the cheese is melty. Remove and slice up and serve!