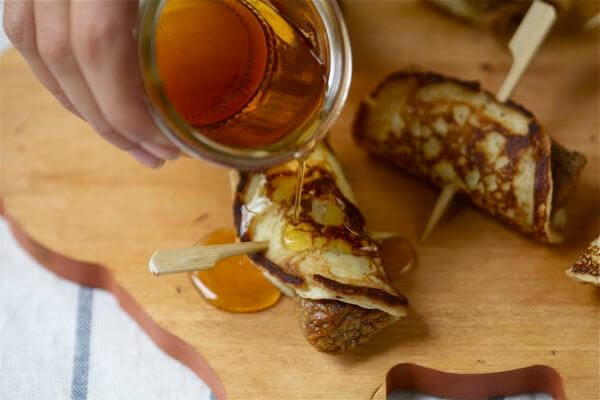 The internet will tell you that Pigs In A Blanket is an appetizer made up of little cocktail wieners wrapped in baked pastry dough. These things flourished in the 50s, along with cigarettes, fondue, red lipstick and anti-depressants.
I personally don't favor this variety of Pigs In A Blanket. Instead, I want the blanket to be fluffy, soft and light—more like a cashmere blanket. Yes.
And instead of cocktail wieners (ew), I like to use savory breakfast sausages I find in the freezer section of my grocery store. I actually found spicy ones which worked pretty well with the sweet flavors from the maple syrup.
I think I might've had this version of Pigs In A Blanket at a Denny's or iHOP when I was a kid, and haven't eaten/seen it since. What a shame.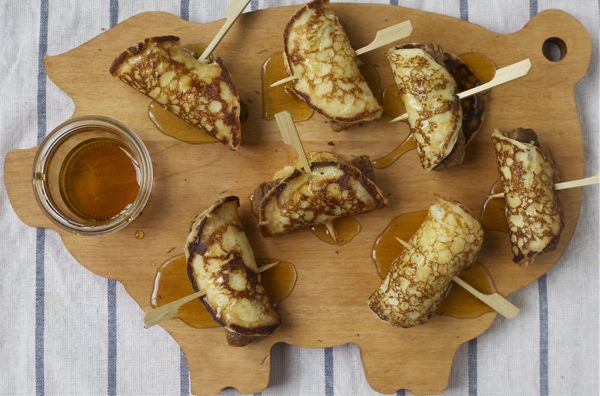 This recipe couldn't be simpler. Pancakes wrapped around sausage links.
Now, I usually prefer my pancakes to be all fluffy and tall-like, but in this occasion I needed them to be a bit thinner, this way they could actually fold around the link. Food math!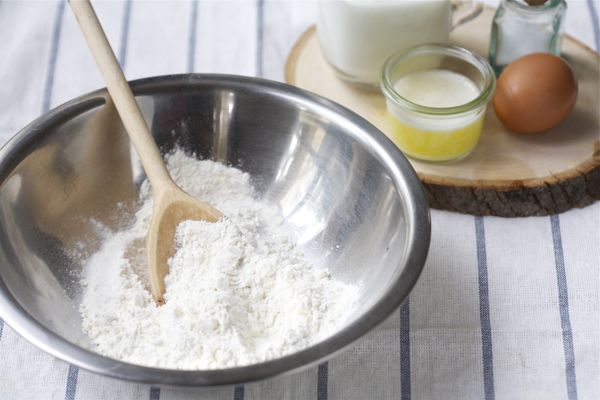 And with this recipe, the oven is your friend.
Everything gets transferred to a warm oven just as it's done cooking. We have no room for cold food around these parts.
Oh and you could easily swap out these pork, spicy sausages for vegetarian, tofu breakfast sausages. Pigs In A Blanket for everyone!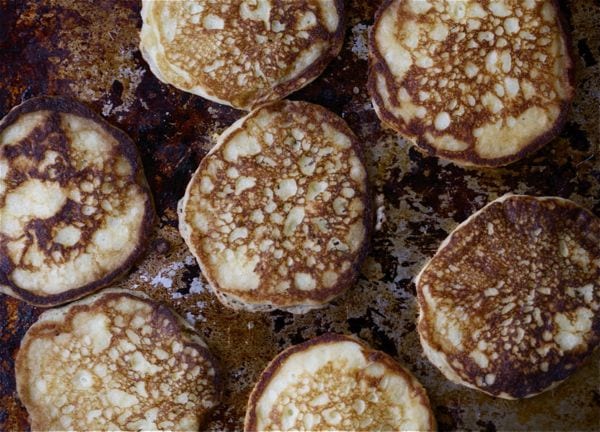 I'm really into the idea of breakfast appetizers.
When I go to brunch I sometimes like to order something to start with. Just a little app.
This would be great for that. Though like all good appetizers, if you eat enough of them you can call them a full-on meal.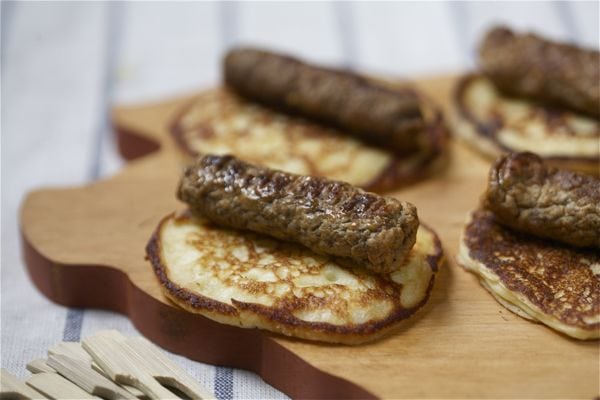 Pigs In A Blanket
Yields 16
16 savory breakfast links
1 cup all-purpose flour
1 tablespoon sugar
1 teaspoon baking powder
1/2 teaspoon baking soda
3/4 teaspoon salt
1 1/4 cups buttermilk, plus 1 tablespoon, shaken
1 large egg
3 tablespoons butter, melted and cooled
Butter For Skillet
Skewers
1. Preheat oven to 200 degrees F. In a cast iron skillet, add a teaspoon of olive oil and heat over medium heat. When the oil is hot, add the breakfast links and cook until both sides are golden brown, 3-4 minutes. Place the links on a parchment lined baking sheet and transfer it to the oven.
2. In a medium bowl, mix together the flour, sugar, baking powder, baking soda and salt. Using a large measuring cup or a medium bowl, measure out the buttermilk. Add the egg and melted butter; mix until thoroughly combined. In one batch, add the wet ingredients to the dry ingredients and mix until barely combined.
3. Preheat your skillet over medium heat. Brush the skillet with a tablespoons of butter. Add a heaping tablespoon of batter to the skillet and cook for 2-3 minutes on first side. When small bubbles begin to form, flip on other side to cook for an additional 1-2 minutes. Transfer to the oven to keep warm. Repeat the process until you have cooked your way through all of the batter.
4. To assemble, lay a sausage in the center of a pancake and fold, placing the skewer at the point in which the pancake overlaps.
Yields 16 Pigs In A Blanket