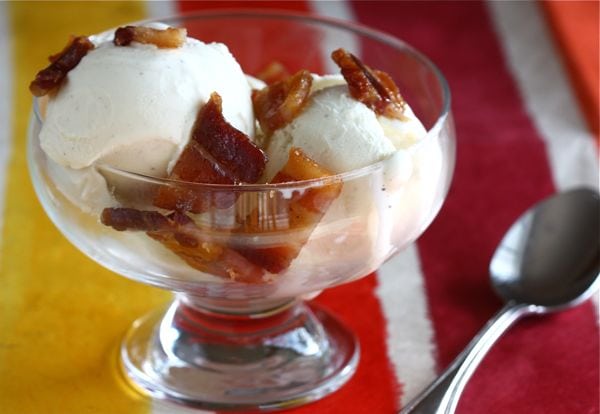 Pig candy is a real thing. Didyouknowthis?
I did not. Until last week when I had dinner at Lou's, this wine bar in a random strip mall next to an even more random laundromat. In other news, I've been pronouncing the word "laudromat" like "laundry-mat…" up until, oh I dunno, like, yesterday.
Not sure if you knew this, but in Los Angeles things like kitchen floors that aren't made from formica, a washer & dryer in your unit, and a parking space for your vehicle, are all considered luxuries. I have two out of the three and I feel lucky and rich.
Pig Candy. Let's go back to that.
It's really special. I'd even go as far as to say that it's important.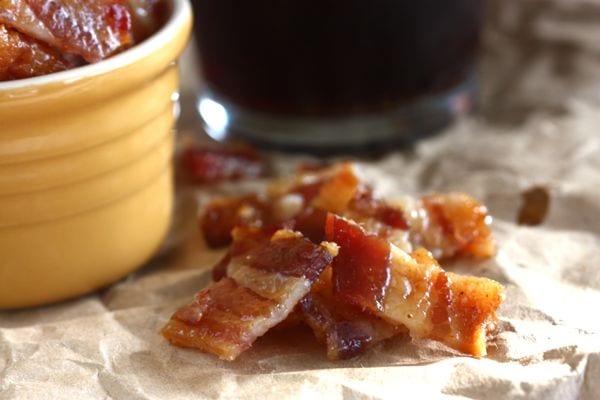 Sure, I've brushed bacon with maple syrup…
I've even sprinkled a bit of brown sugar atop of it; but I've never added it all up and then thrown in cayenne for an explosion that's so crazy and fun, that the only words I can find to describe it are crazy and fun.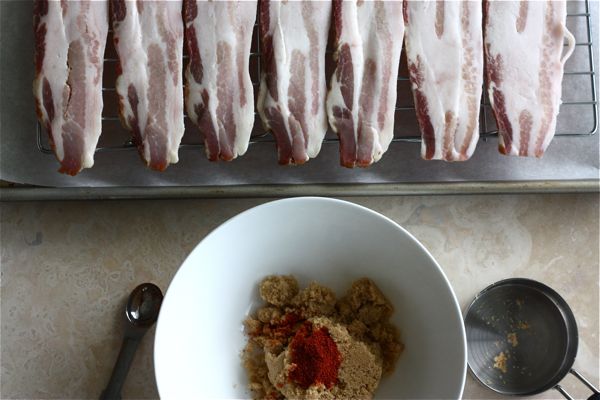 It started with brown sugar and some cayenne. It shouldn't be too spicy, just a kick. Take a note below on the cayenne amount. No bigs.
Throw it in the oven for 15 minutes or so. Take it out…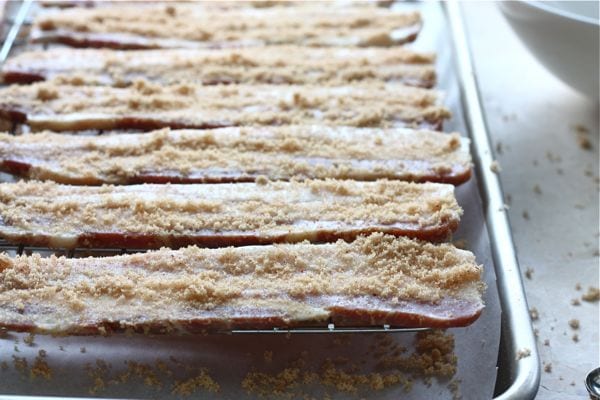 Brush on some maple syrup. Bake some more. Flip over the bacon slices, put more maple syrup on. Bake some more. And then refrigerate.
The bacon pieces will harden, and be all candy-like. They'll be sweet with a small amount of kick. Put it on a couple scoops of ice cream. Serve it as a snack with some beer. Drink it with fancy wine. How ever you wanna enjoy it is cool.
Just remember this:
Bacon is important.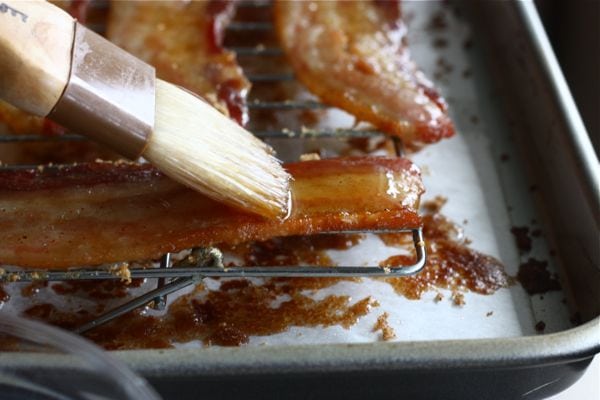 Pig Candy
10 slices of bacon (about 1 1/4 lb of thick-cut bacon)
*3/4 teaspoon ground cayenne
1/2 cup light brown sugar
1/4 cup pure maple syrup
1. Preheat oven to 350F. In a small bowl, mix together brown sugar and cayenne.
*(Note: the cayenne I had was pretty dull. If yours is brand new, I'd recommend a 1/2 teaspoon vs. the 3/4 teaspoon I used. You want it to be a touch spicy; not straight fire, ya know?)
2. Line a baking sheet with a piece of parchment. (This will help with the clean-up.) Place a baking rack atop the lined baking sheet and lay bacon side-by-side.
3. Coat both sides of bacon with the brown sugar mixture, pressing it into the bacon to be sure it adheres.
4. Bake for 15 minutes, or until lightly golden brown. Take bacon out of the oven and coat one side with maple syrup. Place it back in the oven and bake for 5-7 additional minutes. After the 5 minute mark, flip bacon over, coat with maple syrup and return to oven for the last 5-7 minutes.
5. Place in refrigerator to harden for an hour. Cut into pieces and eat atop some ice cream or by itself. Maybe with a glass of beer. That's pretty good.