Picadillo
45
Nov 06, 2019, Updated Nov 30, 2020
Disclosure: This post may contain affiliate links, which means I may earn a commission if you click on the link and make a purchase.
This Cuban Picadillo recipe consists of flavorful ground beef, spices, green olives, boiled egg and raisins cooked in a delicious tomato sauce, and then served over a bed of rice. This is the ideal weeknight meal because it can be made in under 30 minutes!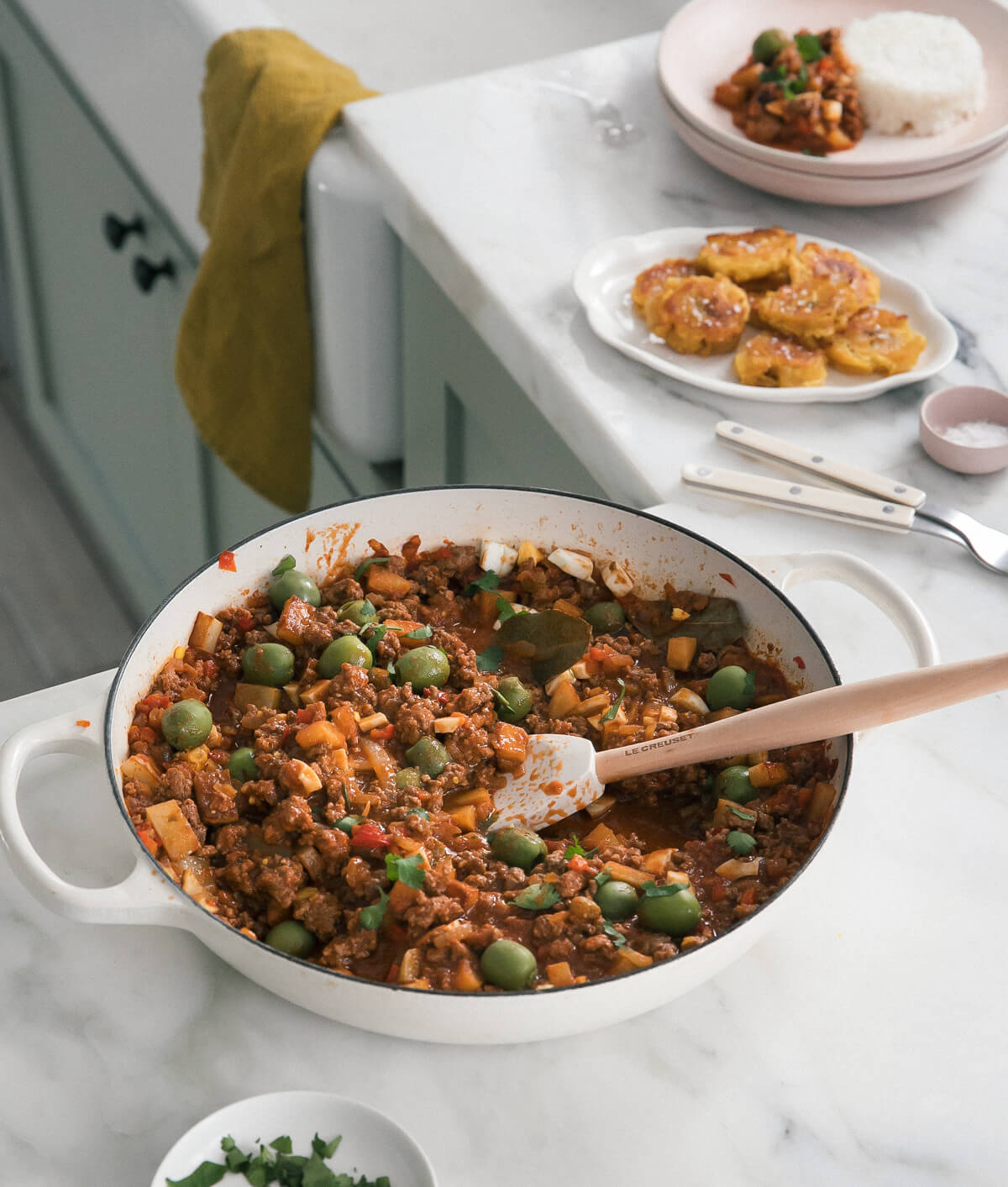 I grew up eating renditions of this dish. Every couple of years, as I got older, the recipe's identity evolved from crazy plain to what you see now. I guess you could say I went from super picky, pain in the ass eater to normal human, and this recipe was along for the ride.
When I was a teeny kid, my mother would make picadillo and it'd simply be fried diced potato with ground beef over rice. (I hated raisins, boiled eggs and olives…and tomatoes.)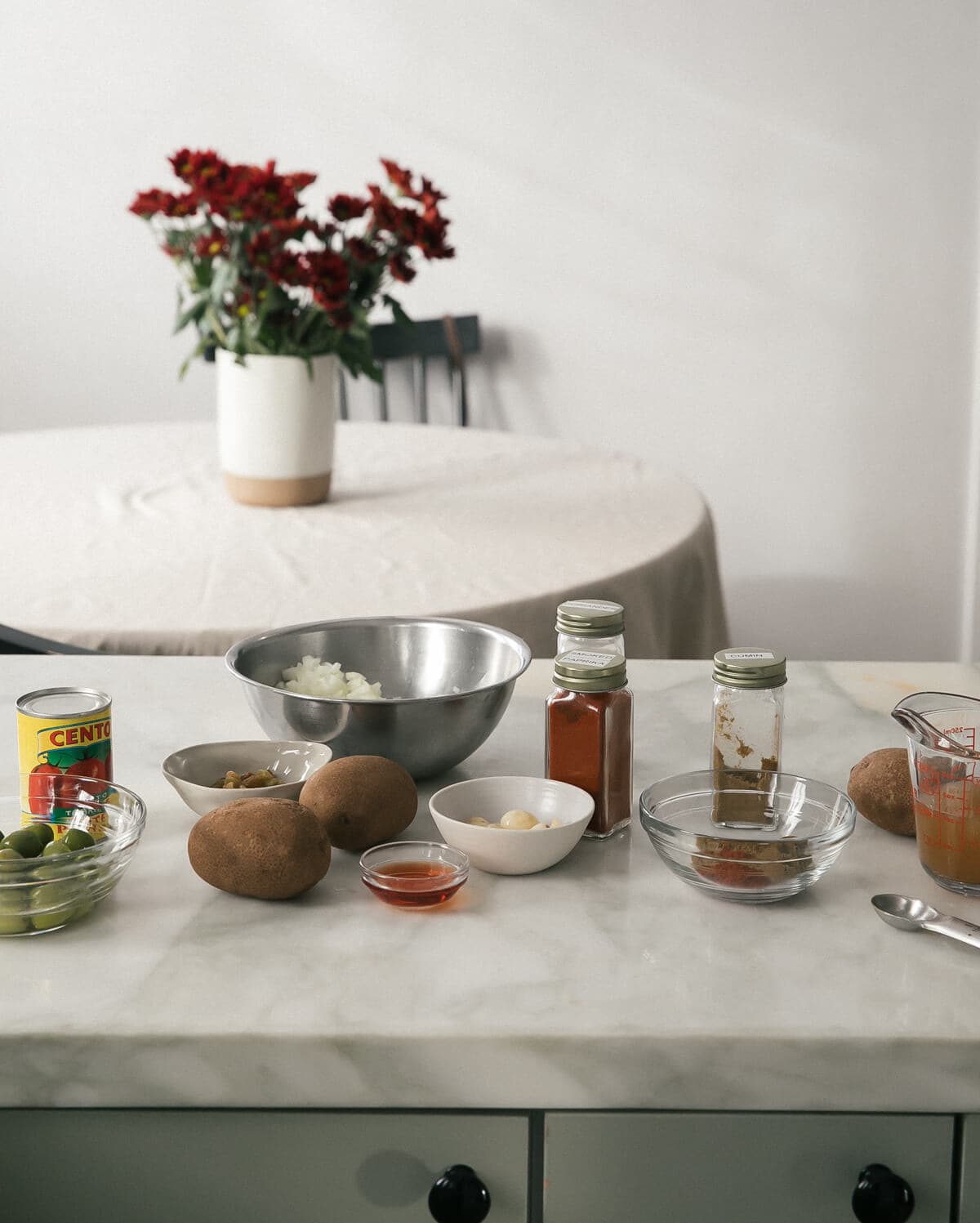 During my preteen years, I warmed up to boiled eggs, so that was added, along with the tomato base that is so well known in picadillo and honestly essential.
In my late teen years, I became ok with the addition of olives. But it wasn't until my twenties when I fully embraced the raisins, which now I think are crucial!
What is Picadillo?
Well, the literal translation of picadillo in English is "all chopped up."  Picado means "chopped." The potatoes are picado, the egg is picado and the meat is all chopped up, too. A lot of different countries make renditions of a picadillo. Colombians put it in empanadas. Peruvians put it in papa rellenas. Puerto Ricans put it in empanadas and alcapurria.
Everyone has their own version, and those versions have different versions depending on families and neighborhoods. People can argue and discuss these nuances and slight changes for days. Personally, I enjoy hearing about the differences. I think they're interesting.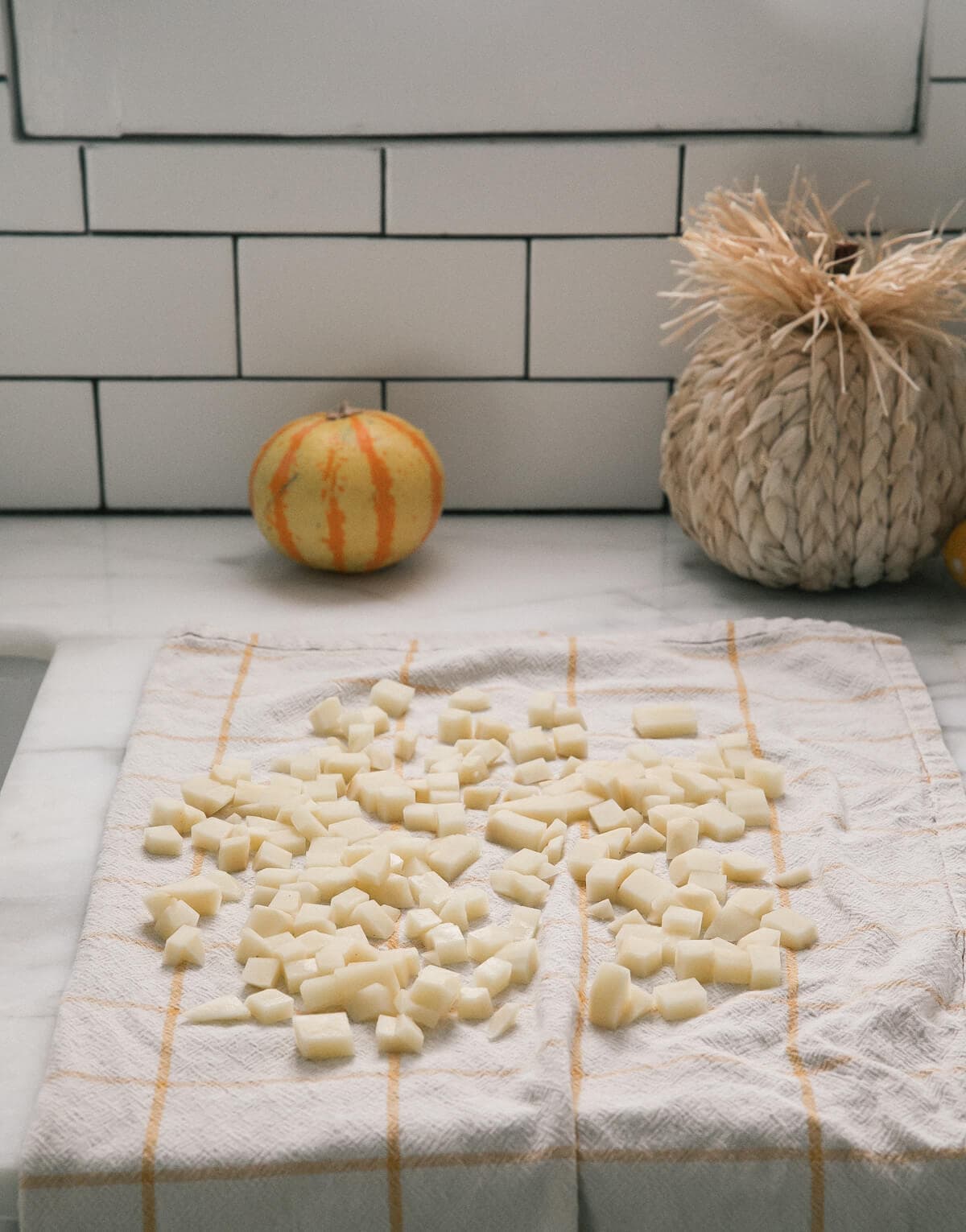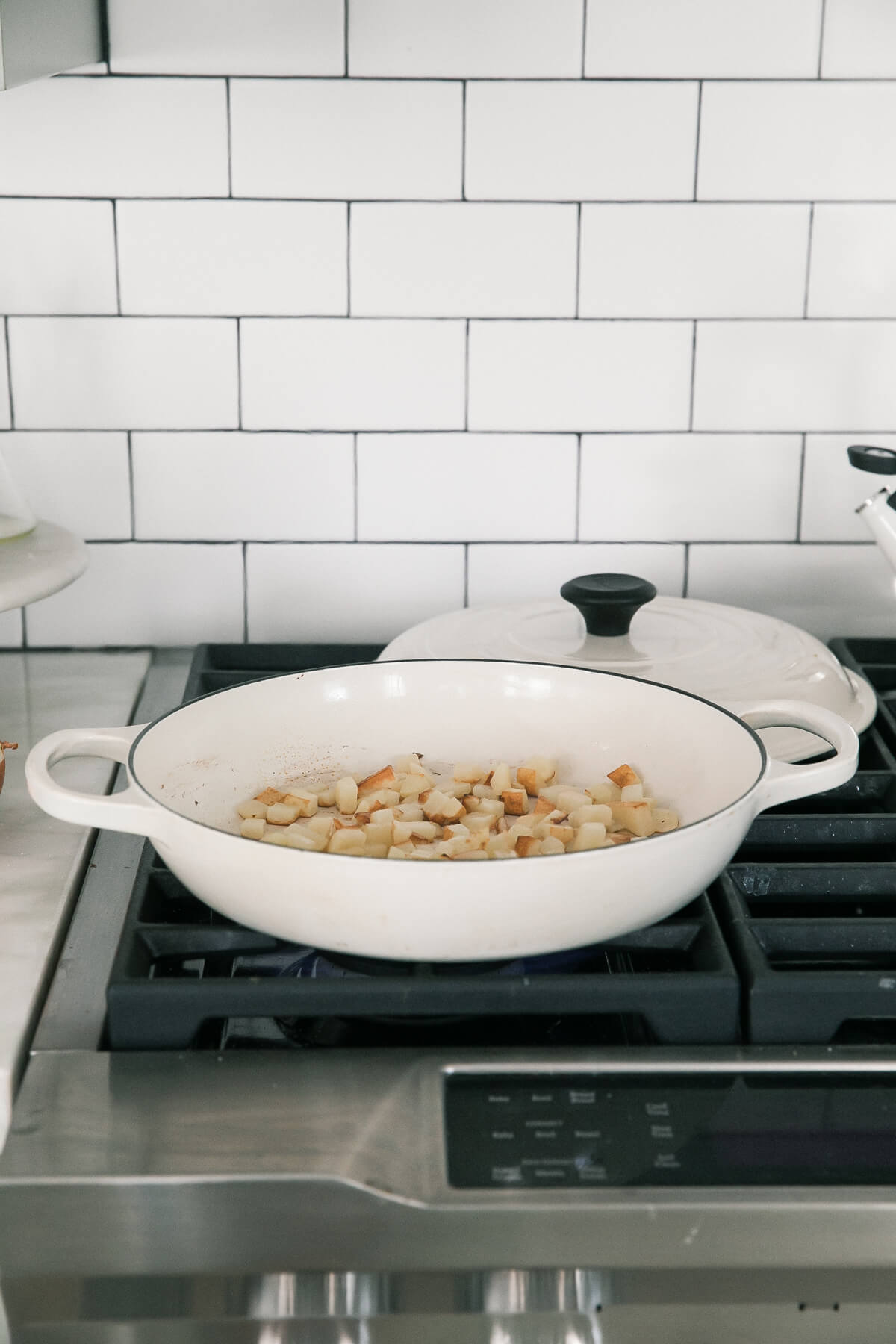 How I Learned to Make Picadillo
I learned how to make this dish from my mom. She learned it from her father. And I recently learned that he learned how to make this recipe from his Cuban neighbor and friend.
My family moved to Atlanta, Georgia and lived in a part of town called "La Pastorita." While mainly Cuban, this neighborhood consisted of a lot of other Latinos who had just moved to United States.
All of them congregated into this teeny tiny neighborhood so they could live amongst each other and feel comfortable. There were Cubans, Puerto Ricans, Colombians (one half of my family), Ecuadorians…and obviously Peruvians (the other half of family).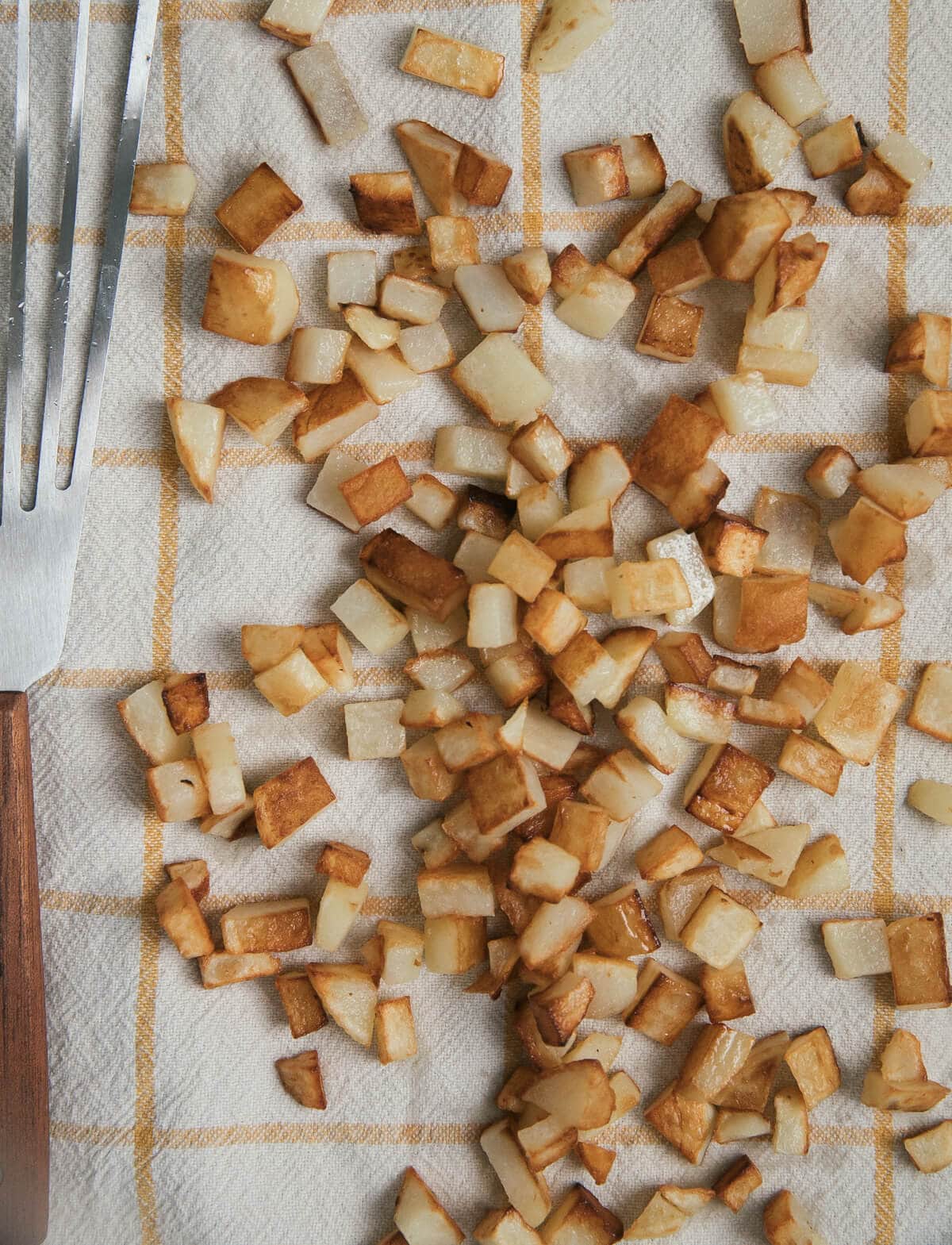 When my grandfather made this dish it was something quick and fast; it was a "weeknight meal" before that term even existed! It's simple and easy and if you have picky children or you are a picky grown-up, it's flexible—simply add what you like, leave out what you hate.
The version you see is what my adult self LOVES. And it's probably the closest to the authentic original that is so popular in Cuban restaurant.
What Is Picadillo Made Of?
Picadillo is usually made up of chopped up meat (usually ground meat), a tomato sauce base, raisins, green olives, lots of spices and a chopped up boiled egg. While it varies from country to country, this is more of a Cuban Picadillo.
How to Make Picadillo?
Cook the potatoes. This recipe starts with dicing up potatoes and frying them in the pan in a few tablespoons of oil. After they're crispy, the potatoes are removed from the pan and set aside (we're going to add them back at the end!)
The sofrito (onion, bell pepper, garlic). The Cuban holy trinity. This is cooked until softened.
Cook the ground beef. I used a 90%/10%, grass-fed organic beef. Surprisingly, I've also have made this with ground bison which was so delicious. I bet you could even use ground chicken. Break up the ground beef until it resembles crumbles.
Spices and salt go in, along with tomato paste and beef broth. This makes it nice and thick and saucy. This is the time when I like to add the raisins (in today's recipe I used golden raisins because I'm fancy but regular ones will do, too) because it allows them to simmer in the sauce and rehydrate a bit.
Add in the diced egg, crispy potatoes, olives and red wine vinegar. I've read that diced egg is actually Dominican. Most Cubans don't add diced egg. I've always eaten it this way. The additions really make this picadillo so flavorful and delicious.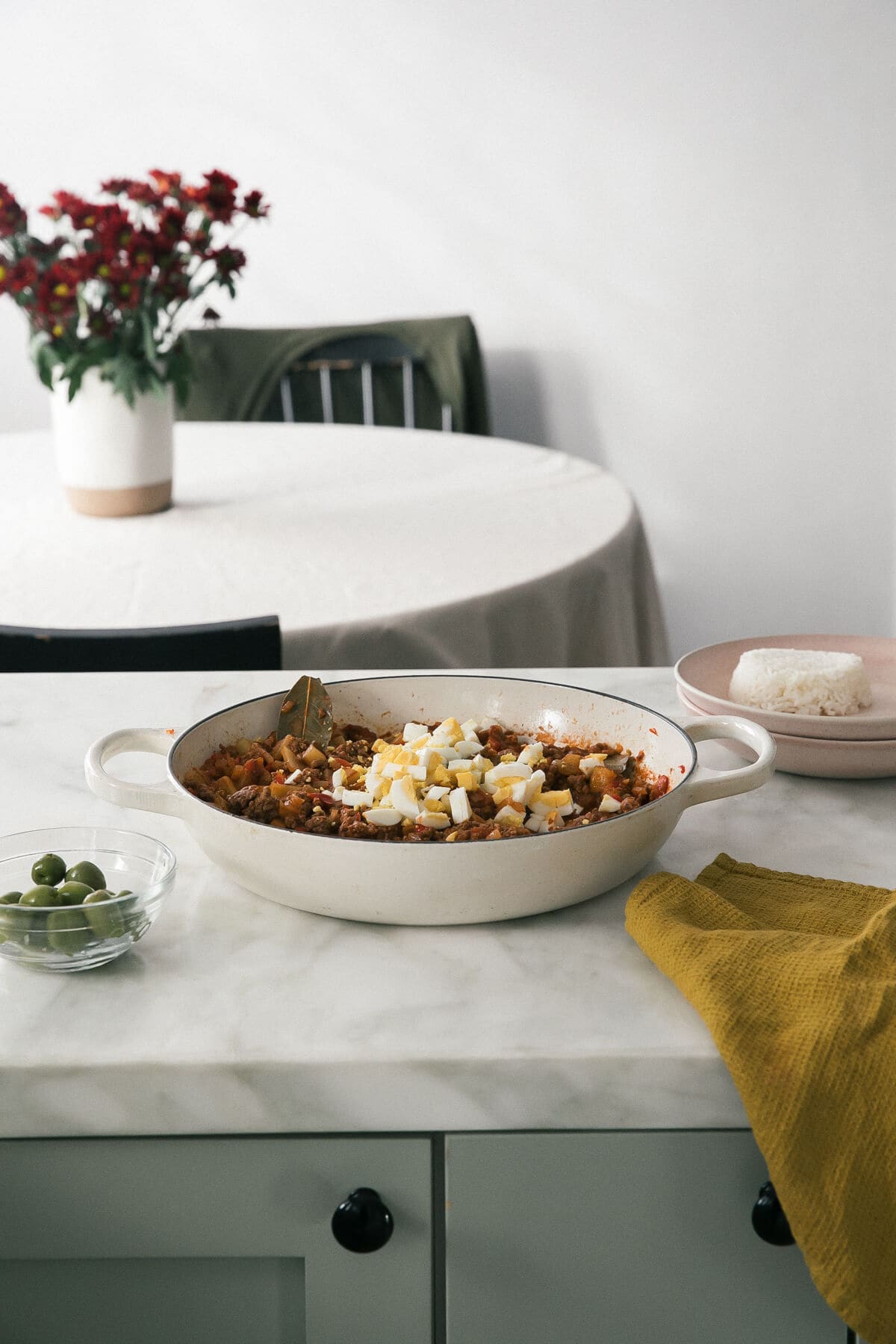 What to Serve with Picadillo
One thing that is mandatory with this dish is for it to be served on a bed of rice. It's comfort central and picadillo is probably the sole reason why my obsession with rice runs so deep. I also like to serve it with maduros (sweet plantains) or tostones (what is pictured).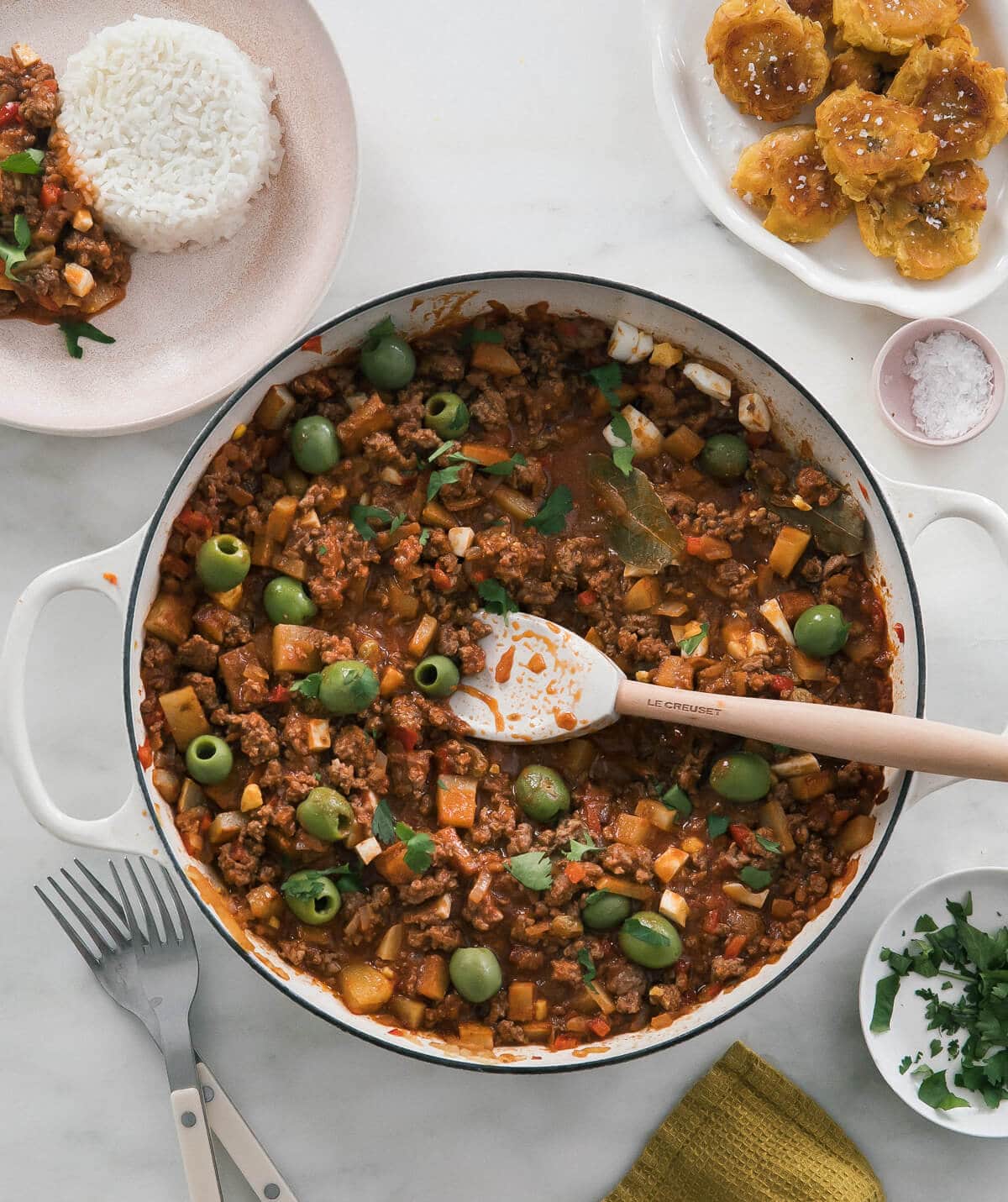 Other Meat Options to Use for Picadillo
I've tried this recipe with ground bison, ground chicken and ground vegan meat alternative. All of them are delicious. They all take on the spices and flavor from the tomato paste. I say use what you have and what you like.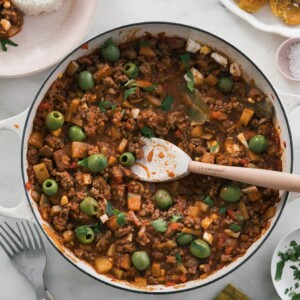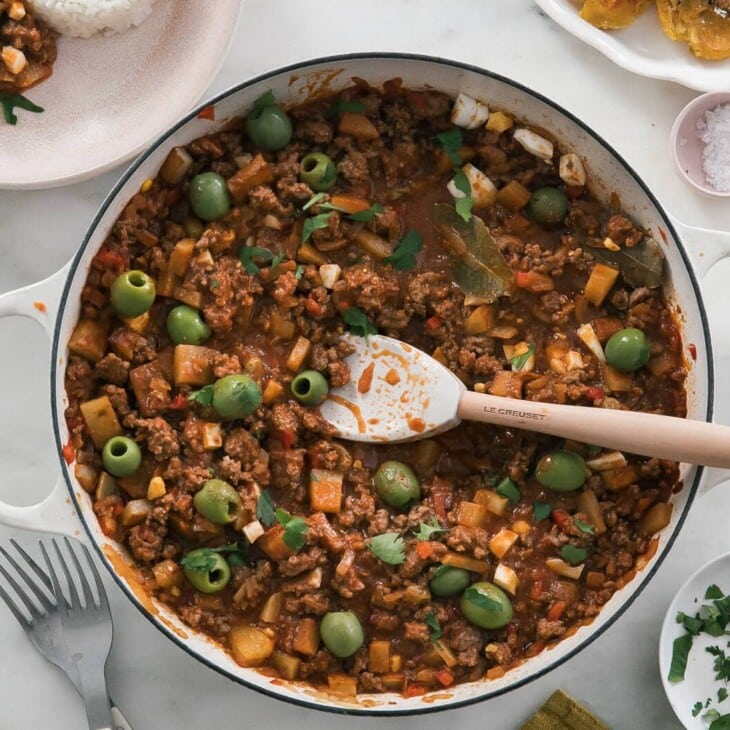 Cuban Picadillo consists of flavorful ground beef, spices, green olives, boiled egg and raisins cooked in a delicious tomato sauce, and then served over a bed of rice. This is the ideal weeknight meal because it can be made in under 30 minutes! 
Equipment
1 (4-quart) Dutch oven or braiser pot
Ingredients
3

tablespoons

neutral oil

,

(I like to use grape seed or avocado oil)

1

russet potato

,

peeled and cubed

1/2

large yellow onion (or 1 small yellow onion)

,

peeled and diced

1

green or red bell pepper

,

diced

6

garlic cloves

,

peeled and minced

1 1/2

pounds

ground beef

,

(I used 90/10 lean grass-fed beef)

1

teaspoon

kosher salt

,

plus more to taste

1

tablespoon

ground cumin

2

teaspoons

ground smoked paprika

1

teaspoon

ground coriander

2

dried bay leaves

1/2

cup

tomato paste

1

cup

beef broth or water

1/4

cup

golden raisins

1

teaspoon

red wine vinegar

1/2

cup

green olives

2

large

eggs

,

boiled and diced
Instructions
In a large sauté pan, set over medium heat, add the oil. When hot, add the diced russet potato and cook until crispy on both sides, about 5 to 7 minutes. Using a slotted spoon, remove the potatoes from the pan and transfer to a sheet of paper towels or on top of a clean kitchen towel to drain.

In the same large sauté pan, add more oil, if needed. Add the onion, red bell pepper and garlic; cook until softened about 5 minutes. Add the meat and break up with a large spoon until it's into crumbled ground beef. Add the salt and spices and give it a mix. Next, add the tomato paste, broth and golden raisins. Mix until all combined. Cover and cook for about 15 minutes, we really want the flavors to combine and marry.

Lastly, mix in the red wine vinegar, crispy potatoes and diced boiled egg. Give it a taste and adjust the salt according to your liking. Serve alongside rice and tostones or maduros.
Notes
Alternative Versions: 
Like I said in the blog post, I've had this numerous ways, leaving things out if I don't have them. If you don't like the egg, leave it out! If you don't have raisins, leave it out. 
If you want to make this very Keto and Whole 30, make it with sweet potatoes vs. regular potatoes. This recipe is very flexible. 
Equipment:
Le Creuset Braiser 
Nutrition
Serving:
4
g
|
Calories:
405
kcal
|
Carbohydrates:
18
g
|
Protein:
24
g
|
Fat:
27
g
|
Saturated Fat:
10
g
|
Cholesterol:
151
mg
|
Sodium:
843
mg
|
Potassium:
777
mg
|
Fiber:
2
g
|
Sugar:
7
g
|
Vitamin A:
492
IU
|
Vitamin C:
8
mg
|
Calcium:
70
mg
|
Iron:
4
mg
Nutrition information is automatically calculated, so should only be used as an approximation.
If you make this, let me know on Instagram! 
Looking for more Latin-inspired recipes? Here are some of my favorites: