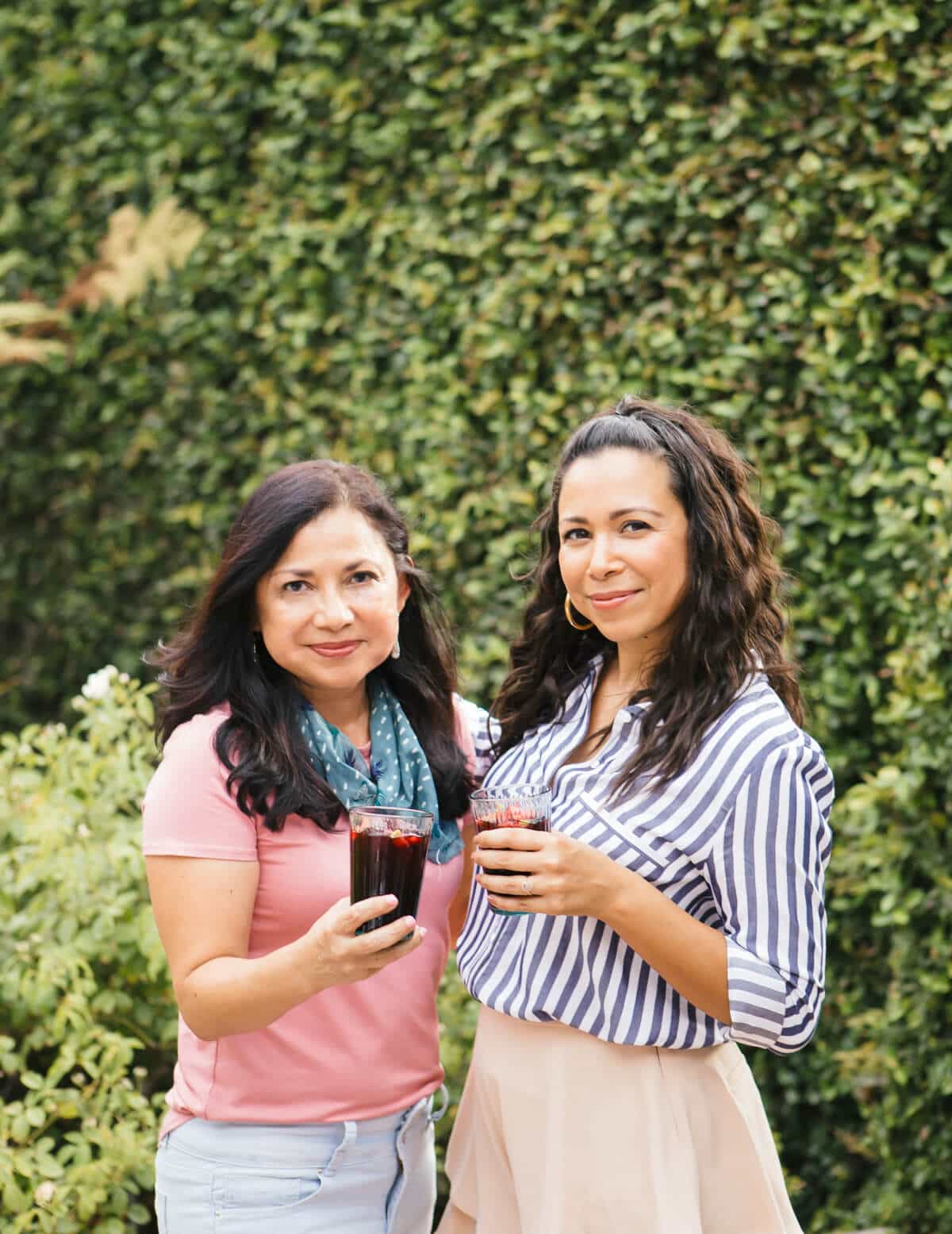 For this almuerzo, Western Union engaged me to participate in their "On the Map with Western Union" program where they are exploring the inspiration and innovation that different heritages inspire. Western Union asked me to share my story about how my upbringing has influenced my cooking and how their mobile app is a super easy way to send money to different parts of the world. This almuerzo is going to focus on my heritage, stay tuned for more on the mobile app and how easy it is to use!
The first food I ever learned how to cook was Peruvian food. My mom is from Peru, a country I grew up learning about through her. My mom would play old Peruvian boleros (ballads) by Luchas Reyes (she's like our Celia Cruz) while she'd simmer chicha on the stove and sing along and sometimes cry because her music is just so beautiful.
I remember having friends over and having to explain to them that the drink was made from purple corn. LOL. The looks I'd get! But they'd all love it because it's a drink that is flavorful and perfectly spiced and just delicious.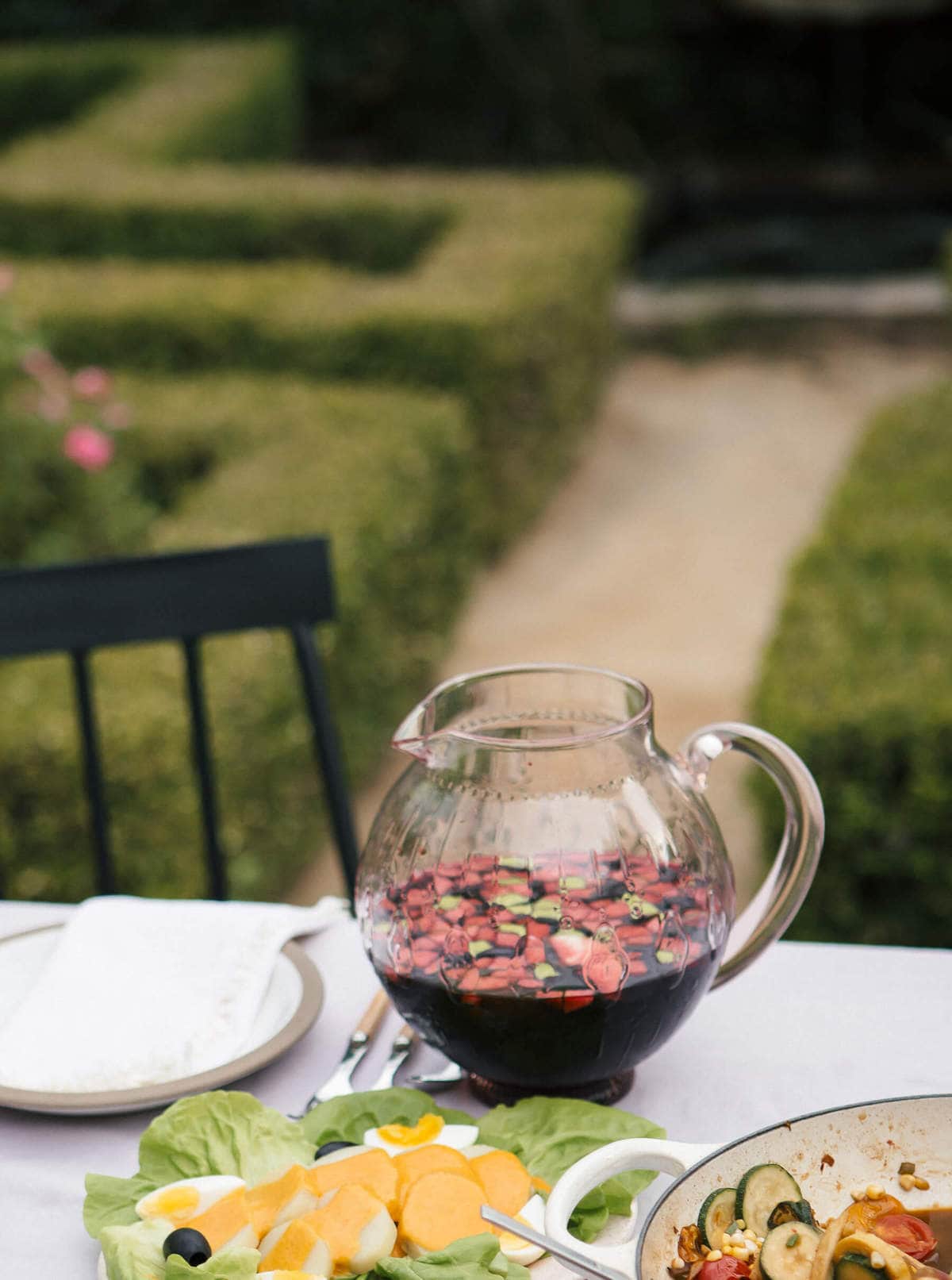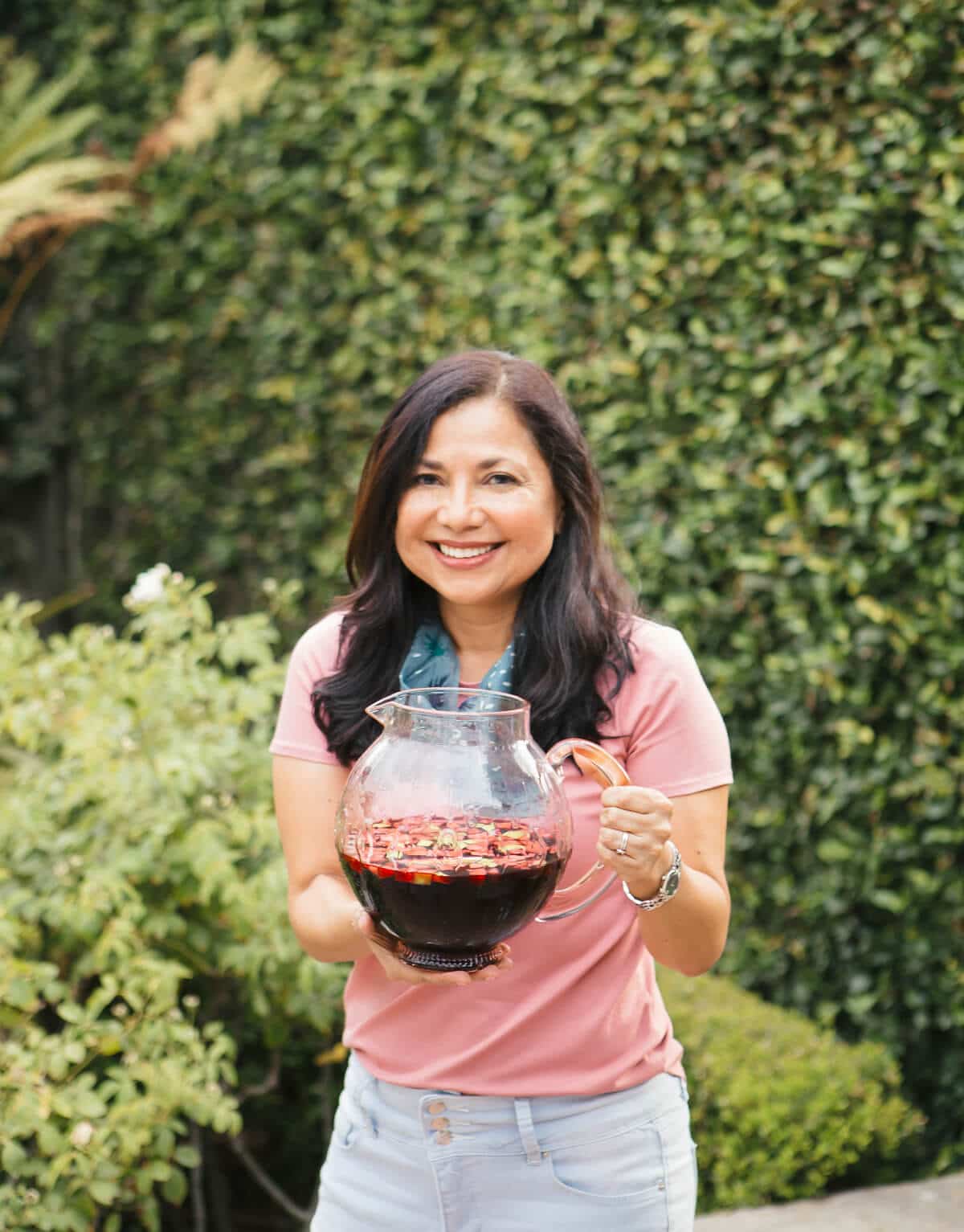 My mom was a young mom and literally the only dishes she knew how to make (minus a chicken broccoli casserole she learned from a back of a soup can!) were all Peruvian. I now realize that the flavors of Peru absolutely shaped my palate.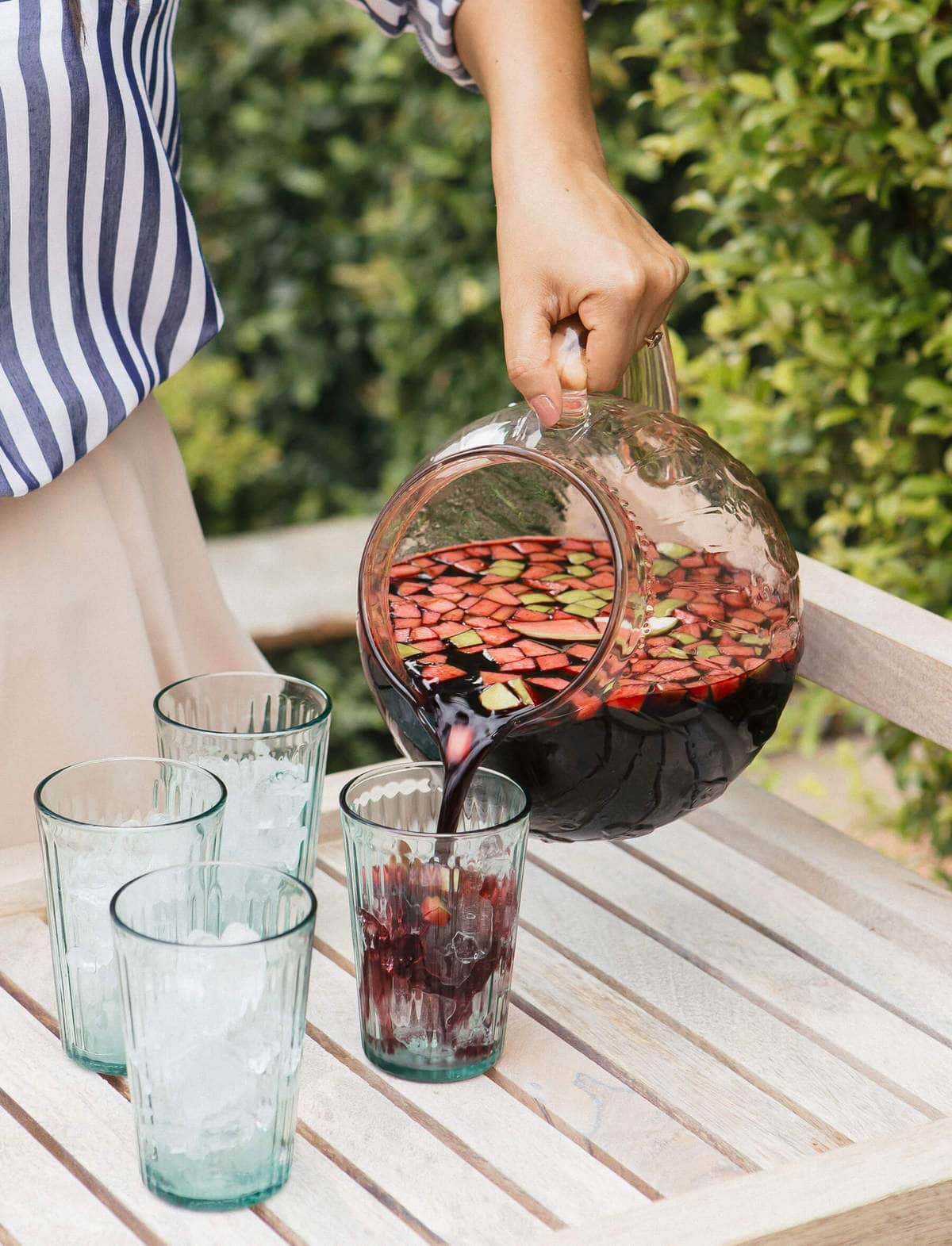 If you've had Peruvian food, you know that it's very spicy. My mom always cooked with heat. I was like 5 years old eating dishes with ají amarillo—which are bright yellow Peruvian peppers that are VERY spicy—in them. Peruvians put them in everything from sauces to soups to pastes.  Ají amarillo paste sits on nearly every Peruvian table and is used as a condiment—it's SO good.
And a lot of Peruvian food is very acidic (see: ceviche and causa). It's food that has a lot of flavor and balance and pulls influences from Asia (there are a lot of Asians living in Peru), Africa and Spain, all while using indigenous, Peruvian ingredients.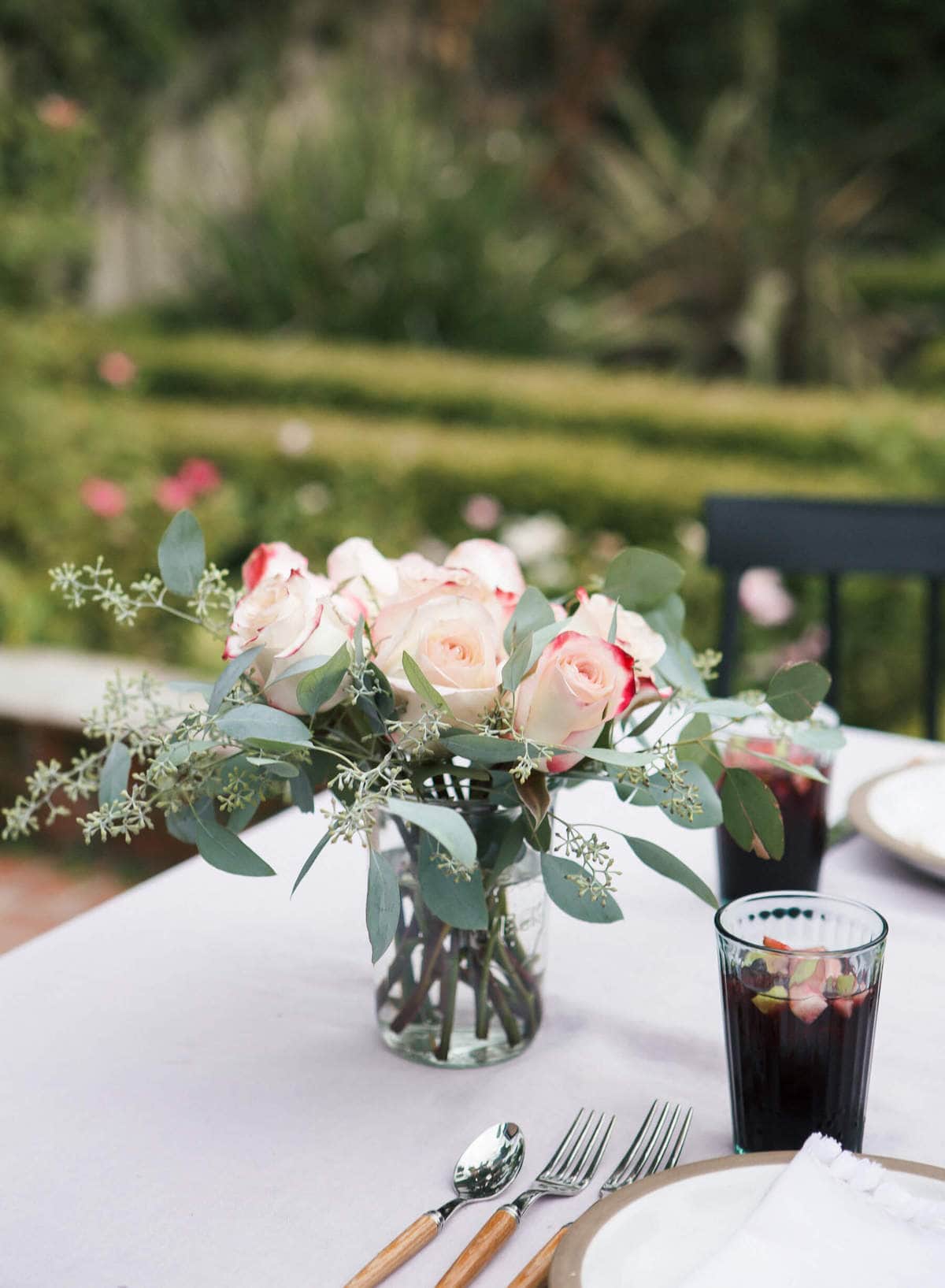 Even now, in dishes that aren't Peruvian, I find myself making sure that acidity is very prominent and always, always adding some form of heat. I love adding a dollop of ají amarillo to everything from salad dressings to marinades for chicken or fish (not traditional at all but such a good move!).
My mama was in town for a few weeks and I took advantage of having her here to make a little almuerzo (lunch). Growing up, Sunday almuerzo happened nearly every week and it was a big deal. There was cooking ALL day long and it was my favorite.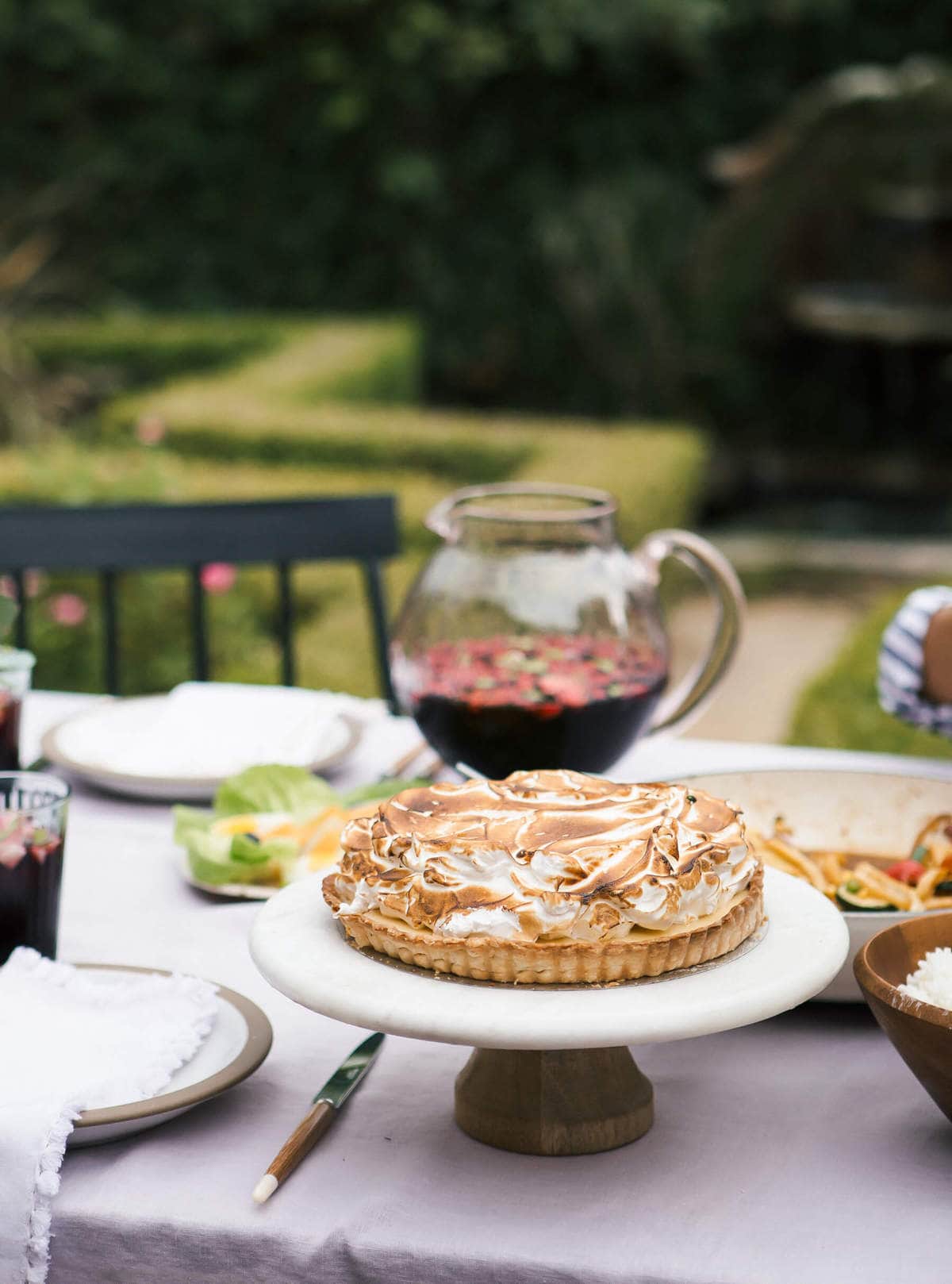 My mom and I tried to recreate a bit of that Sunday almuerzo nostalgia with this lunch. We made lomo saltado but veggie (she no longer eats meat); there was papa a la huancaína (my favorite!); pie de limón which looks like a normal lime/lemon pie but is so unique in texture and ease; and lastly, my mom's chicha.
Today I'm sharing with you two recipes, one for pie de limón (my mama's favorite!) and chicha (recipe straight from her).
The pie de limón is unlike a lot of other lemon pies. Traditionally this calls for Peruvian lemons which are much smaller than American lemons and are super acidic. So I made do and combined limes and lemons. We always did this growing up. Similar to how I add both limes and lemons to make the pie de limon, if we couldn't find Peruvian peppers, we'd use jalapeños or habaneros as a substitute. The filling is super easy because it's not a ton of ingredients and there's no tempering the custard. The texture is SOOOO good.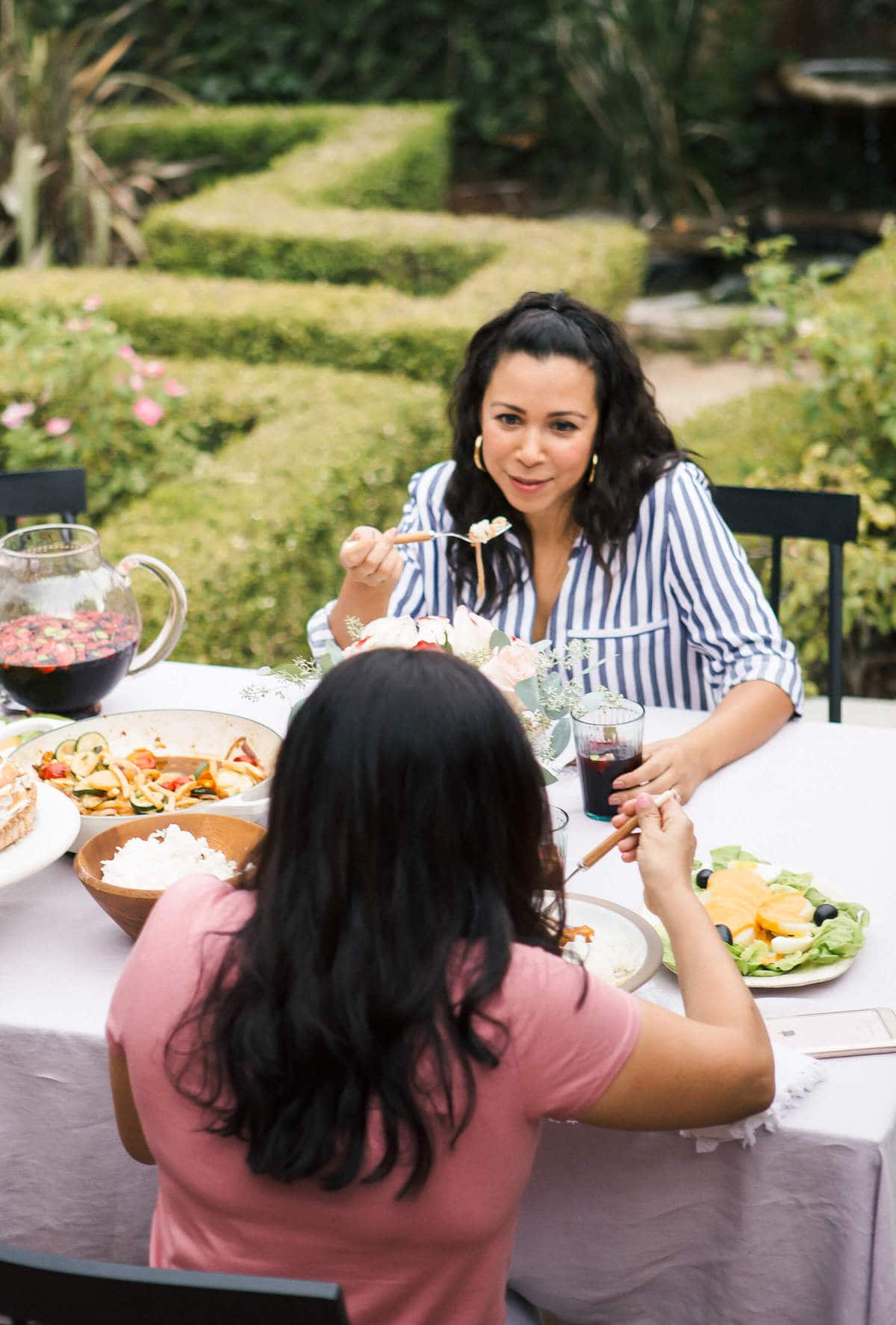 This recipe is inspired by my family's bakery in Peru. Did you know I come from a family of bakers? It's one of the oldest bakeries in Lima; they're known for making the most traditional Peruvian desserts.
My Tía Emilia, the founder of the bakery, would visit us in the States all the time. And every time she came she'd always bake us something elaborate and beautiful and delicious.
I'd always look on as she baked and everyone would always gush over how much they loved her. I wanted to be like her.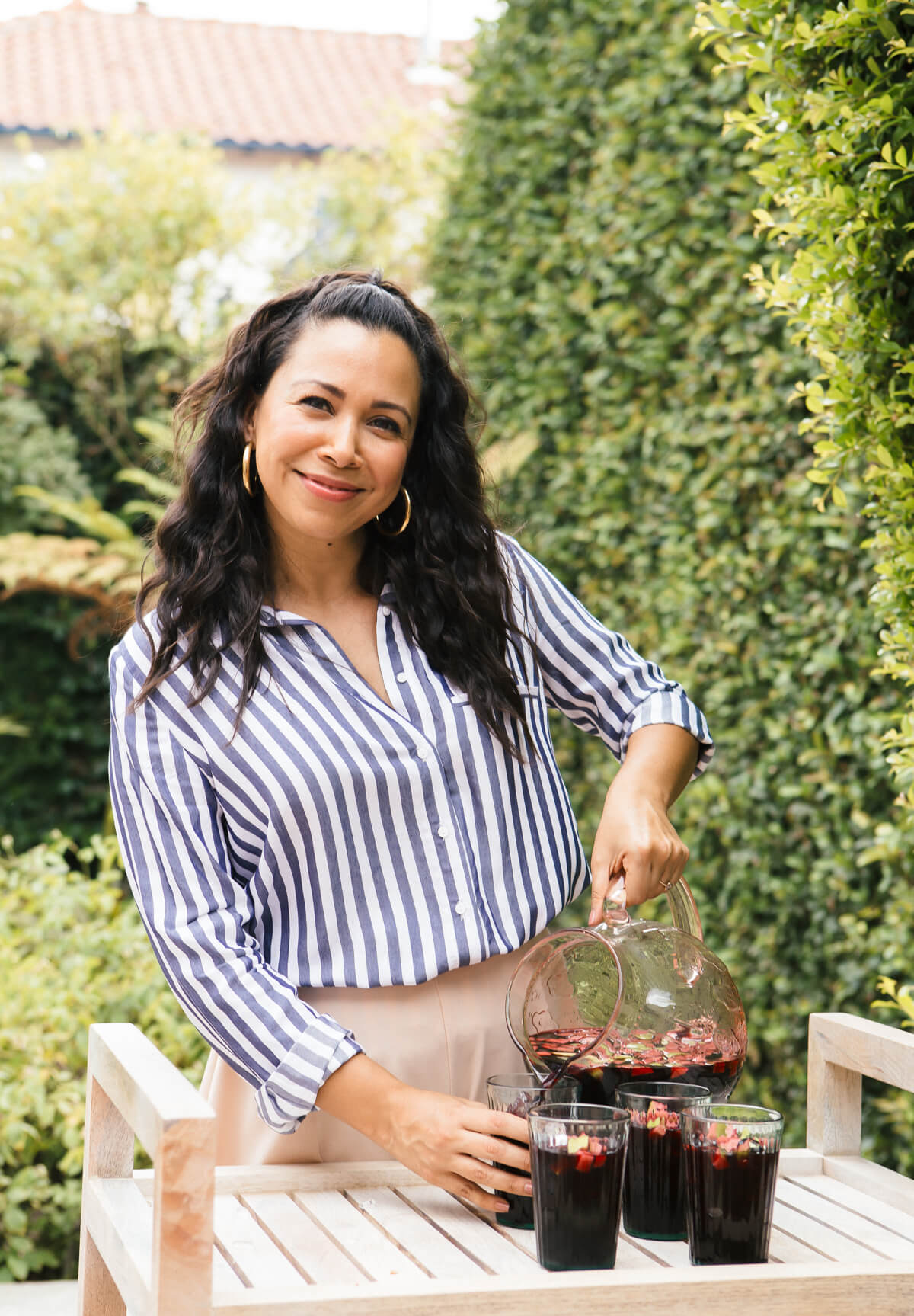 I realize now that every matriarch in our family, specifically my Tía Emilia, is a baker and a cook and a caregiver. This act of love was my role model—it made me want to cook and bake. It shaped me in so many ways.
This pie is inspired by the one they serve to their community. When my mom was little, she'd go to the family bakery and sweep and do chores in exchange for a slice of pie de limón because it was her absolute favorite.
The chicha is delicious and the secret is to use the peels of the pineapple and to not let it simmer it for too long. The flavors from the spices should be balanced. None of the spices should be overpowering or very forward; it should all just merry together seamlessly.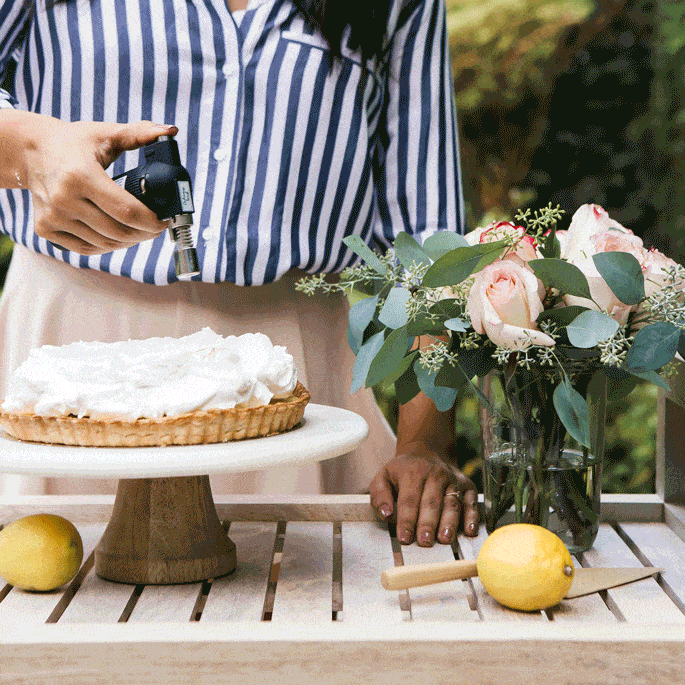 I'm so grateful my mom taught me about our culture so regularly. She didn't even do it on purpose, really. It was just our way of life. It's with me, always. How has being multi-cultural shaped who you are today? Would love to hear in the comments below.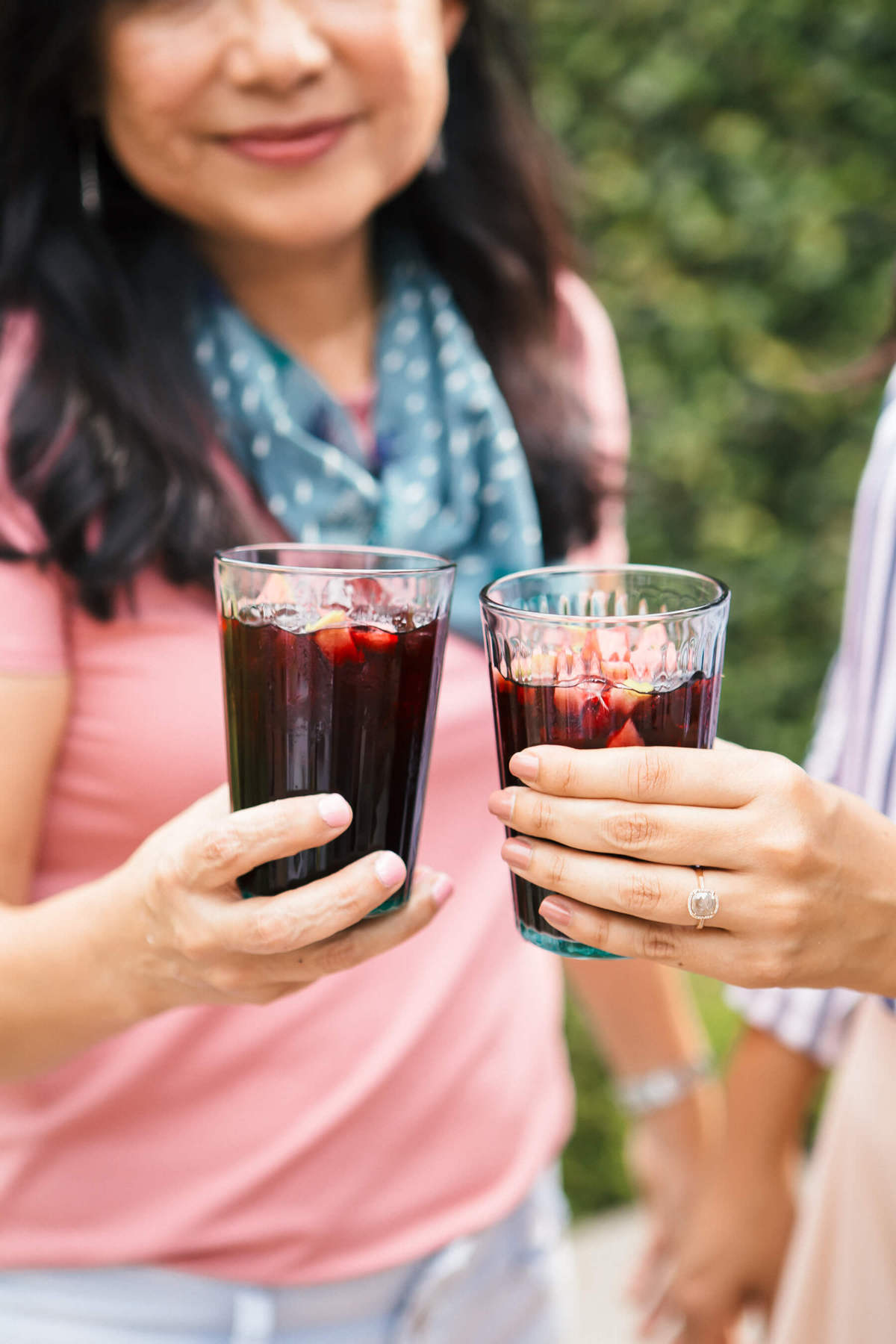 Ingredients
1 (14 ounce) bag of dried purple corn
12 cups of water
3 cinnamon sticks
1 tablespoon of whole cloves
1 star anise 
1 whole pineapple, diced (peel reserved)
1 cup white sugar
1/2 cup lime juice
1 green apple, peeled and diced
Directions
To a large pot, add the corn, water, cinnamon sticks, cloves, star anise and half of the pineapple peels. Heat over high heat and once the mixture reaches a boil, reduce the heat to medium-low and simmer for 45 minutes.
Remove the chicha from the heat and pour in the sugar and fresh lime juice. Place a strainer atop a large bowl and pour mixture through it, catching the large corn ears, pulp and pineapple. Refrigerate until cold. To serve, add ice, and a small handful of diced pineapple and apple to each glass; add chichca and serve immediately.
Notes
You can find dried purple corn online OR you can go to a Latin market and usually find it in the Peruvian section. If you're in Los Angeles, this Peruvian restaurant sells all sorts of Peruvian ingredients, both fresh and frozen—it's my go-to. 
https://www.acozykitchen.com/peruvian-almuerzo-part-1/
Ingredients
1 pie dough, homemade or store-bought
4 large eggs, separated (we'll be using the egg yolks AND egg whites so be sure to save them both)  
2 tablespoons all-purpose flour
Juice from 2 lemons 
Juice from 1 lime (combination of citrus juice should equal 1/2 cup)
1 (14-ounce) can of condensed milk 
1/4 teaspoon salt 
1 cup sugar 
Directions
The first step of this recipe is to par-bake the tart shell. Preheat your oven to 400 degrees F. Roll out your pie dough into a 12-inch round and lay it over your tart shell or pie plate. Press it up the sides and onto the bottom of the pan. Trim the edges of the pie plate, as you see fit. Using a fork, lightly pierce the center of the pie dough (this will help avoid it from rising). 
Spray a sheet of parchment or foil with cooking spray and place it in the center of the pie shell. Fill it with ceramic pie weights OR you can use dried beans or rice. Transfer to the oven to bake for 15 minutes. Gently remove the pie shell from the oven and lift up the foil. Bake for an additional 5 to 7 minutes. This will help cook the center of the pie crust. Remove from the oven and set aside. Turn the oven down to 325 degrees F. 
Meanwhile, in a stand-up mixer or a using a large bowl with a whisk, add the egg yolks and flour. Beat until combined and until smooth. Add the lemon and lime juice, condensed milk and salt. Beat until very smooth, about 1 minute. 
Pour the filling into the pie shell and transfer back to the oven to bake for 15 minutes, or until the center has set. 
Remove from the oven and allow to cool at room temperature for 15 minutes. Place in the fridge until ready to serve. When you're ready to serve, let's make the meringue topping. I like to cook my topping just so everyone can eat it (if you're not concerned about raw egg whites, whip up the egg whites and sugar in a bowl until stiff).
Otherwise, add the egg whites and sugar to the bowl of a stand-up mixer. Find a saucepan that is the right size it comfortably nestles right atop. Fill the saucepan with a few inches of water and then place it over medium-high heat. Add the bowl atop the saucepan and mix the egg whites and sugar together. Warm until the sugar has dissolved (you can check pressing it with your fingers). Carefully transfer the bowl to a stand-up mixer and with the whisk attachment, beat it until stiff peaks form, about 5 minutes.
Add the topping to the chilled pie and then using a torch, brown the top.
https://www.acozykitchen.com/peruvian-almuerzo-part-1/
(This post is sponsored by Western Union and their new app. Thank you for supporting the sponsors that keep A Cozy Kitchen cozy.)