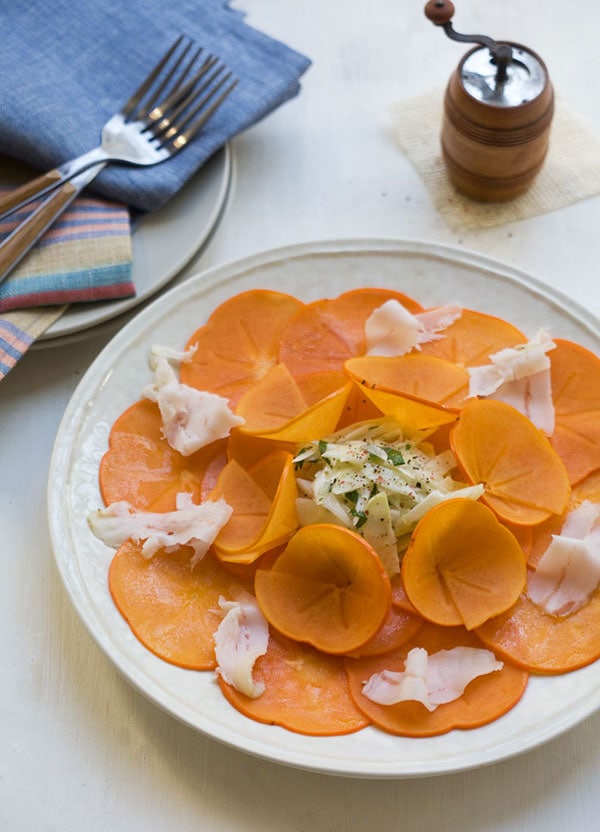 This past weekend I learned a few things:
1. If your dog is annoying you, an empty-ish (plastic) jar of almond butter will distract him/her for hours. HOURS, I tell you. Amelia sat under the couch and tried her hardest to reach the bottom of the almond butter jar. She failed, thus creating about four hours where I didn't see her/hear her. Glorious. Pretty sure she was drunk on almond butter.
2. Pinterest will shave hours off your life. Hours. Lots of 'em. I feel like I'm actually liking Pinterest for maybe the first time ever.
3. Bar Method, my recent workout endeavor, will seem easy and calming and girly, but then the instructor will push you to work those lil' muscles you never knew existed. and then the next day you'll wake up barely able to move. It's a good thing, apparently.
3. Persimmon and salt-cured fat (aka lardo) taste soooo good when they're on the same plate! AHH! This salad is my new obsession.
This salad makes my Thanksgiving salad dreams come true. I'm a notorious lettuce-salad-hater. It's from years and years of being forced to make the dinner salad growing up. They were sad. They were depressing. (Sorry mama.) And they were always made with terrible lettuce.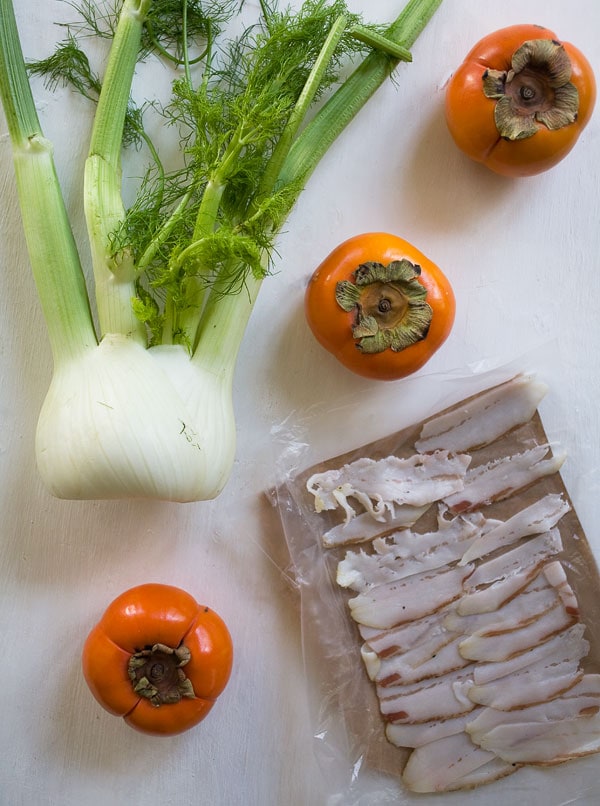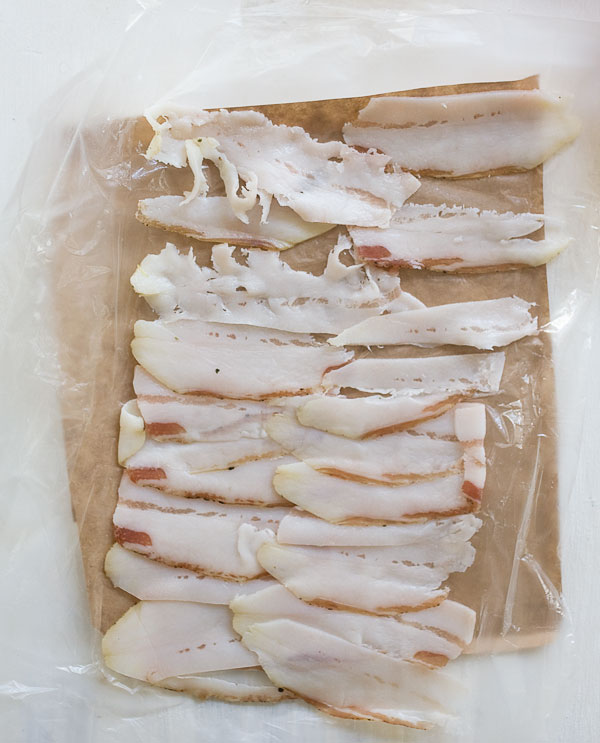 This salad is so simple in its preparation–maybe 15 minutes, tops!
I think it's time we talk about lardo.
Lardo is salt-cured pork fat. Its texture is creamy and soft, while the flavor is salty and a teeny bit sweet. I feel like I see it all the time at Italian restaurants, on anti-pasta dishes or salads, but when I went to find it in the real world (where we live), it was tough, man!
My recommendation is this: head to a butcher shop. Actually, call first. There's a good chance they might not have it. Instead you can ask for the fattiest part of their prosciutto (they usually will gladly sell you a bit), and then kindly ask them to thinly slice it for you, or you can do it at home.
I spent about $1 on what you see pictured, so it's definitely not expensive. If you're in Los Angeles, head to McCall's in Los Feliz–they'll gladly cut you a few slices of lardo.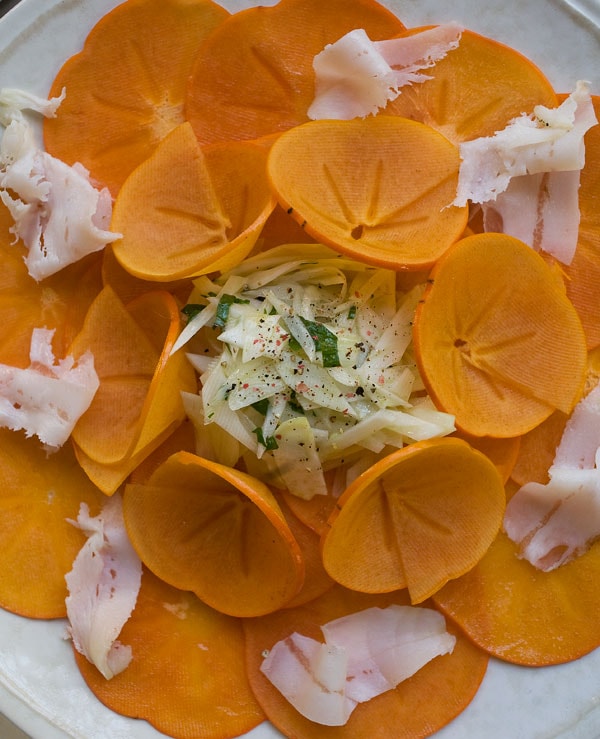 If you can't find lardo, prosciutto is an awesome alternative. It taste delicious, salty and meaty.
The anise-flavor from the fennel tastes oh so awesome with the sweet, cinnnamon-y persimmons. And the Italian parsley adds a bit of freshness I like. The dressing is super simple – just lemon juice, red wine vinegar and olive oil.
I hope you try this salad. If you don't, at the very least try the almond butter jar method with your dog. You'll thank me later.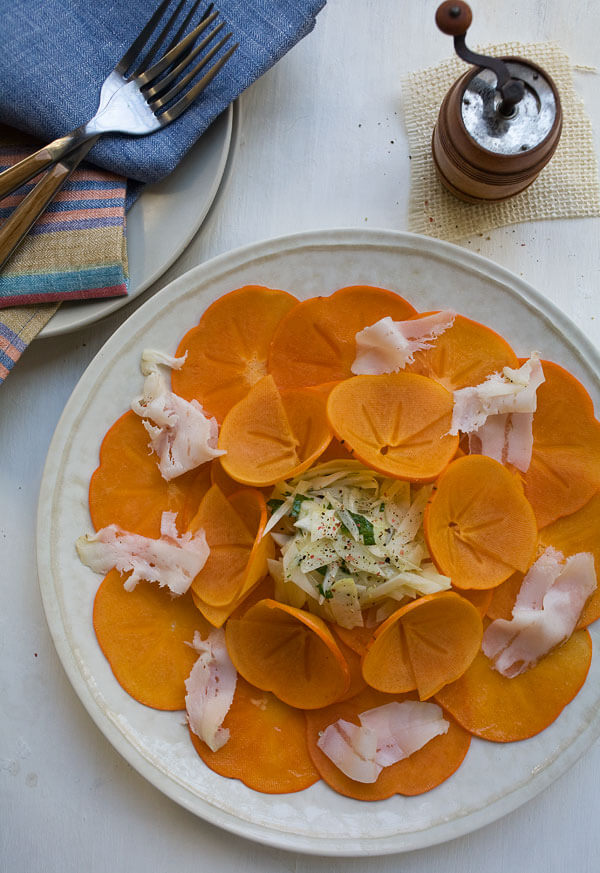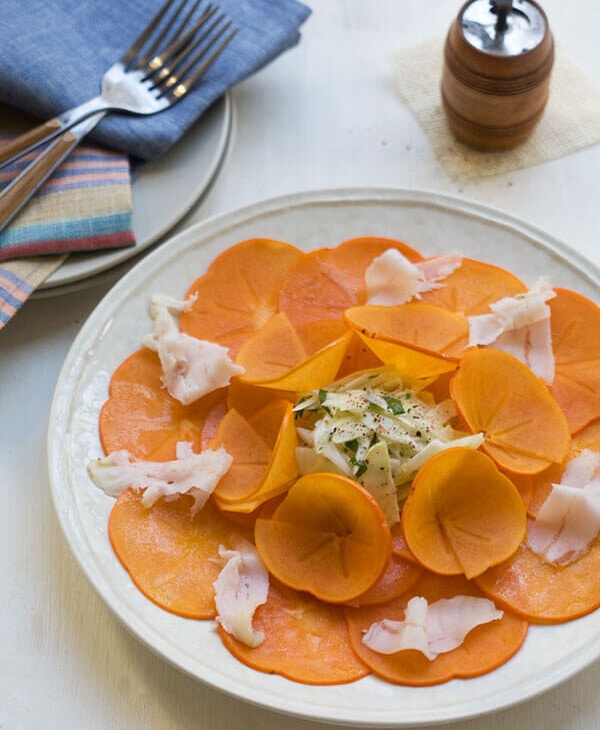 Print Recipe
Persimmon Salad with Fennel and Lardo
Ingredients
2

tablespoons

olive oil

1

tablespoon

red wine vinegar

1/2

lemon

Salt

Pepper

2

persimmons

1 pound

1/2

fennel bulb

Small handful Italian parsley

5

slices

lardo or prosciutto
Instructions
In a small bowl, whisk together the olive oil, red wine vinegar and juice from 1/2 lemon. Season with a dash of salt and pepper. Set aside.

Using a mandolin (or a very sharp knife), cut the persimmons into 1/4-inch thick slices. Next, shave the fennel bulb so they're nearly paper thin but not quite. Roughly mince the Italian parsley; set aside.

To a medium bowl, add the persimmons and a teaspoon or two (you can eyeball this measurement) of the dressing. Rub the persimmons with the dressing so they're evenly coated. Arrange the persimmons on a plate in a circular pattern, overlapping them. To make the persimmon "cones," slice a slit in the persimmons, starting from the center and cutting outward. Take the two cut-ends and overlap them, creating a cone-like shape. Atop the fanned out persimmons, arrange the persimmon cones in a circle.

To the same medium bowl, toss together the shaved fennel, Italian parsley and remaining dressing. Give it a taste and adjust the salt and pepper according to taste. Transfer the shaved fennel to the center of the persimmon "cones." Place the shaved lardo (or prosciutto, if using) on top of the fanned out persimmons.