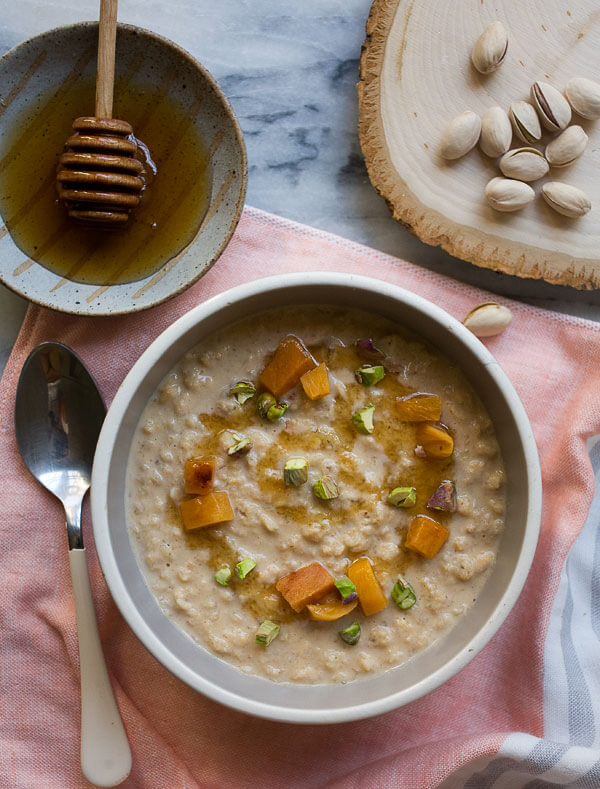 When I was in third grade I had in a role in my first play ever and it was my all-time favorite, Oliver Twist. I sadly was only given one line in the whole dang thing (I was gunning for the role of Dodger but didn't get it) and that was, "Can I have some more porridge, please."
I made sure to make my eyes look really sad and puppy dog-like and used the best fake English accent I could muster up. I'm pretty sure it was awful. I remember never really knowing what porridge was at the time, and honestly my opinion of it as I grew older was scarred from that experience. I figured it must've been awful if all "orphans" could get their hands on was a big bowl of mushy porridge.
Porridge has made a big 180 in my head. Porridge would be pressed to find a bigger fan. This porridge love story starts with persimmons, the other love of mine.
Persimmons are roasted and blended with whole milk. Persimmon milk! It creates a rich, cinnamon-ey milk that's thick and delicious.
Persimmon milk is added to a pot, along with barley flakes, cinnamon, brown sugar and a pinch of salt. Things simmer, your house will smell amazing and breakfast will be all done.
I like the idea of making a big batch on a Sunday and keeping it in the fridge for the entire week. A little milk and some reheating is all it'll need.
I love breakfast.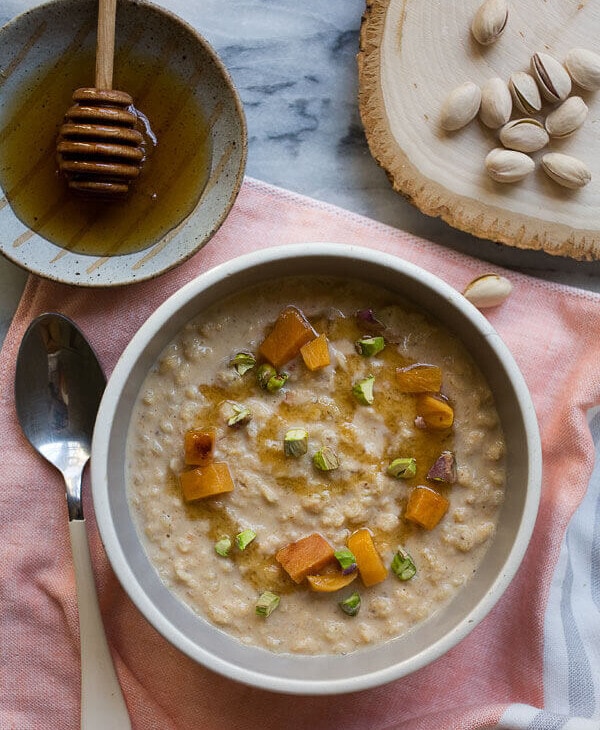 Print Recipe
Persimmon Porridge
Ingredients
3

(about 1 pound) fuyu persimmons

1 1/2

cups

milk

2

cups

barley flakes (or rolled oats)

2

tablespoons

light brown sugar

1/2

teaspoon

ground cinnamon

Pinch

salt

Honey

1

handful pistachios, chopped
Instructions
1. Preheat the oven to 375 degrees F. Transfer the persimmons to a parchment-lined baking sheet. Using a paring knife, pierce each of the persimmons, which will allow steam to escape as they roast. Place in the oven to bake for 25 minutes, or until softened. Remove and set aside until cool enough to handle, about 5 minutes. Slice off the skin, removing the core and steam. Reserve a few persimmon cubes, which you'll use as a topping later. Transfer the persimmon chunks to a blender, along with the milk. Blend until thoroughly pureed. You should end up with about 2 cups of persimmon milk.

2. To a large saucepan, add 2 cups of the persimmon milk, barley flakes, brown sugar, cinnamon and salt. Cook on low heat for 5 to 10 minutes, until barley flakes are softened. If needed, add a tablespoon or two of milk to thin out the mixture.

3. Divide the porridge between bowls. Top with the reserved persimmon cubes, a drizzle of honey and a few pistachios.

4. To keep: Store in the fridge for up to one week. When warming, mix a tablespoon or two of milk to thin out the porridge a bit.