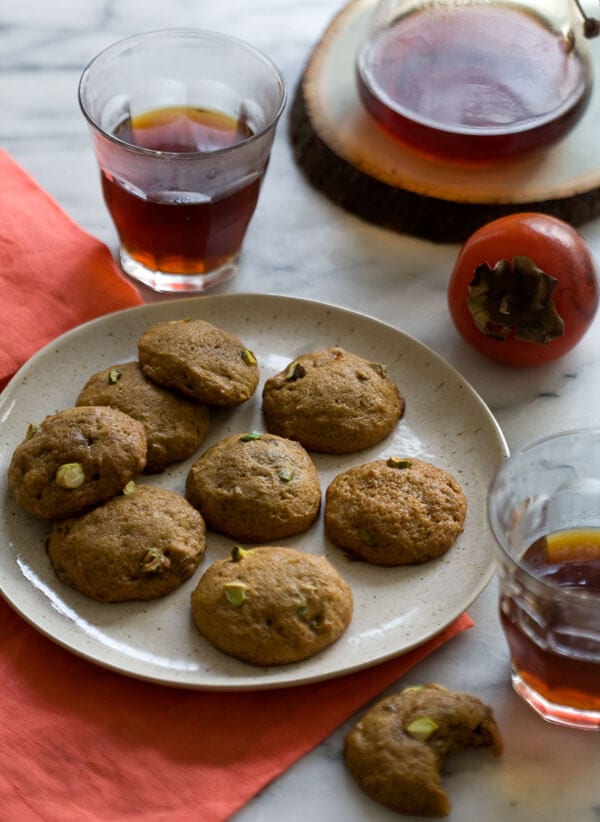 Not sure if you have noticed but the internets are full to the brim with gift guides. I feel like two years ago, I'd see…oh I dunno, like one or two or ten gift guides. Now? A million, I swear. They're everywhere. So, like all of us, I've started sifting through them because I'm a good American and looove buying stuff. But then I realized that they're not really all that helpful because everyone in my life is so picky and such weirdos. The gift guide for "boyfriends" or "dads" doesn't really apply to the men in my life. Instead I've just found all sorts of new stuff that I want for myself, which sort of isn't the point to gift guides.
One thing I do encourage is gifting something to yourself. I do this every year and it's the best, seriously. It's never a big ticket item or anything, just a little something that no one knows I want. I'm not sure what it's going to be this year but I'm on the hunt. Send your unusual gift ideas my way.
And now, cookies.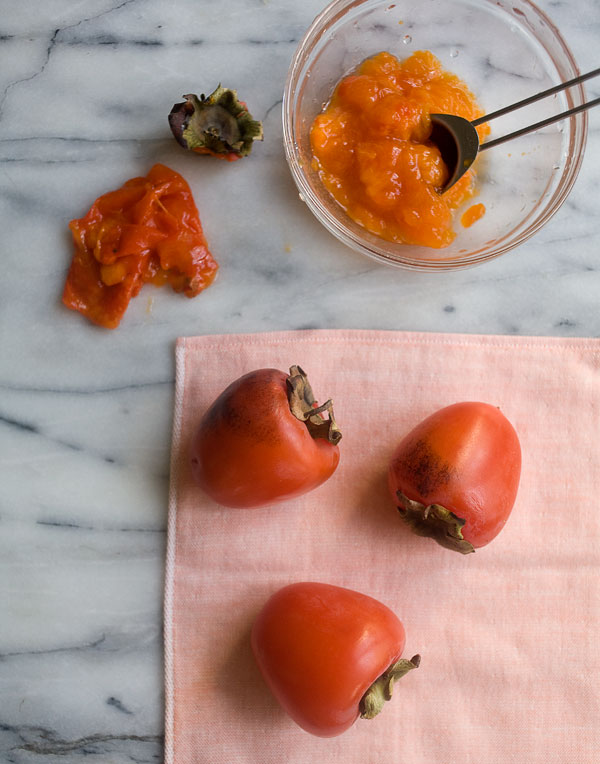 And not just any cookies but persimmon cookies. I feel like people only half like persimmons.
I think they're sooo beautiful. I've used fuyus in quite a bit of recipes this year but this recipe uses its counterpart, the hachiya persimmon. Fuyus are short and stout and can be eaten if ripe or super firm. Hachiyas should be eaten when they're suuuuper ripe; I'm talking very very fragile and soft to the touch.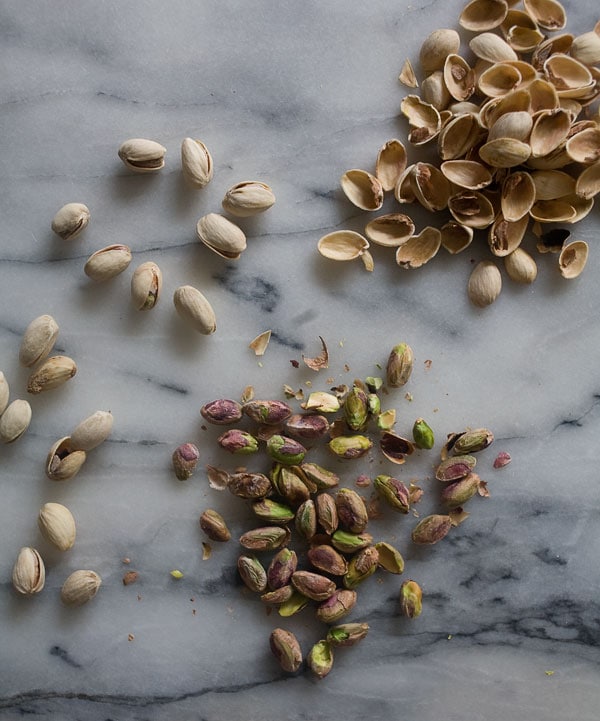 I'd consider this cookie more on the cakey side. It's soft and fluffy.
Yesterday's cookie was soft but it had a crunchy exterior; this cookie is just straight fluffy and tender. I added a bit of crunch via the pistachios that I think add some nice texture.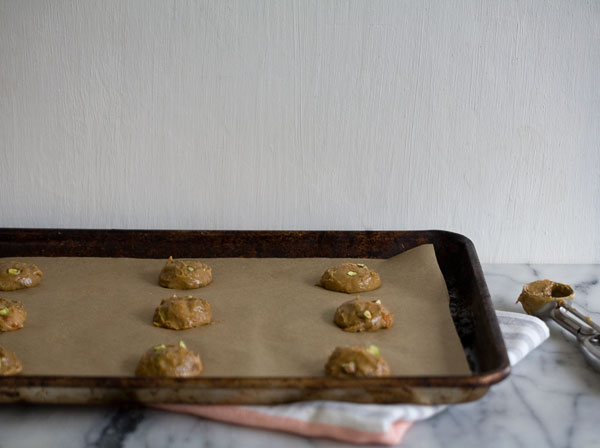 I can't really eat like 10 gingerbread cookies because the flavor gets kind of intense after a while, but these…these are different. I can eat like a 15 and still be ok. They're almost on the lighter side of the cookie scale, which means they're healthy…ish.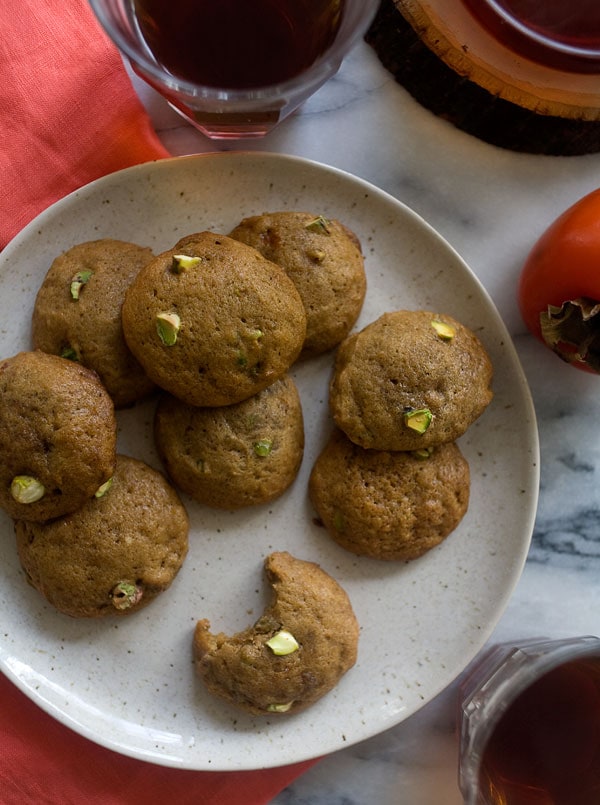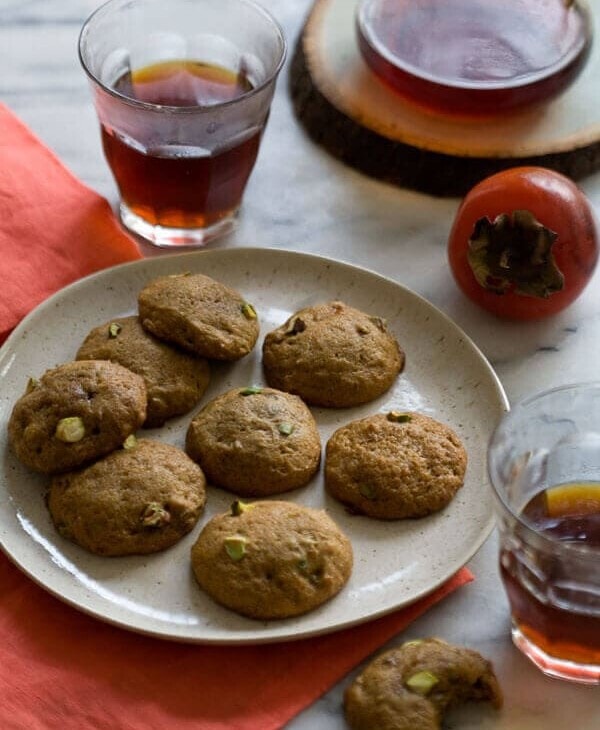 Print Recipe
Persimmon Pistachio Cookies
Ingredients
Dry Mix:
2

cups

all-purpose flour

1/2

teaspoon

ground cinnamon

1/2

teaspoon

kosher salt

1/4

teaspoon

freshly grated nutmeg

1/4

teaspoon

ground cloves
Wet Mix:
1/2

cup

unsalted butter

1

cup

light brown sugar

1

large egg

1

teaspoon

baking soda

1

cup

very ripe hachiya persimmon pulp

from about 4 persimmons; weight 2 lbs
Mix-ins:
3/4

cup

chopped unsalted pistachios

if you only have salted pistachios, decrease salt in the dry mix to 1/4 teaspoon kosher salt
Instructions
Preheat oven to 350 degrees F. Line a baking sheet with parchment paper and set aside.

In a medium bowl, mix together the dry ingredients: all-purpose flour, ground cinnamon, salt, nutmeg and cloves.

To a large bowl, add the room temperature butter and light brown sugar. Using a stand-up mixer with the paddle attachment, cream the two together until the butter is light and fluffy, about 5 minutes. Add the egg, baking soda and persimmon pulp and mix until thoroughly combined. (You may still see a few chunks of persimmon throughout the mixture; as long as there aren't a ton, you'll be a-ok!)

In two batches, add the dry ingredients to the wet ingredients, combining in between batches. When you no longer see any traces of flour, fold in the chopped pistachios, making sure they're evenly distributed throughout the dough.

Using a 2-ounce cookie dough scooper, drop cookie dough rounds onto your cookie sheet, being sure to space them apart by about 2 inches. Flatten the cookies slightly with your fingers and transfer to the oven to bake for about 10-12 minutes. You'll know the cookies are done when the edges are lightly golden brown and the middle will be soft yet should spring back a bit. Allow to cool for a minute or so on the baking sheet and then transfer to a rack to cool.